It is always a pleasure to visit a blast from the past, unless of course the beer is not what it used to be. I remember this beer being a decent pint. However today, is Ruddles best any good?
Although my expectation isn't high, I am hoping this beer has retained the charm it once had. A flavoursome easy drinking beer with character. Lets find out.
Is Ruddles Best Any Good?
You know what, its not bad. It doesn't compete with modern craft beer, but its an old timer ale which still has a decent body. On the nose it has a nice malty base with a subtle fruity overtone. The taste builds on this with a roasted malty caramel body. A brief slight fruity citrus is quashed by a sweetness that mellows a slight bitter end. A light easy drinking best bitter which gets a rate my beer score of 4.0 – 5.0.
I am pleasantly surprised, It isn't as meaty as it once was, but it ain't half bad.
Ruddles Brewery
There once was a brewery named Ruddles and as you would expect it brewed Ruddles beer. However today Ruddles is brewed by Greene King.
The original brewery was founded by a Richard Baker in 1858. In 1912 it was bought by George Ruddle who apparently worked at the brewery.
Since then it has changed hands many times. Names like Watneys, Grolsh and Morland & Co all being involved along the way. However the brand eventually ended up in the hands of Greene King.
So Ruddles has had quite a journey, but still lives on today.
Is Ruddles Best Any Good?
I remember this beer back in the 70's and 80's and I also remember liking it. But memories can be somewhat inflated. It is easy to put many things in the past on a pedestal and criticize todays equivalent.
So with that in mind I kept my expectations in line and decided to review Ruddles Best as if it's my first taste.
I don't expect it to compete with todays craft beers. As nice as they are, I just want it to be an old style best bitter.
What is Ruddles Best like then?
Drinking Ruddles Best
You can see the colour of the beer before you start because it is in a clear bottle. So it pours the same colour a deep bronze with a moderate head that fades quickly.
The nose gives a generous helping of biscuit malt with a subtle fruitiness on top. It smells good and you kind of know what you are going to get.
The taste kicks right in with a rich roasted malty toffee caramel base. For a brief moment there is a citrus fruity element of pear and lemon. This soon turns to a sweetness that keeps a warm bitterness under wraps.
Its a nice experience, I just wish the bitterness at the end had a little more clout. For me it should be the star at the end of the show. It is a best bitter after all, but it is more of an undertone.
Having said that I still like Ruddles. It's a pleasant old style ale that has flavour and is easy to drink. At 3.7% Vol its easy on strength too, so its safe to enjoy a second pint.
The rate my beer score is a decent 4.0 – 5.0 just for being a good old style ale. M'Lady also likes Ruddles Best and gave it a slightly higher 4.1 – 5.0.
A blast from the past still performing well in todays mass beer market.
Greene King Beer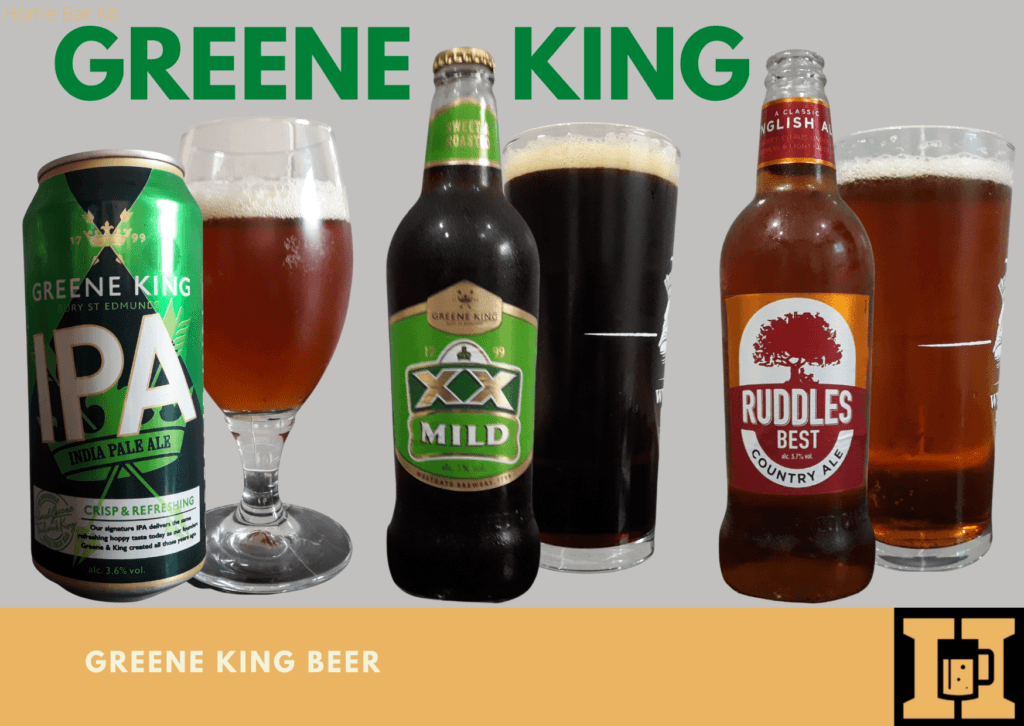 Greene King seem to be a little like Marmite, some love their beers, while some hate them. Maybe they should come out and just brew a Marmite beer.
No wait a minute, Camden Town Brewery have already done it with their Love Hate Marmite Ale. Unlucky Greene King.
What ever your view of GK, they do brew some nice traditional style beers. Along with some new ones too, attempting to compete with todays craft beer market. Here is a mix.
Abbot Reserve
A reserve version of the famous Abbot Ale named after the Abbots for the Bury St Edmunds Abbey. It is richer and stronger than the original.
It has a full body character with high levels of malty sweetness with high levels of bitterness to balance. Toffee and fruit cake flavours make it a rich but strong beer.
At 6.5% Vol both in bottle and cask, its a more reserved sipper than a gulper.
Yardbird Pale Ale
This one sounds promising and is one of GK's newer style beers. Using hops like Centennial, Citra and Simcoe it is a hoppy, fruity pale ale.
At the back of this is a mass of bitterness for that extra bite. At just 4% Vol it may be a refreshing session beer. One I will have to try soon to see if it really is as hoppy and bitter as they say.
Old Crafty Hen
Part of the Old Speckled Hen range, this beer is a hybrid of two beers. One being Old Speckled Hen, and the other being GK's 12% Vol 5X Beer. It's described as a Premium Vintage Oak Aged Beer with the rich malty OSH combined with the fruity 5X.
Sounds like a full bodied cracker and a 6.5% Vol it is definitely not a session beer. Another beer on the hit list.
Final Thoughts
I enjoyed my trip down memory lane with this Ruddles Best. I remember it being a good beer, but I can't remember how it exactly tasted back then. However I am pleasantly surprised because its okay, a good old style beer.
I would like a little more bitterness on the back end, but that just my taste. All in all though a decent best bitter.
If you have tried Ruddles Best then do share your thoughts. Is it a winner for you, or a fail?