There are plenty of things that commercial bars and pubs use that are not needed for a home bar. Some of those things we still add to the home bar even if we don't need them. So what is a service bar rail? And do I need one for my home bar?
Not every pub will have a service bar rail, but they are put in place for a reason. Even if some customers ignore them.
What Is A Service Bar Rail?
A service bar rail is put in place to separate the service area of a bar from the customer section of the bar. They are often placed next to the lift up hatch in a bar where staff go to and from behind the bar. Waiting staff use this area to collect drinks for customers made by a bartender.
A service bar rail is not something a home bar will need. However if it keeps your guests away from the bar access, then it could be worth considering.
What Is The Purpose Of A Service Bar Rail?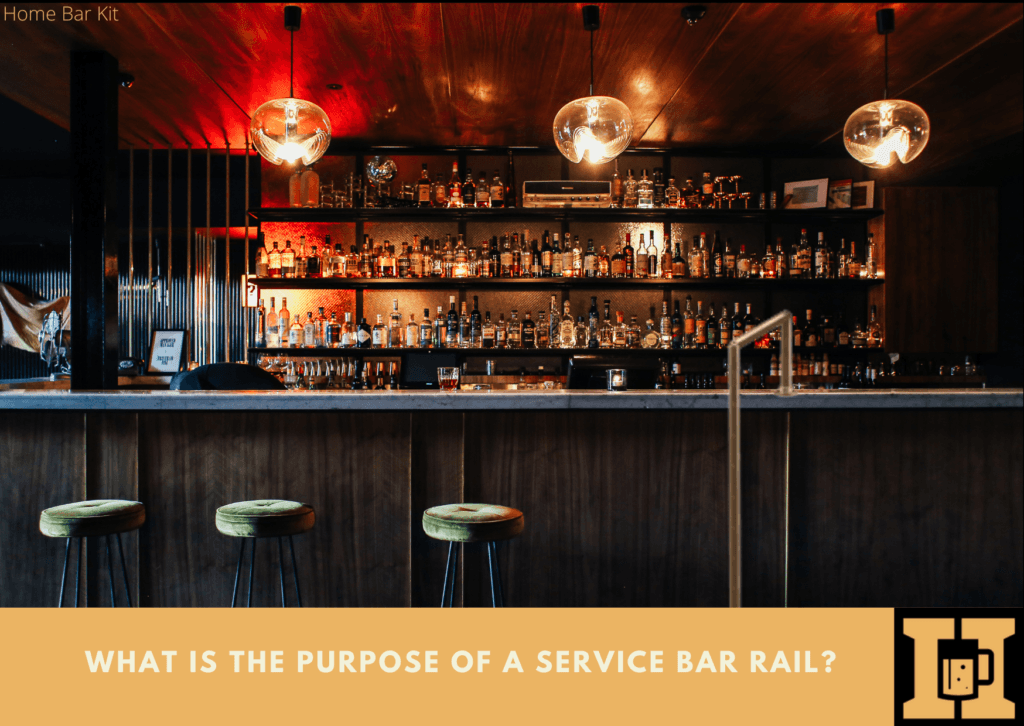 Many bars that have table service may have a dedicated bartender and several waiting staff working as a team.
The waiting staff will take drinks orders from the customers and give that order to the bartender. The bartender will make the drinks and set them on the bar service area.
While the bartender makes the drinks, the waiting staff will go off and get another order. When they bring this to the bartender, their previous order is normally waiting on the bar to be delivered to the customer.
This area of the bar can be busy and the last thing the staff need is customers standing in this area trying to order drinks.
The rest of the bar is serviced by another bartender (or bartenders) to serve drinks to customer at the bar. People stand, sit and order drinks at this section of the bar.
So the service bar rail is to separate these two parts of the bar.
Does A Bar Rail Work?
The idea is a good one, and a subtle one too. A simple metal rail is placed on the front of the bar. This indicates to customers not to order drinks beyond that point.
If a foot rail runs along the bar it will come to an end at the point the bar rail is placed. This is another indication not to stand or order drinks beyond that point.
Not all customers will even notice the bar rail or know why it is there. Some that do know why it is there may ignore it anyway.
This means a steady flow of customers will try to order drinks in the service area. A constant frustration for bartenders and bar staff.
Do I Need A Service Bar Rail For My Home Bar?
The simple answer is no. It is not necessary to fit a rail like this in a home bar. However some might fit them for aesthetic reasons.
A home bar doesn't need a last orders bell or a foot rail, but they look good and make the bar authentic.
So it might be a good idea to fit a service bar rail just for the look. But although it might look good it can also stop your guests from standing at the bar opening too.
This will make sure you can get in and out of your home bar freely. However you may have to explain what the bar is there for.
Final Thoughts
A Service bar rail is not a home bar essential. It is not necessary, but could be handy and will look authentic too.
Just like a last orders bell or a bar foot rail, these things all add to the look of a home bar.
So it comes down to personal choice as to whether you add a bar rail to protect the bar access. It may also depend on the size of the bar and the space available too.