Think 15th Century pub, Pirate ships, and tunnels used by Smugglers and you are setting the scene to enjoy a Glass of The Ghost Ship Ale, which by the way is a great beer.
If there ever was a beer that goes well with a horror movie, then it has to be this one. Set up that scary movie, crank up the volume on the TV for effect, turn the lights down low, in fact turn them off altogether and have a glass of this spooky drink to hand.
The Ghost Ship Ale
A beautiful golden pale ale with a bold citrus flavor. A nice hoppy nose wafts from the quick settling head as you dive in for a sip. The citrus hoppy taste is clear from the start coating the mouth with a creamy flow. A nice sweet caramel after tone rounds off this smooth delightful ale. A winner in my book and a strong 4.5 rating.
Adnams Brewery
A long established brewery set in the heart of its community in Southwold, Suffolk, Enland, this brewery has a lot of history. It is said that brewing on this site goes back as far as 1396. The site was acquired by George and Ernest Adnams in 1872 and the Adnams brewery was born.
Although now a PLC company there is still family involvement on the board. This brewery has a history of producing excellent cask ales and has won many an award over the years. They have moved with the times and still keep producing cask ales, but also produce great craft beers too.
As with many British breweries of old Adnams have their own pubs, which rose to over 100 during the nineties, but is less than 50 now.
Adnams is a brewery that has stood the test of time and battled through the ups and downs that this industry has suffered over the years. They are a brewery to be proud of and long may they continue to brew great ales and craft beers for the world to enjoy.
I have only touched on the fascinating history of the Adnams brewery, but did find a great article written by Adrian Tierney-Jones from Good Beer Hunting. The article shares a lot more detail on the Adnams brand and the rich history from the beginning to date. There are some great pictures showing the brewery and the local area from Sean McEmerson too.
Back to the beer in hand.
Ghost Ship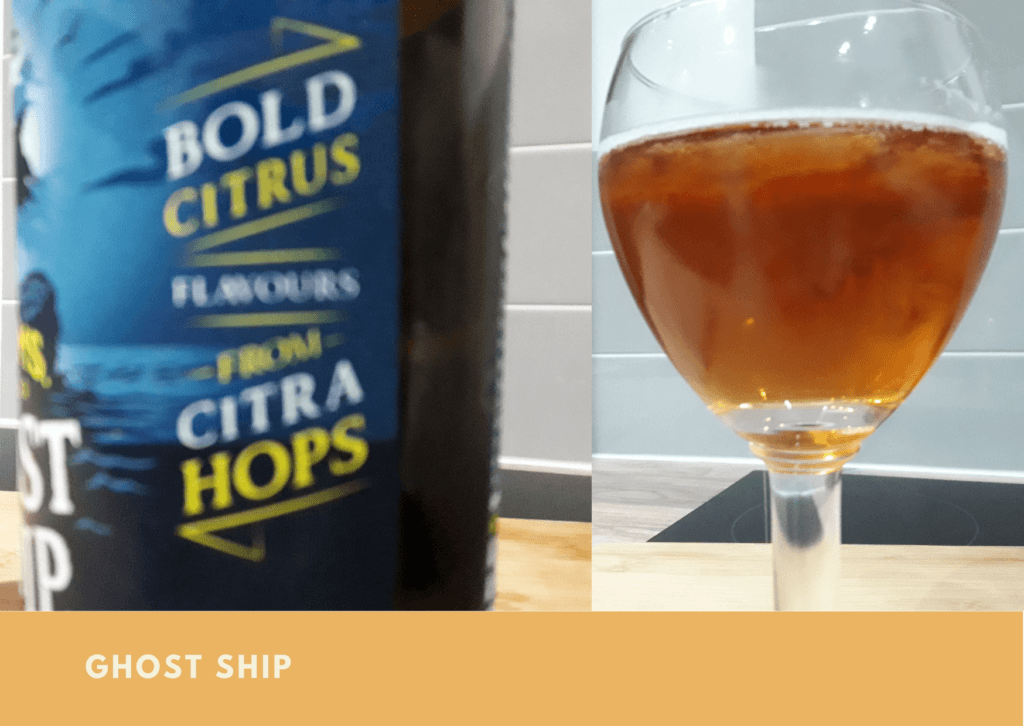 As I mentioned before, Adnams have their own pubs and the ghost ship is inspired by one of those pubs. Picture a beautiful English village sitting on the Suffolk coast with a fresh breeze from the sea and you would be in the village of Walberswick. Close to the village green sits The Bell Inn, a 600-year-old slice of British history.
A listed building sitting in an area of outstanding beauty, this pub is unsurprisingly rumored to be haunted. It is 600 years old, after all and has a link to the smugglers of old. The waters along this coast are scattered with ship wrecks of the old times. Tunnels which have since collapsed were discovered running from the Bell Inn to the beach.
The History does not stop there, just down the road is the village of Dunwich, which has a lost city that now is under the sea.
It is no wonder that the Adnams brewery, which is only around a mile from the village of Walberswick wanted to brew a beer that connected it to the historic Bell Inn. All those smuggling ships along the Suffolk coast, and of course the tunnels used by the smugglers, it had to be done.
A Hauntingly Good Beer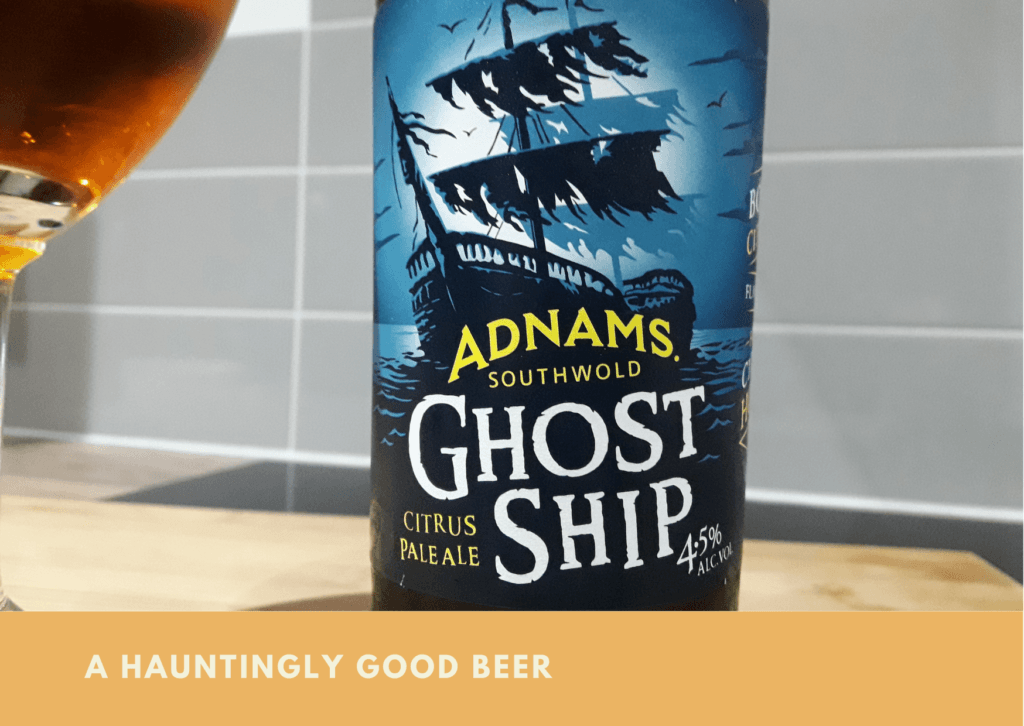 For me, trying a new beer is one of my favorite things, and I can't actually ever say that I have hated a beer, but some are obviously better than others. Ghost Ship gives you the citrus flavor which come from the Citra hops, but there is a creaminess and a great caramel end. Weighing in at a solid 4.5% vol, what is not to like.
To me it doesn't matter where I try a new beer, whether it be at home from a bottle or in the pub from the tap. The first port of call though is the label on the bottle, or the pump clip on the draught tap. There is the image attached to the beer, in this case a ghost ship. Then there may be a brief description of the beer with the breweries name, and of course the alcohol strength.
What you get from a beer is determined by the delivery of that beer, be it can, bottle or draught, the results will differ. This is probably why different people describe different notes and flavors, and of course our palates are different too.
Ghost Ship has been described as pouring a clear amber color with a medium frothy head. Aromas include, sweet and fruity, mango, toffee, peach, grapefruit, malt, orange and citrus. That sounds like a lot going on, the different fruit flavors can be put down to the bold citrus flavoring.
Flavors shared by other drinkers are, citrus which is obvious as it is a citrus pale ale. Some say a sweet bitter, caramel, floral, pepper, bread, toffee and even cream crackers.
I had this beer from a bottle and it poured a solid golden color creating a medium head that quickly reduced. I totally got the citrus, which gave it a clear crisp feel, but coated the mouth well, bringing a smooth creamy flow that ended in a sweet caramel.
As Adnams say, this is a hauntingly good beer and I have to agree. The rate my beer score comes out at a strong 4.5 rating for me, a beer that I look forward to trying from the tap.
Adnams Beers
Ghost Ship is a great beer and I love the history behind it, but what else is on offer from this great brewery. Here are a few of the beers that I am looking forward to trying from Adnams.
Broadside
This ruby red beer is to commemorate the harsh battle of Sole Bay in 1672 fought off the coast close to where the brewery is situated. This is a long-standing favorite with the Adnams community and uses first gold hops, with pale ale malt. Think fruitcake and almond aromas and a dark fruit malty taste.
I am looking forward to trying this old favorite, but with a 6.3% vol, I will tread carefully and not go mad.
Innovation IPA
This Innovation IPA is part of the Adnams Jack Brand range and packs a big punch. The Jack Brand range pays its respects to the brewers from times gone by and brings together the old with the new. This very hoppy beer which uses Boadicea, Columbus and Styrian Goldings creates a strong grapefruit body with a feel of tropical fruit.
Just watch out because it weighs in at a hefty 6.7% vol, this is not for the faint-hearted, but I can't wait to try it out.
Both Barrels
We really are getting serious now, take Broadside and pour it into an old Bourbon barrel, throw in some cherries and leave. Come back a year later and take a little out for beer festivals, then top it up again with Broadside. Come back a few years later and spread the one barrel among twelve other Bourbon barrels, then top them up with Broadside.
The result is a rich beer with toasty vanilla notes and hints of fruit and whiskey that will blow your head off. This is not a beer to go on a session, be warned. I am going to try this beer, but only the one because it weighs in at a shocking 9% vol, not one to drink standing up.
Tally Ho
This a traditional dark beer with a rich flavor. Brewed as a seasonal beer made for the Christmas period, this is a favorite winter warmer. Rich with fruity aromas, raisins and biscuit, it gives a rich brown malty taste. Pouring as a dark beer and almost looking like a stout, it is on the lighter side compared to Both Barrels.
Don't go mad though, it still packs a strong punch at 7.2% vol, so will be unforgiving if we over do it.
These are just a few of the beers from Adnams large range, but I for one am looking forward to trying as many as possible, thank you to Adnams.
Final Thoughts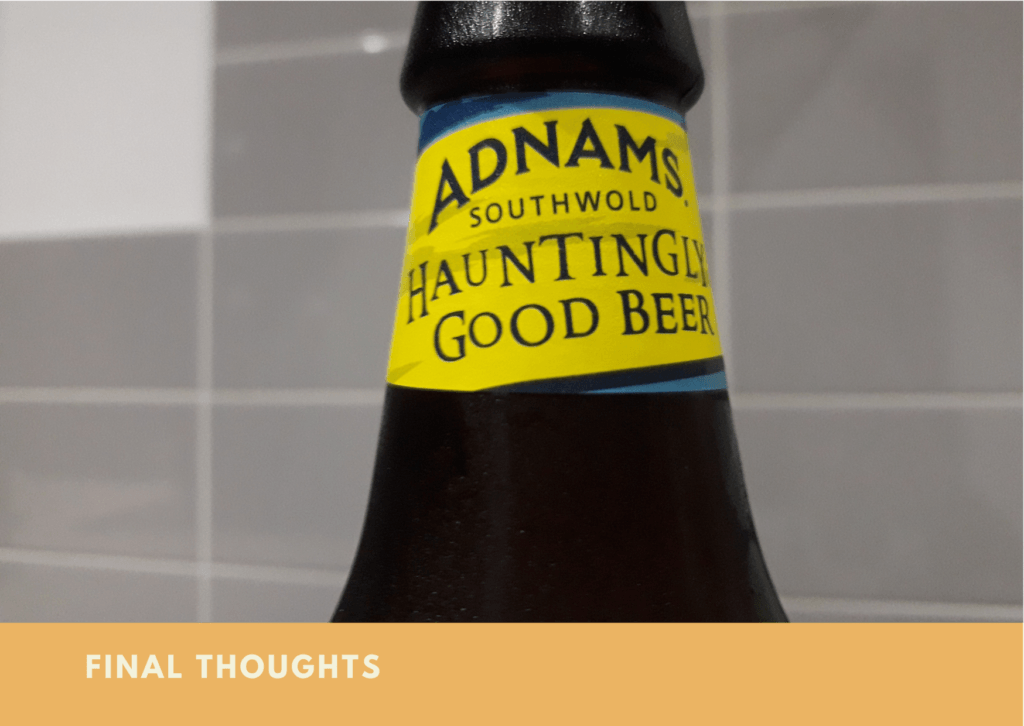 When it comes to a good range of beers, Adnams has that, from strong rich ales to tangy IPA's it is plain to see that they offer their customers a great choice. I have my work cut out if I want to try all of them, which may take me a while.
That aside, I have to say my introduction and start to drinking their beers is a good one, for me Ghost Ship is a triumph and if I get time among the other beers I want to try, then I will definitely be enjoying another one or two of this great pale ale.
I will be looking out for this beer on tap, but if you have already experienced it on tap, then share your experience. If like me you have only experienced The Ghost Ship Ale from the bottle, still let me know what you thought of it by sharing those thoughts below.