A beer from the brewing legends that are Marston's, steeped in history with 188 years under their belts. This IPA is based on the style of beer that was quaffed during the Empire. It's flagged as being memorable and easy drinking. But how good is Old Empire IPA.
I do remember it because it is only recently that I enjoyed it. But it won't be a stand out beer that will be fixed in my memory forever (it probably will be now:) As for easy drinking, I can agree with that, I found it pretty easy to drink, but then I don't find many beers hard to drink.
How Good Is Old Empire IPA?
Indeed it is a good beer with the typical IPA traits of citrusy hoppiness, crisp amber ale. It pours a beautiful shade of amber with a generous chalky head. The nose is fresh with a good balance of hops and citrus teasing the senses. The taste although not full bodied has a hoppy citrus presence with a malty biscuit background. A light carbonation circulates the mouth ending with a slight bitter sweet taste. Stable is the name of the game with a rate my beer score of 3.7 – 5.0.
A moderate score for a moderate beer, a good go to IPA with an unassuming presence.
The Mighty Marston's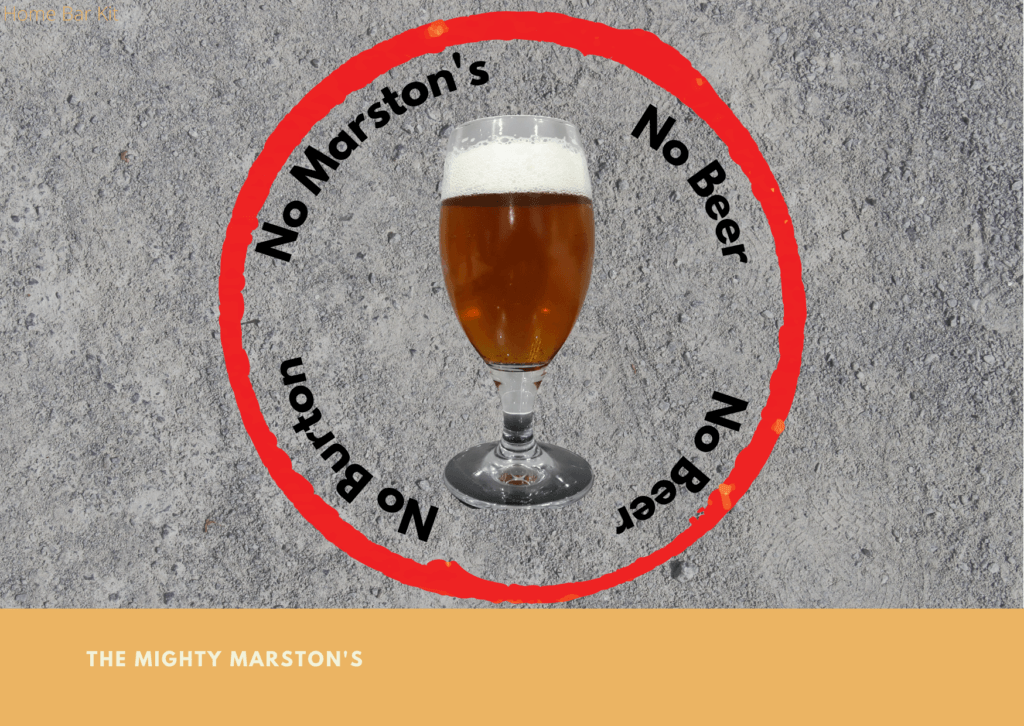 Marston's brewery is part of Burton Upon Trent's DNA, its in their blood. Or maybe the beer is in their blood, either way it is part of the towns history. It is the oldest brewery in town and even has a tag 'No Marston's No Beer, No Beer No Burton' which is very charming.
An initial draw to Burton was said to be the water. Running through the underground rocks, Marston's bring it to the surface from the own well. This is their magic ingredient for their fine beers.
Back in 1834 John Marston established J. Marston and Son and this brewing legend was born. 1898 saw the one move of premises to Albion Brewery not far from the original site. They are still there today and brewing up some special beers. Including their flagship beer Pedigree Amber Ale fermented in oak casks.
Pedigree is still brewed using the Burton Union System which is an old method of fermenting the beer. In fact Marston's is the only brewery still using this system in England. I won't go into the depths of explaining this system here. However if you want to find out more, Beer And Brewing explain it very well.
Marston's have gone through many changes throughout their history, acquiring other breweries and pub chains. Their latest being in 2020 when they took over the running of over one hundred pubs from Welsh brewery Brains. Their brewing business was also merged with Carlsberg UK. Which involved their brewing side of the business, but not their pub chains.
An interesting brewery steeped in history and a catalogue of many beers and brands.
How Good Is Old Empire IPA?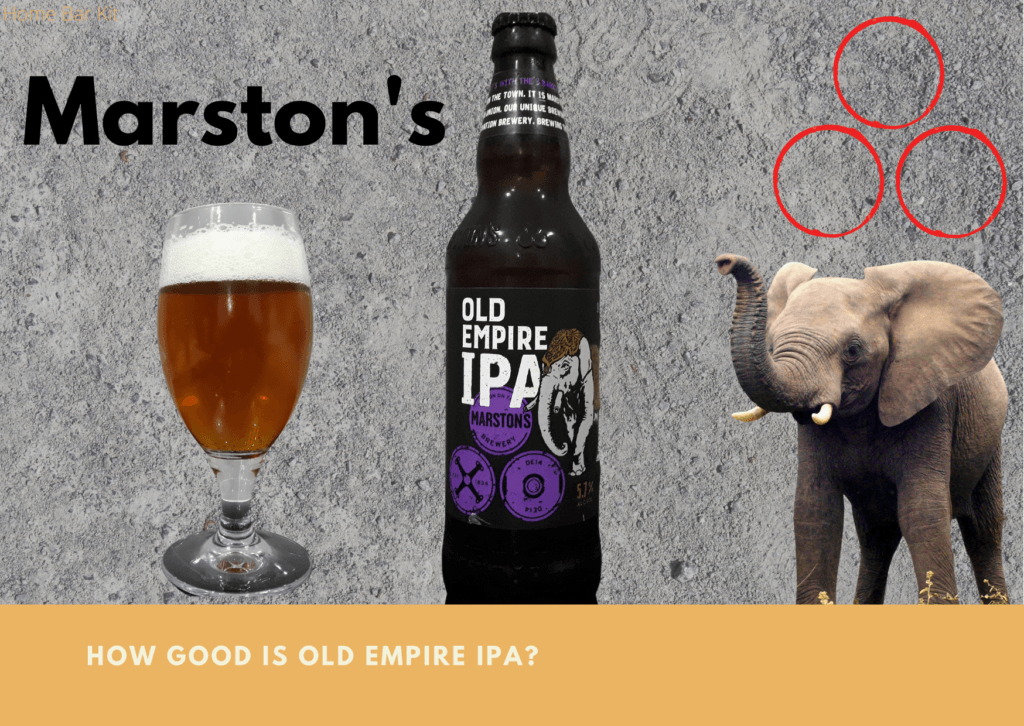 To be fair it is a good beer, a bit middle of the road, but good all the same. I think it is brewed with that in mind, an easy drinking go to IPA for any occasion. The feel of this beer does not reflect the strength of it. It feels like you are definitely in session territory, when in fact with its 5.7% Vol you are clearly not.
However it is a positive experience, but beware because it does go down easily and you might find yourself a few beers in before you consider the strength. You've been warned.
Louise being an Elephant lover, appreciated the bottle, likewise the beer too. But she only had a few sips, she stays away from anything over 4.5% Vol, a lightweight, or may be sensible.
The Old Empire IPA Experience
Anyway, on with the matter in hand, give us the lowdown and stop waffling. Okay, so it pours a beautiful shade of amber and settles with a crisp white hat. The hat dissipates a little, but hangs around and provides a good decoration of lacing around the glass.
The nose is subtle but apparent with a moderate hoppy citrus scent typical of an IPA. It just isn't that strong, you almost have to go looking for it, like a sniff investigation.
When it comes to taste, it's all there, but again it's all a bit low key. However there is the hop and the citrus up front, which develops into a malty biscuit topped with the slightest caramel. Like I said it is all there, just a little faint. A light carbonation finishes with a bitter sweet affair trying to hang on to your taste buds.
You can't knock it, but it does lack a certain oomph, which you kind of expect from a 5.7% Vol IPA. The easy drink aspect is what saves this beer and I would drink it again if it crossed my path. On the tap will be a better experience, so I might pop to Burton and seek it out.
The Old Empire IPA is an unassuming beer, and scores an unassuming rate my beer of 3.7 – 5.0.
More Beers Enjoyed BY Me.
What Else Has Marston's Got?
Like any brewery they have a range of their own beers, and it's a good line up. From an English Pale Ale, Amber beers and a Stout there is a good selection.
Marston's also have ownership of Wainwrights, Courage and the McEwans brands to name a few. It is fair to say they know their beer as well as their pubs with a vast chain in their portfolio. The Burton brewery is a large concern and now in bed with Carlsberg UK. But their own beer is what we are looking at here.
EPA
Sporting a person on stilts on the label (not sure what that is about), this English Pale Ale is a refreshing light beer. Taking a closer look at the bottle, the stilt walker is picking hops, so maybe this is how hops use to be picked. A little research revealed this to be true, men on stilts use to drop the vines for women and children to pick.
EPA is another easy drinking beer from Marston's, and with a light 3.6% Vol falls well within the session scale. Being so light it would appeal to ale drinkers as well as lager drinkers or so Marston's say. I will let you know when I try it as I like both.
61 Deep
Another Pale Ale from Marston's which is well in the session range in both bottle and cask. With five American and Australian hops it is a lively and zesty in aroma. It has a tropical citrus taste flavor with a bitter background and slight sweet ending.
61 Deep sounds a strange name for a beer. However it has meaning and represents the depth of the well at the brewery. You guessed it, the well is 61 meters deep.
On tap it rolls in at 3.8% Vol, while its bottled cousin reaches the heady heights of 4.1% Vol. Feel free to have a session with 61 Deep.
Pearl Jet
Down to business with a full bodied beer from Marston's. Yes, its a mighty stout, deep rich flavors that always satisfy. So what is Marston's Pearl Jet like?
Well, the nod is that it's a classic English stout, sounds promising. We are talking chocolate, coffee and sweet treacle flavors that all pans out in a very smooth clean experience. At just 4.1% Vol there is no need to stop a just one. Having said that, the make up of the taste combinations may bring a session to an abrupt halt.
I don't know though as I haven't tried it yet. However when I do I will decide whether one is enough because of the rich flavors, or whether it is worthy of a session.
Final Thoughts
Well Marston's are a giant in terms of their presence in the industry. In spite of that the brewery in Burton is still producing good honest brews loved by many. Still using the old Burton Union System gives a sense of tradition and that has to be a plus in brewing.
The weird thing is that there are a lot of beers we consume in Britain that seem to have Marston's involved somewhere along the line. I am not saying that is a bad thing, just thank goodness for all the new craft breweries coming through. They are keeping the industry alive and innovative.