I have been putting this one off for a long time, mainly because of the fall out from this beer. However I came across my notes from when I tried it and thought I would finally post my review. So is Indie Pale Ale any good?
I wasn't sure whether to forget this beer and move on. But then decided that it is a good reminder to Brewdog that their fans will not allow for low grade products.
Is Indie Pale Ale Any Good?
It is not the best beer Brewdog have produced, in fact it is probably the worse beer they have produced. There is nothing wrong with the look, a golden brown with a decent white top. The nose is malty with a slight hint of citrus. The taste is biscuit malt with a somewhat vague hoppy top and grapefruit/lime citrus. A little disappointing with a 3.5 – 5.0.
I never thought I would score a Brewdog beer that low, and I was drinking the new improved Indie Pale Ale.
Where Did Brewdog Go Wrong?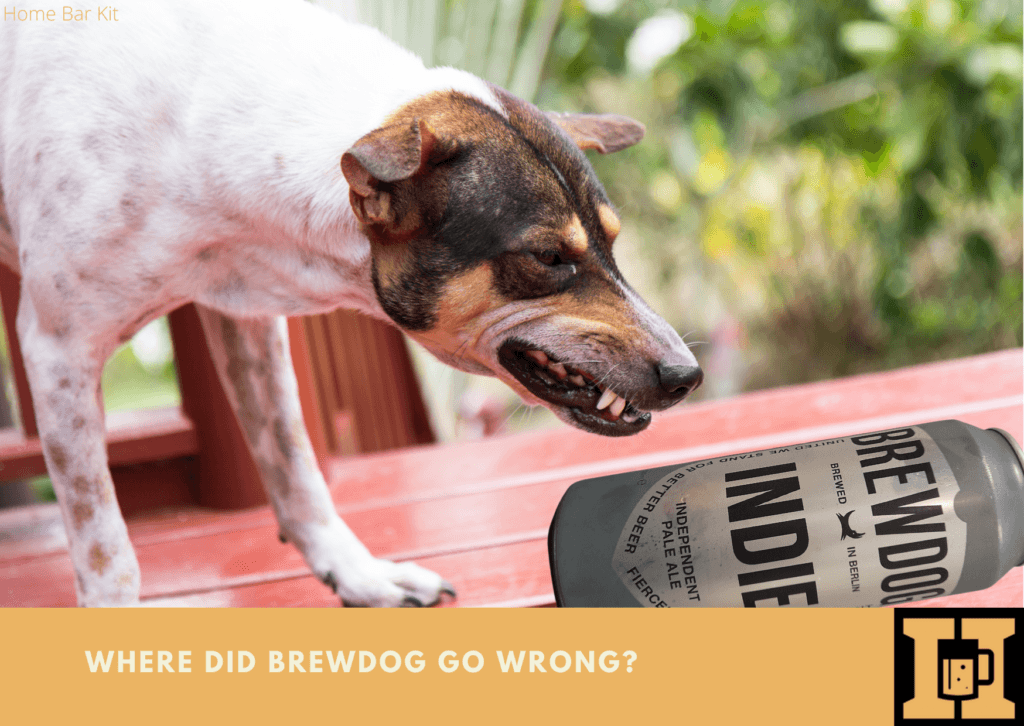 Brewdog decided to make an independent pale ale, hence Indie Pale Ale. From what I can make out they were trying to appeal to those beer drinkers that were on the fence with craft beer.
The ones that are sticking to macro beers because they think craft beer is a little to weird.
Indie then is like a door way into craft beer, so it couldn't be too craft as to put the macro drinker off. Brewdog even released a blog post outlining the thinking behind Indie Pale Ale, read it here.
It didn't go down well though, Brewdog fans have slated it, with some describing it as a macro lager, so it kind of backfired.
Simon Martin from the popular Real Ale Craft Beer channel really let rip at Brewdog for their Indie. He suggested that James Watt and Martin Dickie have lost control of Brewdog. He even suggested they leave Brewdog and start again.
I have a hunch Simon is not impressed with Indie Pale Ale 🙂
A craft pale ale being described as a macro lager, James Watt had to respond. He did with another blog post Indie Pale Ale 2.0.
That response was to admit they had missed the mark with Indie Pale Ale and the revised version was the real deal.
Indie Pale Ale 2.0
I didn't try the first release of Indie Pale Ale that got Simon so annoyed, but I did drink the revised version. Brewdog must have improved it because it is not as bad as those that gave it such a hard time.
However I feel it is still not up to the type of beers Brewdog normally brew. I get what they tried to do with Indie, you know a doorway to craft, but it doesn't work.
I am a massive fan of Punk IPA, in fact I think it is where it all started for me and craft beer. Which is funny because Punk is where it all started for Brewdog too.
Punk IPA has the attitude as well as the flavor, it's a good beer. Indie on the other hand is such a long way from Punk, it's just a mistake.
Having said that, at least the boys at Brewdog accepted they got it wrong and tried to improve it. But I think it had been tainted beyond repair (just my theory) because I've tried but can't seem to get Indie anywhere.
Perhaps Brewdog have buried it.
Drinking Indie Pale Ale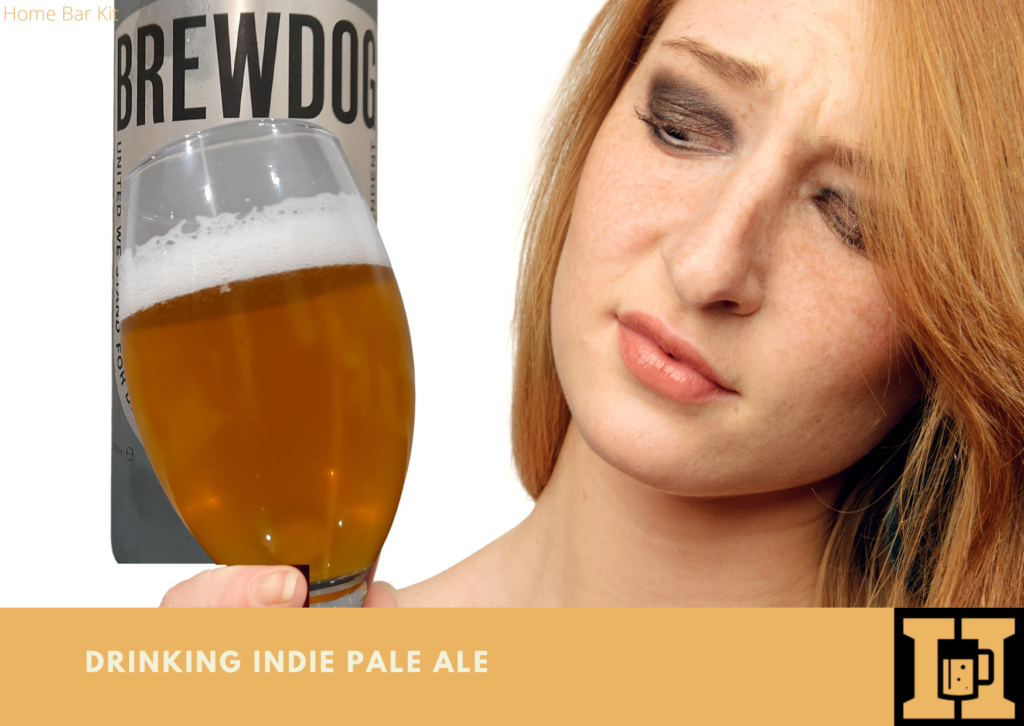 An Independent Pale Ale in a grey can with a silver badge, it was brewed with the greatest of intentions. The pour is lively and settles to a pure golden glow with a white foamy top.
This fades to a thin lid but leaves some good lacing around the glass. The nose is all too vague with just the hint of hops over a malty base. A tiny citrus note try's to show its face but doesn't materialise.
The taste is also a little vague with a small bitter hop carrying a slight citrus fruit over a biscuit malt base. It has good carbonation with a decent body and a dry finish.
I get the comparison with a lager rather than a pale ale, it is like a full bodied lager, but misses the mark as a pale ale.
This is the revised version and still it felt more towards the lager scale.
At 4.2% Vol it is an easy drinking session beer, but it falls short of a craft pale ale, so gets a rate my beer score of just 3.5 – 5.0.
I think if someone that always drinks macro lagers tried this they would like it. And because it is labelled as craft beer may encourage them to try more craft beer.
I can get what Brewdog were trying to do, not everything works out how we want it to though.
More From Brewdog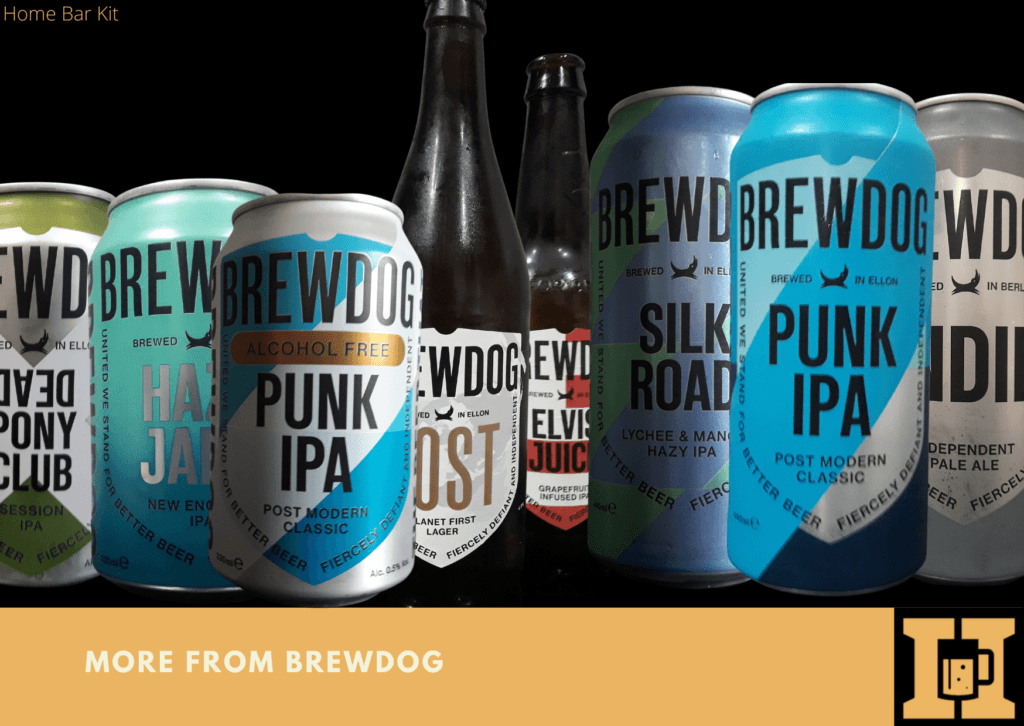 I think it is fair to say that the Indie Pale Ale from Brewdog didn't work out how they wanted it to. But at least they own it and have moved on. They still have the classics of Punk, Hazy Jane and Elvis Juice, and they still produce plenty of other great beers.
I am featuring some of the beers that are on my Brewdog hit list.
Planet Pale
Another pale ale from Brewdog which promises to be a well balanced hoppy session strength pale ale. Light hoppy citrus beer with mellow tropical fruits.
Hopefully it will fair better than Indie Pale Ale, but can it live up to the Dead Pony Club? I will find out soon, at 4.3% Vol it does deliver on the session strength. Look forward to trying it.
Tree Haus
Tree Haus is a Bavarian Helles style beer using Europils lager malt and a trio of hops Cashmere, Columbus and Loral. It delivers an earthiness with pepper on top of lemon notes, a German style full bodied lager.
At 6.0% Vol it is not a session lager, but sounds a tempting proposition for this style of beer.
Clockwork Tangerine
This beer has been on my hit list for a long time, I can't understand why I have not tried it yet, I must put that right. An IPA that is infused with tangerine and delivering juicy citrus and tropical fruits over a caramel malt base.
At 4.5% Vol it is the perfect session IPA with a well balanced hop, malt and bitter combination. I like the sound of it and hope it stands up to my expectation.
Final Thoughts
I guess Brewdog split the crowd, they are a bit like Marmite, you either love them or hate them. Lets face it they have had their hiccups and messed up a few times, but they seem to take it on the chin and move on.
You have to admire them for that and although the Indie Pale Ale may have flopped, the idea behind it was a solid one. Maybe they should have marketed it as not to be drunk by craft beer lovers, only for curious macro drinkers.
Just a note on macro drinkers, some people slate them and say they drink flavorless mass produced junk (not my words). However I say keep on drinking exactly what you want to drink. I drink both macro and craft beer and make no apology to either camp.
I like Brewdog and they produce some of my favorite beers and I will continue to explore their brews.
How about you, what is your view on Brewdog and if you tried Indie Pale Ale, what did you think? Share your thoughts below.