A beer that comes from a brewery that doesn't exist anymore due to the difficult times of recent years. However at least the beers they brewed still exist, so at least we haven't lost the chance to enjoy them. That being said, is Platform 6.1 Impeccable IPA a decent beer?
It has a certain charm in its flavor. However I don't think it lives up to a beer of the highest standards like its name suggests. Just like Greene King Session IPA, I think this beer is going to be a crowd splitter. Some will like it, but some are going to hate it.
Is Platform 6.1 Impeccable IPA A Decent Beer?
Impeccable it isn't, however lets say it is a half decent beer with a taste of pear drops. It pours a deep amber gold with a moderate foamy cap. On the nose it has the slightest of hop notes that is overpowered by a sweet smell, like candy. The taste is bitter sweet with a mild hoppy citrus that soon turns to a smooth candy sweetness. This runs over a base of malty biscuit and ends with a creamy toasted caramel. A rate my beer score of 4.0 – 5.0.
It's not a big hoppy IPA, but it has moments to like. Those moments will also be disliked by some too.
Wickwar Wessex Brewing Co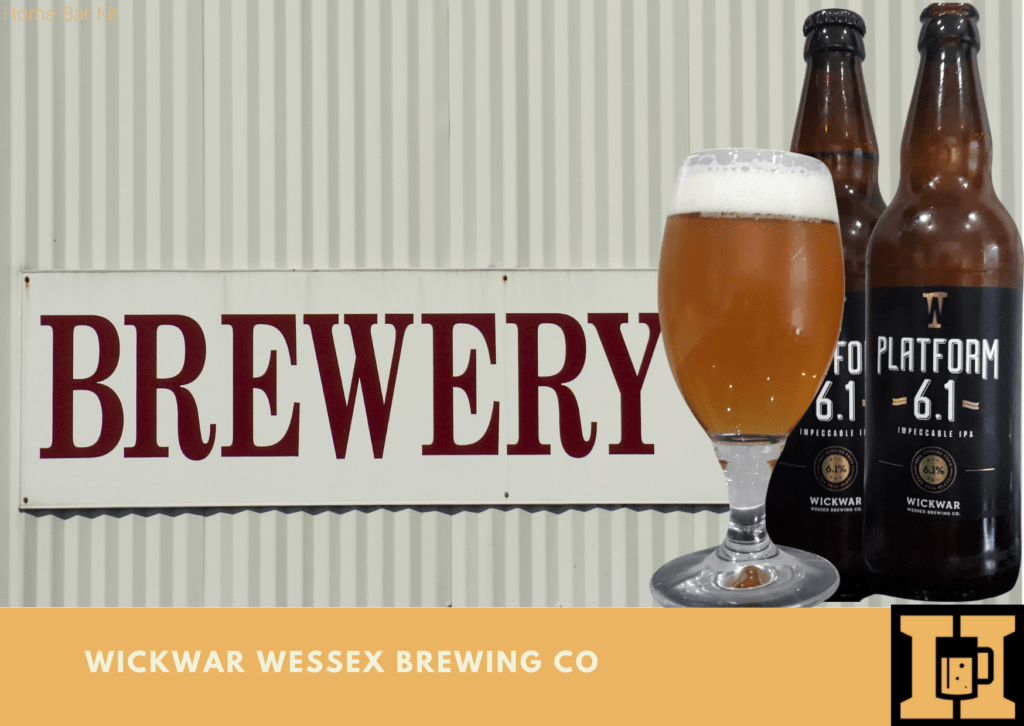 The Wickwar brewing company no longer exists and all brewing ceased in December 2020. The pandemic had a devastating effect on many businesses and Wickwar brewery was one of its casualties.
However their selection of ales are still available to buy and enjoy through the Wickwar Wessex Pub Company. They are brewed under contract by another brewery and sold in the pubs across the south as well as retail outlets.
Butcombe Brewing Company are the brewery that still make the Wickwar range. A Bristol based brewery established in 1978 with its own selection of beers as well as pubs.
So although the Wickwar brewery sadly closed, at least their beers live on thanks to the Wickwar Wessex Pub Company and Butcombe Brewery.
Back to the beer in hand.
Is Platform 6.1 Impeccable IPA A Decent Beer?
I actually quite like it and I will drink it again, especially if I see it on tap. I wouldn't say it is impeccable, but it is fairly decent.
It is not a hoppy mad in your face IPA, it is a moderate laid back IPA. Although there is a hop front experience it doesn't sing out loud. A sweetness with a bitter edge and the creaminess of malt are more prominent for me.
It's like an older style IPA that hasn't had a truck load of hops thrown in. Indeed it is subtle and happy with its lot, no shouting, just a calm clean pint with a candy edge.
What I get from this beer I like, however as I said I think it could split the crowd. The candy element I talk about reminds me of the taste of the boiled sweet 'pear drops'.
Whether anyone else gets the actual pear drop taste, I'm not sure. But they will get that sweet candy like taste. Therefore many will not like it.
Drinking Platform 6.1 Impeccable IPA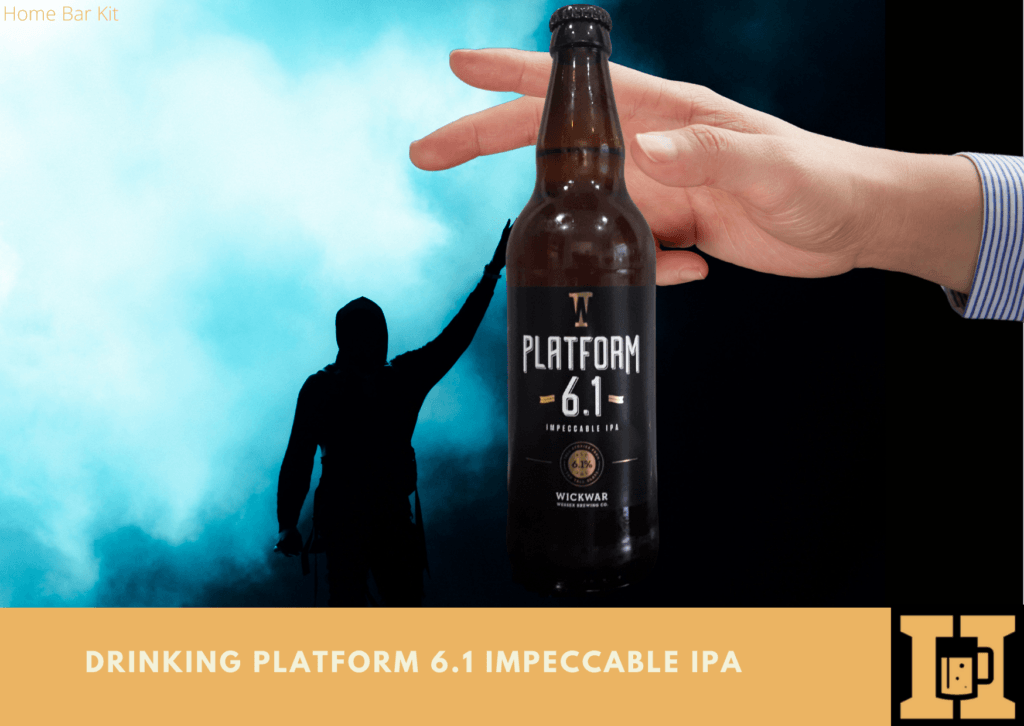 Just like the beer inside, the brown bottle with its black and gold labelling is understated. There is no shouting, just a clean classic style standing proud.
After the pour has settled, it clears to a gold amber glow with an average foamy top. This does fade fairly quickly to leave a thin cap, but delivers a good lacing around the glass as it descends.
The nose doesn't jump out, but gently pleases with a slight smooth hoppiness crowded by a confectionary like sweetness.
Initially the taste has a little citrus hop flavor that has a bitter edge. This soon gets crowded by a smooth but strong sweetness (pear drops). In the background there is a even malt which is creamy and ends with a toasted caramel.
A mild carbonation gives in to a smooth creaminess with a sweet point. It's a little disconcerting if you compare it to todays hoppy IPA's. For that some will not take to it, however although it is a subtle beast I quite like it.
As the name suggests it has a powerful 6.1% ABV, so is not for the light hearted and not one to be involved in a session.
Not impeccable, but good enough so gets a 4.0 – 5.0 rate my beer score.
Wickwar Range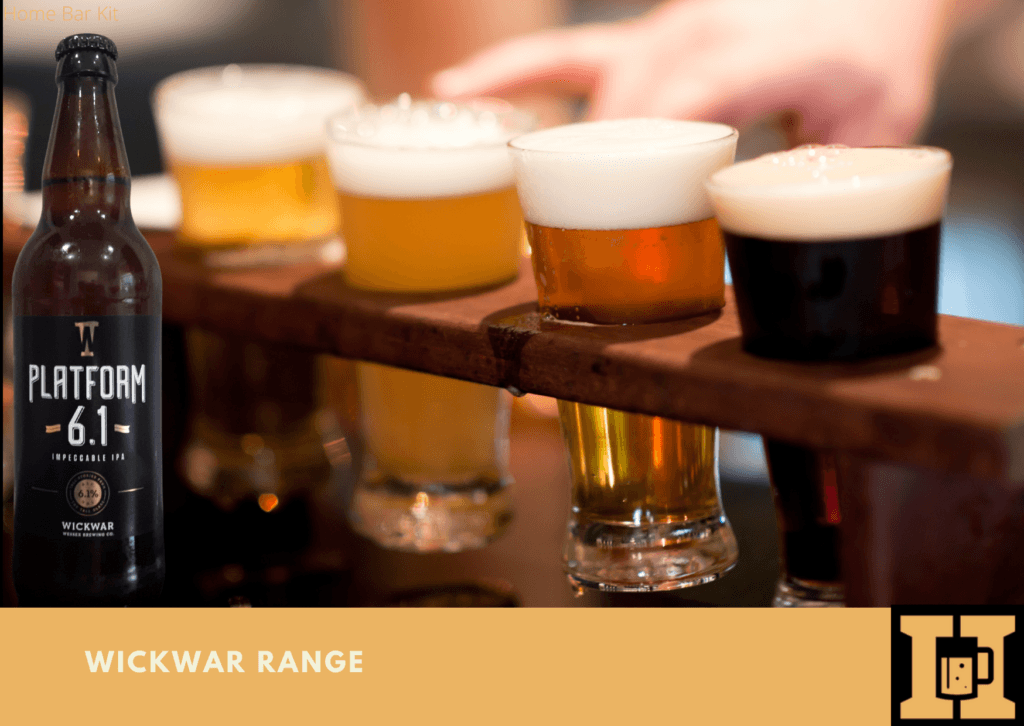 The Wickwar range is not an extensive one and won't grow either. Well not in the sense of the original brewery. Wickwar Wessex Pub Company may have other beers brewed, but the original Wickwar range will be static.
Therefore we can only drink the limited amount that are still being brewed. The range at the time of writing is only four ales, yet there are hints of new and seasonal ales from the pub company.
For now lets look at the other three on offer, a porter, golden ale and an amber ale.
Station Porter
Station Porter is a premium ebony ale with rich flavor characters of coffee, chocolate and dark fruits. I have featured this one and it is a good porter with the promises met.
Lovely aromas of roasted malt and coffee tease the nose with a little fruit thrown in. Likewise the taste has that rich creamy chocolate with a smoky coffee edge that is laced with a sweet fruit.
Another hefty one on the strength score with an ABV score of 6.1%, so tread carefully.
Falling Star
For something lighter, how about Falling Star a golden ale promising to be both citrus and hoppy. The nose tells a story of citrus and floral notes. While the taste has a smoothness of light malt laced with pineapple and grapefruit.
Well it sounds the part, but will it live up to its claims.
It will certainly be lighter than Platform 6.1 or Station Porter on both feel and strength. Weighing in at a respectable 4.2% Vol it can be more than a solitary pint.
BOB
Wickwars first beer, this brand oak bitter is a favorite among the breweries fans, who are probably happy they can still get their hands on it.
This classic amber ale is light but balanced, brewed with three varieties of malt and two different hops. It is no surprise then that it has a malty toffee nose. While the taste from the hops lends a bitter edge.
It's a classic go to bitter that will let you go back for more with its low 4.0% Vol. If your local pub serves it, then it may already be your go to pint.
Final Thoughts
So the news is sad and the range is small, but at least the beers live on. They are not your modern craft beers, but more traditional type beers.
Perhaps Wickwar Brewery would have dipped their toes in the world of craft beer if they had survived. Or may be they would have stuck to more traditional type beers, we will never know.
However never say never, a resurrection might be possible.
Falling Star and BOB will grace my fridge at some point in the future, which will complete the set. If you have had the opportunity to try Wickwar beers, then leave your thoughts below.
Enjoy and Drink Responsibly.
Rob is a passionate home bar and pub shed enthusiast with a passion for craft beer. With hands-on experience in designing and building his own home bar, Rob shares his knowledge, tips, and inspiration to help fellow enthusiasts create their own perfect space. Alongside the world of home bars and pub sheds, Rob also explores the diverse and exciting realm of craft beer, providing honest reviews to help you discover your next favorite brew. Join Rob on a journey of flavor, design, and craftsmanship right here on Home Bar Kit.