West Indies Porter is obviously not a new brew from Guinness, released in 2014 it has been around a while. For some reason it has avoided my attention, but I have finally got around to trying it out.
I am not a fan of the regular Guinness, its okay but nothing special. There are far better porters and stouts that in my opinion blow Guinness out of the water.
I am interested to see what this one is like.
Ohh it's good, it is really good. It pours how you would expect a porter to pour, black with a generous tan head. On the nose it oozes porter characteristics, with sweet malty caramel, chocolate and coffee aromas. The taste follows suit with rich chocolate and coffee flavours coating the palate. It is smooth like silk with a balanced sweetness that finishes with the slightest bitter edge. It gets a rate my beer score of 4.8 -5.0.
A high score indeed, but a well deserved one.
St James Gate Brewery
The brewery was founded in 1759 in Dublin, Ireland by Arthur Guinness. He started brewing beer in 1756, but only set up the brewery at St James Gate three years later.
Find out the history of St James Gate
Like most breweries of the time they made ale as well as porter. However in 1799 Arthur ditched the ale to concentrate on the black stuff.
Producing four porters, Town porter, Country porter, Superior porter and Keeping Porter. West Indies Porter came about by Arthur Guinness wanting to send his brews further a field.
They came up with a stronger hoppier porter than would withstand the long sea journey's to the Caribbean and beyond.
West Indies Porter was born and dates back to 1801, so it is an old beer. I for one am pleased Guinness have revived it because it is a cracking porter, well done Guinness.
West Indies Porter, What Is It Like?
I wasn't sure what to expect from this beer. I think mainly because I am not that taken with Guinness Original. This is probably also why the West Indies Porter has avoided my attention.
Guinness has not really been on my beer radar, but after trying this one, well I will investigate their other offerings too.
So what is it like?
As this is a beer that Guinness have brought back to life from the old days. The label makes perfect sense with its old style look.
The bottle and label look good and the beer when poured looks good too. A rich dark beer sits in the glass with a two finger yellowy tan head.
It is set up to be a decent beer, and you know what, it is better than decent, it is a great beer.
Drinking West Indies Porter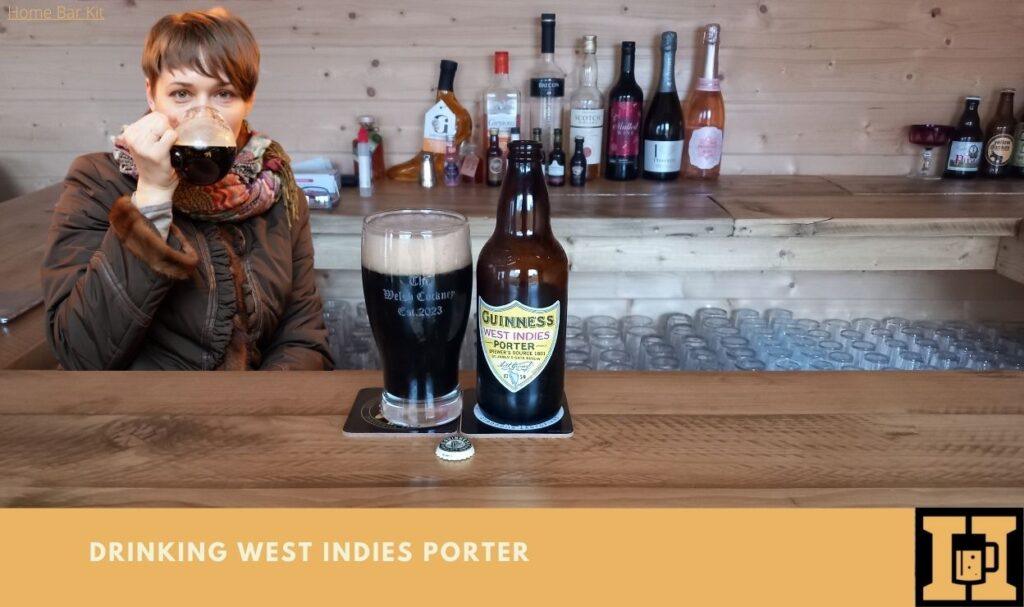 The aroma is a sweet offering with caramel malt, chocolate and a hint of bitter coffee wafting from the glass. It's a delight just to sit there sniffing it for a while, but I want to dive in.
The taste mirrors the aromas and they all come to life in the mouth. Caramel toffee malt, rich dark chocolate and roasted coffee all play their part in delighting the taste buds.
It comes in with a sweetness and a full rich mouthfeel. At the backend there is a slight bitterness that just takes the edge off the sweetness.
It is well balanced and a lasting taste of all the goodness lingers. An extremely good porter that is far better than the original (or maybe this is the real original).
At 6.0% Vol it is not a session beer, however goes down so easy and smoothly, it is hard not to reach for another.
It gets a rate my beer score of 4.8 – 5.0.
M'Lady is pretty impressed too, she not a porter or stout lover, but said "I am not normally a fan of porter, but this sweet smelling, sweet tasting caramel flavoured porter is the exception to the rule. I would drink this over any other porter."
Lou scores it 4.4 – 5.0 which is pretty high for her scoring a porter.
Guinness Brewery Range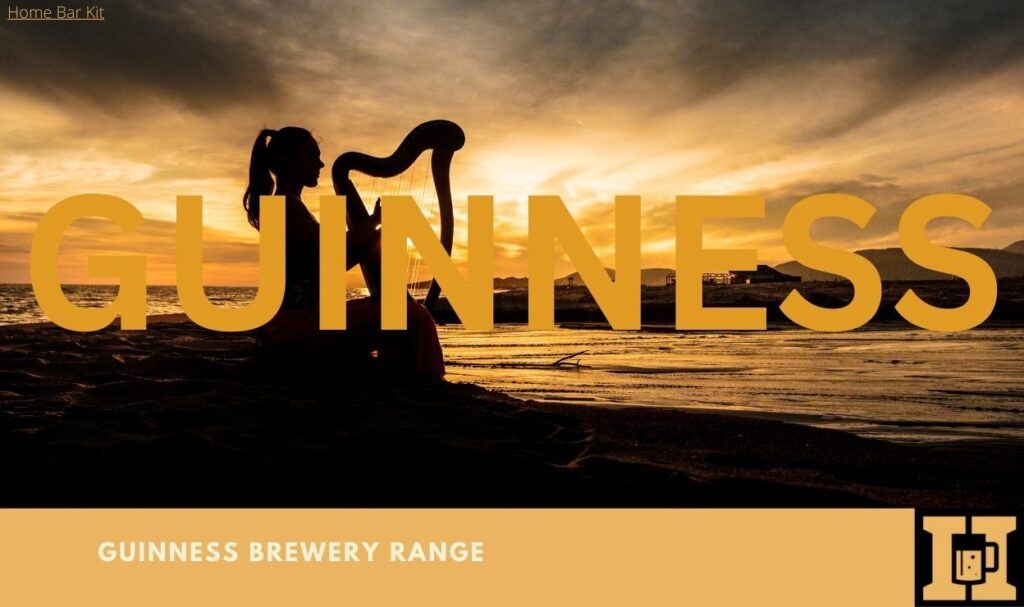 Gone are the days when Arthur Guinness turned all his attention to one type of beer. Guinness now brew a larger range of beers and they are not just stout or porter either.
The range include a golden ale, a lager and a blonde beer too. Here are a few I have picked for future attention now that I am going to explore more of Guinness.
Guinness Nitro IPA
An IPA from Guinness with a nitro difference which it said to give it a smoother creamier mouthfeel. Using five hops of Cascade, Celeia, Challenger, Topaz and admiral for a little bitterness it could be a definite hoppy IPA.
It promises to be a tangy citrus affair with a decent amount of bitterness, but with a smooth creamy mouthfeel. At 5.8% Vol it is not a session beer, so just the one then.
Guinness Blonde American Lager
This is described as a complex and distinctive lager with a long malt finish. Crisp and refreshing it has hints of floral and citrus over a biscuit malt base.
Ireland meets America with this crisp refreshing lager with its hoppy edge. At a straight 5.0% ABV it just edges in as a session beer. So a few on a hot day maybe just the ticket.
Final Thoughts
Although I am not the biggest fan of the original Guinness, Don't get me wrong I have the odd pint now and again. I just don't think it is the stand out beer that many say it is.
However West Indies Porter is a game changer for my view on Guinness. It is a beer that will grace my cooler again. Likewise I will be looking into the other beers in the Guinness range and hopefully enjoy them just as much.
If you have tried West Indies Porter or of the other beers, then do share your thoughts below. Let me know what you think of them.