Pedigree Amber Ale is a beer that I have enjoyed on many occasions over the years. So it is kind of an old favourite, its a decent pint on draught. However this is the first time I have tried the bottle version.
It is a bottle conditioned beer, which means a secondary fermentation takes place in the bottle. This also means there may be a little sediment at the bottom of the bottle. That said, is it as good as the draught version?
What Is Pedigree Amber Ale Like?
It is a good old school ale, which is what I remember on draught. However the bottle version is good too. As you might expect, it pours a deep amber colour with a one finger white top. On the nose it is sweet malt with a floral backdrop. The taste hits with a biscuit malt with a pleasant fruitiness over the top. There is a sweetness, but in pop the hops and a little spice that leads to a nice bitter finish. A smooth well balanced beer that gets a rate my beer score of 4.5 – 5.0.
A good old smooth pint of beer with a decent bitter finish.
Marston's Brewery
Marston's Brewery started life back in 1834, so it has been around a while. John Marston started the brewery in Burton Upon Trent, and it has seen many changes to date.
In 1898 Marston joined with John Thompson and moved to a new brewery. Then in 1905 Marston and Thompson merged with Sydney Evershed and Marston, Thompson and Evershed was formed.
In 1999 Wolverhampton and Dudley breweries bought Marston, Thompson and Evershed. 2007 saw W&D breweries change its name to Marston's PLC.
Marston's is now a bit of a giant, owning many beer brands from Ringwood brewery range, Wainwright, Courage, Manns, Jennings, Mc Ewan's, Brakspear, Eagle, Youngs, Banks's and Wychwood.
In 2020 Marston's PLC merged its brewing business with Carlsberg UK. The same year they took over the running of 150+ Brains Pubs in Wales. Marston's operate over 1500 pubs and bars across the UK.
Pedigree Amber Ale
The beer that was originally known simply a P got an new name in 1952. George Peard the head brewer at the time and the guy on the label set up an inhouse competition for a new name. Marjorie Newbold is the member of the Marston's staff at the time that came up with Pedigree.
Pedigree beer is still brewed using the Burton Union System where double rows of wooden fermentation casks are connected via pipes to troughs above. An old system of brewing that is all but abandoned.
So does this make the beer better?
Drinking Pedigree Amber Ale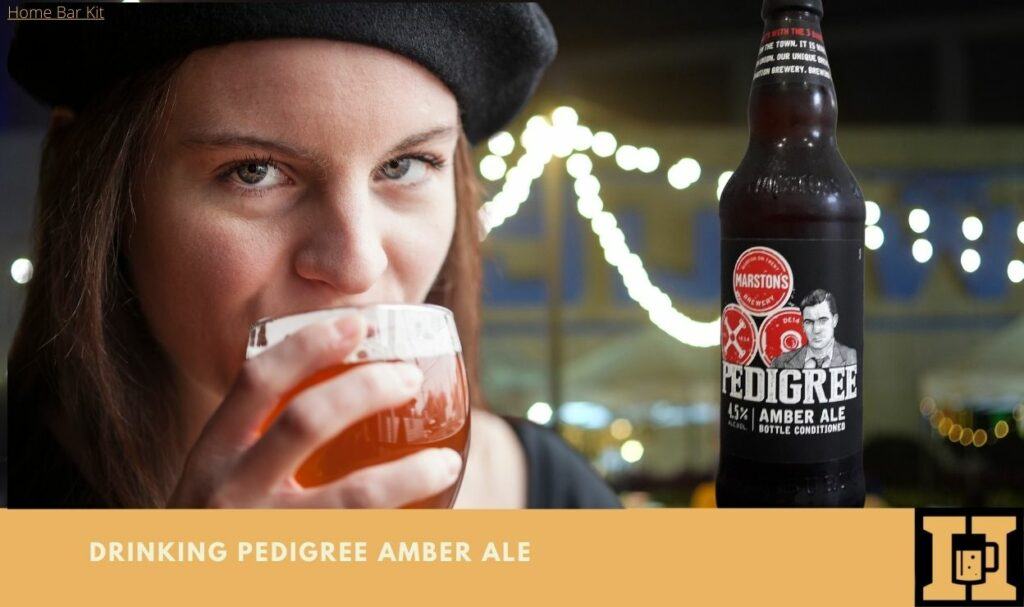 Well it certainly tastes pretty good to me, a smooth and well balanced beer.
It pours a beautiful deep amber with a moderate foamy white head. The head does fade to a thin cover and the carbonation is minimal.
On the nose it is light with a pleasant malty base and some floral notes in the background.
The taste is similar, a sweet caramel malt up front with an earthy fruity edge. A little peppery spice filters through which leads to a satisfying hoppy bitter finish.
Pedigree starts with a sweet edge and finishes with a nice bitterness. It is a smooth well rounded ale. At 4.5% Vol it fits well as a session beer. In the bottle it is still an old favourite and gets a decent rate my beer score of 4.5 – 5.0.
Marston's Beer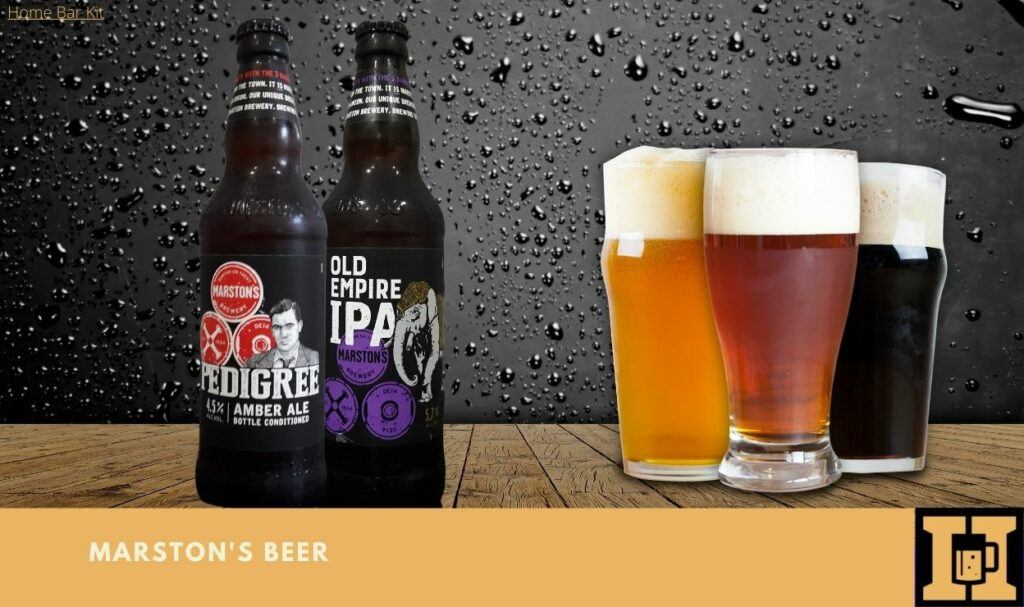 While Marston's run six breweries and brew many other beers, as I mentioned earlier. They do have their own core range which consist of five beers. There are a couple of pale ales, an IPA, a premium ale a stout and a couple of amber ales, one being Pedigree.
However they also have a nano brewery within the larger brewery called DE14. This is where the brewers can let their hair down and put on their creative heads. These beers are small batch beers that make their way to festivals and events, plus the odd Marston's pub.
Here are a few beers offered by the mighty Marston's
Saddle Tank
Saddle Tank is the other amber ale with a recipe that dates back a long time. Named after the train that used to bring malt and hops to the brewery.
This amber ale is a lighter one at just 3.8% Vol and has a rich malt biscuit character, said to be full of flavour. This is all balanced with a mild bitterness.
Sounds like a decent easy drinking low ABV ale, worth a jumping on board.
Resolution
This is Marston's premium beer which is double fermented making sure all the sugar is turned to alcohol. At 4.7% ABV it is at the higher end of the session bracket.
It is said to have a full body of refreshing crisp beer that is light and easy to drink. Sounds like a nice lager style beer to quench the thirst.
4-Track
4-Track is one of the DE14 small batch beers and is a hoppy lager. Dry hopped and cold conditioned this lager has a real hoppy edge to it, which is rare for a lager.
Galaxy, Target, Styrian and Ella make up the hop bill, they are not bluffing when they say it is a hoppy lager. At 4.8% Vol it is not light on strength either.
Certainly a lager worth trying, if you can get hold of it.
Final Thoughts
What started out as a family business all those years ago, is now a massive company running six breweries and a huge amount of pubs and bars.
Their core range of beers are like old style traditional beers, a range that I will make my way through over time. The DE14 beers are experimental and look pretty exciting, with modern and funky brewing all the way.
Pedigree Amber Ale is a decent beer, whether on draught or bottle. It is just a good pint of proper British beer that is well balanced and a smooth body.
If you have sampled any of the Marston's beers, then do share your thoughts below. Especially if you have tried the Pedigree Amber Ale.