I am pleased to be trying another brew from Northern Monk, which is fresh from the north as they say. The last time I dipped my toes in the Monkster was for their Northern Star, a rich creamy porter. However this time is a fruity affair, so is Faith hazy pale ale any good?
It promised to be juicy, fruity and fresh, all in a hazy parcel. I was optimistic after their porter Northern Star, which although very rich was packed full of flavor. So I went all in.
Is Faith Hazy Pale Ale Any Good?
Oh Yes, it is good, very good, it's everything it promises to be and a whole lot more. The pour is lively and settles a hazy sunshine with a huge foamy white top. On the nose it screams a hoppy citrus of tropical fruits like pineapple and mango. The taste is likened to the aromas with a massive fruity hit that is surprisingly smooth in the mouth. The end delivers a slight bitter twist to balance all the juicy fruit. It's good, it's really good and scores a rate my beer of 4.7 – 5.0.
It's hazy sunshine in a glass furnishing a line up of tropical fruit to ignite the taste buds with a subtle bitter end for balance.
The Brewery
This is a very interesting video from The Craft Beer Chanel talking to Russell and Brian
The brewery set up home in Holbeck, Leeds UK in an old mill in 2014, having started from a parents cellar and £5000 funded by a Grandparent. In 2017 they expanded to a second building and today they operate from both sites.
Founder Russell Bisset stands strong in his independent ways and has used crowd funding for investment. As well as investment from a London based company 'Active Partners'. However he has backed away from the likes of the big beer companies wanting a piece of the pie.
If you don't share their visions and values then you ain't getting a piece of the action. It is great to see a craft brewery going from strength to strength without selling out to the big guns.
The Northern Monk brewery is now well established and a big player in the craft beer market. The brewery runs a support program 'Faith In Futures' which supports and helps community based charities and projects across the UK.
Oh, I forgot to mention, they brew great beer too.
Is Faith Hazy Pale Ale Any Good?
I think you know the answer to that question, but if you managed to miss it, then yes it is good.
It is the opposite of Northern Star, which for me was an occasional beer. Although very good and packed with yummy rich flavors, more than one would be overkill.
Faith on the other hand is way too moreish for its own good, or maybe our good. It's an oasis on a hot sunny day, quenching even the fiercest thirst. However the sun needs not to shine because its sunny disposition draws you in whatever the weather.
This can pose a slight problem because it's outside the comfort of a session blanket. So keep the faith, tread carefully and pull out why you can.
Drinking Faith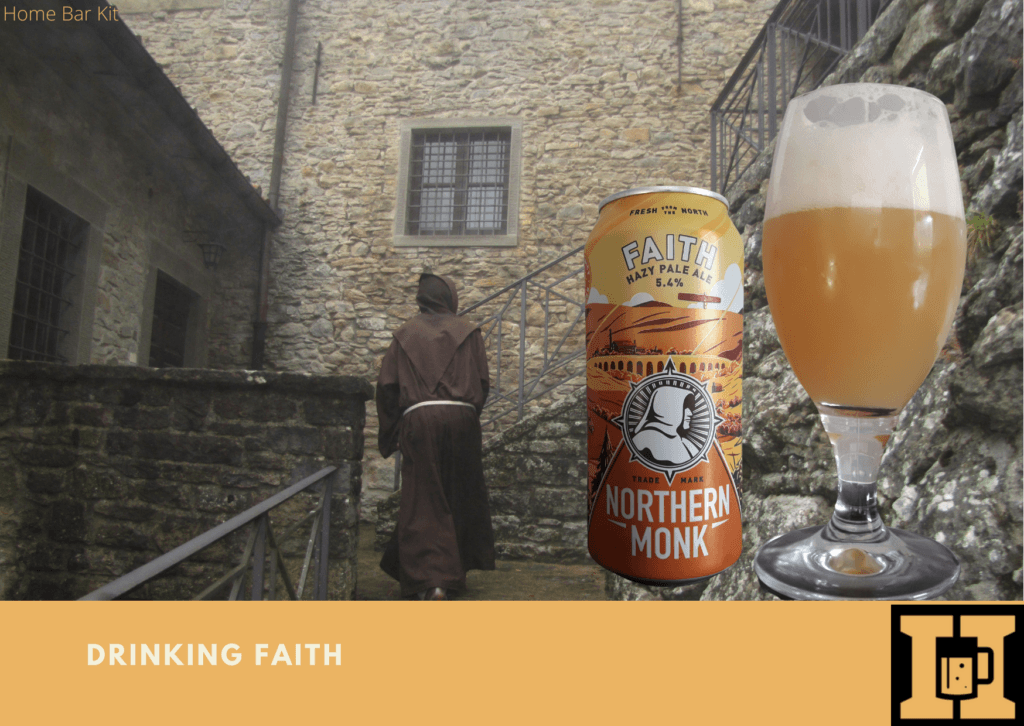 It all starts with the can which boasts similar colors to the beer itself. Rolling hills include the Arthington (Wharfdale) Viaduct and the Angel of the North, and of course Mr Monk too.
It pours a surf of sunshine with white tips swirling around the glass. Once it calms down it settles a hazy shade of gold with a huge fluffy white head. This does fade, but enough sticks around to keep the gold liquid below contained.
On the nose it shouts out a hoppy citrus aroma playing with your senses. A bouquet of sweet mango and pineapple burst from the top of the glass. Although M'Lady also got manderine, fair point.
Diving in for a sip, and those citrus flavors of pineapple and mango party on the tongue with a surprisingly soft smoothness you don't expect. A medium carbonation fizzes around the mouth with a hoppy citrus circus that rides on a soft blanket.
The soft smooth edge is just slightly disrupted with a comfortable bitterness, which balances all the juicy fruit and leaves a satisfying end game. It is hard to put down, but as the beer descends down the glass from sip after sip, it leaves a charming decorative lacing.
As I mentioned it does not fall in the session beer bracket, at 5.4% Vol it deserves a little respect. However it is hard to walk away from, so discipline is needed if you get involved with the Faith.
I initially rated this beer at 4.6, however Lou went slightly higher, and in the end I had to agree. It deserves a 4.7 – 5.0 Rate My Beer score.
Northern Rock Beers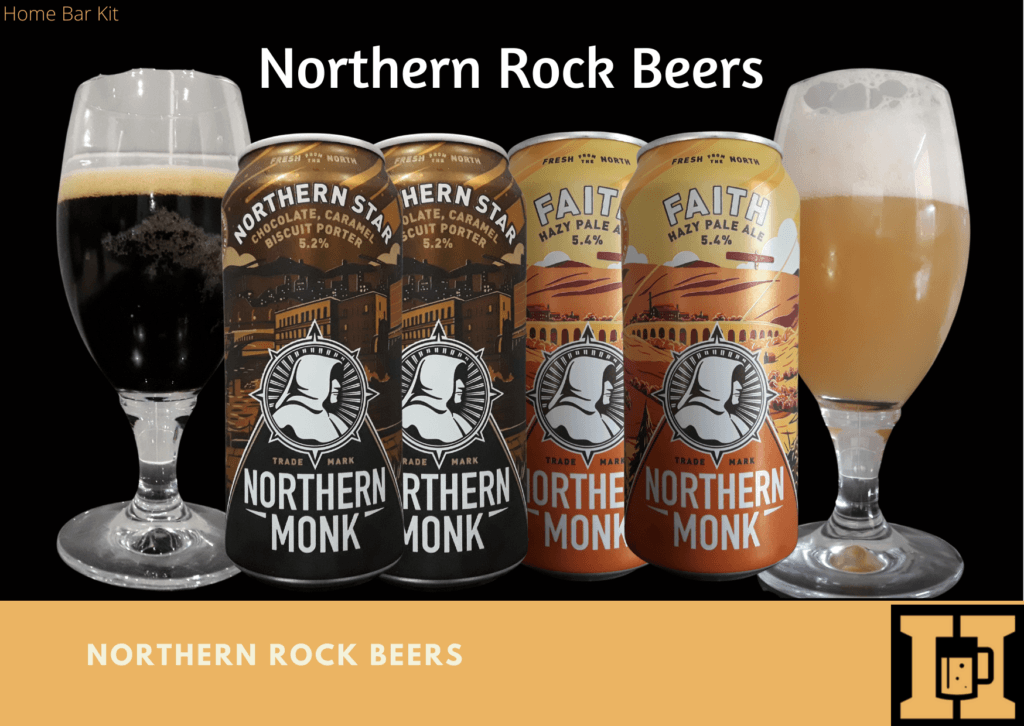 As you would imagine the range of beers from Northern Rock since I last visited their beers has grown. Even though it was a pretty comprehensive range last time. They don't sit back and just keep brewing the same beers.
Obviously they have a core range of favorite beers enjoyed by many, as well as seasonals and twists. But I will look at a few below that have got my attention. Beers that need I need to find and will come home with me.
Citra Lager
Hang on a minute, this is a macro style lite lager, what the hell is a craft brewery doing making a macro style beer?
They are going where no craft brewery have been before. But as you would expect, they have a little twist up their sleeves. While they are emulating a lite lager, they are also lacing it with Citra hops to give it that something special.
A 4.5% Vol classic style lager with a sharp citrus edge to get those taste buds in a tizz. It has got to be tried, just to see whether it works or not, Citra Lager is on my list.
Just Beer
The craft beer scene is a lively one and I for one love all the different types of beer on offer by so many breweries. Having said that, sometimes I just want a beer, nothing special, just a beer.
Northern Rock have got the answer, Just Beer is exactly what is says on the can, it's just beer. A sessionable 3.4% Vol straight down the line beer. Brewed for those times when you just want to open the fridge a grab a cold one.
It's got my attention and I am looking forward to opening the fridge and seeing Just Beer with its simple can design staring back at me.
Carrot Patch
Just when you think everything has calmed down. This one goes right to the other end of the scale to Just Beer.
Carrot patch is part of the Garden Series, which also includes Beet and Bramble which is a beetroot and Raspberry beer. As well as Gooseberry Bush a fruited sea salt gose, whatever that is.
Weirdly this carrot cake smoothie looks just like carrot in a glass, bright orange and slightly disconcerting for a beer. However it promises a sweet carrot smoothie style beer with a lacing of vanilla and a hint of toasted spice in the background.
I don't know how I feel about it, but if I see it, then I know I am going to get it. It weighs in at a sessionable 4,5% Vol, I can't see me having more than one though.
Final Thoughts
I am not sure about the carrots and other garden produce. But it is fair to say Northern Rock are up their as one of the best craft breweries in the UK. They have the core favorites, but they don't rest on those beers alone.
Pushing the boundaries they are not afraid to experiment with new ideas and flavors. While I like that and it is novel to try some of the more flamboyant beers. I also sometimes just want a beer, so I take my hat off to Northern Rock for their Just Beer.
I recommend 'Faith Hazy Pale Ale' it will definitely grace my fridge again. A super fresh juicy beer with a bitter edge. If you give it a go, then share your thoughts below, what did you think?
Remember though, it is not a session beer so tread carefully, enjoy moderately and have fun.