Home brewing is a great hobby with the obvious rewards at the end of the brew. That is if you get it right and everything works out okay. However it can be a little frustrating brewing in the house with all the equipment needed. This poses the question, can I brew beer in a shed?
It would be ideal to move the whole brewing process out of the house and into its own space. This would get your hobby out of the rest of the households way and give you the space to enjoy your hobby. But is it a feasible option to use an outbuilding like a shed for brewing beer?
Can I Brew Beer In A Shed?
The answer is a simple yes, however there are a number of things to consider when using a shed for brewing beer. Temperature control is the main thing to consider for brewing beer in a shed. A shed can be too hot in the summer and too cold in the winter. If you get the temperature right, then a shed can be an ideal brew house.
In this article I will go through a number of things you will need to consider when brewing beer in a shed.
Brew Beer In A Shed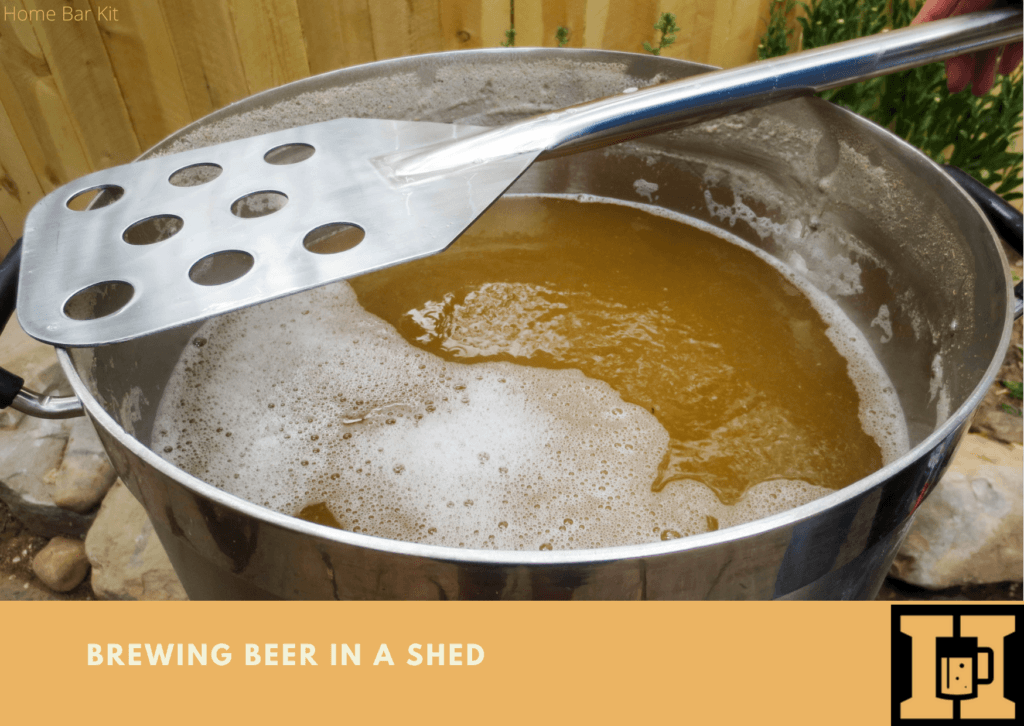 As an Amazon Associate, I earn from qualifying purchases.
The brewing process can be a complicated one, depending on how you undertake the task. You can actually brew beer the way breweries do it, but this will mean a lot of equipment.
The easiest method is to buy a brew at home kit, which means minimal equipment as well as ease of brewing. However this still means temperature control.
Whichever brewing method you use, while the beer is fermenting it will need to be kept at a constant temperature.
This can be problematic in a shed as they can become too hot in the summer, or freezing cold in the winter. So how then can you overcome this problem.
Insulate Your Shed
If you are using your shed for anything other than storing garden tools and equipment. Then it is a good idea to insulate it.
Using a shed as an office, bar or brew room is a great way to get these activities out of the house. Especially if you have not got a lot of space.
By insulating the shed it will keep it cooler in the summer, as well as warmer in the winter. This will not get it to the perfect temperature for brewing beer, but it is a start.
Make A fermenting Cabinet
The easiest way to keep you beer at the right temperature when it is fermenting is to make a fermenting cabinet.
Obviously you can buy a temperature controlled fermenter or cabinet, however these are not cheap. A simple fridge conversion is an easy way to keep your beer at the right temperature. You will need a fridge, a small tube heater and a temperature control thermostat.
Strip the fridge of all shelves except the bottom shelf. Drill a small hole in the side of the fridge so the cables from the tube heater and thermostat probe can pass through.
The temperature control thermostat will then either turn the fridge on for cooling or the tube heater on for heating. Set the the temperature control unit to the desired temperature and it will maintain your beer at the right temperature.
It might sound complicated but it is pretty simple to achieve. And is ideal for keeping your fermenting beer at the right temperature in a shed.
Homemade Fermentation Cabinet
This short video shows how easy it is to convert a fridge into a fermentation cabinet. It is not an expert how to video, but an entertaining one, that gives you a real homemade unit from a non expert.
This is part 3 of a series of video's about brewing beer for the first time in a pub shed. It is worth watching the whole series as its a beginner doing the brewing and highlights some mistakes as well as a few other things to consider when brewing in a shed.
Ideal Brew Shed Set Up
The ideal set up for a brew shed will include the following things that will make it easy and comfortable to brew beer.
Electricity
Insulation
Water supply
Drainage
Work Surface
Fermenter cabinet
Electricity
This is pretty essential if you want to brew and ferment beer in a shed. It will be best with a lighting circuit as well as a socket outlet circuit.
It doesn't have to be too expensive to get electricity to a shed. However this will depend on how far the shed is from the house. Armoured cable should be used as the supply to the shed, so it gets more expensive the further away the shed is.
It is not advisable to undertake any electrics as a DIY project. Always get a qualified electrician in to do the work. This will give you piece of mind and if the electrician is briefed properly will make sure your electrics are up to the job.
Insulation
Before you fill your shed with equipment it is advisable to insulate the shed walls and ceiling. This is ideally done after the first fix of electrics so the cables are hidden. But before the second fix when the switches and socket outlets are fitted.
The design of the shed walls make it easy to cut insulation to fit between the wooden uprights. Then dry walling or plywood can be fitted on top. These can be fixed to the uprights, remember to cut the holes for sockets and switches and feed the cables through.
Water Supply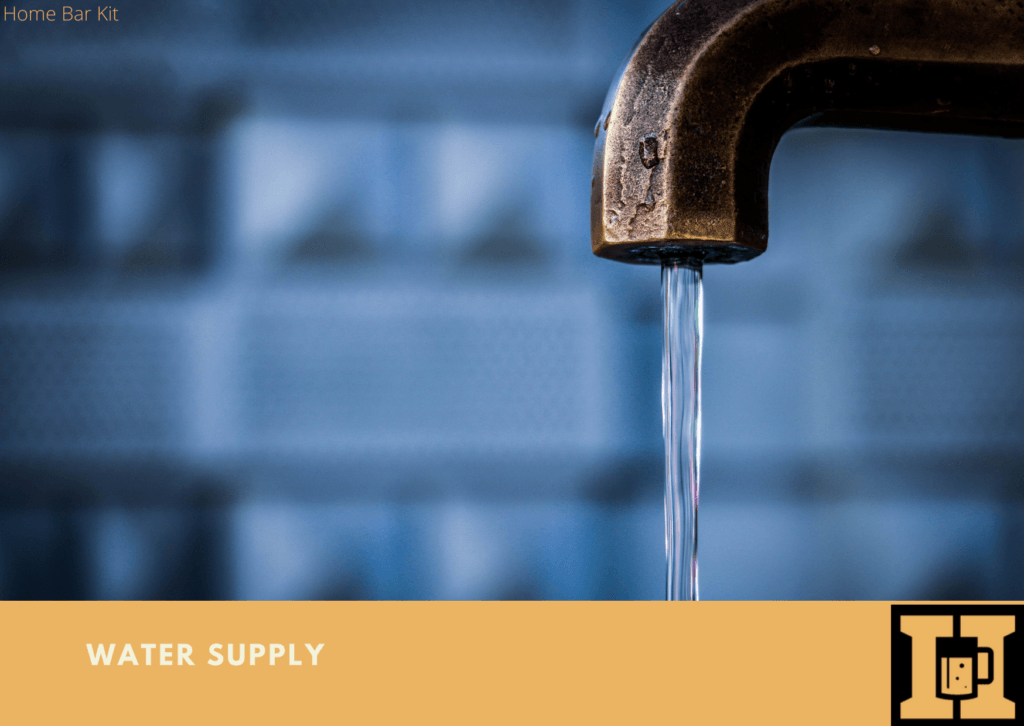 Having a water supply to your shed will be a great bonus. It will save many trips back to the house to fill fermenting buckets. In an ideal world a hot and cold supply would be the best. However this may not be feasible depending on your circumstances.
A cold water supply would do the job as water can be heated in a kettle. It is pretty easy to run a water pipe to a shed. Just make sure it is the right type of pipe that is especially for water.
An outside tap would be ideal to draw the water from, with the right connection. The shed end would just need a tap over a sink unit.
Drainage
It is nice to also have drainage connected to the sink, but again this may not be possible. Digging up your garden to connect a drainage system to an existing drain can be expensive. Also it will involve building regulations and planning.
The alternative to a proper drainage system could be a simple large bucket under the sink. This can then be emptied into a drain.
Work Surface
It is not ideal to work with your sanitizing and mixing on the floor. A decent work surface is the best thing to work on. A couple of kitchen units with a worktop on is ideal for your work surface as well as storage.
However a simple work bench or sturdy shelf will also work. This is down to personal choice, just bear in mind to include some kind of storage too.
Heating
A shed can get cold in the winter, so some kind of heating will make it a much more comfortable space. It is best to shop around for the most efficient heater, as some can cost a lot to run.
For the summer, you can swap the heater for a fan to keep the temperature down.
Fermenter Cabinet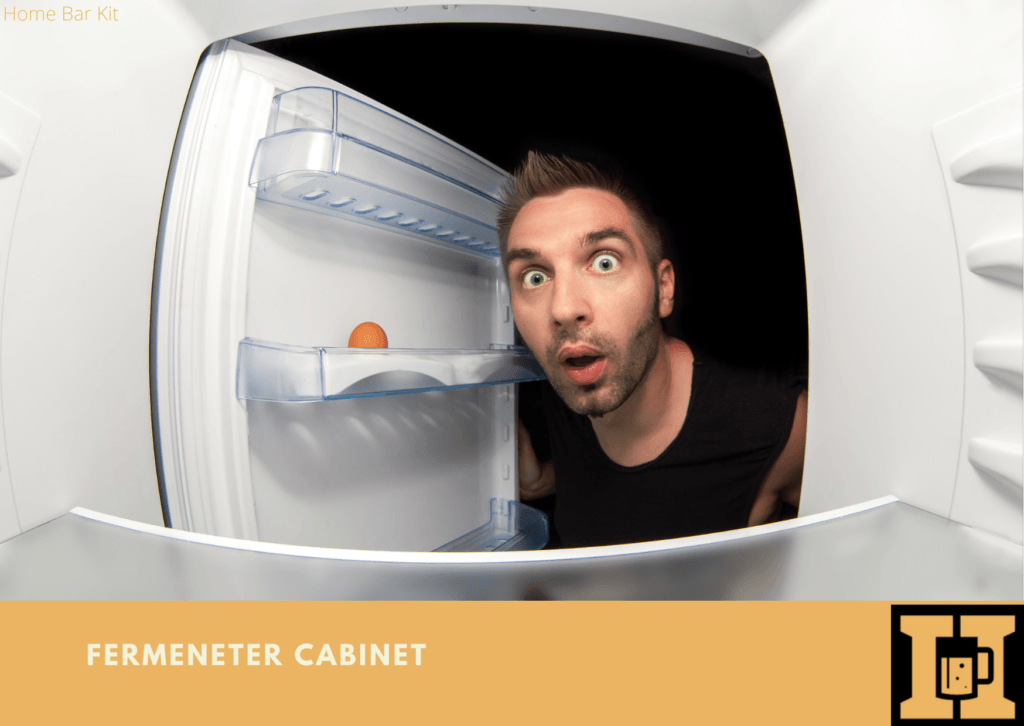 Although a heater or fan will keep the shed at a nice temperature, it would be very hard to maintain the right temperature for your fermenting beer. Plus you do not want your heater or fan running all the time.
This is where a fermenting cabinet will do the job and can be left to run without any problems. The thermostat control unit will keep the cabinet at the right temperature for your beer.
It gives piece of mind and will stop the beer spoiling.
Final Thoughts
A shed then can be an ideal space to brew beer. It keeps the whole process away from the home and contained safely.
Although the things I have mentioned are not all essential, they do make the process of brewing beer easier. The two main things that are essential are electricity and the fermenter cabinet. These really need to be in place.
I would want the insulation and water supply too, as well as a good work surface. I could live without the drainage because it would be too much hassle to install.
This is all based on using a simple brew at home kit which keeps equipment to the minimum. All you need comes in the basic kit, and it is relatively cheap to buy. Once you have the kit it can be used again and again, just buy the type of beer you want to brew.
It might be time to turn your shed into a brew shed. May be you already have and have some great tips to share, which you can do below.