A beer from a brewery that is inspired by music and collaborations, bringing beer, music and art together. They produce exciting craft beer, but without the heavy strength tag. A lively and stimulating concept, so how good is Dream Factory Pale Ale then?
Surprisingly good, even though I was drinking it out of a plastic glass on an aeroplane at 30000 feet. It's a good a place as any to do a beer review.
How Good Is Dream Factory Pale Ale?
It's a great beer, lively, tropical and full of flavour. A light straw gold with a slight haze to it and a medium white fluffy head. On the nose it screams hoppy tropical fruits of mango and pineapple, its a blast of citrus aroma. So to the taste reflects the nose with a burst of tropical flavours up front, grapefruit, pineapple and mango. It's fresh and clean with a solid body and a nice bitter finale. I like it, the rate my beer score comes in at a solid 4.6 – 5.0.
Two Tribes have created a cracking session pale ale full of flavour, it's a truly moreish beast.
Two Tribes Brewery
Two Tribes Brewery started back in 2017, the founder Justin Deighton has a long career in the music industry. His plan was to bring beer and music together, hence the name.
Therefore because of the music connection it is easy to assume that the name is inspired by the 80's track Two Tribes. However it isn't, the name is inspired by bringing together like minded people, working together.
The brewery is based in Kings Cross, North London, and as I said started life in 2017. However Justin actually started brewing back in 2013. It started when him and his wife Nikki took over WJ King Brewers in Horsham, West Sussex. They rebranded the brewery to King Beer and got on with brewing.
Yet it seems London was calling and the move made for an exciting new brewing venture. Two Tribes brewery was born.
Two Tribes also has a taproom at the brewery called Campfire. Inspired by an open fire solstice festival, it has a fire pit to cook food to go with the beer while music fills the air. Now that's a nice picture.
The plan is to make quality session beers that are full of flavour. Something I think has been achieved with Dream Factory Pale Ale which weighs in at just 4.4% Vol.
How Good Is Dream Factory Pale Ale?
I knew that airlines were starting to offer better beer choices on their flights. But I wasn't expecting to find two beers from two breweries that I haven't tried before.
Dream Factory Pale Ale is one of those two beers, and I have to say it is a good beer. The artwork on the can is the first thing to hit you. The abstract style artwork is fun and colourful and that kind of reflects in the beer.
Drinking Dream Factory Pale Ale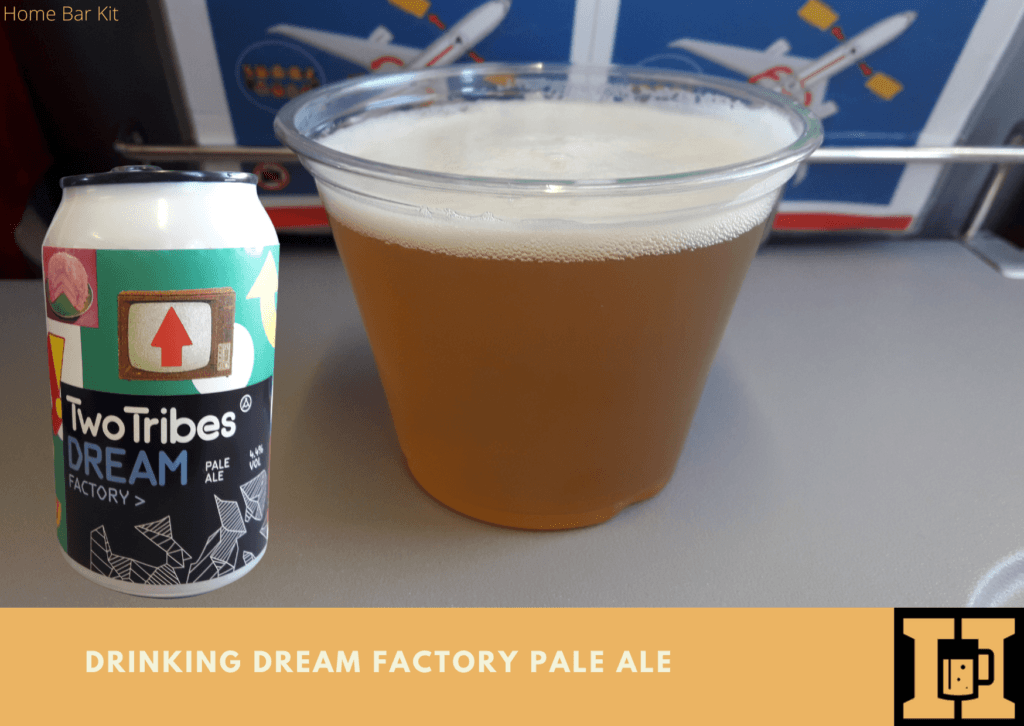 It has a personality, its flavours smack you in the face and are as colourful as the artwork on the can. The body is solid, but at the same time it feels clean and fresh.
It was hard to get the kind of semi aggressive head creating pour I like on a plane. However it still went pretty well and settled to an opaque light gold vision with a medium fluffy white top.
The nose bursts from the rim of my lovely plastic glass with aromas of tropical fruits. I get pineapple and soft mango, you just know it is going to be a hoppy little number.
I get what I expect going by the nose, a hop forward blast of tropical citrus fruit. A sharp grapefruit that softens to pineapple and the again to sweet mango. The mouthfeel is fresh and smooth, yet the sweetness fades into a satisfying bitter end.
It feels more than its 4.4% Vol, its got depth and plenty of flavour. With spring on the way, I can see this featuring in the first garden gathering. It gets a rate my beer score of 4.6 – 5.0.
I let M'Lady have a little snifter, well it was only a small can. Armed with just the one sip Lou rated it slightly less at 4.2 – 5.0.
Two Tribes Beer Range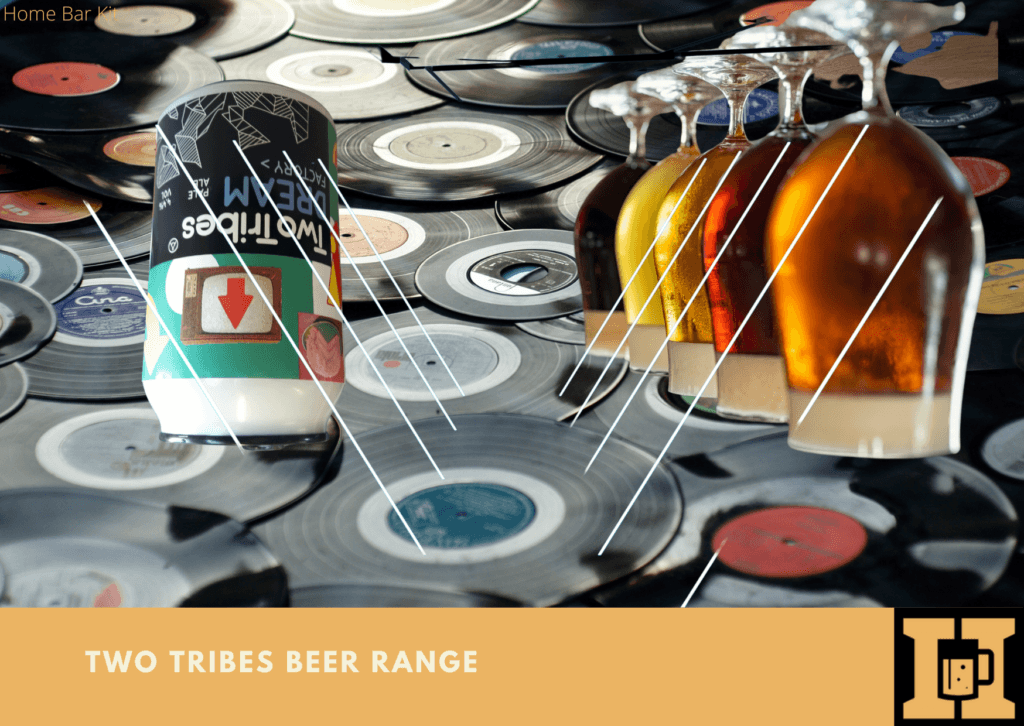 So what else has this exciting London based brewery got up its sleeve? Looking at their current range, it includes a few lagers, a selection of pale ale and IPA's, as well as a porter.
All of which, baring a couple all sit within the session range. Just two edge over the fence, but are still in the low end 5% ABV. So here are a few that need to make their way to my fridge, although it would be rude not to try them all.
Mariachi Lager
Kicking off with a lager, Mariachi is brewed with Mexican lager yeast and hopped with Columbus. A dry citrus beer with hints of corn, lime and orange that creates a crisp low bitter lager.
This lager sits at the higher end of the session range and weighs in at 4.7% Vol. It sounds like a lager to be reckoned with and one that makes my hit list.
Campfire
Campfire is a hazy pale ale, which I assume is named after the Two Tribes taproom. Described as a full bodied pale with an array of tropical fruits. Think mango, passionfruit, red berries softened by a little vanilla and coconut.
This one breaks through the session barrier, at 5.2% Vol it still won't knock you over if you go for a second. Which I think is likely because it sounds divine darling.
Coal Drops
Coal Drops is a porter inspired by the historical connection of the coal porters of 18th century London and the beer named after them.
A rich earthy porter with hints of coffee and chocolate topped with a little spice. Sounds like a full flavoured porter that weighs in at a mere 4.0% Vol, I'm in.
Final Thoughts
Two Tribes brewery is an exciting brewery, lively and vibrant. They bring together beer, music and art, as well as food around their Campfire taproom.
Going on Dream Factory Pale Ale, I am excited to try their whole range of beer. And next time I am in London, I am going to find me that Campfire where I will eat their food and enjoy some Two Tribes beer on tap.
Looking forward to that trip. However, what about you? If you have experienced any Two Tribes beer, then do share your thoughts below, it interests me.