A traditional style beer produced at the highest brewery in England and on the doorstep of a prison. Sounds interesting, but how good is Jail Ale?
This beer started life in 1994, so has stood the test of time. It is the first beer produced by Dartmoor brewery and is a good old style bitter. So can it hold its own in today's vibrant beer market?
How Good Is Jail Ale?
Jail Ale is a decent beer, it oozes quality and sits proud as a standard ordinary beer. Easy drinking and comfortable, I think it does hold it's own in today's beer scene. It sits in the glass a deep golden brown with a slightly off white head. The nose is simply malty caramel and notes of berry fruit. The taste kicks in with sweet malt that turns to a bitter burnt caramel. In the background there is a hint of fruit. It's a good old style beer you can trust and hits a rate my beer score of 4.1 – 5.0.
A perfect country pub pint of beer.
Dartmoor Brewery
Dartmoor brewery was born in 1994 out the back of the Prince Of Wales pub in Princetown, Dartmoor, Devon, England.
Started by Simon Loveless and Phillip Davies, Jail Ale was their first brew and the beer that started it all.
The brewery was originally called Princetown Breweries Limited, but changed the name to Dartmoor Brewery in 2008.
The small brewery was producing around 45 barrels per week. However the demand outweighed the supply. Therefore a purpose built brewery was built on the old Princetown Railway Station site which is only several hundred yards from the original site.
Also just on the doorstep is the notorious Dartmoor Prison, which is said to have had its own brewery at one point.
I wonder where the name Jail Ale came from, hmm.
Dartmoor brewery has come a long way from that small site in 1994 and today produces four core beers, as well as 2 specials.
So it's not a vast range, but I like that. In fact it's a good thing. A brewery that concentrates on a small range using quality ingredients.
How Good Is Jail Ale?
Jail Ale is a decent straight down the middle beer that pulls no punches. There is nothing out of the ordinary. It won't wow with far out flavours that some would say shouldn't be in beer in the first place.
The label starts the experience, plain but decisive. The name of the brewery, the name of the beer and the ABV. Straight forward, no nonsense, this is the beer, now drink it.
I did, and its good.
Drinking Jail Ale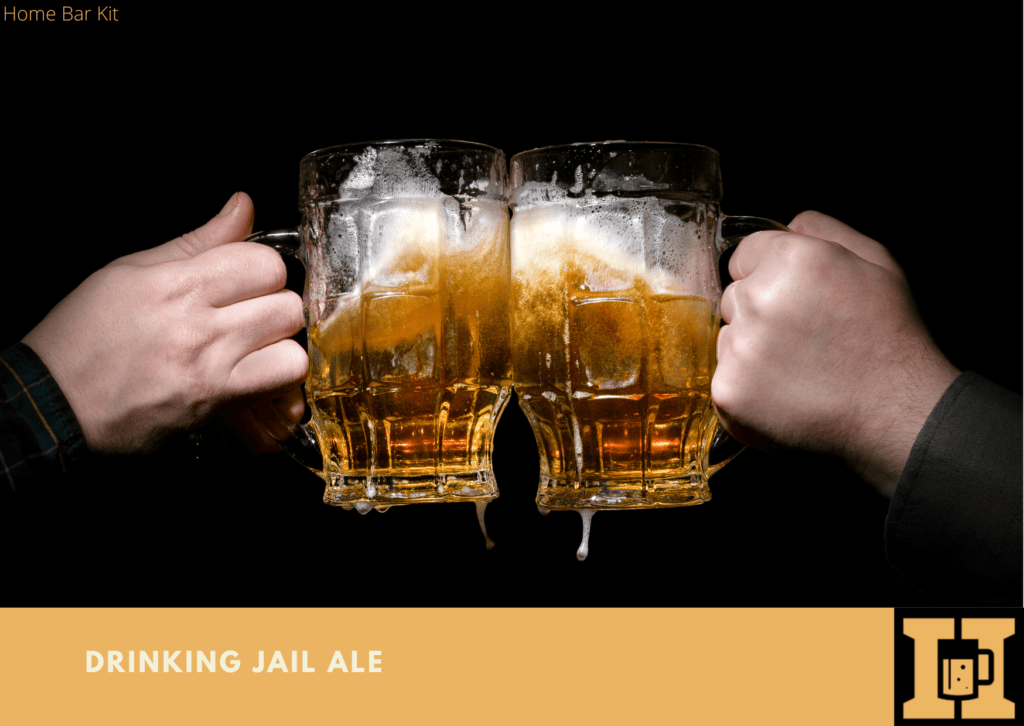 Once the beer settles in the glass it is a deep golden brown with a foamy off white top. However this does fade to a thin cover which then sticks around for the duration.
The nose is a strong malt caramel with just a delicate note of berry fruits lurking in the background.
Tasting the beer is a sweet malty experience up front. This turns into an almost smoky burnt caramel which provides a decent bitterness on the back end.
Hovering between the two is the lightest of fruit teasing the buds. A medium carbonation leads to a pleasing bitter aftertaste.
At 4.8% Vol it is strong enough to satisfy, but okay to have another if you fancy it, I think you might.
I like it, a decent real beer that does exactly what you would expect. It ain't bothered about all the new kids on the block stealing the limelight.
It stands tall and holds its own in a crowded market and patiently waits for those that just want a decent beer.
For me it gets a solid rate my beer score of 4.1 – 5.0. M'Lady thought it was a down to earth beer, nothing special, but solid. Lou scored it a slightly lower 4.0 -5.0.
Dartmoor Beers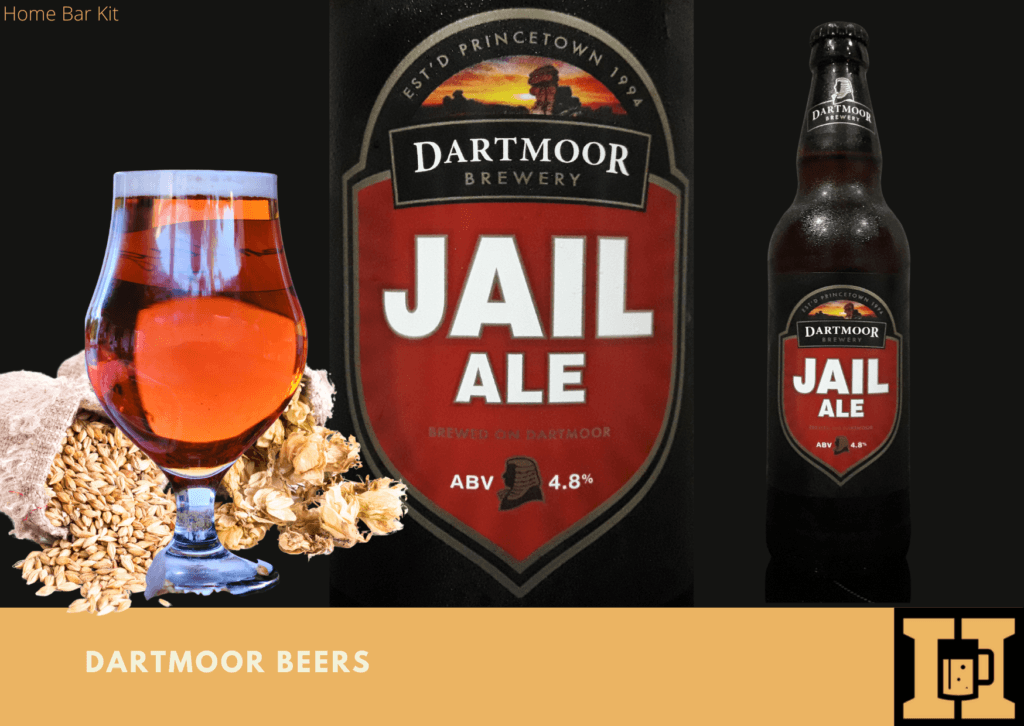 Like I mentioned earlier, Dartmoor Brewery haven't got a vast range of beers. Just four core beers and two specials. However this is not a bad thing, the brewery is a modest one, producing a modest range.
Jail Ale is the strongest beer in the Dartmoor line up, however all but one sit above the 4.0% ABV mark.
Here are a couple to look out for.
Legend
Legend is a well balanced beer with looks of amber and aromas of fruit and malt. Meanwhile the taste is smooth with hints of spice and orange.
Sounds interesting and definitely one I will be seeking out, I just hope it is a legend. A cask ale with a moderate 4.4% Vol that may just be another Dartmoor classic.
This beer is part of the Dartmoor core range of beers.
Dragon's Breath
Dragon's Breath is described as a winter warmer with dark ruby looks and spicy but fruity aromas. It is rich and full bodied with more sweetness than bitter, ending with a hint of cherries.
A beer that is one of the two specials from Dartmoor brewery. It is available between the months of October through April, which makes sense as it is a winter warmer.
Dragon's Breath weighs in at 4.4% Vol, the same as Legend.
Final Thoughts
Dartmoor Brewery are quietly brewing away using traditional methods. The quality ingredients which include their own strain of yeast and the delightful pure water of Dartmoor seal in the quality of their beers.
Princetown the home of the brewery stands over 1400 feet above sea level making it the highest brewery in England. The natural beauty that surrounds it is outstanding, so a definite place to visit if you get the chance.
If you have had Jail Ale or any of the other Dartmoor brews, then share your thoughts below. Let me know what you thought and rate it if you like.