If you see a bottle of beer on a shelf in the store that is called Wolf Rock you don't walk past it. A name like that grabs your attention, both words are strong and unforgiving. Staring at the bottle, you can almost hear the spine tingling howl of the legend that is wolf. That aside, the label also said 'Red IPA', which meant it was coming home with me. However, is Wolf Rock Red IPA any good?
This beer has everything going for it, a strong name that conjures up a pack of wolves guarding a sacred rock. That might just be my imagination, anyway, it's also a red IPA, that's another thing going for it. Plus, it promises a spicy roast malt and ripe fruit experience. Like I said it has everything going for it.
Is Wolf Rock Red IPA Any Good?
In a word, yes. It's an interesting IPA that explores the new world hops of the US and old style hops of Britain. It pours a deep brown velvet, with a menacing red hue that creates a generous rich crown. On the nose it delights with roasted malt and sweet fruity scents through a caramel toffee coating. The taste is as the nose, a sharp fruity citrus blended beautifully with a sweet caramel coffee like shot. The finale is the slightest of bitterness washing over the ripe sweetness. It's a fabulous experience that warrants a majestic rating of 4.6 – 5.0.
It may have just earned a place in my favorite list of beers, well done Sharps.
Making Waves Since 1994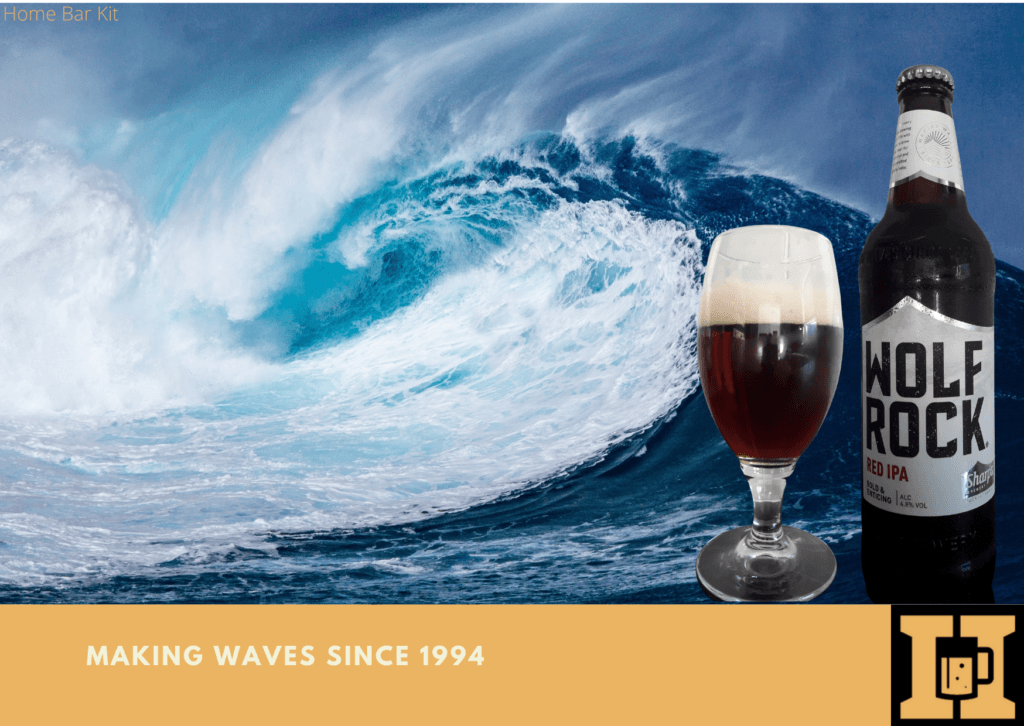 If you haven't guessed yet the brewery that produces this moreish Red IPA is Sharps. The Cornwall based brewery founded in 1994 by Bill Sharp is situated in the village of Rock. Starting as a micro brewery and growing into a large brewery producing some great beers.
These beers include the likes of the mighty Doombar, as well as the fresh crisp pilsner, Offshore. Both of which are served locally to me on tap, oh praise the beer gods.
Just like many independent breweries, the giants prey over them and Molson Coors acquired Sharps in 2011. However the brewery continues to focus its attention on producing high quality cask and bottled beers for the world to enjoy.
The bottling production was transferred to The Molson Coors plant in Burton Upon Trent, but the cask production still remains in Cornwall. At least the beers have not changed, and each one has its own historical Cornish story.
Wolf Rock Red IPA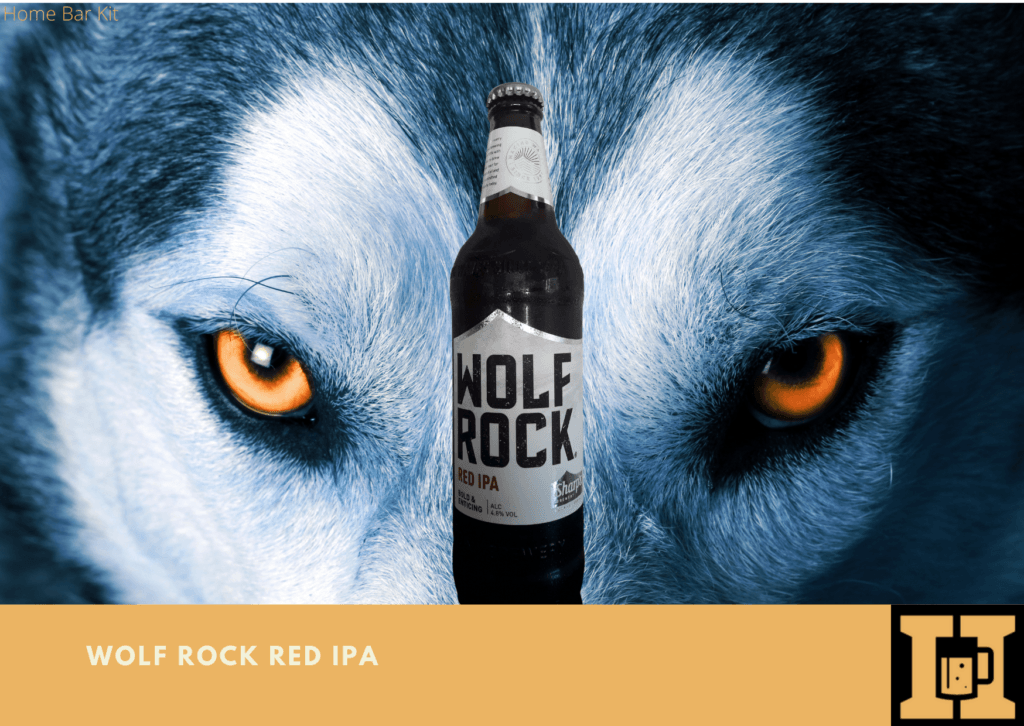 Wolf Rock is a merging of two styles of beer, a red ale coming together with an IPA. Noble and New World hops give it that fruity sweetness and roasted malt body with a hint of spicy tones. It looks good, it smells good and it tastes good.
As I said Sharps beers all have their own historical story from Cornwall, and Wolf Rocks story is a howler. A small platform of rock breaking through the surface of the rough sea, eight miles off the Cornish coast. Named Wolf Rock because when the wind is high gaps in the rock create a howling sound that mimics a pack of wolves.
Apparently those gaps have since been filled in, with a number of reports as to why. It's a fascinating story, which is worth a read at The Cornish Bird website.
Is Wolf Rock Red IPA Any Good?
Back to the beer, as you have probably gathered, I think Wolf Rock is a good beer. It has drama with its red tinge and strong name. The aroma is a delight and its taste is full bodied with balanced hops and a smokey roasted undertone.
It pours a dark brown leather with a vibrant redness dancing around the glass. The head is considerable, slowly dissolving to leave a lean almost tan foam lid. Likewise a tan lacing beautifully decorates the glass as you drink the beer.
A sweet smell of fruit notes rise from the foamy top combined with a roasted biscuit malty base. M'lady described it as a fruit crumble fresh from the oven. I also get a slight coffee type scent on top.
The taste excites the buds with a honed fruity citrus uniting with a sweet malty caramel biscuit dipped in coffee. It all concludes with a delicate bitter sweetness of fruit.
At 4.8% Vol it scrapes into the session division and I get the impression the flavors will develop even more with a second glass. I'm a fan and it will be gracing the shelves of my beer cooler going forward, although not to cool. It deserves a triumphant rate my beer of 4.6 – 5.0.
More Beers Enjoyed By Me.
Sharps Beers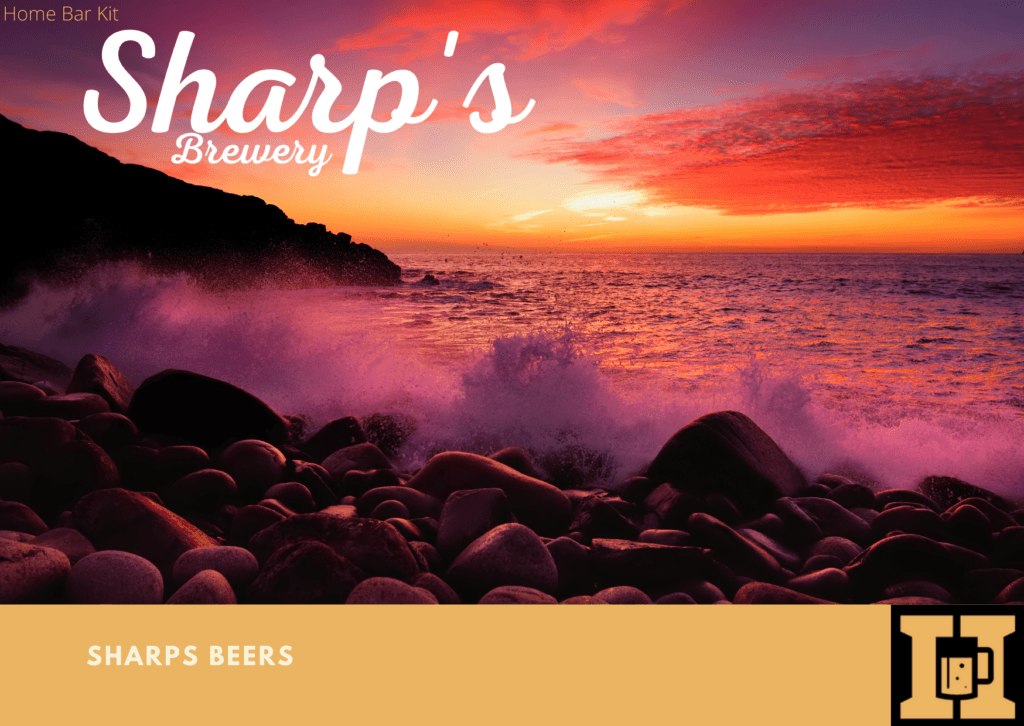 I am impressed with Wolf Rock Red IPA, but what else have Sharps got on offer? They have a range of ales and lagers, as well as a cider too. A few I have already tried and liked, but some I am still to discover, it's a journey I look forward to.
Doom Bar
This amber ale is the flagship of Sharps Brewery and a winner in Britain. It topped the charts as being the highest selling cask ale of 2019 in the UK. The winner of a long list of awards, this beer knows no boundaries.
The mouth of the Camel Estuary in Rock is home to a hazardous sand bank named Doom Bar. A seafarers bane who need to expertly navigate around it. An inspiration for this popular amber ale.
A perfectly balanced beer that wafts aromas of spicy hops and sweet roasted malts. It promises a fruity base with lightly roasted malt flavors. From memory it also delivers a hint of rich caramel and chocolate notes finishing with a fine bitterness.
At just 4% Vol in cask and 4.3% Vol in bottle it is easy to understand why it is a best seller.
Sea Fury
A substantial special ale that is satisfying and moreish. It's stronger and bolder than Doom Bar and demanded by Cornish sea folk. The name is inspired by the turbulent seas that bombard the Cornish coast during the harsh winters.
It screams out scents of roasted dark berries. Flavors of rich dark malts are entwined with berry fruits which evolve into a full hoppy ending. A bitter with a full depth of flavor and a drinkability of a lesser strength beer. It's on the edge of session with its 5% Vol, which does not concern the robust Cornish fisherman.
Chalky's Bite
This Belgium style beer was born from a challenge by renowned chef Rick Stein. The celebrated chef called upon Sharps to create a Cornish beer that could equal the exceptional Belgian beers. The result was Chalky's Bite named after Ricks famous Jack Russell.
Said to have flavorings of fennel, pear and candy floss it sounds intriguing. Three hop varieties and fennel seeds are used in the brewing process. It promises a distinctive aroma and taste, coupled with the strength of a titan.
I am not joking either, at 6.8% Vol its one to be wary of, don't go in with too much vigour or Chalky just might bite.
Final Thoughts
Its been a fascinating journey across the sea fury out to wolf rock, and back along the Camel Estuary narrowly avoiding doom bar sand bank, only to get bit by chalky. Just trying to be clever, but I have enjoyed the beer. I know Doom Bar is a great ale as I have had it many times. Wolf Rock is equally as great, and one that I will enjoy regularly going forward. Likewise I have enjoyed Offshore too, but the excitement comes with the I have yet to try.
Sea Fury, Atlantic Pale Ale and Chalky's Bite have all joined the rate my beer list, so will feature one day soon.