It is always nice to have a pint of good old best bitter, and this one is from Bragdy Teifi, which is Cardigan brewery in West Wales. A 4.0% ABV session beer that is bottle conditioned like all of their beers at Cardigan brewery. So what is Desperate Dai Best Bitter like?
With all the different types of beers there are to drink today. Sometimes it is nice just to have a standard best bitter. A no nonsense straightforward beer with plenty of rich malt and a nice bitter finish. So I am looking forward to this one, lets dive in.
What Is Desperate Dai Best Bitter Like?
A little disappointing, it's a good beer, but not a best bitter. The taste is more like a pale ale than a best bitter. It pours a mid amber with a one finger white head. The nose is hoppy with citrus notes of grapefruit and pineapple. There is a slight malty caramel base, but it is overpowered by a hit of grapefruit citrus which also gives it a bitter finish. It's a decent beer, but not a best bitter and gets a rate my beer score of 3.8 – 5.0.
A good beer, but not what it says on the label. I was expecting a malty beer with a bitterness you would expect from a best bitter, but got a citrus frenzy instead.
The Cardigan Brewery
Cardigan brewery is a small micro brewery on the West Coast of Wales. It makes two ranges of beer. The Penlon range of beer is the original range.
This beer has been brewed since 2004, and is a traditional style of beers with all natural ingredients. At that time the brewery was also named Penlon Brewery.
The other range of beers added is the Crafty Dai range which have more of a craft beer feel to them. This is a result of the union between Penlon Brewery and Inn Keeper Wales. Which resulted in the name change to Bragdy Teifi, or Cardigan Brewery.
Desperate Dai Best Bitter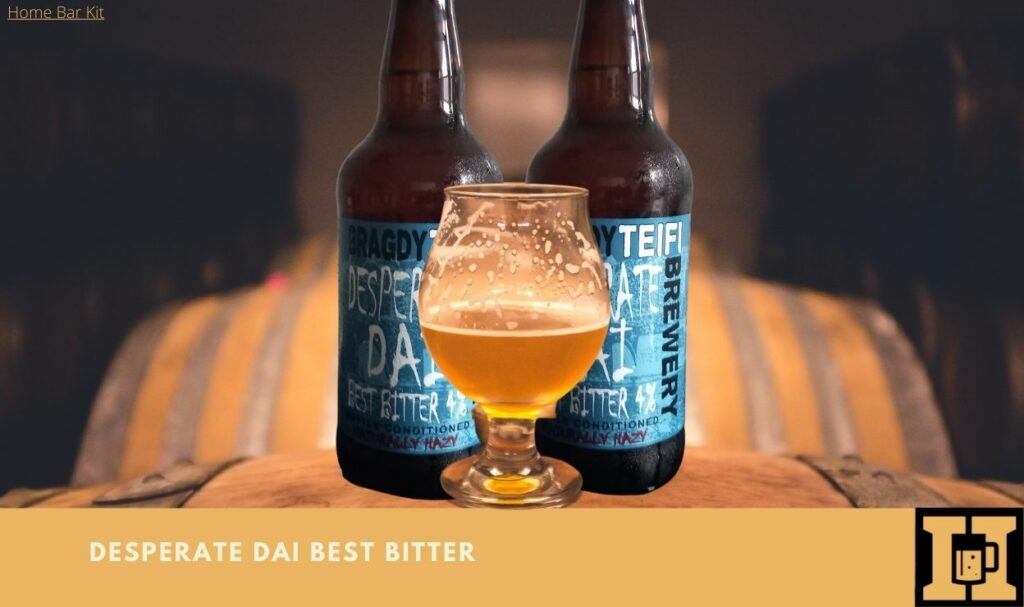 I have tried their Golden Ale Sunny Dai, which is a great beer. As well as their Dai IPA, which was okay. However Desperate Dai is a bit of a let down, but only because it is a little confusing.
As a best bitter it just doesn't hit the mark. The flavour profile just isn't what you expect from this style of beer.
However if you think pale ale, then it fits the brief and becomes a decent beer. So the beer is okay, just not what is says on the label.
Drinking Desperate Dai
The pour produces a mid amber beer with a good white foam head. An array of bubbles stream up the middle of the glass and feed the white top, which retains well.
On the nose it hits straight out the gate with a hoppy front and citrus notes of grapefruit and pineapple. Not what I am expecting.
Going in for a taste and the tiniest of caramel malt hits the mouth, but is washed away by a hoppy hit of citrus. A slightly smooth pineapple is immediately dominated by the sharp and bitter grapefruit. This does provide an nice bitter finish.
I like it, but not as a best bitter. It gest a rate my beer score of 3.8 – 5.0, and that is only because I like the beer. If I were to score it purely as a best bitter, then it gets a 2.5 – 5.0.
M'Lady says "Smooth with good carbonation, tropical fruit flavours with a subtle bitter edge." Lou scores it a more generous 4.3 – 5.0.
Our son Joe joins us today and he says "Strong notes of grapefruit with hints of other fruits, but not as bitter as expected." Joe scores it a lower 3.4 – 5.0.
To sum it up, its a good beer, but not a best bitter.
Beers From Cardigan Brewery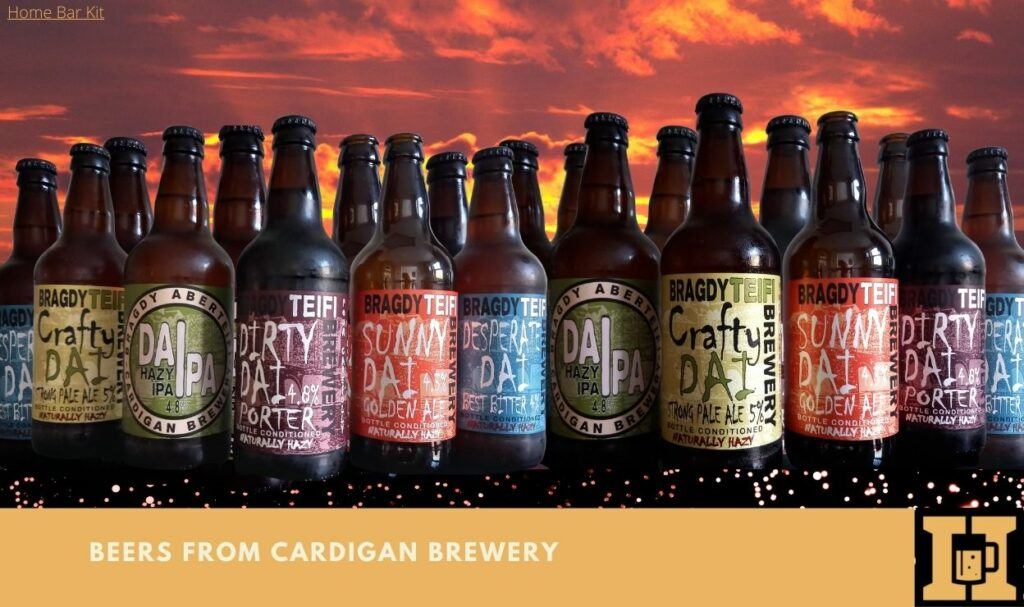 So what else has Cardigan Brewery got to offer?
Like I said they have two beer ranges, Penlon and Crafty Dai. The choice is not vast, but both sets of beers have a solid foundation.
Also they have something for everyone, from lager, through Golden ale, pale ale, IPA, bitter, strong ale and porter.
Here are a few to look out for.
Heather Honey
Heather Honey is a golden ale from the Penlon range of beer. It uses honey from the Welsh moorland to give it a distinctly sweet aroma.
So we might expect the beer to be a little too sweet. However apparently it has a dry taste that is refreshing, so is worth a try. At 4.2% Vol it fits nice as a session beer and could fit well for warm summer days.
Sunny Dai
Sunny Dai is a Golden Ale with luscious hoppy notes and infused with coriander seeds and marmalade. Sounds good right, and it is good.
I have had Sunny Dai and it is a really good solid golden ale, up there with the best of its style. Definitely a smooth refreshing beer ideal for a beer garden or just when a cold beer is needed to quench the thirst.
At 4.3% Vol it sits well as a session beer, its one to try.
Hazy Dai
Another beer from the Crafty Dai range. Hazy Dai is a refreshing pale ale with a surprisingly low ABV. Dry hopped late into the brewing process to create the best aromas of floral and pine.
At just 3.8% Vol it sounds like a bubble little pale ale that won't kick you like a mule.
Final Thoughts
So this is my third recent visit to the Crafty Dai range from Cardigan brewery. Sunny Dai, the golden ale is excellent. Dai IPA which is a good beer, just maybe a little thin in the mouth and lacking a bitter punch.
Now Desperate Dai, although a decent beer, you don't get what you expect from the label.
I have had a few of the Penlon range, however that was some time ago, so will have to start afresh to review them. One that's going to get a test drive is Cardi Bay best bitter.
Just to see how it compares with Desperate Dai best bitter. It is described as smooth and malty with a bitter finish. Now that is what I want from a best bitter, here's hoping.
If you have tried any of the Penlon or Crafty Dai beers, then do share your thoughts. Especially if you have tried Desperate Dai. How did it work out as a best bitter for you?