Lazy Ass Lager is a Greek beer from the Beautiful idyllic Island of Santorini in Greece. And this lager is not your standard Greek lager, no it has more to offer than the likes of Mythos or Alpha. This is a craft lager.
Brewed by a small brewery not far from the capital Fira. Santorini Brewing Company produce a range of craft beers that quite frankly are pretty good. Well their Yellow Donkey pale ale and their Crazy Donkey IPA are great beers. So does Lazy Ass Lager kick ass too, or does it let the side down?
Lazy Ass Lager is up there with the Yellow Donkey and Crazy Donkey. It's a solid beer with a beefy body. It pours a sunshine gold with foamy white top. The nose shares a little caramel malt with a fruity overtone. The taste is a slight malt base with a surprising fruity top and a little spice on the back end. A little hop kick finishes with a nice bitterness. It's dry and refreshing and gest a rate my beer score of 4.5 – 5.0.
A good beefy lager with a bitter edge, it's a decent Greek beer, Yamas.
Santorini Brewing Company
So a Serbian, American, Greek and an Englishman go into a pub, and when they come out they created a brewery.
I am not sure whether the idea came to them in a pub, but in 2011 four friends had an idea to start a brewery. The idea was to offer something different to Santorini and Greece.
A goal they have well and truly accomplished. The brewery might be small, but there beers are anything but. And they are going great guns in Santorini as well as other parts of Greece.
They describe their beers as Lagered ales. Which if I'm right means a beer that is brewed using ale yeast and finished at cooler temperatures like lager.
Whatever, they are great, so when in Greece look out for the Crazy Donkey's.
Lazy Ass Lager Greek Beer
Lazy Ass is a result of a collaboration with another micro brewery, Flecks Microbrewery in Austria. As a company that actually design, manufacture and install brewing equipment.
I think this is where Santorini Brewery got their brewing equipment from, any way back to Lazy Ass.
So the Santorini brewery came up with the Lazy Ass recipe, which uses Mandarina Bavarian hopes and Flecks brewed it.
The donkey lager sits in a stout 330ml brown bottle with a green and black label. It is available in many bars and restaurants throughout Santorini.
So what's it like then?
Drinking Lazy Ass Lager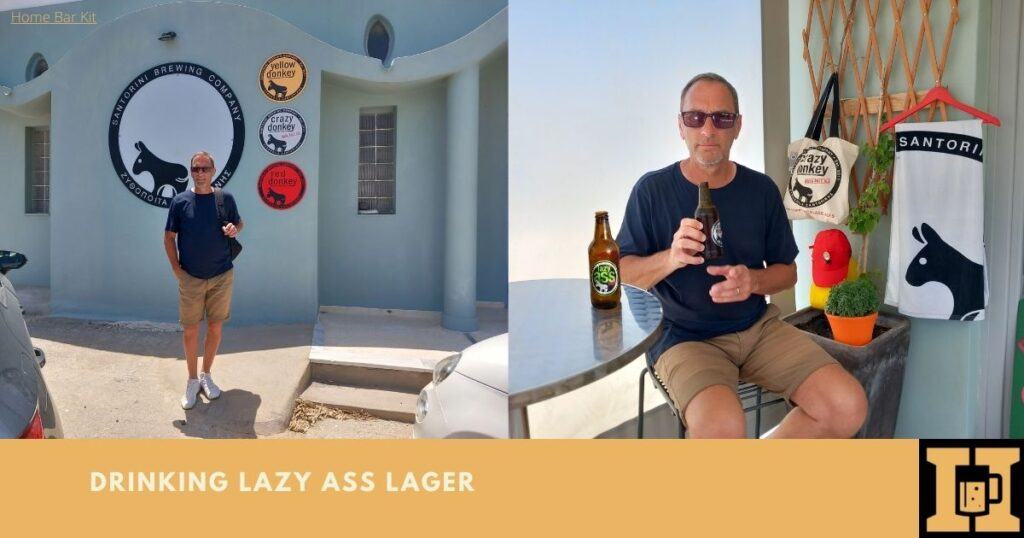 It is not your standard macro lager light and fizzy. Think of a lager that has guts, a beefy full bodied lager with a hoppy kick.
It pours a beautiful gold with a slight haze to it and a one finger foamy white head. A good amount of carbonation as it sits in the Donkey glass.
The nose is quite generous for a lager, a light caramel malt base with a sweet fruity overtone and a touch of aromatics.
The taste is a similar story with a mild malt base that turns fruity with an almost orange flavour. Good carbonation carries the beer around the mouth and a little spice note pops up. Then it climaxes with a healthy dose of bitterness that balances out the slightly sweet fruity vibe.
It is a session beer that comes in at a straight 5.0% ABV, so more than one is okay.
It's smooth with a full body, slightly dry, refreshing with a bitter edge. I like it and it gets a solid 4.5 – 5.0.
M'Lady also likes it saying "A decent lager, better than the macro mob, slightly bitter, but refreshing beer." Lou scores it a lower, but still decent 4.3 – 5.0.
More Beers
Santorini Donkey Beers
So what other Donkey's are in the Santorini Brewing Co's beer range?
It is not a huge range, however it is a solid range. There are seven beers in total which include lager, pale ale, Weissbier, Saison and even a barrel aged ale.
Although I have tried several of their beers, there are a few left for me to track down.
White Donkey
White Donkey is a Weisbier brewed with equal amounts of wheat and barley malts. As well as a combination of Australian and Austrian hops.
It is described as a crisp beer with a crisp acidity and citrus hits with a surprising bitterness for a Weisbier. It weighs in at a noncompromising 5.5% ABV, so go lightly.
Sounds like a cool white beer that needs to be savoured.
Red Donkey
Red Donkey is a red style beer brewed with an array of hops. Aurora, Styrian Gold, Citra and Nelson Sauvin come together to produce full bodied red ale.
A fruity hoppy number with a strength tag of 5.5 to 5.7% ABV. Not one for session, but one I am sure that will please the palate of a beer lover.
Slow Donkey
A beer that is not in any hurry, slow aged in oak and acacia barrels once used for Santorini wine. Matured for 5-6 months this beer picks up aromas of the the Santorin wine Vinsanto.
Produced only twice a year in limited numbers, this beer is described as dense, a bridge between beer and wine.
At 8.8 – 9.2% Vol it is one to take slowly and enjoy, that's if you can get hold of one.
Final Thoughts
Santorini Brewing Co is certainly making its mark on the Island and beyond. And they are in good Greek company as there are many craft breweries in Greece now.
Gone are they days where you could only get light fizzy lagers. No Greece are riding the craft wave and producing some great beers.
Lazy Ass Lager is a perfect example of this, a lager that pushes the boundaries and pleases the palate.
If you have tried any of the Donkey Beers or other Greek beer offerings. Then do share your thoughts below, let me know if you are a fan of Greek beers.