I have high hopes for this beer, many rave about it, so I thought I would join in and take a look. It has taken me a while to get around to trying it. But now I have, so is Warsteiner a good beer?
It is bound to be, I mean its a German Premium Beer from a brewery dating back to 1753. So like I say, I have high hopes for this German lager.
Is Warsteiner A Good Beer?
I'd say it is a fairly good beer, but nothing special. There isn't anything that makes it shine above any other beer of this style. It pours a typical lager gold with a lavish white top that fades to a thin cover. On the nose it is light, a malt base with a grassy note. The taste is just as light with moderate malt supporting a fine floral taste and a hint of lemon. The saving grace is a nice bitter finish that lingers a little. I wanted to really like this beer, and to be fair I do, but I was just expecting it to be better than it is. The rate my beer score comes in at 3.6 – 5.0.
Maybe I was expecting too much from this beer.
Warsteiner Brewery
It all started with a farmer Antonius Cramer back in 1753 when he had to pay tax for his home brew beer. The quantity he was brewing was deemed to be more than personal consumption.
So Warsteiner was born in the small town of Warstein located in the Sauerland region of Germany.
The brewing increased just as demand did and today Warsteiner is one of the largest independent breweries in Germany.
Now in its ninth generation Catharina Cramer is at the helm steering the Warsteiner ship around the globe. Although the beer is the same, Catharina has a strong eye for how the product is marketed in different countries.
Its a clinical approach at the brewery which is very modern with a lot of the process handled by computers. It is impressive with a huge capacity throughout the brewing process.
Is Warsteiner A Good Beer?
It is a good beer, a typical pilsner style, however it is just that, typical. There is nothing special, it just feels like a mass produced beer, which I guess it is.
I don't want to take away the quality of the product because it is a quality beer.
It comes in a large 660ml bottle with a basic gold label. The emphasis on the label is the Warsteiner brand and the fact that it is a quality premium beer from Germany.
That is about the size of it, a good quality beer that blends in with its competitors.
Drinking Warsteiner Premium Beer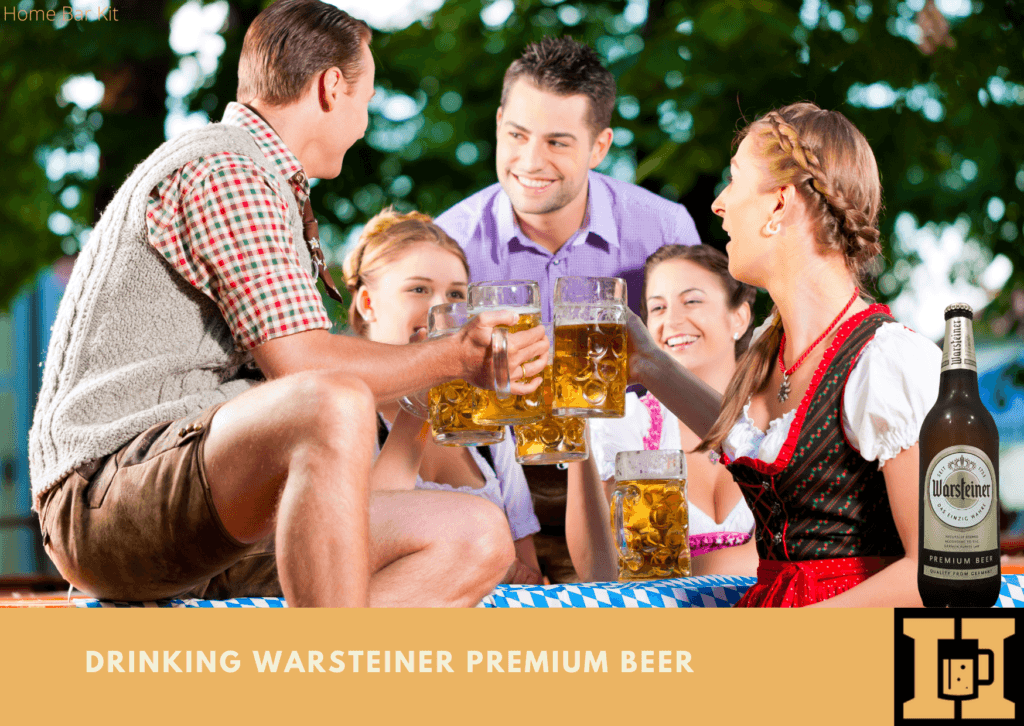 Enthusiastic to try this beer I crack it open and pour it into a straight pint glass. A light gold liquid settles with a generous pure white fluffy top. Streams of bubbles float to the top and it looks a delight.
The nose is very light, but not that forthcoming, patience reveals a little malt laced with a hint of grass.
The taste follows suit with a moderate bready malt base carrying a mild floral taste. Just the slight hint of citrus lemon flutters on top. But the saviour is a nice hop bitterness on the backend that treats the mouth to a lingering finish.
It's clean and crisp with good carbonation. A beer I would drink again, however I wouldn't seek it out. At 4.8% Vol it offers a little backbone, having said that it feels weaker.
It gets a rate my beer score of 3.6 – 5.0.
Lou liked it a little more than me and said "It's crisp and fresh, a typical lager, I like it." She gave it a reasonable 4.0 – 5.0.
Warsteiner Range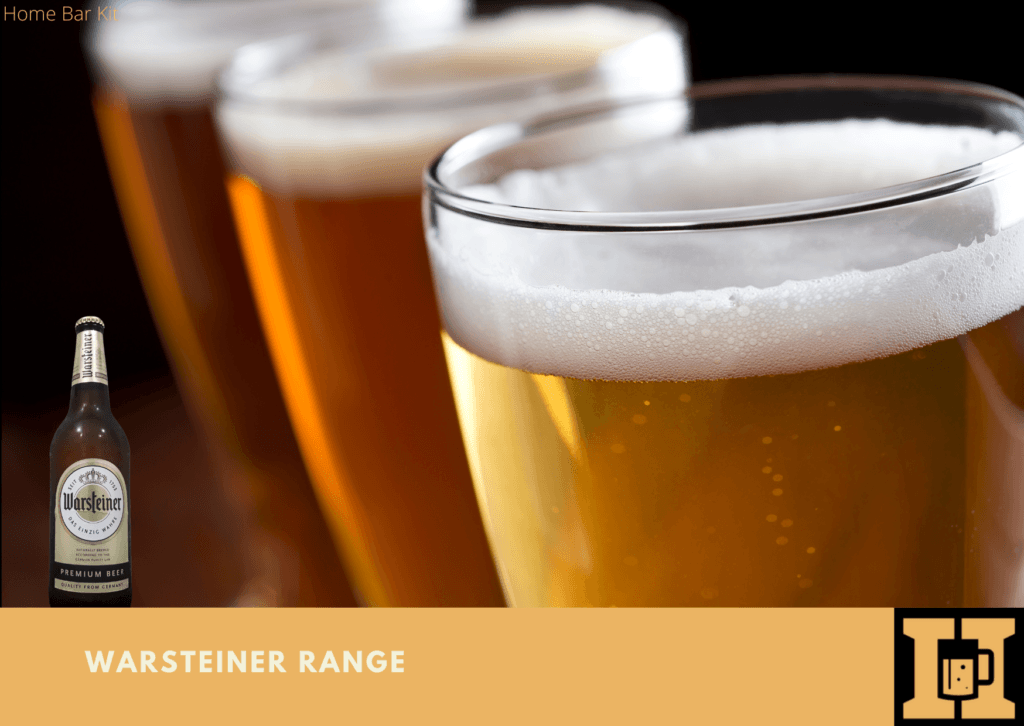 There is not much to see when it comes to the Warsteiner range of beers. An alcohol free version of Warsteiner Premium beer called Fresh.
Others include a Warsteiner Dunkel (dark lager), a radler (no thankyou), a double hopped pilsner and a winter special red amber beer.
All of which I look forward to trying, except for the radler of course.
Dunkel
A dark amber beer that promises full flavours. Made with roasted barley malts which should give it a nice deep roasted flavour.
It weighs in at the same 4.8% vol and could be a rich, smooth beer. Lets hope so anyway.
Herb
Herb is a double hopped pilsner lager that promises a lively body with a distinct bitterness. Brewed with Hallertau hops it could be a little fruity with a spice top.
This one again is at 4.8% Vol, it will be interesting to see if this does have a deeper hop bite.
Winter
A seasonal winter beer with a little more poke. This red amber beer has a full body boasting a rich malty experience. A satisfying bitter hoppiness is said to balance things up.
At 5.6% Vol it lays out a bit of winter strength to warm you up. It sounds like a decent beer, but limited in availability.
Final Thoughts
Warsteiner then have a rich history of producing pilsner style beer. Their flagship beer is decent enough, although I find it a little standard. Which I guess is not a bad thing, maybe I just expected too much from it.
Many people seem to love this beer, but what about you? If you have sampled Warsteiner Premium beer, then do share your thoughts below. Give it your own rating out of 5.0.