A beer from the brewery that make the famous Hobgoblin range, which are great ales, especially their Ruby Beer. I love that beer, so I had high hopes for this one too. However is Firecatcher by Wychwood Brewery any good?
The same brewery as the Ruby beer, the same bottle and the same funky mysterious artwork. So it has to be good, or is it?
Is Firecatcher By Wychwood Brewery Any Good?
I wouldn't say it is good, but it ain't bad either. It just is what it is, a simple light beer that is worthy of putting out a thirsty fire in the mouth. The pour is clear sunshine gold with a thin white cap. On the nose it is light with the slightest of floral aromas. The taste is light too with a dry front and slight lemon citrus giving it a hoppy feel. It ends with a slight honey sweetness which turns faintly bitter on the aftertaste. You can only say it is light in everyway without much body. It scores a rate my beer of 3.9 – 5.0.
If taste and body is what you want from a beer, then Firecatcher is not the beer. But if you want a light beer, a quick hit to quench, then this will do the job.
Wychwood Brewery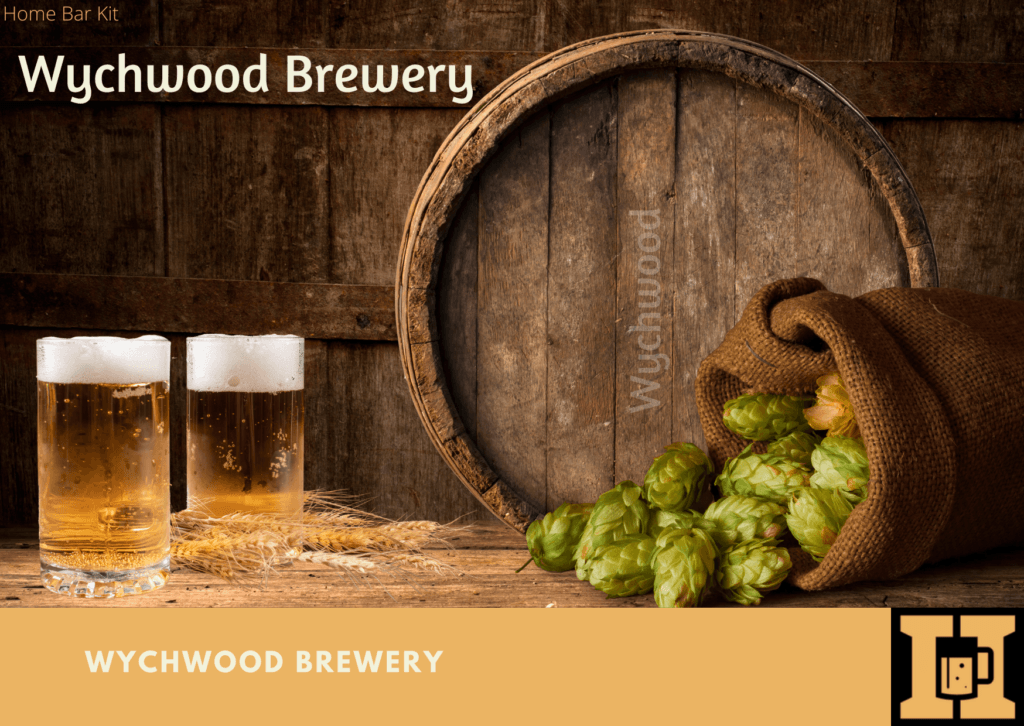 It is hard to pin down the actual date that the original brewery was founded. Some sources say as early as 1811, others say 1830's to 1840's. Whenever it was it is fair to say it was a long time ago, and has gone through many changes.
The founder was a John Clinch who was from a banking family in Witney, Oxfordshire England. He built the brewery up and acquired many pubs too. The Clinch brewery enjoyed some 120 years or more of success under the Clinch family ownership.
Like so many breweries, Clinch brewery finally got bought out by a bigger outfit. Courage swooped in to get their hands on the 70 odd pubs that the Clinch empire owned. They were not interested in the brewery and closed it.
In 1983 a Paddy Glenny acquired the empty brewery and it came back to life as Eagle Brewery. The man behind the Hobgoblin range Chris Ross joined. Then Paddy sold his shares to Ian Rogers and it was renamed Wychwood Brewery.
Now of course the whole shebang is owned by the mighty Carlberg Marston's Brewing Co. Ltd. At least Wychwood brewery is still running and for now the Hobgoblin range seems safe. There could be carnage if they stopped producing the much loved Hobgoblin.
Is Firecatcher By Wychwood Brewery Any Good?
Well it ain't no Hobgoblin Ruby Beer, but it is not supposed to be and as good as the Ruby is you can't put this beer up against it.
It's a different kind of beer and incomparable.
Firecatcher serves a different purpose, it is not big on flavor, but it is light and some what refreshing. It's a highly sessionable beer that could satisfy a crowd on a sunny afternoon beer garden visit.
It won't blow your socks off, but it will have its fans.
How Good Is Firecatcher Golden Beer?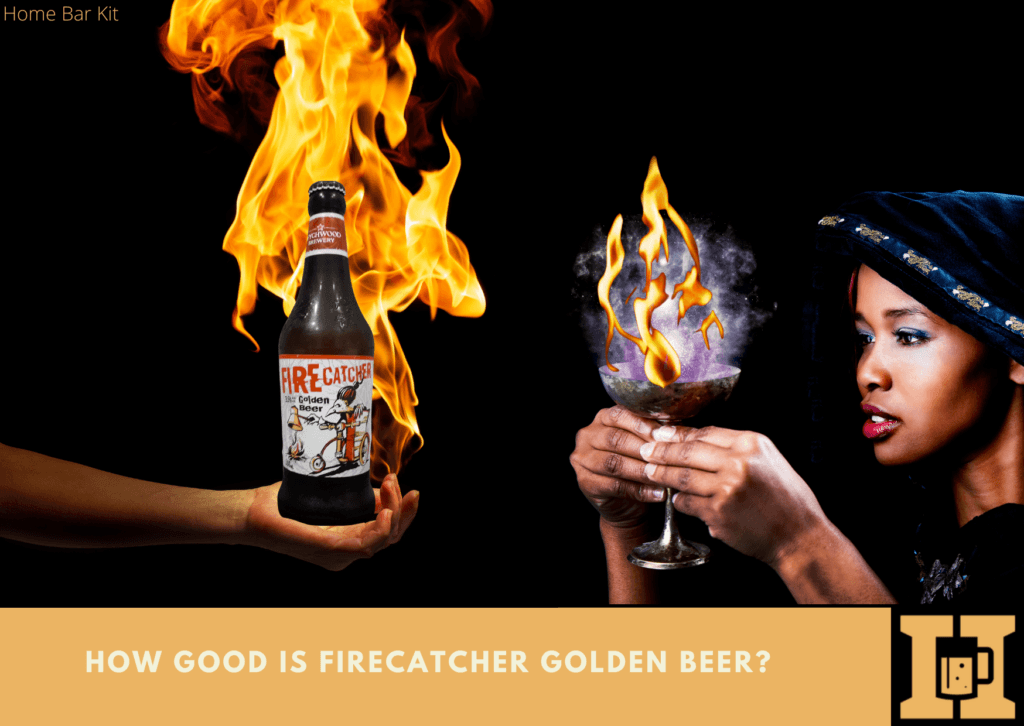 It is good on a low level basis, which when you think of it, the beer is low level. At just 3.5% Vol there is no kick to it, everything is light.
The color, the taste and the strength. However this does mean it has its place as a simple go to beer that you know is going to involve more than just one or two.
The bottle is the Wychwood generous 500ml with an odd looking character on the label in an old trike catching fire.
Drinking Firecatcher
The pour is lively and settles to a light gold with a thin head that all but disappears. Just from the look you know it is not going to be anything special.
The nose is as light as the color, with the faintest floral aroma and just a hint of citrus hops.
In the mouth it has a high carbonation with a crisp dry front. A slight citrus builds and a twist of lemon like flavor gives it a sharp edge. This develops into a faint honey like sweetness that finishes with a tiny bitter aftertaste.
It's light, it's slight, it's faint with just little hints here and there.
I wouldn't say it is watery, but it just hasn't got any beef to it. In fact could it be a clever beer?
This beer is hard to criticize because it does have something, I actually quite like it. I wouldn't go on a mission to seek it out, however I wouldn't dismiss it either if I saw it on tap.
Some how it has an appeal, I am not sure what it is, but there is something endearing about it.
Like I said maybe it is an intelligent brew, a clever little number than doesn't shout aromas and flavors, but can reel you in for a session.
It won't change the world of beer, but it may lurk in the background quietly going about its business. The rate my beer score is not high, but it is a respectable 3.9 – 5.0.
Wychwood Range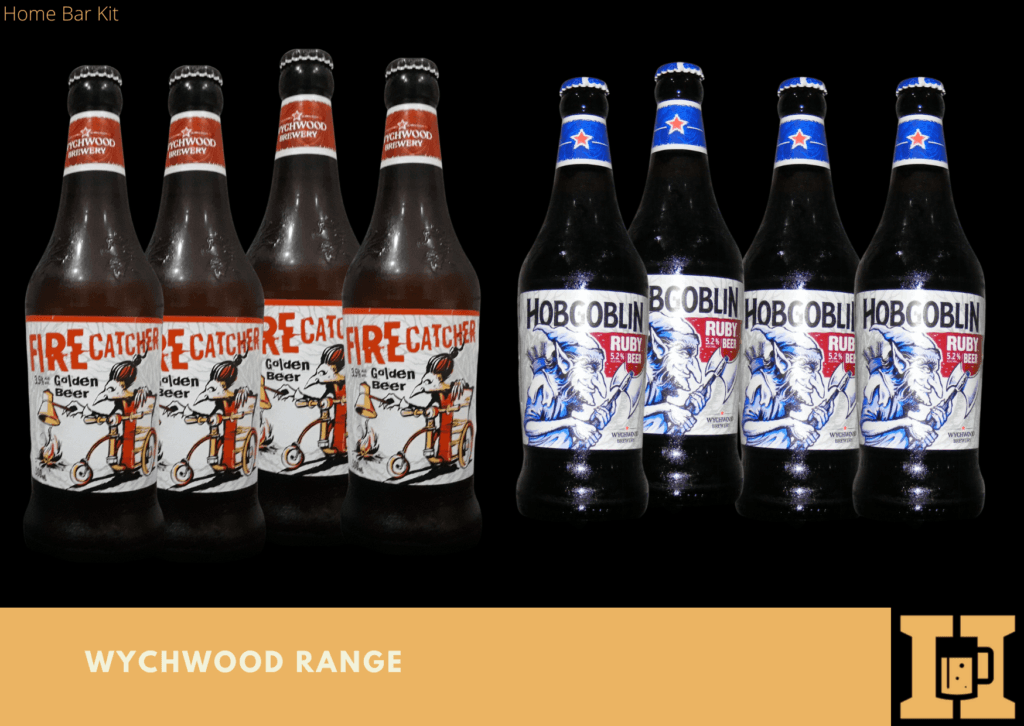 Although Wychwood brewery has gone through many changes over the years and is of course owned by one of the big guns. It has kept its charm intact with the range of beers it has to offer.
There seems to be a core range of around nine beers, five of which are from the Hobgoblin range. Here I will feature a few of the beers from this quality range.
Dry Neck
Dry Neck is another golden beer from Wychwood. But this time promises to posses fruity aromas and some sweet dark berry fruit flavors. Pale malts and Mosaic hops give it a light but refreshing bitter sweet balance.
Will this golden beer be the same as Firecatcher?
There is one obvious difference and that is the strength. At a flat 4% Vol it has more kick than Firecatcher, but stays well within the session bracket.
I am hoping it has a little more body, which I will find out when I get a bottle.
Ginger Beard
If you like a bit of Ginger Spice (and I don't mean the one from the girl band). then this could be a worthy beer to try.
Laced with root ginger this beer turns up the heat. It delivers fiery notes with sweetness outweighing bitterness nearly two to one.
A pale amber ale with a ginger twist it has the strength of 4.2% Vol. So although a session beer, the ginger may halt proceedings after one, but definitely two.
It has to be tried though.
Diceman
Diceman the stout lays down a story of all the richness one could muster in a beer. But keeps it all nice and silky smooth. If the drinking experience lives up to the description then I am all in, I mean all in.
There is an array of dark malts promising smoky toffee fragrance soaked in plum. Dried fruits over liquorice start the taste experience. Then pops in a little chocolate sweetness that turns to a bitter coffee finish.
That has set me up for a fall, but if it delivers all that, then I will be impressed. At 5% Vol it is just viable for a session. However the richness may deter, but I'm sold.
Final Thoughts
The Firecatcher will possibly split the crowd, however I think it has to be taken for what it is. A simple light beer that just hints at flavors, but somehow delivers.
I don't know how it delivers, but it does. Many may disagree, but for me it definitely has something.
The other beers in the Wychwood line up are all worthy of trying, and I will work my way through them. I have had several of them in years gone by, but the memory has discarded the details. But that is okay, I shall just have to refresh it by trying them again.
May be you have experienced some of the Wychwood beers, if so, do share your thoughts and opinions. They are worthy beers, so if you haven't tried any, then keep an eye out for them.