An Amber beer from a brewery that brews proper traditional Yorkshire beer. This ale is the first beer to be bottled by the Black Sheep Brewery, which was back in 1993. However, is Black Sheep Ale any good?
Brewing beer is in this families blood with six generations of brewing under their belt. So they must know what they are doing, lets find out.
Is Black Sheep Ale Any Good?
It's not just good, it is very good. If you like proper real ale, then this one hits the spot. The nose is rich with caramel and toffee biscuit malts with a roasted edge. A delicate aroma of fruits wafts in the background. Likewise the taste is a proper strong malt base with toffee and caramel. This is laced with a fruity sweetness that is rich and smooth. A comforting hop bitterness moves in to balance out the sweetness and finish things off. A proper beer that is very drinkable. It gets a rate my beer score of 4.5 – 5.0.
A very drinkable go to beer from bottle or tap.
The Black Sheep Brewery
Paul Theakston founded Black Sheep Brewery in 1992 in an old maltings in Masham, North Yorkshire, England.
Until 1988 he was a Director of Theakston Brewery which is located close by. A family brewery born in 1827, but family disputes and a buy out, saw him leave.
The brewery was built using equipment from old breweries, some of which is still in use. They also use the old Yorkshire square fermentation system. An open top fermenters with a lower chamber and a deck above.
As the yeast ferments the beer it rises to the deck above which separates it from the beer. There are not many breweries using this system today.
Paul has now passed the reigns to his two sons Robert and Jonathan. But I am sure he still keeps an eye on things.
Is Black Sheep Ale Any Good?
Unlike many bottles and cans you find on the shelves at stores today, all fighting for your attention with their striking designs. The bottle is subtle with colours that almost blend into the brown bottle.
However when you see the words Black Sheep, the noise of all the other bottles and cans fade. You know you have to investigate and it always ends up coming home.
So is it any good?
Lets put it this way, it's a proper beer. A real amber ale that has a well rounded feel. So to the strong malt base is well balanced by a nice hop bitterness.
A light carbonation and a smooth mouthfeel make it a very drinkable beer.
Drinking Black Sheep Ale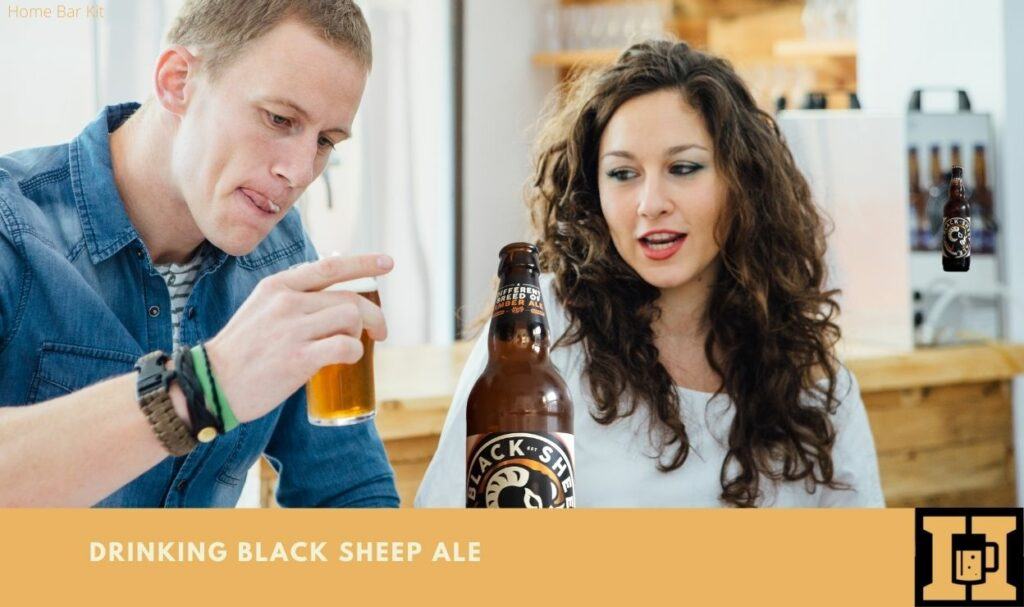 The pour reveals a deep orange amber swirling around the glass settling with a generous two finger foamy top. The head fades slowly but leaves half a finger that sticks around to the end creating a decent lacing.
On the nose it is fresh and rich. A strong biscuit malt carrying caramel and toffee notes is topped with a little fruit over a roasted edge.
Likewise the taste is a similar affair, the malt base is lavish with caramel and toffee. A light fruit joins the party adding to the rich sweet start. This is balanced by a nice hop bitterness that creates a pleasing finale.
It is a good beer, and at 4.4% Vol it would be rude not to have a second. A well balanced beer that gets a rate my beer score of 4.5 – 5.0.
M'Lady likes it too, Lou said "Quite a rich malty flavour with a strong hit of caramel, sweet bitter finish, a very nice amber ale." However Lou did add that the finish is slightly too bitter for her, she scores it a little lower at 4.3 – 5.0.
If you like a decent amber ale, then think Black Sheep Ale.
Black Sheep Beers
Black Sheep Brewery brew a good range of traditional style ales the Yorkshire way. However they do some other too.
A lager, west coast IPA, and even a Monty Python Holy Grail Pale Ale, which is a bit of a mouthful. Furthermore, they have what is called the 5 Barrell Project, a selection of new wave craft beers.
They may be a traditional brewery, but they are not going to be left behind by the craft monster.
Here are a few of their other beers.
Guzzler
Guzzler is a crisp and refreshing pale ale with zesty citrus aromas and taste. It is actually a York Brewery beer which Black Sheep acquired in 2018.
At just 3.6% Vol it is a session pale ale with a lager crisp refreshment, perfect for a garden barbecue on a hot summers day.
54 Lager
A German Helles style lager with a little Yorkshire twist to it. Using Pilsner malt and three German hops creating a crisp clean lager.
Grassy and herbal notes compliment the sweet malt flavour with a hoppy edge. At 4.5% Vol its another hot day thirst quencher.
Shapeless Malice
This is one of the 5 Barrell Project range. An indulgent hazelnut and salted caramel stout. A full body stout with flavours of chocolate, hazelnut, caramel and a hint of vanilla.
Caution should be applied with its 7.2% Vol making it a one off beer. Perhaps best as a dessert beer, or to replace the dessert. Expect a rich smooth stout with complex flavours.
Final Thoughts
Black Sheep Brewery is certainly an interesting one, brewing traditional beers alongside some new style craft beers.
I recently tried the Black Sheep Milk Stout and have to say it is one of, if not the best milk stout I have tried. While Black Sheep Ale might not be the best amber ale I have had, its up there with the best.
If you have tried any of the Black Sheep beers, then do share your thoughts. Especially if you have had the Ale reviewed today, give it your own rating too.