A traditional golden Abbey beer that is steeped in history and can be traced back to the ancient French Monasteries. An old recipe that uses the original style ingredients makes this Blond beer shine. It's intriguing and I was looking forward to trying this beer. But is it true that Monastère Blond beer is brewed for sharing?
That may have been the intention, but not what actually happened. As with every new beer I try, Lou also tries a few sips and gives me her opinion. It works well, that is until this beer came along. M'lady was impressed with Monastère Blond and didn't give it back, she kept it for herself. So although it may have been brewed for sharing, it didn't work out that way for me.
Anyway what is Monastère Blond Beer like?
Monastère Blond Beer Is Brewed For Sharing
It pours exactly what it is, a bright golden blonde with a luxurious thick foamy head. There is a fresh crispy aroma of vanilla held up by a malty biscuit background. The taste hits with a rich malty base, the vanilla comes through as well as a spicy background with an inkling of those cloves. A slight bitterness lingers with a creamy smoothness to finish. It strikes the rating bar with a confident 4.5 – 5.0.
I think Lou might have give it a slightly higher rating.
Monastère Abbey Beers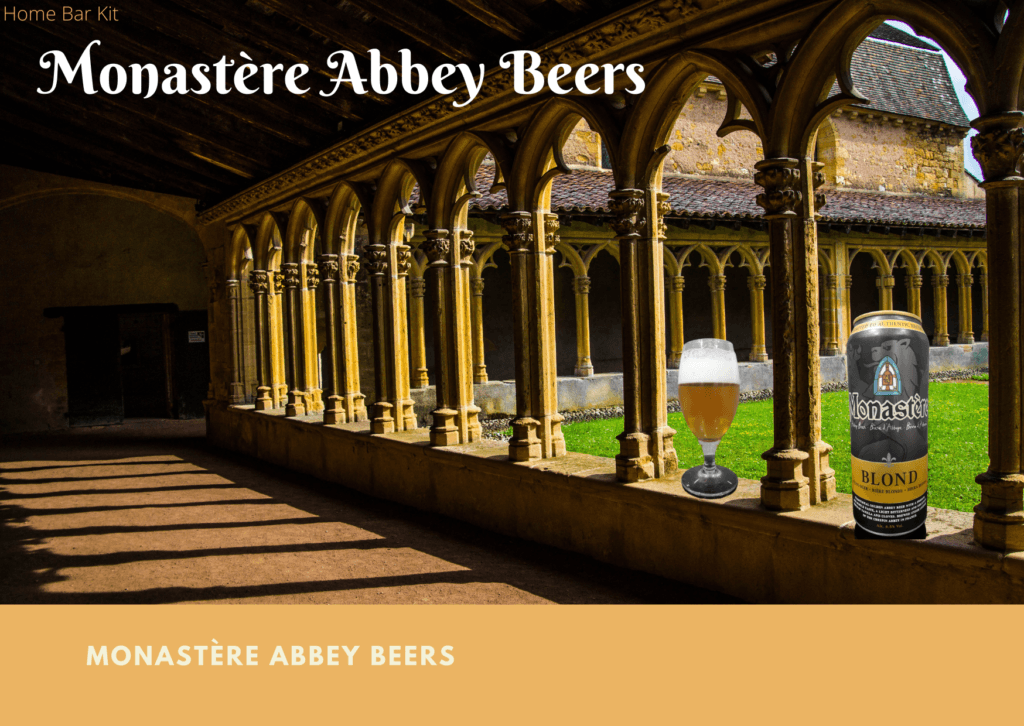 These are a small range of rich fruity beers that are brewed to an authentic style using distinctive ingredients. Brewed for United Dutch Breweries by Brasserie Champigneulles of France who are part of the TCB Beverages group. A lot of companies involved in this beer.
Monastère roots can be traced back to the early French Abbeys of Wisques and Crespin. This Monastic brewing in France saw a high point during the middle ages. However it nearly disappeared following the revolution where many religious orders were dissolved.
Luckily some fled to near by countries like Belgium where Monastic brewing still thrives. So Monastère Abbey Beer is brewed under license of the Crespen Abbey in France. Using the same style brewing process and the same ale yeast, barley malt and noble hops. Monastère manage to authenticate the same type of beer brewed by Monks of old.
Brasserie Champigneulles was built in 1897 and is home to the oldest brewery in France, also it is said to date back to 640. I told you it was steeped in history.
Monastère Blond Beer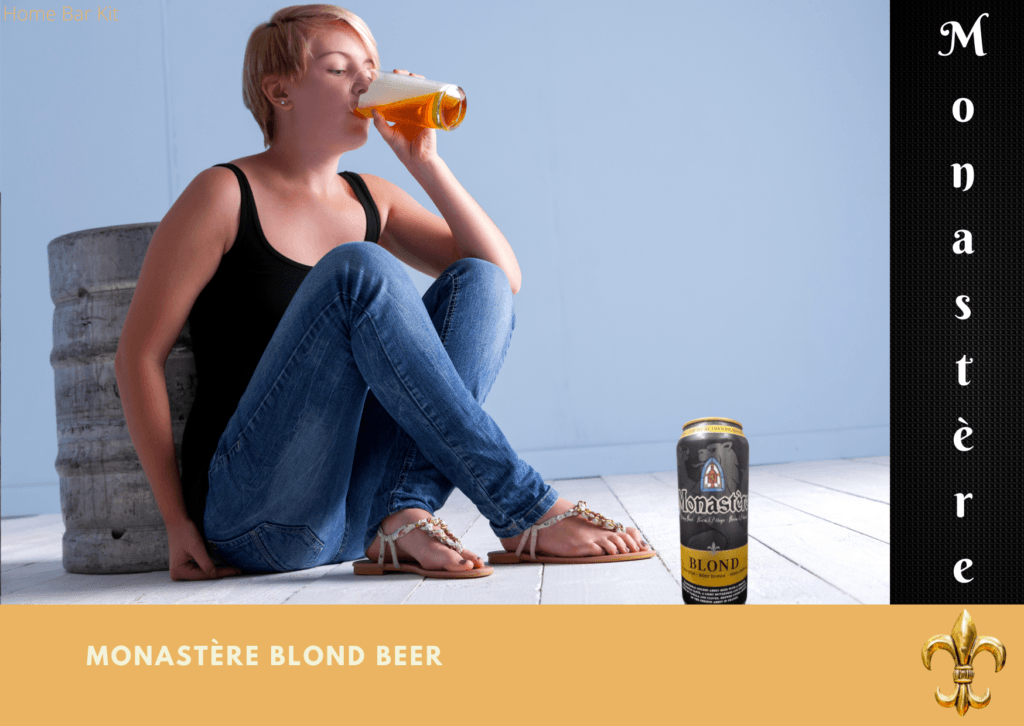 The history of this beer stands out right from the beginning with the label. Almost majestic in design the name stands out with its classical font. The thick copper band chanting Blond is topped with a Fleur-De-Lis. You know you are in for a treat.
It pours beautifully with a settling of golden blonde with a white foamy hat as thick as the copper band on the label. As the head fades, a thin top remains to decorate the sides with a good level of lacing.
On the nose it directs a herbal malty biscuit scent with a vanilla top. The taste is rich in malts with a light bread or biscuit background. Traces of a vanilla top followed by a little spiciness hits the back of the throat. This develops into a modest bitterness that ends in a smooth finish.
All in all a really nice Blonde ale that was half inched from me by Lou. I did enjoy what I did drink though and she enjoyed the rest. Lou said she could have a few of these, but it is not advisable to treat this as a session beer. At 6.5% Vol it is better enjoyed moderately, or perhaps with a meal.
It pairs with food such as cheese, shellfish, lobster and steak, or a Crème Brulee desert. It is definitely worth a try, hence my rating lends it a convincing 4.5 – 5.0.
More Beers Enjoyed By Me.
More Monastère Abbey Beers
Although Brasserie Champigneulles brew this beer, it is for United Dutch Breweries, who have a large range of beers. However I am only going to include here the rest of the Monastère Abbey beers, which is just two.
The complete range consists of the Blond Ale, a Double ale and a Triple ale. All brewed to authentic old recipes to get that Monastic style beer experience.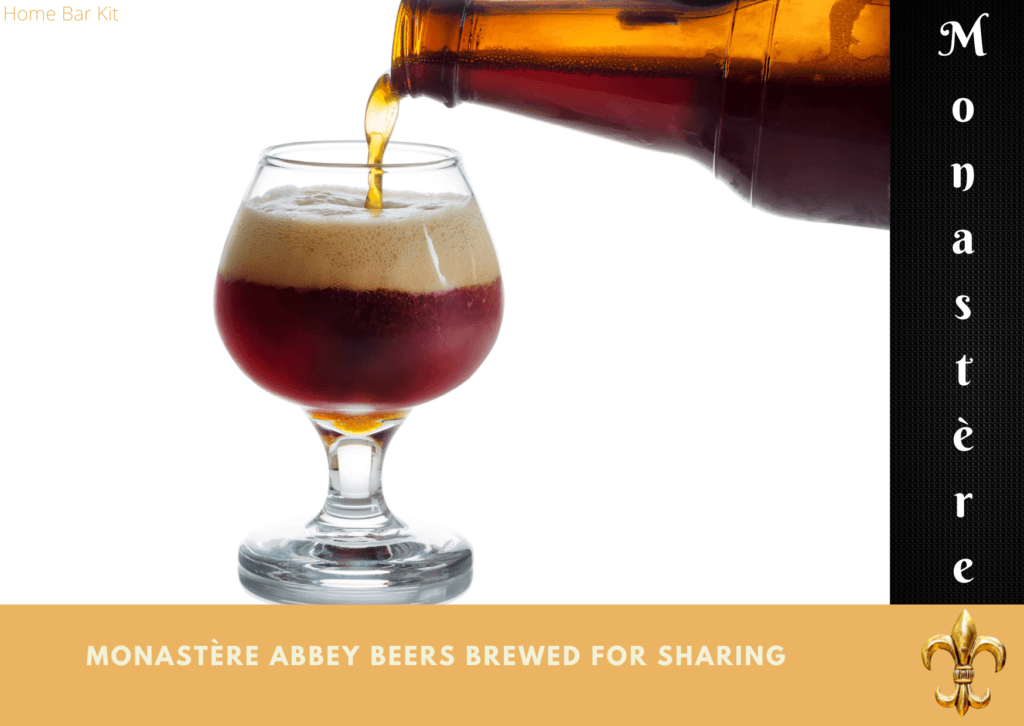 Monastère Double Abbey Beer
A rich dark brown ale that produces the same deep head as its blond counterpart, giving it that old style ale feel. Crafted with roasted barley which gives it the deep shade and a rich malty flavor. With a fruity background, there is a seasoning of chocolate and caramel popping through.
Likewise another strong beer with a 6.4% Vol that does not fit as a session beer. A rich smooth beer that pairs well with smoked ham and game. Why not try with a lavish Tiramisu or a rich chocolate dessert.
Monastère Triple Abbey Beer
The triple ale is a Blond beer with a bit more oomph. Again producing a copious deep white foamy head. It is double fermented and pours to a hazy golden color. The taste profile is a balance between bitter and sweet with a full body. Hints of fruit creep through a soft malty background.
Sounds good, but if you think the other two were strong, then this one will make your eyebrows curl. At a whopping 8.5% Vol it is to savour and not guzzle. A Blond beer with the strength of a super hero, so don't take it lightly.
Pair it with smoked salmon, pheasant or turkey, or try with a hot apple pie for dessert.
Final Thoughts
The Monastère range is a small one, but an interesting one too. As is the history behind the brewing process and ingredients, it is nice to enjoy such a beer. Although it is brewed by one company that is a part of another company and for yet another company, does not matter. It is a bit involved, but that doesn't stop it being a good beer.
I for one will be sampling the Monastère Double and Triple ales. Furthermore I will buy two of each, just in case Lou likes them as much as she did the Monastère Blond.