When you have a beer that is brewed by Wychwood you know it is probably a decent beer. When it bears the name Hobgoblin you know you are in for a treat. So is this gold beer any good?
After all it is part of the Hobgoblin range so it must be. It is certainly not as bold as the King Goblin, nor is it as full bodied as the Ruby Beer. However it slots in nicely as a decent session beer that lager drinkers as well as ale drinkers could enjoy.
Is This Gold Beer Any Good?
In a word, yes, it is another cracker from the Hobgoblin range. A pleasing all-rounder that has body and flavour, it's a morish little gold gem. The nose is moderate biscuit malt with a zesty citrus aroma. A malt biscuit base starts things off in the mouth. But it is not long before a tropical citrus acidity steals the show. The finale is a beautiful balance of bitter and sweet, it's a bit of a triumph. The rate my beer score hits a hoppy 4.7 – 5.0.
It is just as well it is a session beer, because like I said it is rather morish.
The Brewery
Wychwood Brewery is located in Witney Oxfordshire, England. The brewery has lots of history and has changed hands several times. I cover the History in other beers I have tried from Wychwood, Firecatcher and Hobgoblin Ruby Beer.
A great independent brewery that has ended up in the hands of a beer giant. Carlsberg Marston's now own it and things have changed and not for the better.
The Wychwood beer range seems safe at the moment. However the tap, shop and brewery tours have all gone. This of course is blamed on the recent events that kicked off in 2019.
This could be true, but the tap room by all accounts was always busy. It only opened its doors in 2018 and now it's gone. The shop must have done okay off the back of the tap and brewery tours. So why not re-open?
Some say that Carlsberg are not interested in that side of things and only interested in brewing beer and getting it sold. Apparently the Wychwood brewery is being used for brewing other brands too.
Whether any of this is true, I don't know, but it is a shame that these parts of the brewery have now ceased to exist.
They better not mess with the Hobgoblin.
Is This Gold Beer Any Good?
In my opinion, yes it is a great beer. In fact it could bridge the gap between lager and real ale. A lager drinker would get on well with this beer.
Easy drinking, crisp and refreshing with good body and flavour. it's a lager progression. Likewise the real ale drinker might find it a little lighter, but somewhat acceptable.
It sits in between the two ready to serve either camp with its all-round beeriness.
It delivers easy drinking flavour with its blend of four hops. Nelson Sauvin, Pilgrim, Summit and the highly popular Citra give it a malt depth with a tropical citrus buzz.
This gold beer certainly keeps the Hobgoblin standard as high as it has ever been.
Enjoying The Gold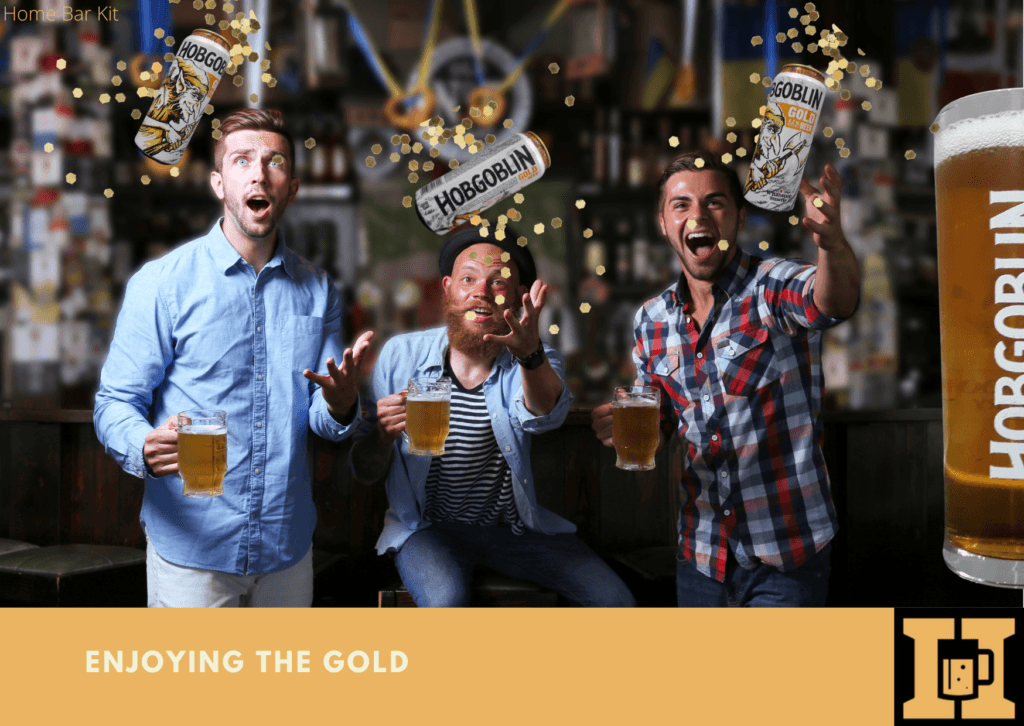 As you would expect the design looks great. This time we have a gold Hobgoblin on a white forest background with the words Gold Beer.
A gold river flows from the can and swirls around the glass with a white swirl surf. When it settles the sun shines from the glass with a moderate white cloud on top.
This does fade a little, but sticks around for the duration creating lacing around the glass walls.
The nose lets out its biscuit malt base, followed closely by a hoppy citrus burst of tropical delight.
The taste mimics the aromas with a decent malt base supporting a hoppy citrus entourage of zesty fruits. The showdown is a bitter sweet affair that is beautifully balanced. However a little of the bitter sticks around for the after party and lingers quietly in the mouth.
I like it, a well balanced beer with good flavour that leaves you wanting a little more. Just as well it is only 4.2% Vol, unless you get the bottle version where it jumps to 4.5% Vol.
It gets a decent 4.7 – 5.0 rate my beer score for being a jolly decent beer.
M'Lady praised the Gold Goblin too, Lou thinks it is well balanced and easy drinking. However her score was a little lower at 4.5 – 5.0.
Hobgoblin Range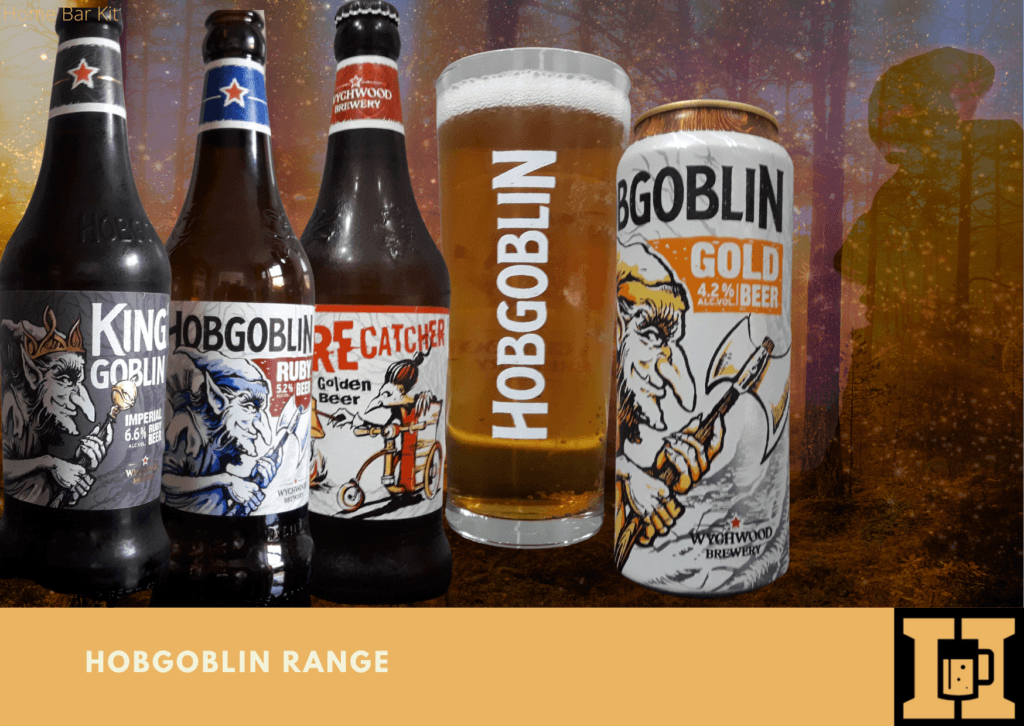 Although there are other Wychwood beers, the hobgoblin range are the beers that stick out and get the most attention.
These beers are loved by many and at present the range consists of just four beers. Obviously the beer of today, Hobgoblin Gold. Here are the other three.
Hobgoblin IPA
This IPA is legendary according to the brewery and winner of the World's best IPA Award. This is the only Hobgoblin beer I have yet to try, which I will put right soon.
It sounds like a hoppy tropical explosion of citrus fruits like orange and grapefruit. This is wrapped in a calming honey coating. Looking forward to this one.
Ruby Beer
Hobgoblin Ruby Beer is a rich full bodied extravaganza with hints of toffee and chocolate underneath exotic fruit flavours.
This one I have tried and I'm sure it holds the highest rate my beer score to date. It's rich flavours have layers that reveal themselves as you drink.
I will be getting in a few bottles of Ruby for this years festive season, it fits the bill.
King Goblin
At the top of the Hobgoblin tree sits the King Goblin. An imperial ruby beer that is big on flavour and big on strength, weighing in at 6.6%.
It's a step up on the Ruby beer, rich with roasted coffee, chocolate and a little treacle thrown in. Earthy flavours with a hint of spice, it is one indulgent beer.
Final Thoughts
It has to be said although the Hobgoblin range is small, it packs a punch. Rich and indulgent with the King, hoppy and fruity with the IPA, and the middle ground of the Gold.
They are beers that I can visit again and again without any hesitation.
If you love beer, then the Hobgoblin range is well worth checking out. However don't forget the rest of the Wychwood range, although not as powerful, they too are decent beers.
Have you tried the Wychwood brews yet?
If so then do share your thoughts below. How did they fair on your taste buds?