Any beer lover will have their favorite type of beer, but is always eager to try different styles of beer too. However there are times when you just want a pint of your favorite style beer, but one that is easy to drink with no fuss. That is exactly what happened recently on a shopping trip. I found myself drinking Midway session IPA on tap.
The shopping is done and the restaurant booked for later. A quick sit down and a refreshing drink is in order before you head back to the hotel. Well that is the way it rolls for me anyway. So is Midway session IPA any good?
Drinking Midway Session IPA On Tap
The clue is in the name 'Midway' and Goose Island describe it as a midway to IPA. It has all the hop, but is easy to drink. It pours a clear solid gold and settles with an average frothy head. The nose is typical IPA with a hoppy front entangled with a citrus aroma. Grapefruit being the most prominent for me. The taste is a similar story with a hop front and a fruity citrus background. The carbonation is a medium feel and the whole thing finishes in a bitter grapefruit end. It's easy, it's light, it's refreshing and scores a midway rate my beer of 4.1 – 5.0.
Not a beer you would seek out and relish, but a good quick pint off the cuff kind of beer.
Goose Island Beer Company
Goose Island was started in Chicago, Illinois US off the back of a trip across Europe by John Hall in 1988. It is named after the 160 acre Island set between the Chicago River and the North Branch Canal.
John being an avid beer lover and having experienced an array of beers on his tour of Europe, had a light bulb moment.
"America deserves some damn fine beer like this, too."
He obviously enjoyed some great beers, and that is why the Goose Island Beer Company was born. So in his mid forties John started brewing. His vision was to be to Chicago what Fullers Brewery at the time was to London.
Fast forward to 1995 and John opened a larger brewery and a bottling plant. Then a year later a brewpub followed, growth was quick. The brewery has since doubled in size and also has its own barrel program. Beers aged in Bourbon barrels as well as wine barrels.
In 2011 the inevitable happened, just like many breweries expansion costs and the giants step in. Anheuser-Busch InBev acquired Goose Island Beer Company. However the brewery is still producing beer the way John would have wanted and Goose Island is not going anywhere.
Drinking Midway Session IPA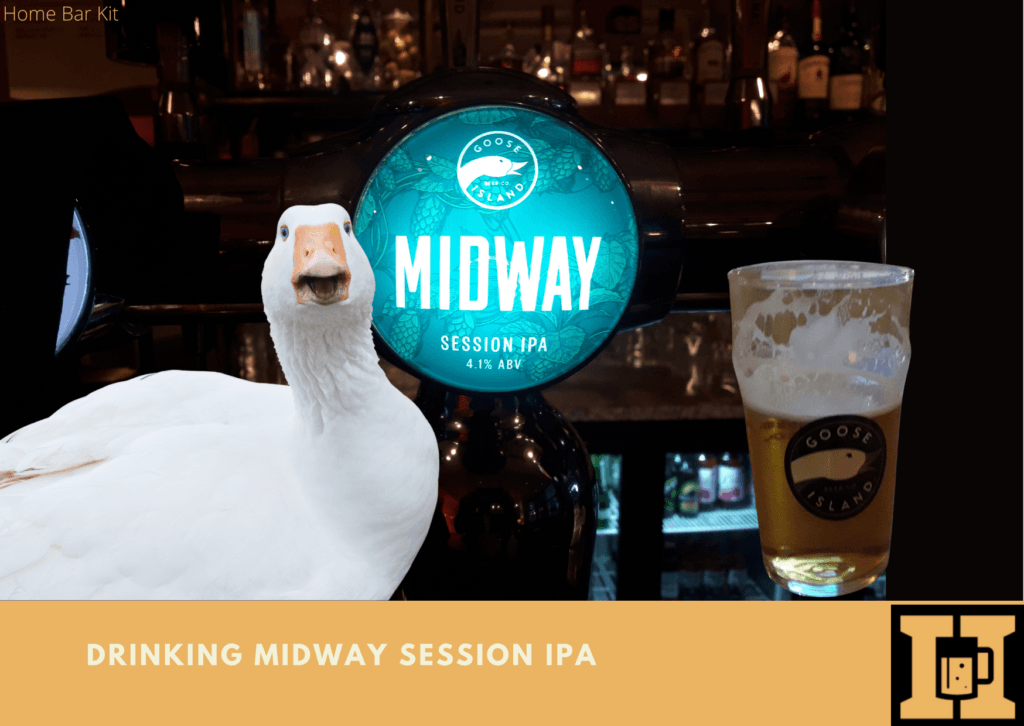 Goose Island have their flagship IPA called just that IPA. It is bold, full flavored with heavy citrus flavors balanced with caramel. It finishes with a fearless hoppy bitterness. This IPA is loved the world over and has many awards under its belt.
What has Midway Session IPA got to do with the full on IPA?,
Meet Midway, a lighter more conservative offspring of the original Goose Island IPA. Not as strong and not as bold, but rather an easy going light hearted younger sibling. The original IPA packs a hefty 5.9% Vol, whereas Midway flows in at a light 4.1% Vol. It ain't going to offend, but it will satisfy the beer crave.
So what is Midway IPA like?
It's an easy go to middle of the road beer to be enjoyed any time. When you don't want to put a lot of thought into what beer you are going to drink, pop a Midway. Meeting a friend for a quick drink on a hot sunny afternoon, pop a Midway. A stop off at the pub on the way to the restaurant, pop a Midway. You get the idea.
So recently when I popped a Midway, or should I say the friendly bartender kindly poured we a Midway, I was pleasantly surprised. Even though I have had this beer before, it has been a while and memories fade.
The pint of Midway stood on the bar in its golden armour and white cap with its chest puffed waiting patiently. The aroma is what you would expect, hoppy with citrus fruit the tropical kind. A fresh tangy scent like orange and grapefruit.
The taste is on the nose with the same spiky fruitiness riding on a slight wave of malt. It is light and fresh, well balanced with a finale of bitter grapefruit. Flavors develop as the pint disappears, while a pleasing lacing decorates the glass, remnants of a once golden liquid.
All in all it is a light, fresh go to beer that can be taken lightly, unlike its older sibling. It won't set the world alight, but it is a staple all round beer for many to enjoy. For that reason it hits a rate my beer score of 4.1 – 5.0.
Other Beers I Have Enjoyed
Goose Island Play List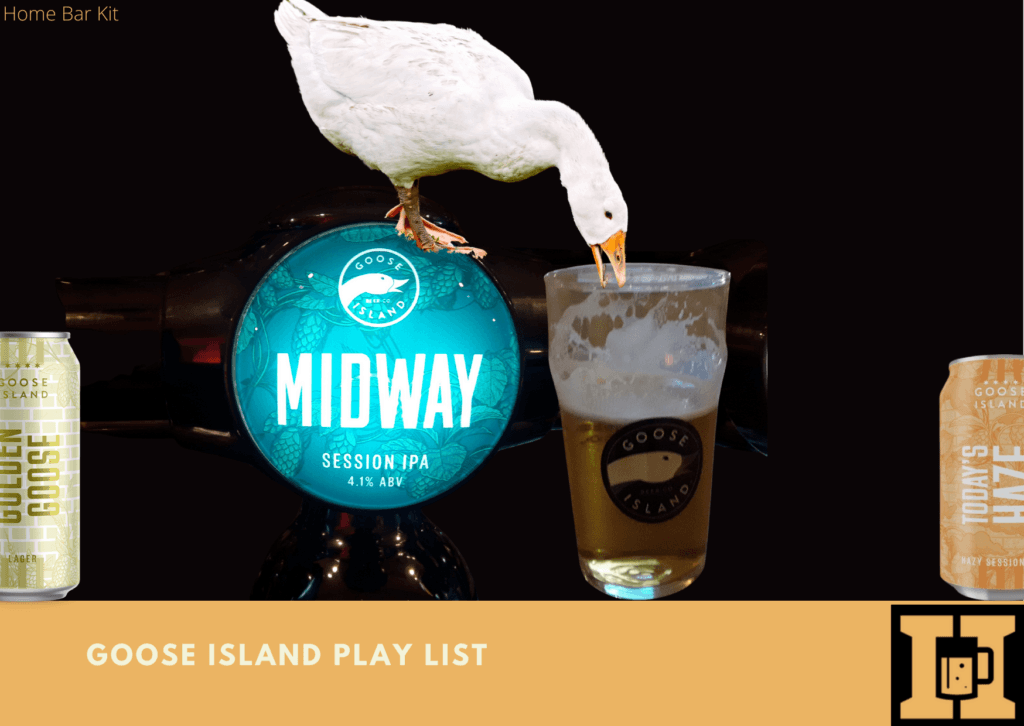 The list of beers that Goose Island have produced over the thirty plus timeline has been extensive. From lager through to barrel aged bourbon stout. They have a core beer range, as well as seasonal and speciality beers that might just knock your socks off.
The list is too long to include them all here, but these few are ones to look out for and try if you spot them.
Golden Goose
An original recipe brewed back in 1988 in Chicago, its a bold full bodied lager. A helles style beer that pours on the deeper gold side of the lager scale. With a lively head it is a balance of sweet coming from hints of caramel. A spicy note comes from the use of noble hops saaz.
The full bodied lager produces a strength of 5% Vol sitting on the fence of to session or not to session. A popular lager to the ones that have tried it, most go back for more. Many make it their lager of choice. Certainly one to try if you love your lager.
Today's Haze
It's a tropical intense unfiltered hazy IPA that promises to treat the taste buds to a juicy and sweet treat. But hath no fear there is enough bitterness to rein in those juicy tropical flavors. With a comprehensive hop bill of Amarillo, Bavaria, Idaho 7 and Mandarina it may not be for the faint hearted.
At 4.6% Vol it is well in the session range and is popular with those that love this style of beer. A quote from one who has fallen from this beer "If you like your beer hoppy, cloudy with a twist of citrus, then you will love it|."
If that is how you love your beer, then you better seek out Today's Haze and enjoy.
Bourbon County Stout
We are getting heavy now, this could be the treat of all treats, silky and smooth with the complex of time. It promises to be an elegant stout that is packed full of rich flavors. Those flavors include chocolate, vanilla, oak and whiskey with a hint of smoky. This is wrapped with an undercurrent of almonds, berries and a hint of caramel.
Sounds a bit indulgent and lavish to say the least, however it is time that lends to this rich and complex stout. Aged in bourbon barrels from the distilleries of Wild Turkey, Buffalo Trace and Heaven hill for 8 to 14 months. On top of the barrel aging process it continues to develop in the bottle, 'WOW' is this too much?
I will find out when I get my hands on one. Find it, pour it, respect it, but most of all enjoy it.
Final Thoughts
Goose Island then is a brewery that started out as a result of the love of beer. What John Hall experienced in the world of beer outside the US, he took back and created his own version of. He quickly became a popular producer of craft beer in Chicago.
It still produces craft beer to this day, and if you can get past the InBev takeover, it is still a brewery to behold. It has stayed true to John's vision and caters for those that love craft beer.
Although I prefer beers with a bold flavor and depth, Midway Session IPA is still a decent beer. You kind of know what you are going to get from the name itself, light, fresh and easy to drink. If you see it on tap when you next pop in for a pint, give it a go and enjoy its simplicity.
Then share your thoughts on what it was like for you, but most of all enjoy.