A beer from an award winning brewery located in the Cornish town of St Austell. A traditional brewery dating back some 170 years. This is a powerfully hopped India Pale Ale, but is Proper Job IPA any good?
Being a brewery that has been around a while you would expect it to be a more old style IPA. However when they say it is powerfully hopped, maybe it's a more modern take on this classic style. There is only one way to find out.
Is Proper Job IPA Any Good?
Yes it is a good IPA, a solid dependable old style with a new style citrus twist. Pour into a glass and you are faced with pure gold wearing a white cap. The nose is moderately hoppy with an explosion of zesty lemon citrus perfume. The taste again has a moderate hoppy front with a strong citrus hitting the mouth and waking up the buds. Acidic lemon and grapefruit tingle the tongue while a bitterness walks in and takes over to a satisfying finish. It's crisp and it's fresh and gets a rate my beer score of 4.5 – 5.0.
I'm tempted to say this IPA is a proper Job, I couldn't resist 🙂
St Austell Brewery
The story of St Austell Brewery starts 171 years ago back in 1851 when a Walter Hicks decided to mortgage his farm to start a new business.
The business was a wine merchant and maltster and he was pretty successful. The wine business still runs to this day and is the leading wholesale distributor in the west.
Wine wasn't Walters only passion and in 1863 he acquired the Seven Stars Inn in St Austell. Those days saw pubs with the facility to brew beer for sale in the pub. Walter learnt the art of brewing and this was the start of the brewery we see today.
1893 saw a new brewery built in Tregonissey Lane which is where the brewery still stands to this day. Although there have been many alterations and modernisations, the main brewery still stands and is very much in use.
The brewery expanded and built its own estate pubs and hotels. In recent years they have acquired Bath Ales in 2016, Hare Brewery which opened in 2018 and opened their own small batch brewery at the St Austell site.
Head brewer Roger Ryman who is featured in the video is no longer with us and sadly lost his fight to cancer in 2020. But we have Roger to thank for the likes of Tribute and Proper Job, so thank you Roger.
St Austell brewery is still in the same family and remains an independent brewery, Hoorah!
Is Proper Job IPA Any Good?
It depends what you want from an IPA. Many like the old style traditional IPA, whereas others like the spikey new style IPA's with fruity madness.
I like both and Proper job kind of gives both the old and new style in one beer. It has that hoppy front with a medium malt base of the old style. However it also has the zingy citrus hoppiness of American hops lending an edge towards the modern style IPA's
It is something to behold a solid body with a light fresh feel to it. M'Lady said for her it had a sort of lager vibe. What is she saying, it's an IPA M'Lady.
For me it felt like a standard IPA, but some how delivered way more than that, giving it a magical edge. Although it says powerfully hopped, for me it wasn't overly hoppy, just right with the malty body. A good balance with a zesty feel.
Drinking Proper Job IPA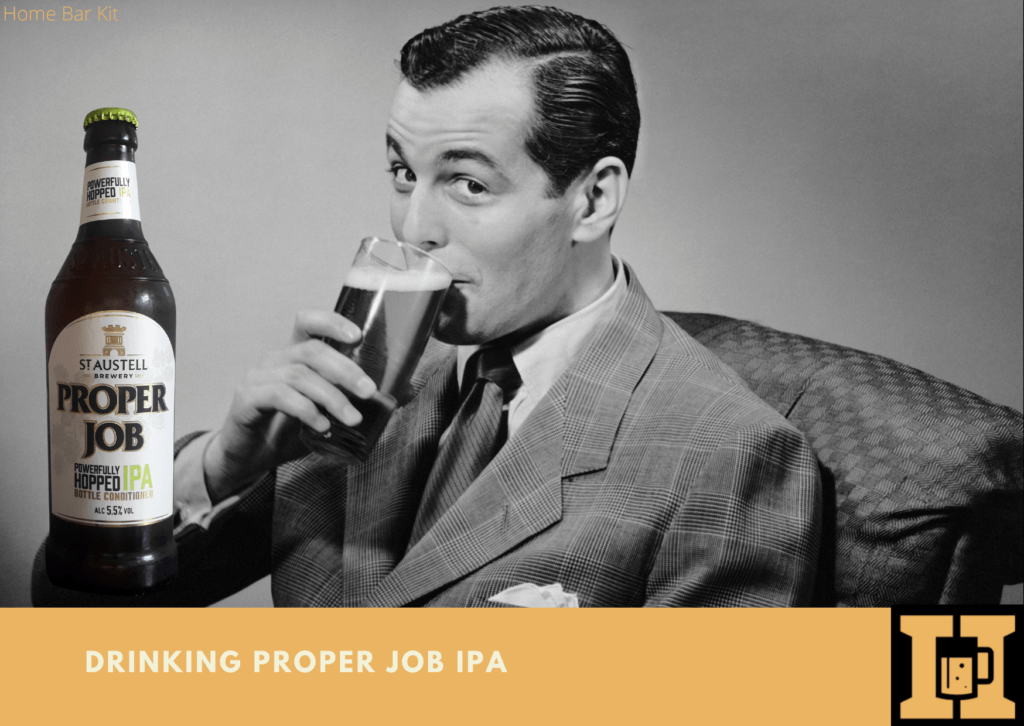 The label is a bit like the beer, understated yet appealing at the same time. It has classic style label with just a hint of loud green that shouts anomalous. I may look reserved but I have more under the bonnet than expected.
Pop the crown and the pour reveals a clear golden beer with a light fluffy head. The head fades to the thinnest of cover barely containing the gold below.
The nose is a hoppy citrus aroma that bursts with lemon and grapefruit. Concentrate and there is a light pine too, but it is overpowered by the citrus circus.
The taste follows the nose with a hoppy front and hard hitting citrus of lemon and grapefruit. A softer fruit of maybe pineapples floats around in the background. The citrus hit masks a mild malt body that fades to make way for a high end bitter edge.
It is a smooth mouthfeel with medium carbonation. The aftertaste is a satisfying bitterness with an almost peppery twist.
It's powerful but at the same time crisp and light with a real fresh feel.
At 5.5% Vol it is just outside a session beer, although one isn't enough. However on tap it is a lesser 4.5% Vol so safe to indulge in a second if drinking it in the pub.
A solid rate my beer score of 4.5 – 5.0 for a solid beer. Lou's score is a slightly lower 4.4 – 5.0, but liked it all the same.
The St Austell Range
So Walter did well and built a brewery that would sustain the ups and downs of commercial business through the years. Today the brewery are producing a great range of beers, a range that I will definitely be working through.
They have even collaborated with Mr Filberts the snack company to produce some Proper Job Beery Nuts. The perfect snack to enjoy with a pint of Proper Job, something else I will have to try out.
Here are a few of the beers St Austell have to offer.
Tribute
Tribute is a Cornish Pale Ale that is brewed with Cornish Gold Malt and a combination of hops from the UK and US. It's a pale amber beer with aromas of orange zest and tropical fruits. These come through on the taste with an orange and grapefruit floating over a balanced malt base.
It is a sessionable 4.2% Vol across the board whether bottle, can or tap. It is said to be a tribute to the people of Cornwall for their spirit and approach to life.
Although I have had Tribute before on tap, it was a long time ago. I will have to refresh my memory with a tipple soon. But from what I do remember (not a lot) it is a decent pint.
Korev
Korev is a lager and this crisp light golden beer is marketed as the coast in a glass. The color glistens like the sun, while the fresh crisp aroma is like the coastal breeze. Wait for it, the taste is totally refreshing like the waves of the ocean.
Apparently you have to drink it all in, well that is fine with me, I'm going all in and its on my beer hit list. This clean crisp lager weighs in at 4.8% Vol across the board, so stays within the session limits.
I know I haven't had this beer, but I know I am going to have this beer.
Hicks
Hicks Is a Traditional Cornish Ale and as you would expect is named after the founder of the brewery Walter Hicks. A strong style ale that is dark ruby in color with aromas of raisins and toffee. A full bodied ale with tastes of fruits and bitter hops.
A deep malty background balances the beer out for a deep and complex flavor. At 5.0% Vol in bottles as well as casks it sits on the session border. A true real ale that befits a leather armchair by the fireside on a cold crisp evening.
As traditional as Walter himself.
Final Thoughts
St Austell brewery then is an old style traditional brewery with a good stand on the modern styles of beer. Mixing old and new they produce a great range of beers.
Some of these beers include the likes of Anthem a British pale ale and Cardinal Syn Abbey Dubbel a hefty 7.8% Vol Monastic brew. But there are plenty more from the traditional to the modern.
Seeing it is a brewery that has been around a while, I am sure many of you have had a St Austell tipple or two. Share your thoughts about your experience and opinion on their beers.