Another beer from the Crafty Dai range made by Cardigan brewery in West Wales. This one is Dirty Dai Porter a bottle condition beer with a 4.8% ABV.
I have recently had several beers from the Crafty Dai range. A Golden Ale Sunny Dai, which is very good. The Dai IPA, which is okay. And a Best Bitter, Desperate Dai which isn't the best. A mixed bag, so I am not sure what to expect from Dirty Dai. I just hope it is a decent porter.
Drinking Dirty Dai Porter, Is It Any Good?
Actually, it is pretty good, a rich solid porter with plenty of flavour. A beautiful dark beer with a one finger creamy off white top. On the nose it has a light malty aroma with hints of coffee. In the mouth there is a nice roasted malt base with little hits of caramel, chocolate and coffee leading to a good balanced bitter finish. It's a pretty good porter and gets a rate my beer score of 4.4 – 5.0.
A solid porter that starts off with sweet malt and ends with a coffee bitterness.
Cardigan Brewery Bragdy Teifi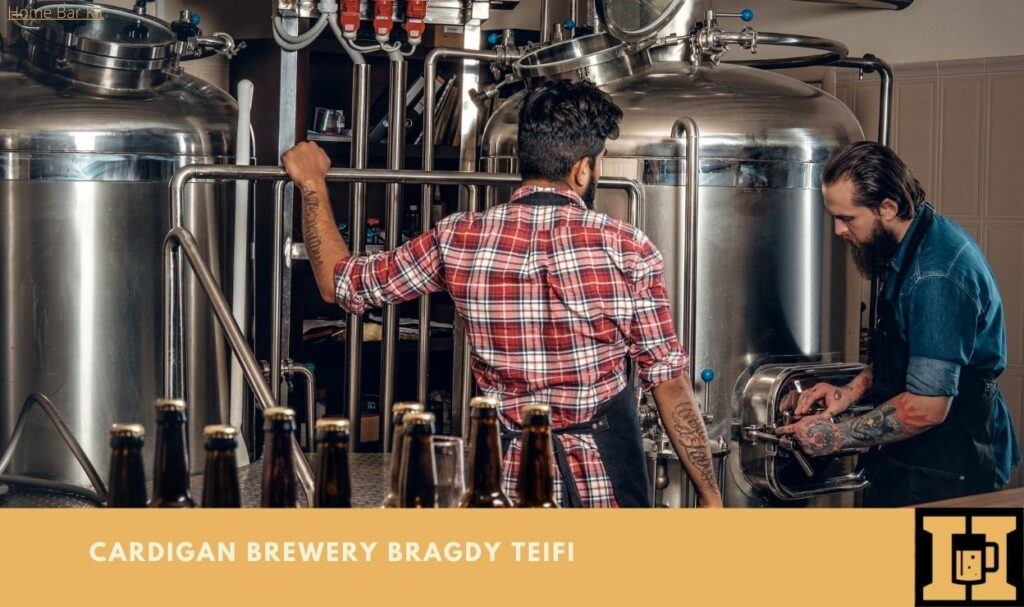 Penlon Cottage brewery in 2004 was based in Pencae close to New Quay. Producing a handful of traditional ales, it moved to a farm just outside New Quay.
You could enjoy the Penlon beers with pizza at a restaurant in New Quay as well as at the farm.
Unfortunately these have now gone and the brewery is housed in a Tap room pub and restaurant.
Joining forces with Innkeeper Wales, the brewery is now Cardigan Brewery or Bragdy Teifi.
Pizza is still on offer, as well as the Penlon range of beers, and of course the Crafty Dai range of beers.
Being that this brewery tap room is only down the road from me, it is rude that I have not visited it yet. However I plan to put that right soon, so will get to enjoy the beer on tap.
Drinking Dirty Dai Porter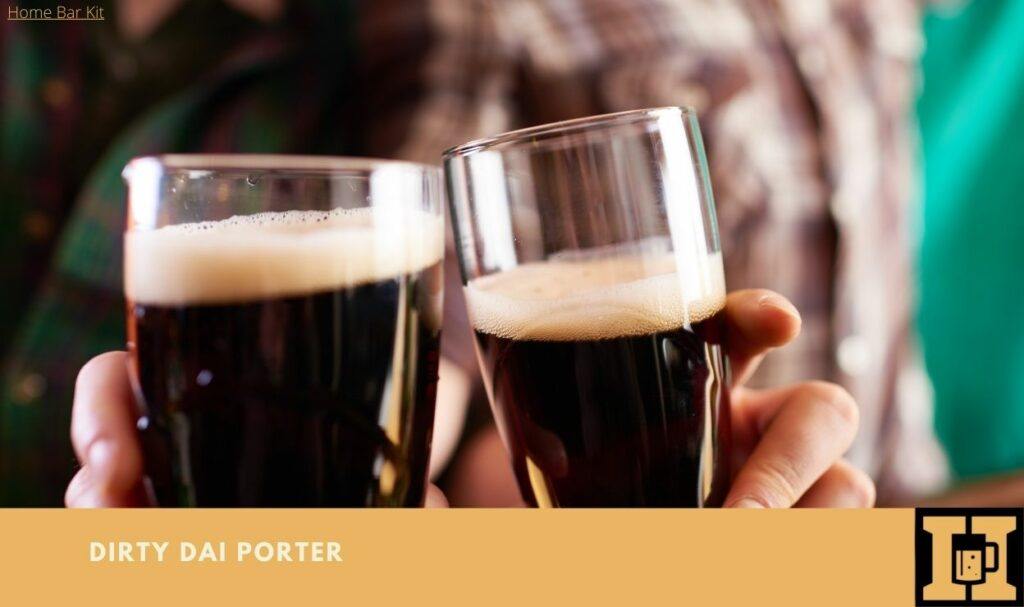 The label on the bottle looks familiar and it is because the Crafty Dai range all have a similar design. Simple with a hand written style. The thing that separates each beer in the range (apart from the name) is the colour of the label.
This one is like a plum brown, or maybe it's just a dirty brown, anyway its a dark colour.
Cracking the crown it is time to pour and a swirl of cream and black cascade around the glass. Once settled it appears a dense black with an off white one finger head. Hold the beer up to the light and it displays a slight ruby hue.
The nose is subtle, but sweet tones of roasted biscuit malt make their presence known. A gentle aroma of smoky coffee joins the party.
Going in for a sip and a sweet caramel malt pleases the palate. Hints of chocolate and coffee take over and a nice bitterness brings it all to a satisfying finish.
It's a nice porter with a pretty good balance of sweet and bitter. An easy drinking beer that at 4.8% Vol fits inside the session range, which is handy as you may want a second.
The Result
Dirty Dai Porter gets a solid Rate My Beer score of 4.4 – 5.0.
M'Lady who's not that keen on stouts and porters liked it more than I though she would, saying "A malty coffee aroma which follows through on the taste joined by a little chocolate and bitter finish." Lou scores it a straight 4.0 -5.0.
Our son Joe joined in on this one and he is not as keen saying, "Rich caramel with a big coffee hit and a bitter aftertaste." Joe scores it a straight 3.0 – 4.0.
So three different scores from three different palates. I like a porter, however Lou and Joe aren't so keen, so the scoring is understandable and reflects that.
However the bottom line is that Dirty Dai is a pretty good porter.
Cardigan Brewery Beer Range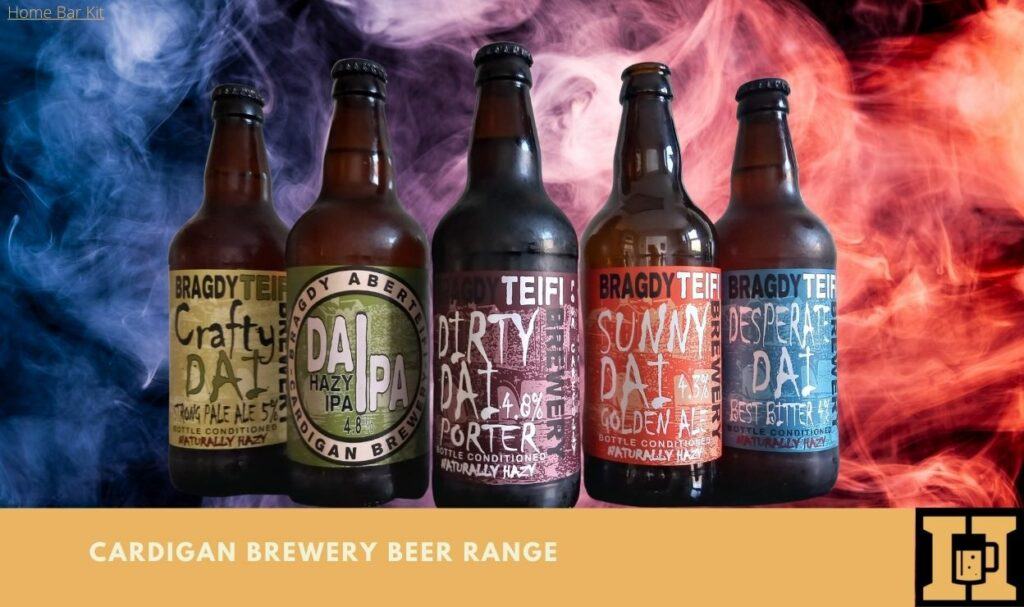 As I have already mentioned Cardigan Brewery have two ranges of beer. Penlon range are along the lines of traditional ales.
The Crafty Dai range are more along the lines of craft ales. Here are few to consider from both ranges.
Cardi Bay
Cardi Bay is a traditional best bitter with a rich malty body and a smooth bitter finish. From the Penlon range and aptly named after the beautiful sweeping Cardigan Bay of West Wales.
At just 4.0% ABV this could be the perfect session beer for those that like a good old best bitter. I think I may have has this several years ago, but can't remember whether it is a good beer or not. Perfect excuse to revisit and give it another go.
Lambs Gold
Lambs Gold also from the Penlon range is a golden light ale with citrus fruit flavours balanced with a hoppy finish.
Brewed to be light and refreshing in comes in at just 3.2% Vol perfect to quench even the strongest of thirsts.
Stormy Dai
Stormy Dai is a full flavoured IPA. Amber in colour and bottle conditioned. It has a strong malty base with plenty of hoppy tropical fruits to get the taste buds going.
Dry hopped for those hoppy aromas, it weighs in at 4.8% Vol so is within the session range. Sounds like a decent IPA.
Final Thoughts
I recently got five of the Crafty Dai range together so having tried several, I have to say that I like what Cardigan Brewery are doing. Admittedly I wasn't as keen on the Desperate Dai Best Bitter, but that is because it seemed more like a pale ale.
The Dai IPA is decent and the Sunny Dai very good. As for Dirty Dai, I like it, a solid middle of the road Porter which goes down well.
Now there is one left, Crafty Dai a strong pale ale sitting on the fence at 5.0% Vol. I will be trying that shortly, so will be back to report.
If you have tried any of Cardigan breweries beers, whether it be the Penlon or Crafty Dai range, let me know what you think and share your thoughts below.