There are times when we are looking for something different from a beer. A change from our normal type of beer. I love an IPA, but recently I veered off the IPA road and into porter land. It was a land of chocolate caramel biscuits, a smooth and creamy place to relax. I was of course drinking northern star from Northern Monk Brewery.
This creamy porter comes fresh from the north of England and is brewed by the Northern Monk Brewery. This beer is the second version of Northern Star, this first being a mocha porter. It has transformed into a chocolate biscuit. Is it any good though?
Drinking Northern Star
It is good, its indulgent, and one is enough, its a perfect after dinner drink. It pours a black velvet brew and settles with a creamy top, it looks impressive. The nose is a sweet affair with a prominent chocolate caramel aroma backed up by a coffee undertone. The taste is similar, that chocolate caramel is the leading force in this creamy beer. It is slightly bitter in the mouth and leaves behind a vanilla coffee aftertaste. A shinning 4.5 – 5.0 rating.
It's like drinking a chocolate biscuit, but where did it come from?
Northern Monk Brewery
Northern Monk is an independent brewery from the north of England, based in Holbeck Leeds. The largest city in West Yorkshire, Leeds was a large producer of wool in days gone by. It was a town in the heart of the industrial revolution.
Founded by Russell Bisset and Brian Dickson the brewery is housed in the old flax store, which was a mill used to store flax. The grade II listed mill was one of several run down buildings left from the industrial age. Thankfully they are all back in action and the old flax store is the original home of the Northern Monk Brewery.
The journey was started in this location back in 2014. The building also houses the breweries refectory LCD Tap Room, which is located on the first floor. Here you can drink fresh beer brewed underneath your feet. In 2017 Northern Monk opened a second brewery. A much larger brewery and only half a mile away from the original.
Add in the Refectory MCR located in Manchester northern quarter, and you have a second site to enjoy their many brews. It also hosts regular kitchen takeovers from local food outlets.
The brewery has seen significant growth since its birth in 2014 and can brew 18 different beers at one time across both sites. Their catalogue of beers is impressive and fall under several categories.
Drinking Northern Star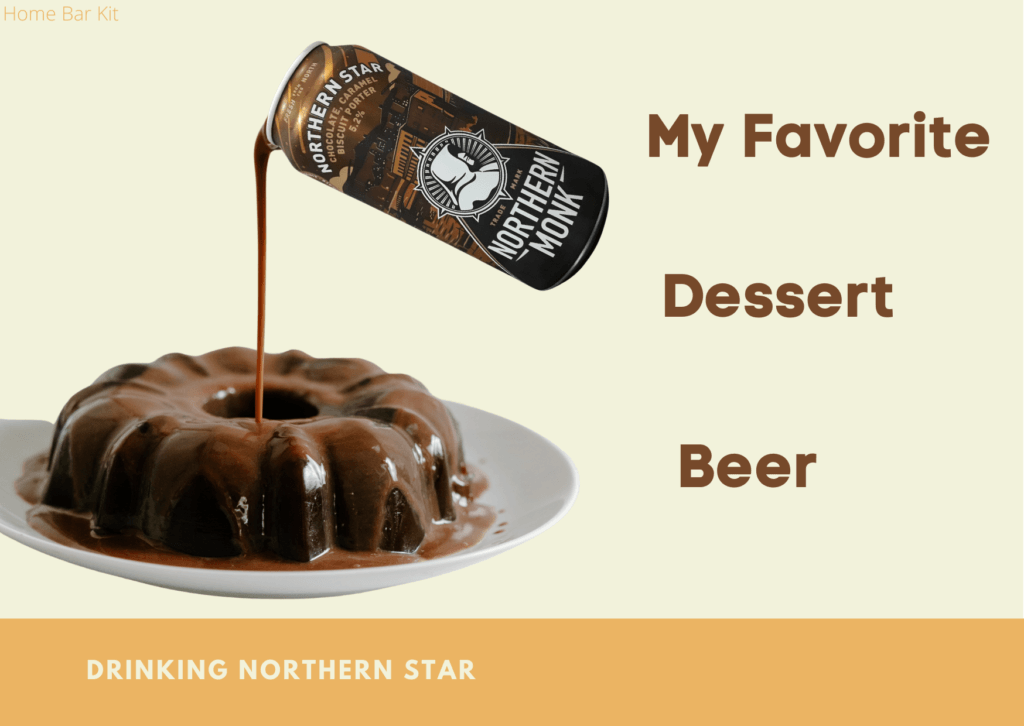 How was this beer really? Can I honestly say that I enjoyed it and would I dive in again for a rematch.
The simple answer is yes, but not on scale, for me its an occasional beast. One that would be a casual after dinner drink, probably because it is synonymous with a chocolate dessert.
The first thing that strikes you is the artwork on the can. A background that looks like a reflection of the industrial past in the area. Overwritten with the Northern Monk distinctive logo and colors that reflect the beers flavors.
When you pour the beer it's like a vortex in a glass. When it settles down, the wholesome black liquid sits still waiting for attention. A creamy and frothy top invites you inside for a closer look. This is when you catch those remarkable aromas rising from the glass like a sweet fragrant cloud. A prominent chocolate scent with hints of vanilla coffee.
Going in for the first sip, you get exactly what your nose is telling you. A rich chocolate and caramel delight with a slight bitter character filtering through. The after taste is what delivers the tinge of coffee and vanilla that hangs around until your next sip.
A Beer To Be Savoured
It really is that kind of beer, a treat for the taste buds, but not one that you would drink a lot of. Have more than one can and it is in danger of getting a little sickly. I enjoyed this beer after a chicken curry with lime leaf, lemongrass and mango, and it worked. It is like having a dessert after your meal., so I am naming it my dessert beer.
This happened to be the day after Meatloaf passed, so it was nice to have something special to salute a great artist while listening to Bat Out Of Hell. When my wife Louise tried this beer, she just said 'WOW', and likened the taste to a Tia Maria Coffee Liqueur.
Weighing in at a solid Alc 5.2% Vol I give this beer a solid 4.5 – 5.0 rating.
More Beers Enjoyed By Me.
More From Northern Monk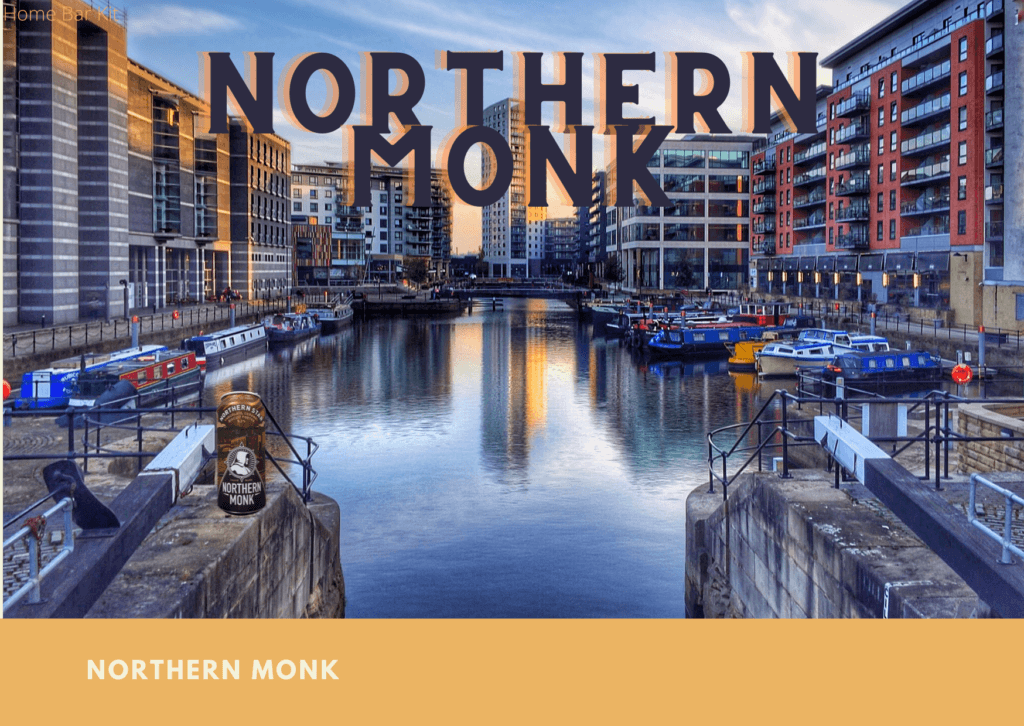 This brewery has a vast range of beer, some seasonal, some limited, and some collaboration projects. These categories are made up of the following.
Core
These beers are the main beers that make up the Northern Monk range. The everyday brews that are readily available and enjoyed by many. Northern Star is included in their core beer range.
The core range also includes Eternal a Session IPA with a 4.1% Vol. Faith a hazy pale ale at 5.4% Vol.
Seasonal
Doesn't really need an explanation, the seasonal range are beers that are brewed and released at certain times of the year. They include names such as Neapolitan, an ice cream pale ale at 6.2% Vol. A seasons of faith, Summer version, which is a hazy pale ale at 5.4% Vol. And Death an imperial stout at 12% Vol.
These are just a few, but there are plenty more.
Twist
The twist range is a limited edition range that are a take on the core and seasonal ranges. They include Salted Caramel Star which is a dessert mocha porter with a 5.2% Vol. This obviously a take on the Northern Star chocolate caramel biscuit porter.
We have Festive Faith an Australian pale ale with a 5.4% Vol. Double Heathen which is an imperial IPA with a loaded 10% Vol.
OFS Projects
These beers are the heart of Northern Monk experiments and are small batch beers brewed at the old flax store. They are just trying new things, which include OFS005, an incognito IPA with 7.0% Vol. We have the OFS009, a rice lager with 4.7% Vol. OFS013 is a dark fruit tonka sour with a 5.1% Vol.
At the time of writing there are 60 of these OFS beers, but its pretty certain that figure will rise.
Patrons
This category is dedicated to working with others across the north. A category that supports artists, creatives and athletes and produces seven beers for each project. These patron beers are only brewed for a short period of time.
The first project was about Tom Joy a photographer and combined great pictures with great beer. Out of the seven in the range was Raw Emotions a coffee porter with a 7.4% Vol. One called And Breathe an imperial coffee and plum stout with a hefty 11%Vol.
The sixteenth project is a youtuber who is known as Ray Beers, his channel is Haze Outdoors. His range includes Getting Caught In The Rain, a pina colada milkshake IPA at 7.4% Vol. Ben Nevis is an Imperial stout with a 9% Vol.
At the time of writing there are 33 patron projects completed.
Final Thoughts
I know I say this a lot, but I really like this brewery. Every time I try a new beer and report my findings to you good folks, I say the same. When you look into a brewery and their history, they all seem to have one thing in common. And I don't mean beer, but how interesting their journey's are, from humble beginnings to mighty beer producers.
They really are an industry that are creative and innovative and we have new outfits popping up all the time. Each of these breweries that have risen to stardom are a great inspiration for start ups.
Back to the beer, I have to give this beer the thumbs up, it's not a go to drink, but an infrequent treat. It's something special to be treated the same. Well done Northern Monk. It has to be tried, and when you find yourself drinking Northern Star, report back. Share your thoughts about this dessert beer.