I have had this beer many times over the years, mostly on tap. However it has been a long time since I have enjoyed a pint of The Rev. When I saw the bottle in a store I thought why not, so what is The Rev. James Ale like?
The original recipe dates back to 1885 and the recipe of today is inspired by the original. The beer is named in honour of The Reverend James Buckley the founder of Buckley's Brewery.
What Is The Rev. James Ale Like?
It's okay, just a box standard real ale that is a little thin in the mouth. It settles into the glass a chestnut brown with a thick creamy head that fades slightly but sticks around for the duration. The nose is slight with malt biscuit and caramel notes at the forefront. A little fruity hop floats above the malt base. The taste brings the malt with caramel in strong with a touch of citrus fruit on the top. A mild carbonation and thin mouthfeel finishes off with a little bitterness. It is an average ale that doesn't excite the taste buds and gets a Rate My Beer score of 3.9 – 5.0.
It wouldn't be my first choice in a pub unless the variety was limited, then I would sink a pint quite happily.
S. A. Brain & Co. LTD
Brains started life in the old Thomas's brewery in St Mary Street, Cardiff Wales. This was back in 1882 when Samuel Arthur Brain and his uncle Joseph Benjamin Brain bought the old brewery.
I wonder which one was the brains of the operation 🙂
The old brewery is now known as the Brewery Quarter in Cardiff a development of restaurants and bars.
In 1999 Brains moved their operation to a larger brewery behind Central Station so remained firmly in Cardiff. In fact it was known as the Cardiff Brewery with its iconic tall red chimney.
2019 came a further move to the outskirts of Cardiff in a purpose built modern set up named the Dragon Brewery. The Cardiff brewery is being developed which is a shame as it has been a landmark building for so long.
Apart from the brewery Brains also owned many pubs, it is unsure exactly how many, but the figure is said to be around 250.
However with the hospitality industry being ripped apart in the last few years those pubs have all but gone. Well not actually gone, but sold on. Marston's took on over a 100 of Brains pubs and Song Capital and Partners took around 95 in 2021.
What Is The Rev. James Ale Like?
The Rev. James is an easy drinking old style ale based on a recipe from 1885. It is named after the Reverend James Buckley founder of Crown Buckley brewery based in Llanelli, Wales.
Brains acquired Crown Buckley in 1997 and closed the brewery moving its production to Cardiff. The original brew at Buckley's was called Reverend James Original Ale and was kept on at Brains as The Rev. James Original.
It's the type of real ale that would have been a top beer 20 odd years ago. However with the development of beer in recent years it now becomes a little average.
It is not offensive, it is just average, I wouldn't seek it out, but its drinkable if nothing else is on offer.
Drinking The Rev. James Original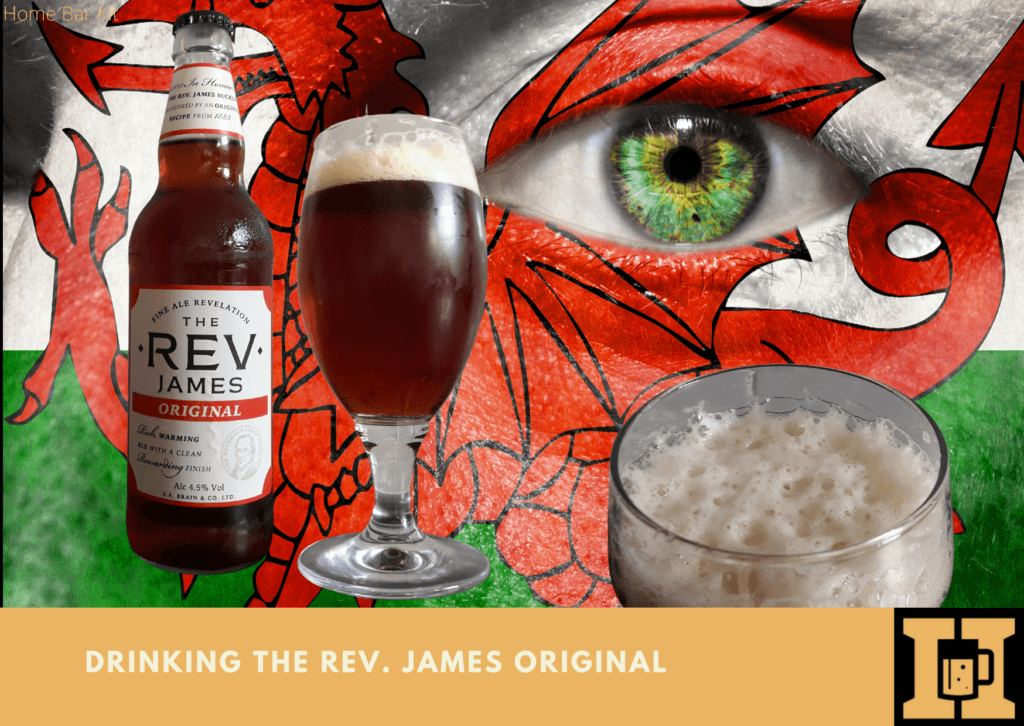 Packaged in a clear 500ml bottle with a conservative traditional label that features a picture of Reverend James Buckley, its reddish chestnut color shines through the glass.
Once poured it settles to a clear red brown beer with a thick fluffy off white head. This does calm down and fade somewhat, but a small top stays around and leaves a moderate lacing around the glass.
The nose is modest, a sweet malt biscuit with caramel notes is dominant and the slightest of fruity hop floats on top.
Malty caramel comes through in the taste, on top floats a subtle touch of citrus fruit and it all ends in a nice bitter edge. The taste is nice even if it is not strong, however it just feels a little thin in the mouth with no depth to it.
M'Lady said "it's a very predictable ale, there is nothing unexpected about it." A fair point, it is an okay beer, it just lacks something, especially in today's market.
At 4.5% Vol it is okay to have more than one, and you would because it is easy to drink. I rate it 3.9 – 5.0 and Lou rates slightly lower at 3.7 – 5.0.
Brains Brewery Range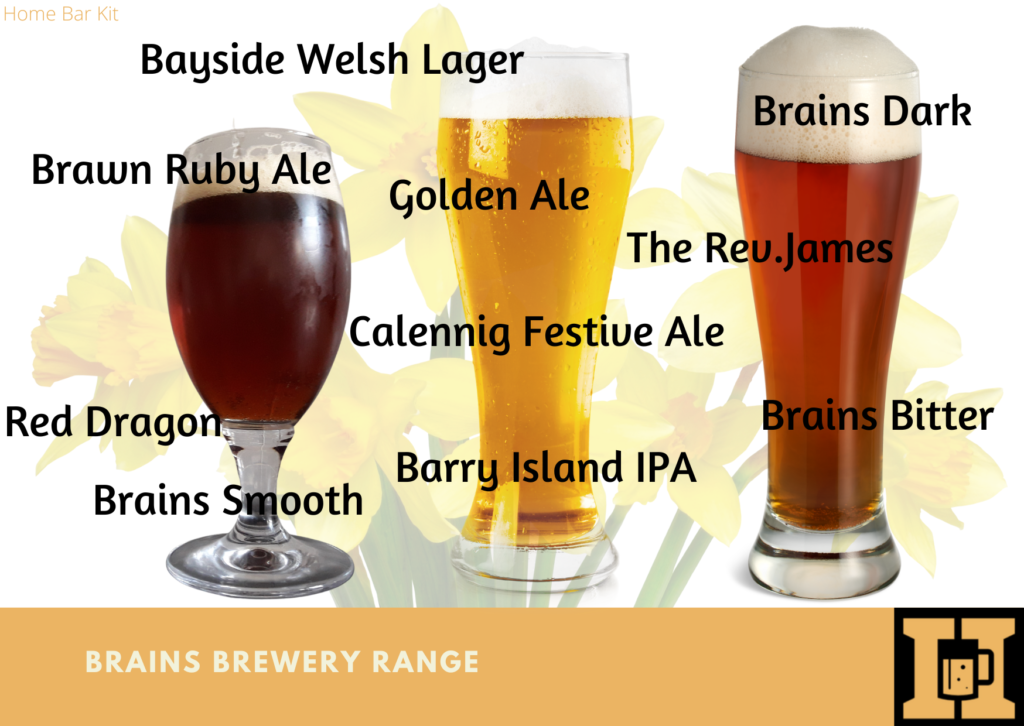 Brains Brewery is an old brewery with plenty of experience and I have had several of their beers over the years. The SA ale as well as the traditional bitter and their smooth bitter.
While they do a lot of traditional style beers, they have moved into other beers to to keep up with modern beers. Including an American style IPA and a lager too.
Bitter Smooth
I have had this one many times over the years. However just like The Rev. James it has been a while since my last taste.
From what I can remember it is a good beer, but I will have to revisit and report back.
Brains describe it as smooth (I would hope so) and easy drinking. A reliable beer that is favoured by regular pub goers around Wales.
At 3.7% Vol it's definitely a session beer and will go down smooth and easy.
Barry Island IPA
Named after the popular Barry Island holiday destination made famous by the TV show Gavin And Stacey. This is an American style IPA, fresh, hoppy and tidy.
Brewed with three American hops it promises plenty of citrus aroma. A smooth malt base is laced with hoppy berries and finishes with a strong bitterness.
It sounds good and at 5.0% Vol just sits on the session fence. One beer that has just gone on my hit list.
Bayside
You can keep thirst at bay with this Welsh Lager from Brains. I never thought Brains would make a lager. They just describe it as crisp and light and say it is highly drinkable.
They are not giving much away.
Sounds okay and at just 4.3% Vol if the thirst persists then a second one is okay. Up till now it has avoided me, but if I see it I will give it a go.
Final Thoughts
Brains are a big name in Wales, you can't avoid one of their brews. For me they are okay, but there is nothing outstanding about them.
This may have all changed with their new lager and IPA joining the old style beer range.
Now they are pretty much just concentrating on brewing with the pubs gone, and a new modern brewery, we may see more. Will they come out with some more craft style beers? Who knows, but hopefully.
Are you a Brains fan, or you not so keen?
Share your thoughts below on The Rev. James and of course other Brains brews.