A hoppy blonde beer that was first brewed as a seasonal beer in 2004. However in 2008 it became part of Oakham Ales core range. So is Inferno Blonde Ale a decent beer?
Well is has won plenty of beer awards, so I am expecting good things. Brewed with no less than five hops, it could be a lively little blonde beer.
Is Inferno Blonde Ale A Decent Beer?
It is a decent beer, a pleasant blonde beer with a hoppy citrus body and a dry finish. It pours a light gold with a generous foamy white head. On the nose it has plenty of citrus hoppy fruits with lemon and grapefruit standing out. The taste is a similar story with plenty of fruity hop flavours bursting around the mouth. Lemon, grapefruit and orange with plenty of citrus zing. A slight bitterness ends things with a refreshing dry finish. It gets a decent rate my beer score of 4.3 – 5.0.
A very nice blonde beer that is hoppy and refreshing.
Oakham Brewery
Oakham ales was born in 1993 by John Wood in Oakham, Rutland. It was a small set up with a capacity of ten barrels a week.
Two years later and John Wood retired leaving the brewing to John Bryan who had joined the brewery a year earlier.
It is fair to say that Oakham is all about the hops. John Bryan started an annual hop sourcing trip to the US in 2002. It was in 2009 on his hop strip that he discovered the famous Citra hop. Being suitably impressed he flew it home and brewed with it immediately.
The Citra session IPA was born and became a big hit. It is said that Oakham Ales was the first UK brewery to brew a beer with 100% Citra hops.
John Bryan has now retired from brewing, however he still remains a partner in the business. And will be doing a few more hop sourcing trips to the US too.
Is Inferno Blonde Ale A Decent Beer?
It is a decent beer with a lively personality. Its hoppy with a citrus zing and a refreshing dry finish. Although it has a little bitterness, it could do with a little more.
The label is an inferno of burning hops, however I am not sure how that relates to the beer (I could be missing something). The label describes the beer as clean, fresh and hoppy, and that is just what you get.
Amarillo, Cascade, Centennial, Chinook and Sterling make up the all American Hop Line up. So expect an Inferno of hops, maybe I getting it now.
Drinking Inferno Blonde Ale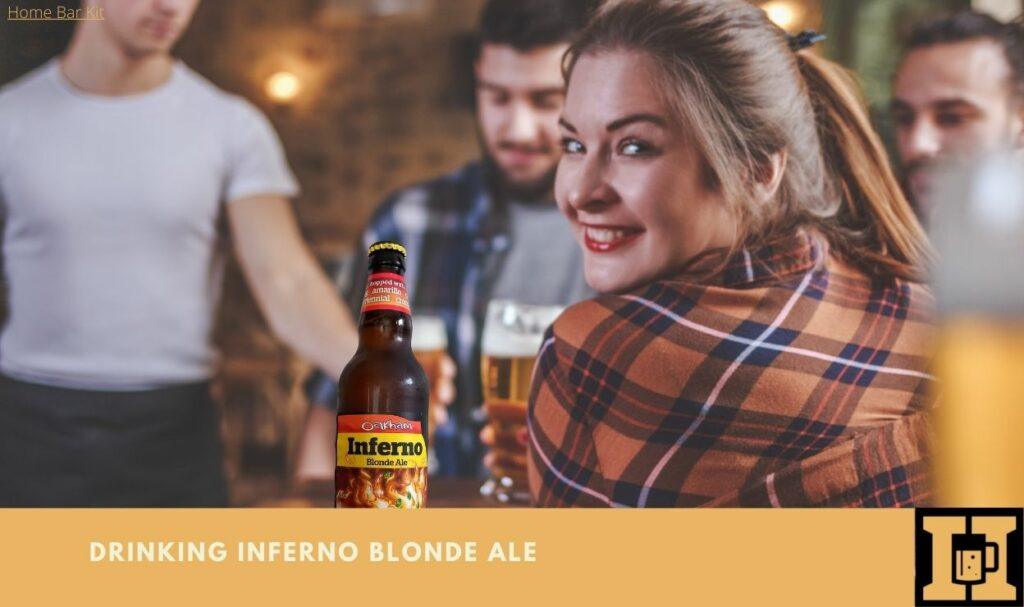 It pours a light gold with a decent white fluffy top. This does fade a little but sticks around for the duration leaving a nice lacing around the glass. A constant flow of bubbles rise from the bottom of the glass to the top.
On the nose it is lively with plenty of fruity hops and citrus notes of lemon and grapefruit.
The taste mirrors the aromas with a slight malt base that soon gets wiped out by fresh fruity hops and the zing of citrus. Flavours of lemon, grapefruit and orange lead the way with a slight bitter end. It is refreshing on the end with a dry finish.
A really pleasant blonde beer with plenty of hop kick and citrus flavours. It gets a rate my beer score of 4.3 – 5.0.
M'Lady likes it too saying, "A clean fresh tasting beer with a strong citrus tang and a dry sharp finish." Lou scores it a straight 4.0 – 5.0.
A perfect session beer at 4.4% Vol for quenching the thirst on a hot day.
Oakham Beers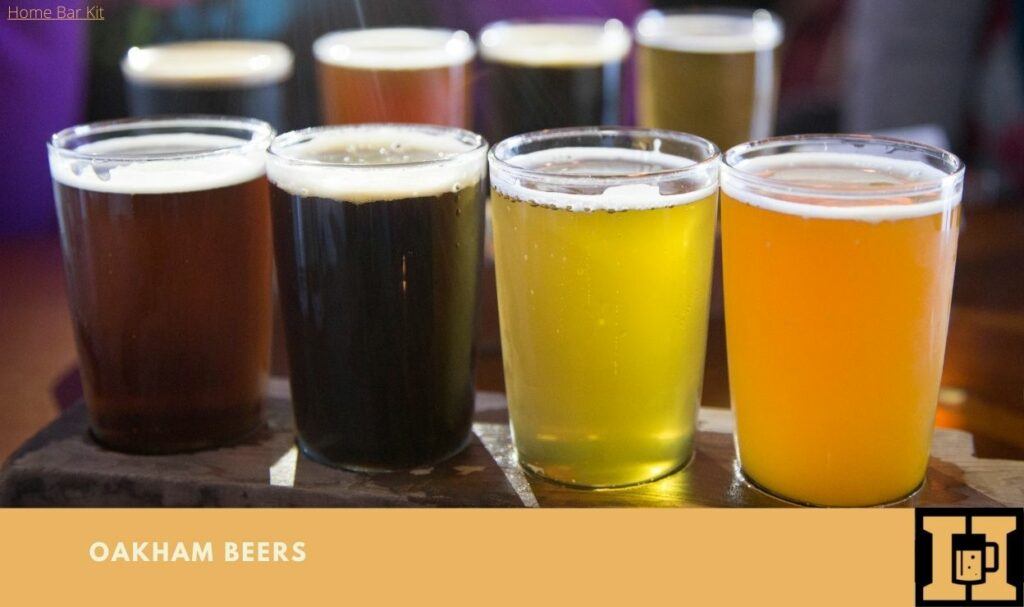 Oakham have a decent core range of beers, as well as seasonal and cask aged beers too. However 2023 sees the thirtieth anniversary of Oakham Ales.
What this means is that Oakham have picked a line up of some old seasonal favourites, as well as some new kids on the block. It must have taken a while because they have brewed near on 300 beers since 1993. Here are a few of those beers.
The Hare And The Hedgehog
Drawing inspiration from the classic Brothers Grimm story. The Hare And The Hedgehog is a session bitter first brewed in 2012 and back for the anniversary.
Brewed with three American hops it has a little citrus, but mostly a moreish bitterness for a light bitter. At just 3.9% Vol it is easy on strength too.
Preacher
Preacher is a best bitter with a full body and a smooth bitterness. However a four hop line up from the US means there is a little fruity hoppyness too.
First brewed in 2012, however it has also made appearances in 2013, 2015 and 2019. It weighs in at just 4.3% Vol , so is a decent session bitter. Preacher best bitter will be available later in the year.
Flag Fen Bronze
A heritage beer named after a bronze age village not far from the brewery. Brewed with tradition in mind and using two UK hops, Goldings and Bullion.
Expect caramel and roasted malts with fruity flavours backed up with a little peppery spice. An old style beer with a 4.2% Vol strength tag, so a few might be the ticket. A new edition that is available now.
Final Thoughts
Oakham Ales have plenty to celebrate this year with their 30th birthday in September. 30 years is a big milestone and having brewed near on 300 beers and winning around 250 awards it must have been a blast.
The First batch of JHB (Jeffrey Hudson Bitter) was brewed in September 1993 and is still in their core range. Happy Birthday to Oakham Ales.
If you have enjoyed any of the Oakham Ales then do share your thoughts. If not, then maybe checkout their range and see what you think.