How about a deep golden hoppy lager without the alcohol, or should I say with barely any alcohol. Brooklyn brewery have produced just that with their special effects hoppy lager. But is it any good?
It is all very well having low or non alcohol beer, but they have always been bland and pretty tasteless. However leave it to the craft breweries and they will come up with the goods. The alcohol free beers being produced now are pretty good. So what is this one like?
How Good Is Special Effects Hoppy Lager?
I can only describe it as very good with plenty of depth and flavour. It pours a dark amber gold with a one finger white top. On the nose it hits with a tropical hoppy citrus with a fragrance of grapefruit. A little malt creeps in too. The taste hits with the same hoppy front and tropical fruits with a mild bitter edge to it. A little caramel malt pops in bringing a little sweetness. It's a good beer and gets a decent 4.5 – 5.0.
Special Effects is more than a lager, it floats between a lager and a pale ale. Furthermore it doesn't seem to lack alcohol, you wouldn't know if you didn't know.
Brooklyn Brewery
Brooklyn Brewery came to life in the late eighties when Steve Hindley partnered with friend and neighbour Tom Potter.
Hindley found his love of brewing in the middle east where he was a correspondent covering war torn Beirut. A colleague brewed his own beer, and Hindley was hooked.
To cut a long story short, on his return to Brooklyn the brewing journey begun and Brooklyn brewery was soon a reality.
Related: Defender IPA
Special Effects Hoppy Lager
It is all in the title, this is a hoppy lager, which could put off dedicated lager drinkers. Also the deep amber colour doesn't lend to the look of a lager either.
One could be mistaken for it being a pale ale in look as well as smell and taste. That being said, it is good and I think its a winner. May be all lagers should be more Special Effects.
The design is nothing to write home about, it comes in a 330ml brown bottle with a busy purple and gold label.
Nothing special there then. However once you crack the crown the special effects begin.
Drinking Special Effects Hoppy Lager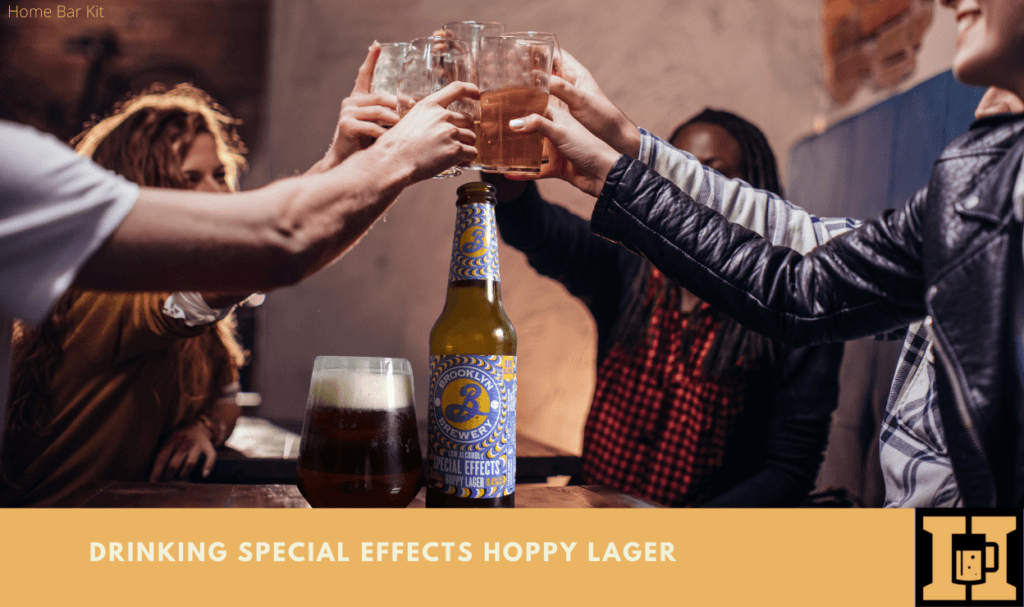 The first thing you notice as you pour is the dark amber colour falling from the bottle into the glass. As it settles a generous white foamy head sits on top. This does fade to leave a thin covering and nice lacing around the glass.
The nose is pleasing and lives up to the hoppy title with tropical notes of grapefruit and orange peel. A little malt sits in the background, but its slight.
The taste mimics the smell with a hoppy front full of citrus notes of the grapefruit and a zesty lime feel. This serves up a nice little bitter front. However on the back end a hint of caramel malt lends a little sweetness, but not too much.
The mouthfeel is smooth and almost creamy with a depth of body. I like it, although not your typical lager, it works.
Apparently it is brewed with a lazy yeast that doesn't produce much alcohol, so no need to remove the alcohol later.
However it feels like it has alcohol in it, yet it is just 0.4% Abv. Like I said, if you don't know, you won't know.
The rate my beer score is a decent 4.5 – 5.0. Well done Brooklyn Brewery.
Brooklyn Brewery Beers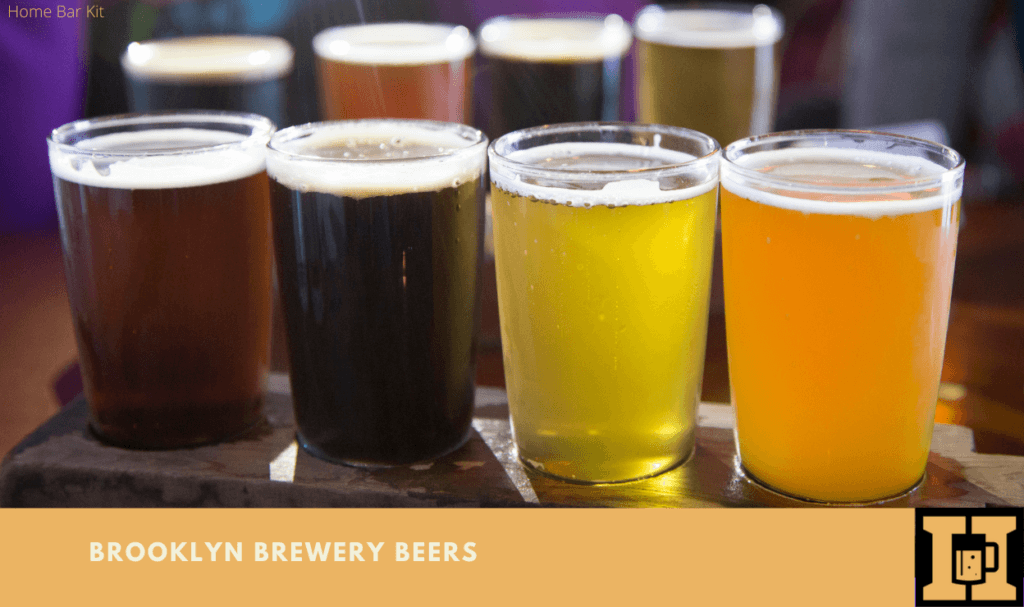 The range of beers offered by Brooklyn Brewery in the UK is not vast. In fact on their website they only show five at the present time.
So here are a few others beers to try from the Brooklyn range.
Brooklyn Pilsner
A light crisp refreshing lager inspired by Brooklyn. Fine malty body with a little spice leads through to a hint of citrus hops.
A clean refreshing finish could make a winning lager. At 4.6% Vol a couple could sit well at a barbecue on a hot sunny afternoon.
The StoneWall Inn IPA
This beer is to mark the support that Brooklyn brewery lend to The Stonewall Inn Gives Back Initiative. A charitable organization giving support to the LGBTQ communities.
The beer is described as fearless and refreshing. A hoppy tropical IPA with notes of Grapefruit and citrus peel. It weighs in at a respectable session 4.6% Vol, so can be enjoyed more than once.
Special Effect IPA
As you may of guessed this is a low alcohol IPA just as the Hoppy Lager. Likewise it is big on hops and delivers notes of tropical citrus and fresh fruity flavours.
At just 0.4% ABV it has all the character of a decent IPA, but without the big alcohol kick.
Final Thoughts
So Brooklyn brewery has done a great job with Special Effects Hoppy Lager. That is just my opinion though, and I think some lager drinkers might not like how hoppy it is.
On the other hand it might be a refreshing change, and those those that like craft beer will more than likely think its a great beer.
It is great that low and alcohol free beers now have body and depth of flavour. Rather than the bland watery ones we have all been subject to in the past.
Why not share your thoughts below on low and alcohol free beers. And if you have tried the Special Effects Hoppy lager, then do share your opinion.