Bishops Finger is an old beer that comes from an old brewery, said to be the oldest brewery in Britain. It is of course Shepherd Neame in Faversham, Kent. This beer has been brewed since the late 1950's. So does it still stand up today?
I have had this beer on many occasions in the past, however it has been a while. So when I saw the bottle staring at me from the store shelf, I thought why not. If I remember right I'm sure it is a good beer, but how good is Bishops Finger Strong Ale?
It is good, in fact I would go as far to say it is an excellent beer. A mid brown beer with a ruby sparkle and a creamy off white head. On the nose it screams rich malts with a sweet aroma and the hint of fruitiness. The taste is complex with a malt base laced with flavours of toffee caramel and an almost honey like sweetness. The presence of fruit lends itself to orange marmalade, but then a spicy hop finishes the show with a satisfying bitter end. It's good and gets a rate my beer score of 4.7 – 5.0.
What a beer, far better than my memory informs me. A good old style beer that still stands tall today.
Shepherd Neame Brewery
Penned as the oldest brewery in Britain, Shepherd Neame is anything but old fashioned. The brewery has moved with the times and is Britain's largest independent brewer.
The brewery exports its beer to 35 countries and produces an eye watering 50 million pints per year. The company also owns over 350 pubs and hotels.
There is a visitors centre and they conduct brewery tours too where you can see just how this historical brewery operates and brews beer. I might have to book a tour myself.
A real old time brewery that has been brewing beer for over 3 centuries. If you want to know more a time line history lesson can be found here.
Bishops Finger
Bishops Finger is the first strong ale that Shepherd Neame brewed after malt rationing ended. First brewed in 1958 it is said to be one the oldest bottled beers in Britain.
It is an old style ale that delivers rich complex flavours and is extremely moreish.
A simple brown bottle embossed with the slogan '1698 Britain's Oldest Brewer'. It is named after the old style finger sign posts with one included on the simple label. Black, gold, purple and cream are the colours on the label, weird combination, but it works.
But what about the beer inside.
Drinking Bishops Finger
Crack open the crown and you get that familiar smoke like vapour release from the top of the bottle. A fast pour sees a mid brown coloured beer with a ruby shine to it and a foamy soft white top.
The head does fades to a thin cover, but leaves a nice lacing down the glass as you enjoy each sip.
The nose is fragrant with a distinctive malty caramel sweetness and a fruity background.
Likewise the taste is rich and complex hitting the palate with a delicious depth of malty toffee caramel over biscuit with the sweetness of honey. A fruitiness hits over the malt with an orange marmalade feel. It is rich in flavour and feels sweet, but just in the nick of time a hoppy feel laced with a little spice picks up the pace and ends in a satisfying bitter finish.
What a cracking pint of beer it is, I don't remember Bishops Finger being this good, but it is now. I am a fan, a big fan and it gets a resounding 4.7 – 5.0.
M'Lady likes it too and says "A rich malty aroma leads to a caramel biscuit taste laced with candied fruit and a hint of lemon. Tastes a bit like a bitter top." Lou scores it 4.1 – 5.0.
I am not sure about it tasting like a bitter top, but hey we all have different palates.
For me it stands out as a great bitter ale and could be a new favourite.
Well done Shepherd Neame.
Shepherd Neame Range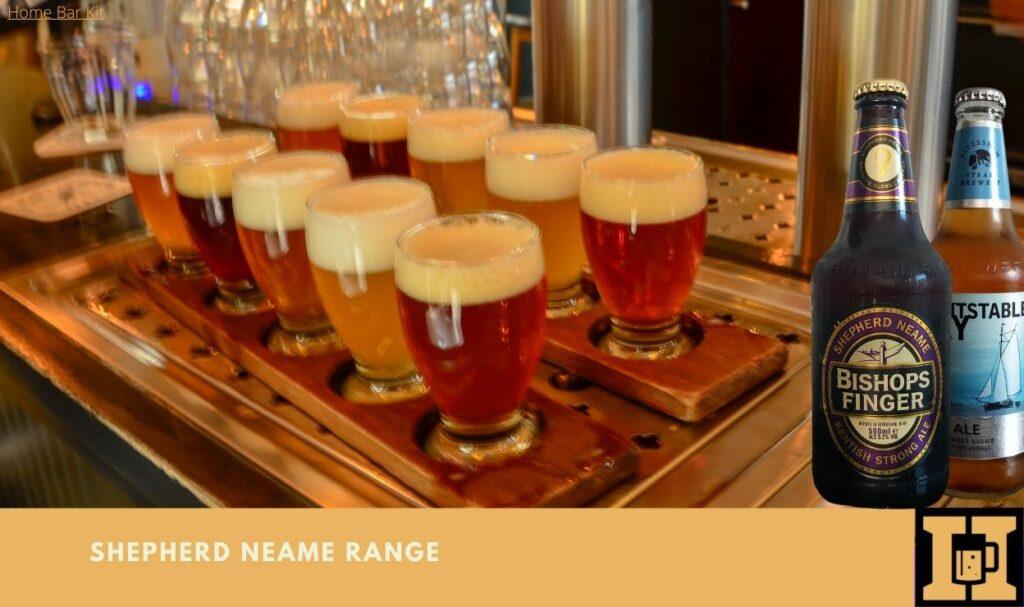 Although Bishops Finger is a traditional old style ale which Shepherd Neame brew well along with some others to match. They also other beers up their sleeve too.
The Bear Island range fusing American and British hops, the range includes East Coast Pale Ale, Triple Hopped Lager and a 0.5% Vol IPA.
Of course there is the Spitfire Amber Ale which has been around for years, but it is joined to make its own range by a Golden Ale and a Lager too.
There s also the Whitstable Bay range too with a Pale Ale, Blonde Lager and a Black Stout. Basically there are plenty of beers to choose from, and here are a few on my beer radar.
Black Stout
Black Stout is a beer from the Whitstable Bay range and features four coloured malts and Admiral hops. It is described as a rich balanced stout with a smooth creamy top.
The Black Stout looks like it might be a good balance between sweet and bitter. It weighs in at just 4.2% Vol so fits in the session bracket.
If you like a stout then this one might be worth a punt, I'm in.
Double Stout
Sticking with the stout, this Double Stout is part of the Shepherd Neame Classic range. Inspired by an old recipe found in a coded brewers log in the brewery archives.
Made with four malts it is said to be smooth with a velvet texture lending burnt roasted flavours with a dry feel. Cocoa and coffee notes employ a dry bitter edge, sounds like a dream.
It is only 4.0% Vol on draught, but weighs in at a stronger 5.2% ABV in the bottle.
Spitfire Lager
The original Spitfire Amber Ale is an old classic, but the Spitfire now boasts its own range. Step in the Spitfire Lager, light, crisp and refreshing with a blend of brown and lager malts.
It is lightly hopped with Herkules hops and brewed to quench the biggest of thirsts. At just 4.0% Vol it is safe to sink more than one just to make sure that thirst is really quenched.
Looking forward to trying the Spitfire Lager.
Final Thoughts
Shepherd Neame may have a long interesting history and been brewing for over three centuries. But its an up to date brewer that continually moves forward and produces some exciting beers.
Whether you want classic old style beers, or modern funky beers, Shepherd Neame is there for you. An outstanding Brewery that knows what we want.
Bishops Finger is a triumph of a beer, and a new favourite for me. But what about you, If you have tried Bishops Finger, or any other Shepherd Neame beers. Then get involved and share your thoughts below.
Thanks for reading.