So Brewdog have taken on the might of Guinness and launched a stout to compete directly with the well known black stuff. Many have tried this before and failed to beat the old dog Guinness. But why is Black Heart a 21st Century stout?
It is pretty obvious just from the can alone that Brewdog are calling out Guinness and taking them on in the stout market. However Guinness have been the number one stout in the world for many years. So it will take a lot to knock them off their perch.
Why Is Black Heart A 21st Century Stout?
I guess the reason Brewdog call it a 21st Century stout is because Guinness is so old. Dating way back to 1759 Guinness has had much competition over the years and beat them all. However Brewdog have come a long way too since they began in 2007. But can they take on the might of Guinness? Or will they fail miserably?
Let the battle commence.
Brewdog Vs Diageo
Diageo the company that owns Guinness have previous with Brewdog. Back in 2012 they actually used their clout to stop Brewdog winning an award.
Pretty sneaky, but they were found out and had to apologise to the Scottish brewer. Brewdog accepted their apology, but more than a decade on have set them a challenge.
Black Heart is a nitro stout and is going up against the Guinness nitro. Investing in a specialist nitro canning line, Brewdog are set to compete directly with the number one stout in the world.
Not only that, but they are also buying some Guinness kegs. The plan is to put both stouts side by side in all their bars. Then let the public vote for their favourite of the two, sounds like a fair competition.
However there are a lot of diehard Guinness fans, so it will be hard to turn them away from the black stuff.
What is Black Heart Stout Like?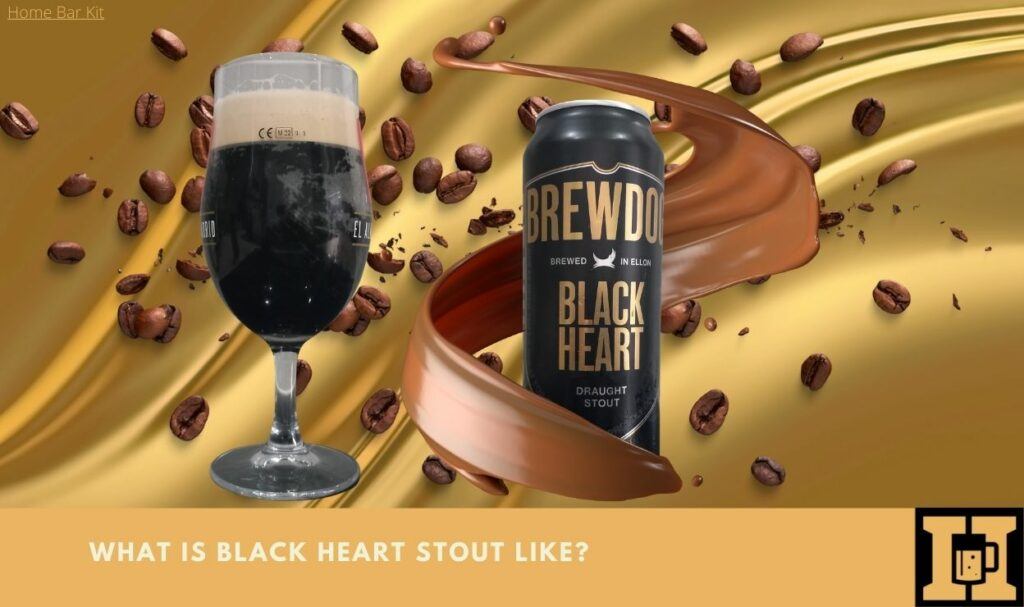 The black can with gold writing does remind me of another black can with a gold harp on it. So it might look a similar beast, but how does it compare as a stout.
It pours beautifully with tan swirling around the black liquid. When it has settled it looks just like a stout, a jet black body with a generous light tan head.
The head retention is good and a nice lacing decorates the glass as it goes down.
On the nose it screams roast malt with chocolate and coffee notes. There is almost a coffee liqueur type smell to it.
The taste is rich with roasted malts and a little caramel. A smooth creamy chocolate followed by a little coffee bitterness and a hint of tobacco.
To be fair it is a decent stout with plenty of depth and a smooth creamy mouthfeel. It feels pretty refreshing too, I like it. At 4.1% Vol it competes directly with the Guinness.
The rate my beer score hits high at 4.7 – 5.0. M'Lady is not a keen stout fan, however Lou thinks its not bad for a stout. But her score reflects the fact she is not into this type of beer and score 3.7 – 5.0.
Is it better than Guinness?
For me I think it has the edge, it just feels more flavoursome with more richness and body.
More From Brewdog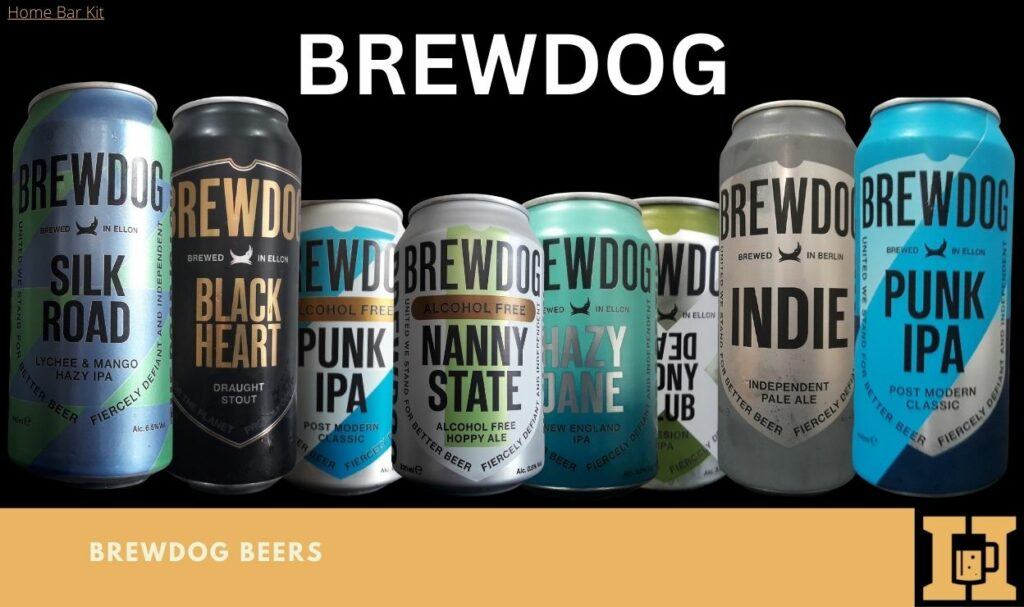 Brewdog are a brewery that make a lot of beer with plenty of variety. There always seem to be something new to try. Their core range is a solid line up of favourites.
However they also brew some small batch beers, but as I said there always seem to be something new brewing.
If you are a Brewdog fan, there here are a few beers to look out for.
Albino Squid Assassin
Albino Squid Assassin is a red rye IPA that boasts spicy rye with malt caramel and hoppy citrus fruit. It has quite the line up of malts using Carafa, Crystal as well as extra dark Crystal and Pale and Rye.
The hop bill is a pairing of Chinook and the popular Citra giving it plenty of citrus bite. However it does pack a punch and more than one is not advisable weighing it at a powerful 7.4% Vol.
It is certainly a bit of a beast.
Puppet Master
Puppet Master is a West Coast IPA that packs a fruity punch. Azacca, Citra, Columbus and Simcoe provide a hoppy citrus explosion with plenty of bitterness over a rich malt base.
However this one is also packing on the strength front with a 6.5% ABV. So not a session beer then, but worthy of a test drive.
Way Out West
Way Out West is also a West Coast IPA and a collaboration with Buxton Brewery. Described as being born in Britain, but with a US soul.
It is hopped up with Centennial, Citra, Columbus and Simcoe and has loads of hoppy tropical fruitiness with plenty of bitterness thrown in.
Another weighing in at a hefty 6.5% Vol, so just the one might be enough.
Final Thoughts
Brewdog then are taking on Diageo and putting the Black Heart Stout in direct competition with Guinness. It is a mighty stout to take on and probably the most popular stout in the world.
Guinness has a lot of loyal fans, so I can't see Black Heart changing their minds. However if there is any beer worth going up against, then Guinness is the one.
You have to give it to Brewdog for their optimism, and maybe they will do well. I am not a big Guinness fan and for me I think Black Heart has got the edge.
Can any beer beat Guinness fair and square?
Share your thoughts below on whether you think Black Heart can stand up against Guinness.