Theakston Pale comes from a brewery in Yorkshire that is close to 200 years old. So they must know a thing or two about brewing. And they do, they even have their own cooperage which is pretty rare these days. So is Theakston Pale any good?
It is an unpasteurised cold filtered pale ale with a hoppy and zingy taste. So sounds like it could be a good thirst quencher. Lets find out.
Is Theakston Pale Any Good?
Its a good fruity pale ale with plenty of zing and a bitter finish. It pours a golden copper with a one finger white top. On the nose it is hoppy and citrus with notes of fruit salad and a little spice in the background. The taste is hoppy and citrus with a smooth fruitiness and flavours of pear and pineapple. It's quite sweet but balances out with a nice bitter finish. I like it and it gets a rate my beer score of 4.5 – 5.0.
As I thought its a good thirst quencher and as refreshing as the surf. Sweet and fruity with a little zing followed by a nice bitter edge. A little more bitterness would be better, but at least there is enough to balance out the sweetness.
Theakstons
The brewery is old and was founded in 1827 by Robert Theakston in Masham, North Yorkshire, England. The brewing started in the back room of a pub, but eventually made its way to a purpose built brew house.
Theakston brewery still has its own onsite cooperage, which is pretty rare these days.
The latest cooper at the brewery is Euan Findlay who served a four year apprenticeship. At the end of the apprenticeship he was initiated in an old ceremony known a 'Trussing In'.
This involves Euan being put into a large cask then covered in old yeast beer slops and oak shavings. He is then rolled around the brewery yard. At the end he is sacked as an apprentice and employed as a qualified cooper.
The ceremony is performed by several coopers who came from around the country.
Nice to see some old traditions are still in place.
Is Theakston Pale Any Good?
Before we get onto the beer. I am surprised to see that the bottle is clear. Most breweries use brown bottles to protect the beer from UV rays.
The nice thing about the bottle being clear is you can see the beer. And it is worth seeing the beer as it is like a glistening copper statue. Yellow, white and blue writing light up to the copper background. It really is quite beautiful.
However once you pour the beer, the bottle loses all its charisma and the writing becomes dull.
So it's time to move onto the beer.
Drinking Theakston Pale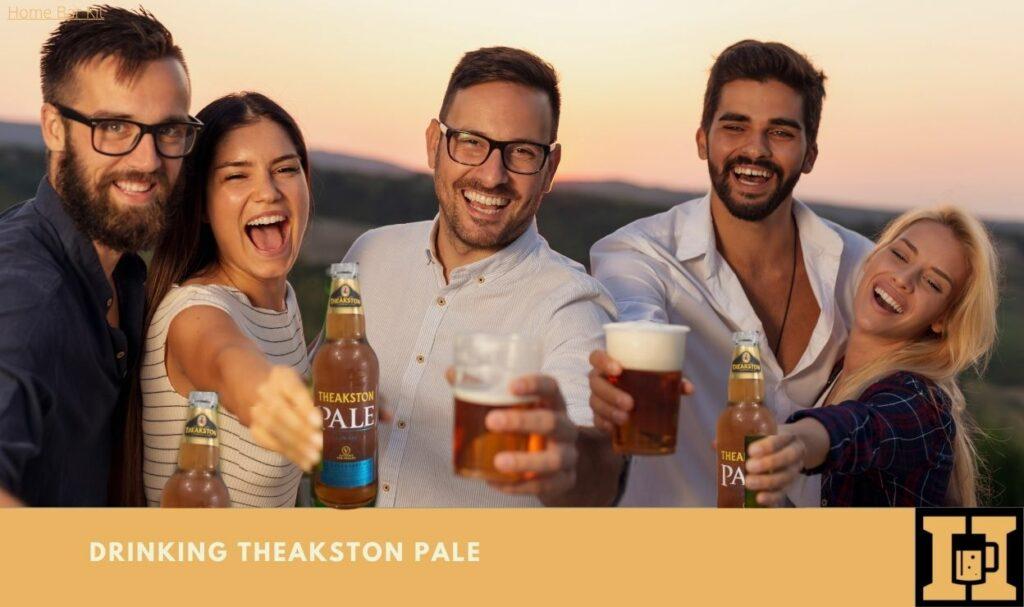 In the glass it stands a beautiful deep copper with a bright white top. However the head does fade to just a thin cover, but remains the duration.
The nose is vibrant with hoppy citrus notes and an aroma of a tropical fruit salad. Hints of spice lay in the background to finish off a lovely aroma.
Likewise it is the for the taste, you get a hoppy citrus hit with sweet pear and pineapple flavours. Its a nice zingy experience that has a pleasant bitter finale. The mouthfeel is smooth and refreshing with a sweet and bitter balance.
It uses a cocktail of hops with Cascade, Chinook, El dorado and summit bringing in all that fruity zest and spice. I expect a little more bitterness with the likes of El dorado, Chinook and Summit.
However it's a nice fruity and refreshing pal ale, ideal for quenching a thirst on a hot day. Plus you can have more than one at 4.5% vol. For me it gets a decent 4.5 – 5.0 rate my beer score.
M'Lady is suitably impressed too, saying "Fruity aroma with notes of pineapple and mango which dance around the tongue. A slight bitterness, but mostly a sweet enjoyable beer." Lou scores it a slightly lower 4.3 – 5.0.
A decent pale ale from a decent brewery.
Theakston Range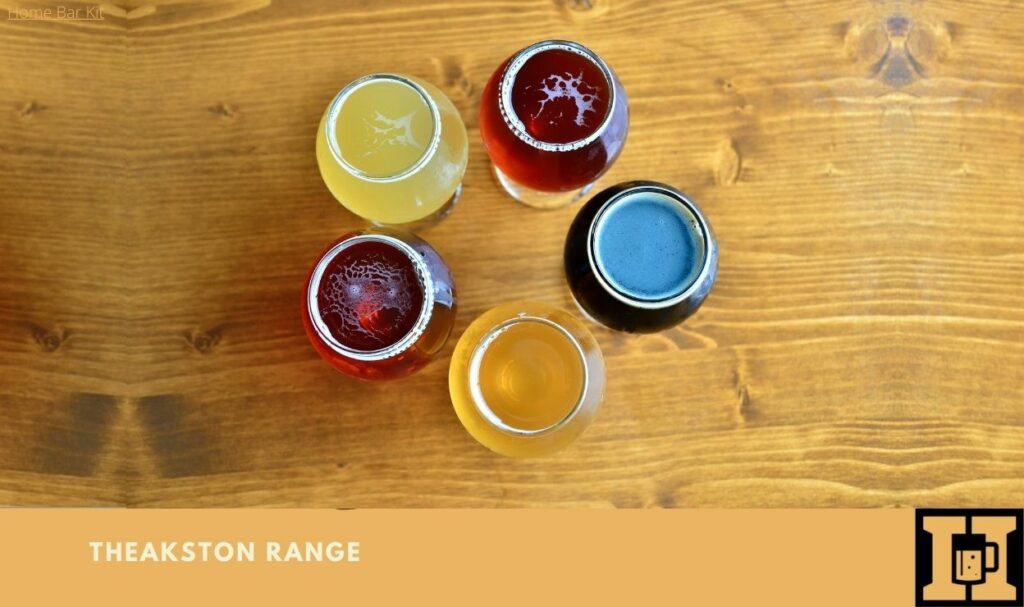 Theakston do have a decent range of beers. Although they are not on a par with some craft breweries who come out with a new beer every week.
However they brew what they brew and here are a few you might like to look out for.
Barista Stout
I reckon we could be getting a coffee treat with this stout. I can't put my finger on it, maybe it's just a hunch. This stout is described as the ultimate velvety coffee (told you) stout. It is nitrogen infused to give it the draught like feel from the can.
Expect caramel and vanilla flavours floating over hints of dark berry fruit. However you will not be able to avoid that coffee adding a nice bitter edge.
At jus 4.2% Vol it is okay to go back for a second, if the taste buds can stand it.
XB
XB is a premium strength ruby beer with some interesting notes and flavours. Said to have Calvados aromas and fruit flavours of apple and rhubarb, something a little different.
It weighs in at a decent 4.5% Vol, so still a session beer, if you can stand the rhubarb.
Lightfoot
A light golden continental style blonde beer that will quench and refresh in equal measures. Using Munich malt with German Perle and Mittlefruh it certainly is a continental style beer.
Expect plenty of citrus pop with a zesty hoppy and floral flavour. At a subtle 4.1% Vol it could be the perfect summer garden barbecue companion.
Final Thoughts
It is fair to say that Theakston know their beer, well they have been doing it a while now. However I do find there range a little limiting.
Having said that, they do a few more beers in keg and cask. A best bitter, dark mild and a vanilla stout. I am not sure if they are available in bottles or cans at anytime.
Their Theakston Pale is a good beer though and I will continue to hunt down the rest of their range. I am also looking forward to any new beers they might bring to us.
If you have tried Theakston Pale, then do share your thoughts below. How did you find it?