Victoria Malaga is a beer I have had many times in the past and I have always thought it a pretty decent lager. Having said that, it has been a long time since I have drunk Victoria lager.
So when I spotted it on the store shelf, I decided to revisit and review this Spanish classic. How does it fair, is it as good as I think I remember?
Victoria Malaga is nothing special, but it ain't bad either. It pours a light gold with a one finger crisp white top. On the nose it has a light malt base with a citrus kick. The taste starts with a lightly sweet malt up front followed by a hoppy citrus that lends a little bitterness. It has a medium carbonation giving a smooth mouthfeel. A standard lager really, but okay, it gets a rate my beer score of 3.8 – 5.0.
It is a step above the standard mainstream macro lagers, and I do like the little hop kick.
Victoria Malaga Brewery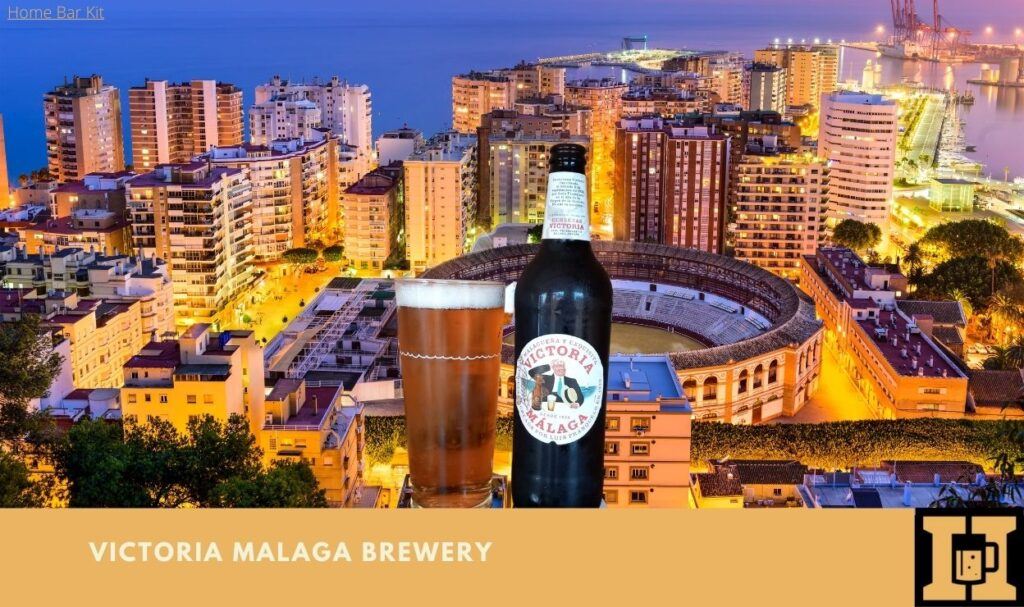 Cerveza Victoria Brewery all began in 1928 in the wonderful city of Malaga, Spain. A city that is the capital of the Costa Del Sol, Malaga has it all, including the Victoria Malaga Brewery.
The brewery was founded by the Franquelo family and their aim was simple. Brew exquisite beer from Malaga, it's even on their bottles.
During the civil war the brewery was forced to close and it wasn't until 1937 that it managed to start brewing again.
During the 1960's the brewery grew and relocated due to the expansion plans for the city as a result of the tourism boom.
However in the 1990's the brewery changed hands a few times. But in 2001 it was sold to the Damm Group the brewery founded in 1876 in Barcelona, Spain. Probably best known for the Estrella beer.
In 2017 a brand new state of the art brewery was built and Victoria Malaga remains a beer brand of Malaga.
What Is Victoria Malaga Like?
This Spanish lager comes in a large 660ml brown bottle with the original 1960's poster advert. The typical German tourist of the time holding his hat and mopping his brow. A bottle of Victoria Malaga sits on the table and the slogan that translate to 'From Malaga and exquisite'.
The rest is writing that is all in Spanish, fair enough. It is an inviting bottle and you just want to pour it and dive in.
Drinking Victoria Malaga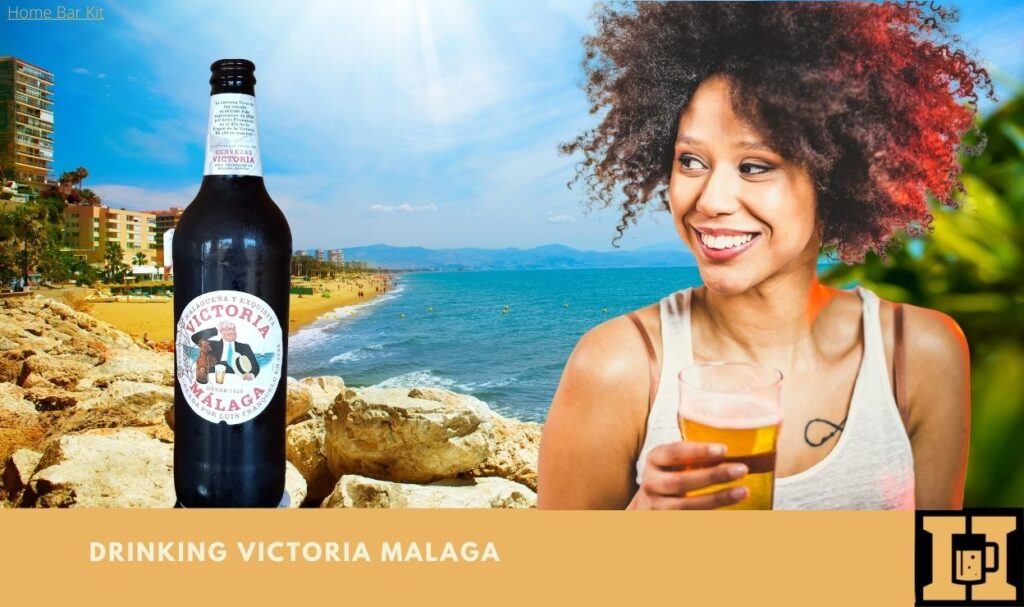 It pours a light gold with a crispy white head that relates to about one finger in depth. A stream of bubbles rise in the glass, it looks like a good lager.
On the nose it sets sail with a malt front aroma, then a little citrus tingles the nose promising something special.
The taste is similar to the nose, but more prominent. A slightly sweet caramel malt set the tone with a smooth almost vanilla flavour backing it up. Then a little hop kick of citrus pops up and lends a nice bitterness to balance the sweet front.
It is a decent lager, but it doesn't blow your mind. However if you are looking for something that gives you more than the many macro lagers, it has that.
At 4.8% Vol it also delivers a good strength for a lager. It gets a rate my beer score of 3.8 – 5.0.
M'Lady slightly disagrees with me, and not in a good way. Lou says "Very disappointing, the bottle promises more, the nose hints at something good, but the taste is just macro lager."
Personally I think it is one up from macro, but Lou slams it a macro. Lou scores it a surprising 3.9 – 5.0, more than I thought.
Victoria Malaga is okay, if you like lager then I think you will like it.
Victoria Malaga Beers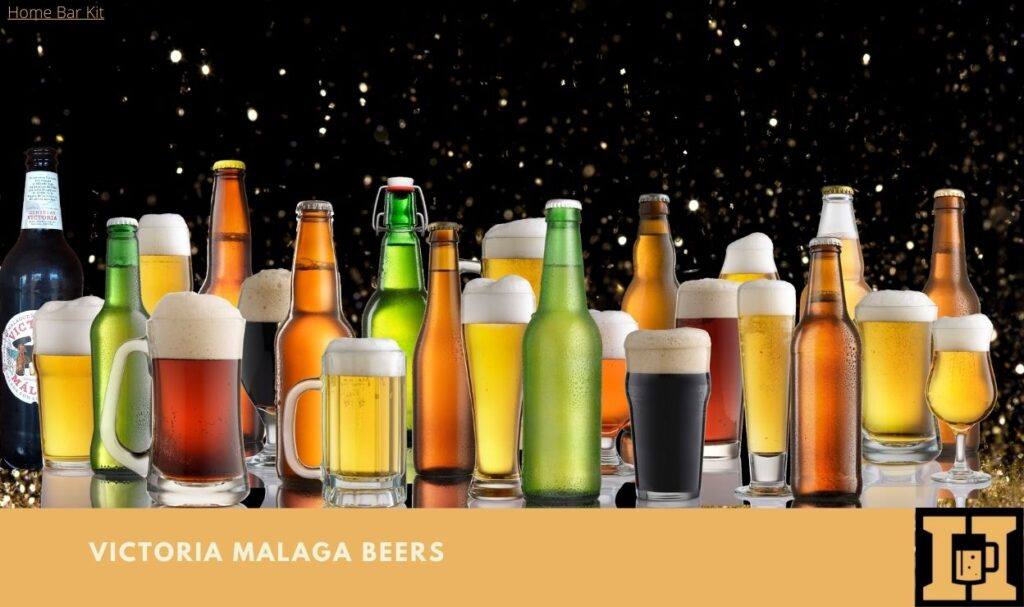 I am not expecting there to be many beers in the Victoria Malaga range. However there is more than I thought, a good half a dozen beers make up the range.
They include a zero version of the Victoria, a pale ale and a stout too. I think they are worthy of seeking out, here are a few I will look out for.
Victoria Marengo
Marengo is a stout that is inspired by the seafaring trades of El Perchel, which is a neighbourhood in Malaga. It is a malty affair with no less than five malts used in the brewing process.
Expect roasted malts flavours with caramel and toffee notes. At 5.6% ABV it packs a little punch and just the one will probably suffice.
A beer I will look out I think.
Victoria Malacati
Malacati is a wheat beer that is based on traditional recipes. It is light and aromatic with a refreshing mouthfeel. A pale golden hazy beer with fruity notes including banana and hints of spice in the background.
Supposedly a very refreshing beer with just the slightest of bitterness. So I think this one is going to be pretty sweet on the palate.
It weighs in at a straight 5.0% ABV on the fence of session. If it is as refreshing as they say, then second one might be in order on a warm sunny day.
Victoria Vendeja
Vendeja is an IPA inspired by the workers of Malaga port who prepared the crops for export. This IPA of Malaga has strong fruity notes with mango and citrus shinning through.
It is said to have a strong hoppy bitterness, sounds good to me. It weighs in at a session busting 5.2% ABV, although it might be hard not to have a second.
I'm in on this one, I will keep my eyes peeled.
Final Thoughts
So for me Victoria Malaga is not the best lager out there, but it is okay. I would quite happily drink it again, especially if I see it on tap. It has a decent strength and I do like the hoppy bitterness too.
Although the brewery is not with the original family, I think the Damm Group have enabled the brewery to extend it range of beer. There are a few beers in their range that I would like to try too, so I will keep an eye out.
If you have tried Victoria Malaga then do share your thoughts below. Do you like it, and if so what do you like about it?