A beer brewed by the oldest brewery in Wales, Felinfoel Brewery. So chances are it is going to be a good beer. Which begs the question, Felinfoel IPA is it any good?
This is more of an old style IPA which is relatively low in ABV compared to the more modern high ABV IPA's. It hasn't got the same level of hoppyiness either, in fact it is pretty mild on the hop front.
Felinfoel IPA Is It Any Good?
I would say it is a safe beer, it won't impress many, but it's drinkable. It pours an amber gold with a moderate white fluffy top. The nose is subtle and sweet with a caramel malty base and a slight citrus top. The taste hits with a sweet caramel toffee base. Floating over the top of the malt base is a slight fruity pear like Flavor. The mouthfeel is smooth and a bitterness kicks it to finish. It's not your flashy IPA's of today, but it is drinkable and gets a rate my beer of 3.9 – 5.0.
If you like a hoppy IPA then this one will not deliver. What it does deliver is an easy drinking mild IPA.
Felinfoel Brewery
Felinfoel Brewery is the oldest brewery in Wales, UK. Established in 1878 by David John when pubs brewed their own beers.
Felifoel is a small village outside Llanelli, this is where David John had an Iron and Tinplate works. In the 1830's David who lived in Felinfoel bought the Kings Head pub by his home.
In 1839 there was a series of protests throughout West Wales by farmers disputing the toll road charges. This became known as The Rebecca Riots and tensions were running high towards the authorities.
This led to a decision by David to change the name of his pub to the Union Inn.
At the time pubs brewed their own beer and the beer he brewed became pretty popular. He ended up supplying other pubs in the area with his own beer.
Eventually because of demand David built a brewery opposite the Union Inn, Felinfoel Brewery. It is still the same brewery today (apart from some modernisation of course) brewing Felinfoel beers.
Some say they were the first brewery in the world to package beer in a can. I think they even mention it on their website, however other evidence suggests that the Americans beat them to it.
Gottfried Krueger Brewery seem to be the first brewery in the world to can beer.
Felinfoel Brewery were the first brewery to can beer in the UK, well they have got a tinplate works. Keep an eye out for those cans in the video, they're great.
More recently we have seen the introduction of an IPA to their range of beers.
Felinfoel IPA Is It Any Good?
Seeing as Felinfoel Brewery is an old British brewery I guess we can only expect an old style IPA. This is exactly what this IPA is like, just like the beers from Greene King or Badger.
It's a shame, but they tend to play it safe. Having said that I still think there is a place for the older style beers, and there are plenty of people that like them.
If you are looking for a hoppy IPA then this will disappoint. But we have to take this beer for what it is, an old style IPA with a low ABV. It is an easy drinking session beer that for me is fairly decent.
It's clothed in a brown bottle with blue and silver livery. A silver dragon sits on the middle of the label, so you know it is a Welsh beer just from a glance.
Drinking Felinfoel IPA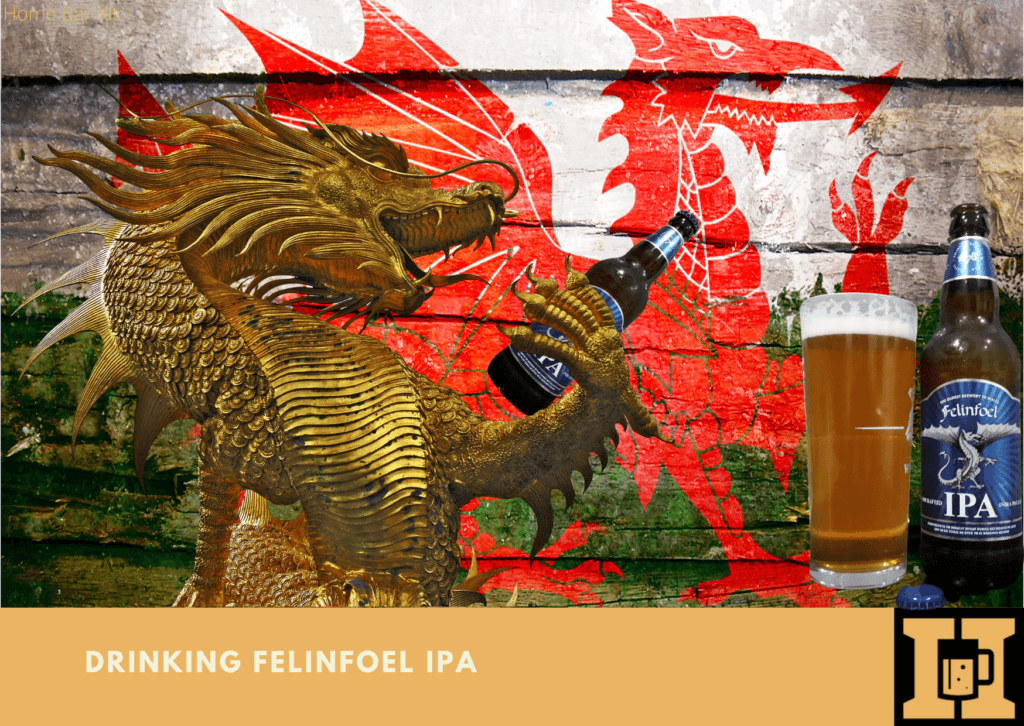 I kind of knew what to expect from this beer, it was never going to be a shouty hoppy in your face IPA.
Once the pour is complete it settles to an amber gold almost bronze in appearance. A moderate white fluffy head sits on top. This soon fades to a whisper, but leaves a nice decorative lacing around the glass.
The nose is fairly subtle, you don't get a burst of hops teasing the senses. Instead it is a sweet malt laced with caramel toffee notes. There is a hint of citrus on top and maybe even the slightest of spice, but you have to stick with it.
The taste builds on the nose with a strong malt that has a sweet toffee caramel edge. A slight fruitiness creeps in, almost pear or lemon like.
It has a nice smooth mouthfeel and goes down well. There is a pleasing bitterness on the back end that coats the aftertaste.
For me it is a decent light to medium body beer, smooth and subtle. It weighs in at a modest 4.0% Vol making it an easy drinking session beer. It gets a rate my beer score of 3.9 – 5.0 from me. M'Lady does like it slightly more and scores it 4.0 – 5.0.
Just like Greene King Session IPA, this one is going to split the crowd.
The Felinfoel Brewery Range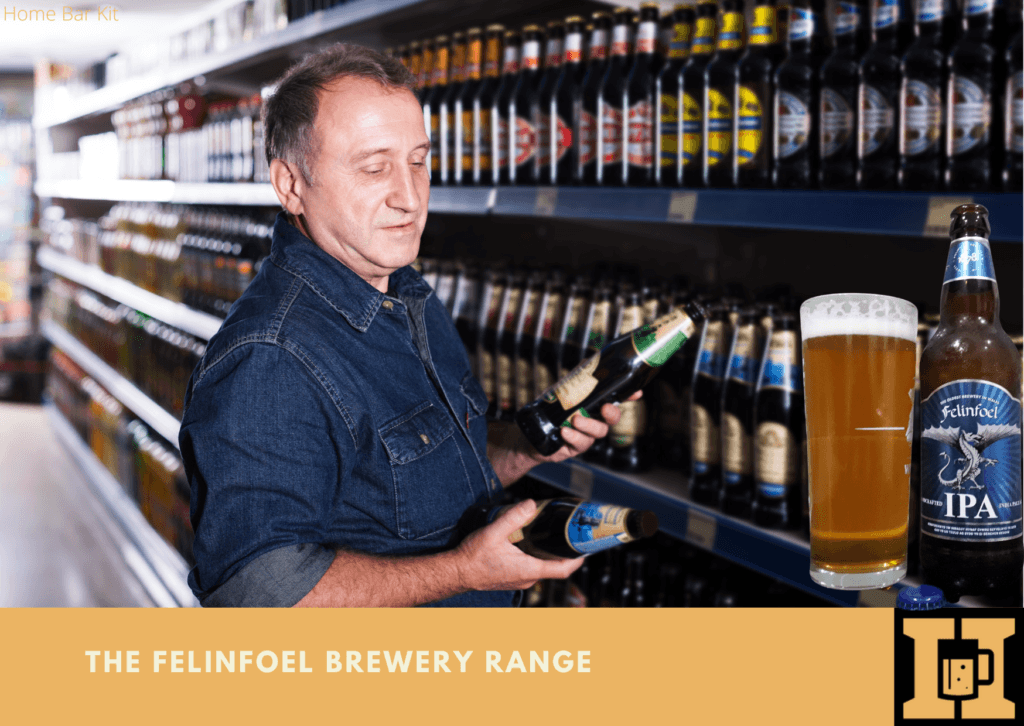 Although the Felinfoel IPA may disappoint some, others will enjoy it. This isn't an in your face hoppy IPA with a strong ABV.
Taking that into account, I would imagine the other beers that Felinfoel produce are along similar lines. I expect them to be more old style than living on the edge modern beers that are intent on pushing the boundaries.
I am okay with that, so I will certainly explore their other beers. Here are a few that I have added to my beer list.
Double Dragon Ale
This is Felinfoel flagship beer and they market it as the national ale of Wales, it even says it on the bottle. A copper red ale that is described as being malty with toffee flavors and subtly hopped. A presence of tangy fruity notes also join the party.
It sounds a little like the IPA, and it has the same hops too, WGV and Challenger. At a slightly higher 4.2% Vol I do hope it has different characteristics than the IPA.
Felinfoel Stout
Who doesn't like a nice stout now and again? I am partial to the odd pint of stout, so how will this one fair. It is described as being a rich smooth beer. Using real chocolate malt it not surprising it has a chocolate nose and taste with some nice coffee thrown in.
Again it uses the same hops of WGV and Challenger, I wonder if they ever stray and use other hop varieties. It has a pretty low 4.1% Vol, so a session could be on. However with those rich flavors maybe just the one.
Nut Brown Ale
This one sounds interesting, a malty caramel laced with a nutty flavor. A full body beer that promises some strong bitterness. This is all complimented by some vanilla and butterscotch notes, I'm in.
At 4.3% Vol it is another session beer and one I will be trying.
Guess what hops are used?
Yep your right the same as the others.
Final Thoughts
Felinfoel Brewery are an old brewery that have stood the test of time. Some may say their beers are stuck in a time warp. However I say why change what has been successful for so long.
There is nothing wrong with old style beers and plenty of people like them, including me. I embrace the new style craft beers that are so inventive. However sometimes it is great to just have a pint of the old stuff.
Felinfoel IPA is not a firecracker beer, it won't take your taste buds on a rollercoaster ride. But it will deliver a decent straight beer. I suspect it is another beer that will split the crowd, so if you have tried it then share your thoughts below.