Crafty Dai Strong Pale Ale is a bottle conditioned beer from Cardigan Brewery. It is part of the breweries Crafty Dai range of beers. But is it any good?
I have enjoyed several beers from the Crafty Dai range and they have on a whole been pretty good. These include Sunny Dai Golden Ale, Dai IPA, Dirty Dai Porter and Desperate Dai Best Bitter, which wasn't the best bitter.
Crafty Dai Strong Pale Ale, Is It Any Good?
It is a good beer, a flavoursome hoppy pale ale that pleases the palate. It pours a deep golden haze with a one finger white foamy head. The nose has aromas of malt caramel and hops with a sweet citrus edge. The taste reflects the nose with a rich malt caramel and a satisfying hop kick. A sweet orange citrus comes through to finish with a good level of bitterness. A well balanced pale ale that gets a rate my beer score of 4.6 – 5.0.
Out of the beers I have tried from Cardigan brewery, this one comes in second place in terms of score. Only beaten by Sunny Dai Golden Beer.
The Brewery
Cardigan brewery started life in 2004 when it was called Penlon Cottage Brewery. Penlon is the name of the breweries other range of beers.
The brewery has operated from a few different sites in the county of Ceredigion, West Wales. After the union of Penlon Brewery and Inn Keeper Wales the brewery is now known as Bragdy Teifi or Cardigan Brewery.
It operates out of a tap room bar Y Bryn a'r Bragdy in the village of Brynhoffnant close to Cardigan. The beer is brewed and served here. It is also available in bottles in many outlets and comes bottle conditioned. This means there is a second fermentation in the bottle, so expect sediment.
This is why the beers are hazy in appearance, but you can avoid most of the sediment if you like. Just pour slowly in one go and leave a little in the bottle.
Crafty Dai Strong Pale Ale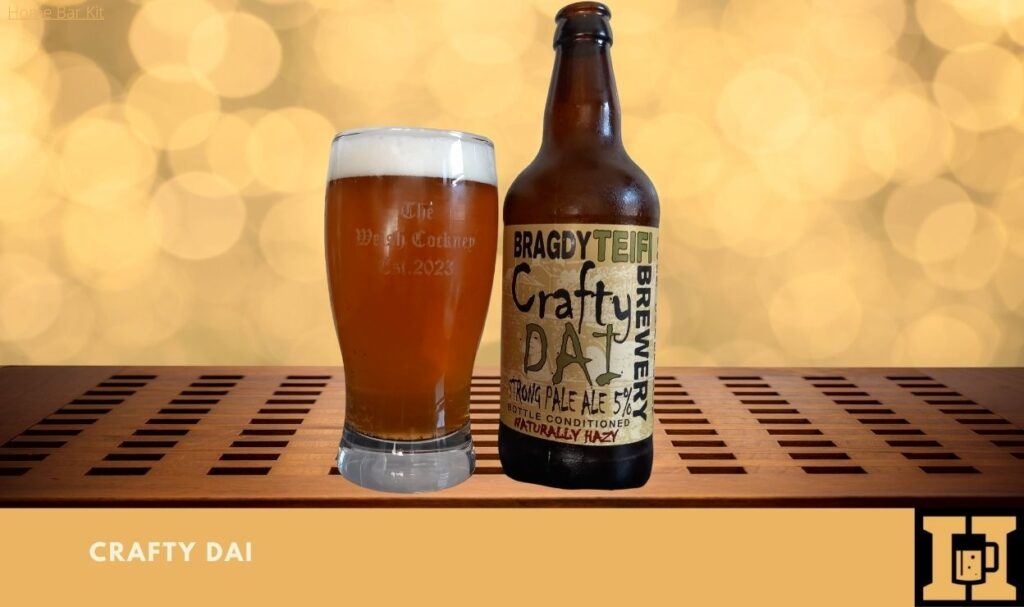 Crafty Dai is the head of the Crafty Dai range being the breweries flagship beer. So it has got to good, well to be fair it is a decent pale ale.
I wouldn't say it is a strong pale ale though, at 5% ABV it is just on the session border line. Which doesn't add up to strong beer.
However it is one of the best beers I have tried in the Crafty Dai range.
Drinking Crafty Dai
Like all the crafty range the beer sits in a standard brown bottle with a light green label. It clearly says that it is bottle conditioned and naturally hazy and to pour carefully.
There is also an explanation that the beer is all natural and will continue to mature and develop in the bottle. So may contain sediment. As I mentioned before you can avoid most of the sediment by pouring slowly in one go and leave a little beer in the bottle.
However I am okay with sediment and poured the beer normally holding back a little to swirl around the bottle and then add to the glass.
The result is a golden hazy beer with a standard foamy white top. The nose is fairly lively with malt caramel and hop aromas wafting out the glass. A little sweet citrus adds to the nice pleasant whiff of a well rounded beer.
The taste delivers a decent pale ale experience with a caramel malt base that has a hoppy kick. A sweet orange citrus joins the party and follows through to a nice bitter finale.
Its a decent pale ale with a full body, rich malt flavours and plenty of citrus hops follow through to a nice bitter end. A medium carbonation and smooth mouthfeel deliver a well balanced beer.
It gets a rate my beer score of 4.6 – 5.0.
M'Lady is fairly keen too, saying "A sweet aroma that is refreshing with a slight bitter aftertaste, it's a nice beer." Lou scores it 4.4 – 5.0, pretty high for Lou.
More From Cardigan Brewery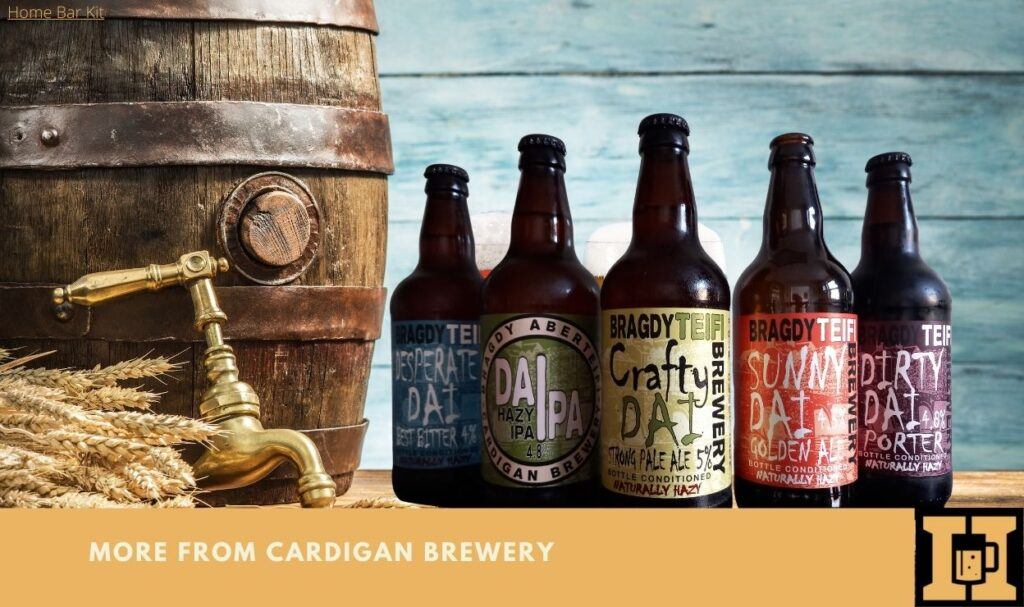 At present Cardigan brewery have two ranges of beer, one being traditional style beers of the Penlon range. The other being more contemporary craft beers of the Craft Dai range.
Both ranges deliver a good choice of beer, from lagers through to porters, so there is something for everyone. Do remember that all their beers are bottle conditioned, so will develop in the bottle and contain sediment.
Here are a few of their beers to discover.
Ewe's Frolic Lager
Ewe's Frolic lager is a pilsner style beer and uses noble and Saaz hops to give it that distinct Pilsner flavour profile.
A light smooth lager with a malt base and an earthy and spicy finish. At 4.5% Vol it sit well within the session beer bracket. A good beer to enjoy on a hot summers day.
Chocolate Stout
As the name suggest this is a stout with chocolate and contains a chocolate with 80% bitterness. The makes for an intense dark ale with roasted caramel and chocolate flavours.
A smooth milky stout with a bitter dark chocolate finish. It weighs in at 4.5% Vol, so more than one is okay. However it might get a little too rich, so one is probably the magic number, perfect on a cold evening.
Stormy Dai
Stormy Dai is an IPA with a deep amber colour and said to have a good malt backbone. So expect a decent amount of malt up front.
But don't forget the hops, it is said to have a decent hop kick which also comes out in the aromas being dry hopped.
It weighs in at 4.8% Vol so not that strong for an IPA, but maybe worth a try.
Final Thoughts
Cardigan brewery do produce some good beers, their range seems to change a little now and again. Some beers are not always available, but I guess that comes from being a small operation.
Maybe the full range is hard to deliver on the equipment available. I am sure that will change in the future as they will probably grow over time.
Some reports I have read have been disappointed with the amount of sediment left in the bottles. Although I am okay with this, I do get their point.
One of the bottles in the Crafty Dai range did have a thick sediment residue around the bottle neck. Suggesting that it hasn't been stored upright at some point before reaching me.
Anyway, its pretty good beer and I enjoyed Crafty Dai. I look forward to trying it on tap when I get round to visiting Y Bryn a'r Bragdy.
If you have sampled any of Cardigan brewery beers, then be sure to share your thoughts below. Let me know what you think and maybe give it a rating.