It is not often I try a new beer mid week, that normally falls to the weekends. However this little number dropped in my lap by chance last night. So I cracked it open and found myself drinking Old Jock Ale, Strong and Bold.
When I think of Scottish beer, I think strong and full bodied, and I am not wrong with this brew. It is written all over it, even old Jock himself standing proud on the front is slightly unnerving. But that didn't put me off, I took a hold and poured that beer. So is it as strong and bold as it appears?
Drinking Old Jock Ale Strong And Bold
Yes it is both strong and bold, as well as rich, smooth and sweet. It pours deep brown with the slightest hint of red, like mahogany. The nose is on fire boasting a strong malt biscuit front with a sweet caramel topping. The taste mirrors the aromas with a big malt biscuit flavor that even a Targe couldn't shield. On top a sweet caramel laced with a fruity edge slides in to soften the strong malty blow.
It has a simplistic vibe, but delivers the goods straight down the line.
Broughton Brewery
The brewery was founded in 1979 by David Younger and James Collins in the village of Broughton, Scotland. David is part of the Younger family, who started brewing in Scotland back in 1749 as William Younger and Company. I guess brewing is in the blood. James is part of the Collins publishing family.
Broughton brewery started life in an old sheep station and is said to be the first Scottish microbrewery. Craft beer was born in Scotland, the brewery went on to claim an array of awards. However in 1995 the brewery had its problems and went into receivership. It was saved and acquired by Giles Lichfield a farmer, who owns Whim Farm and Whim Ales.
In 2015 the brewery changed ownership again and was bought by John Hunt, David McGowan and Steve McCarney. All three are old hands in the drinks industry and are all Broughton Brewery directors to this day.
In recent years the brewery has introduced the Hoppo range of beers which are craft IPA's and lagers. Old Jock himself has been extended as well with Wee Jock and Stout Jock. Broughton has also been expanding its export market now exporting to many European countries.
Old Jock Ale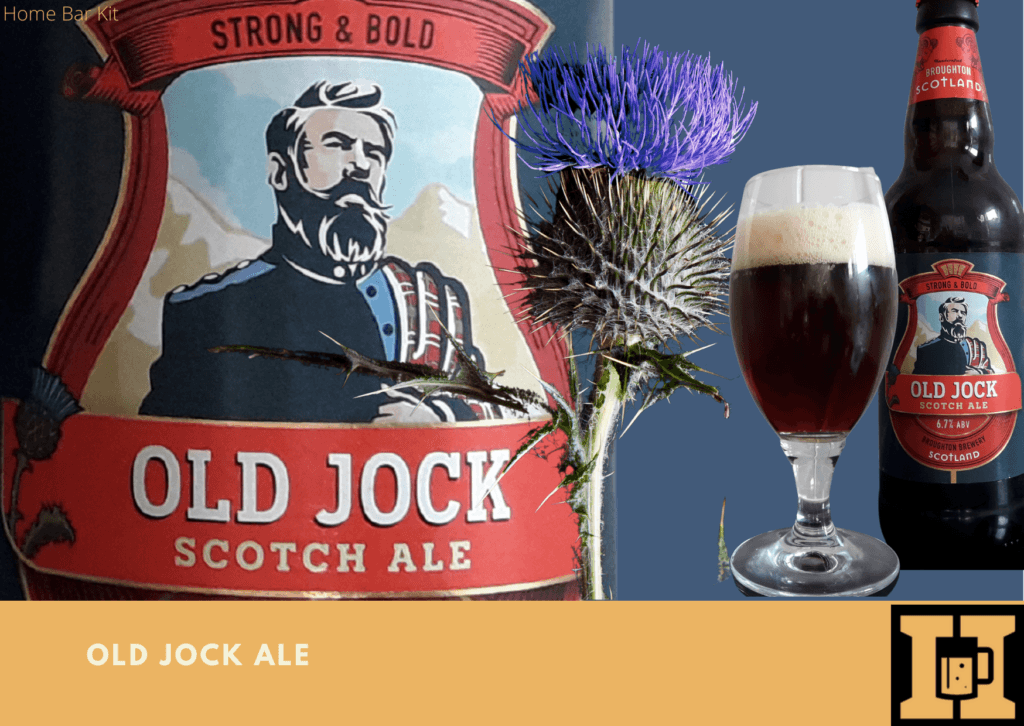 So I find myself drinking Old Jock Ale on a mid week evening. Presented to me by M'Lady Lou after she spotted it on the shelf in the beer aisle, lovely.
Old Jock is said to represent the soldiers of yesteryear, the highland and lowland regiments who apparently are referred to as 'Jocks'. I can see how the beer would reflect the strength and boldness of these hard men. It is certainly an ale that would befit them and reflect the type of ale they may have drunk all them years ago.
However, was this the original intention back when it first became a brew? The oldest bottle the brewery has does not have Old Jock on it. In fact it just says 'Old Jock, Strong Ale' and has a large G on the front with a pint of beer, which is almost drawn on.
The next two designs are of a farmer and a collie dog. The is farmer squatting to greet the collie running up to him, strange. Then comes four designs with a Scottish soldier on the front. A bold soldier in all his attire with mountains in the backdrop. Finally we have today's design, a different illustration of an old Scottish soldier with the same mountains behind him.
If you want to see the bottle designs, there is a good image and story at Broughton breweries website.
So on with the beer.
Drinking Old Jock Ale
When I was presented with this beer, I was immediately interested, the design on the bottle is great. The Scottish soldier with a mountainous background set on the shape of a glass. A bold label with the words 'Old Jock Scotch Ale, and a thistle to the side. I was in and chilled it just slightly before pouring.
I poured it with vigour and when it settled it shone a deep brown with a slight red hue. The head was thick and creamy, but soon drew back to a thin covering. On the nose it is delightful with a strong malty aroma of biscuit and cereal topped with a rich caramel sweetness.
The taste is malt, malt and more malt, hitting you like a battering ram. Rushing over the hill like an army of reinforcements are caramel and fruit to charged the malt down. It settles in the mouth as a satisfying malt flavor laced with caramel carrying fruits on its back.
As the drink goes down and the flavors develop, the mouth is coated with not just a sweet caramel malt, but a hint of chocolate creeps in too. M'Lady describes it as a Twix in a glass, the biscuit coated with caramel and chocolate, I get it.
I will say that although I enjoyed Old Jock, for me it was getting a little too rich towards the end. I liked it, but I couldn't have more than one. Which by the way is not advisable with its 6.7% Vol it is likely to knock you off your feet.
For me it is a decent strong ale that has depth and flavor. It is to be poured and savoured, or enjoyed with food, like a nice steak. Or to be the dessert after a nice main.
More Beers I have Enjoyed.
Broughton Beer Range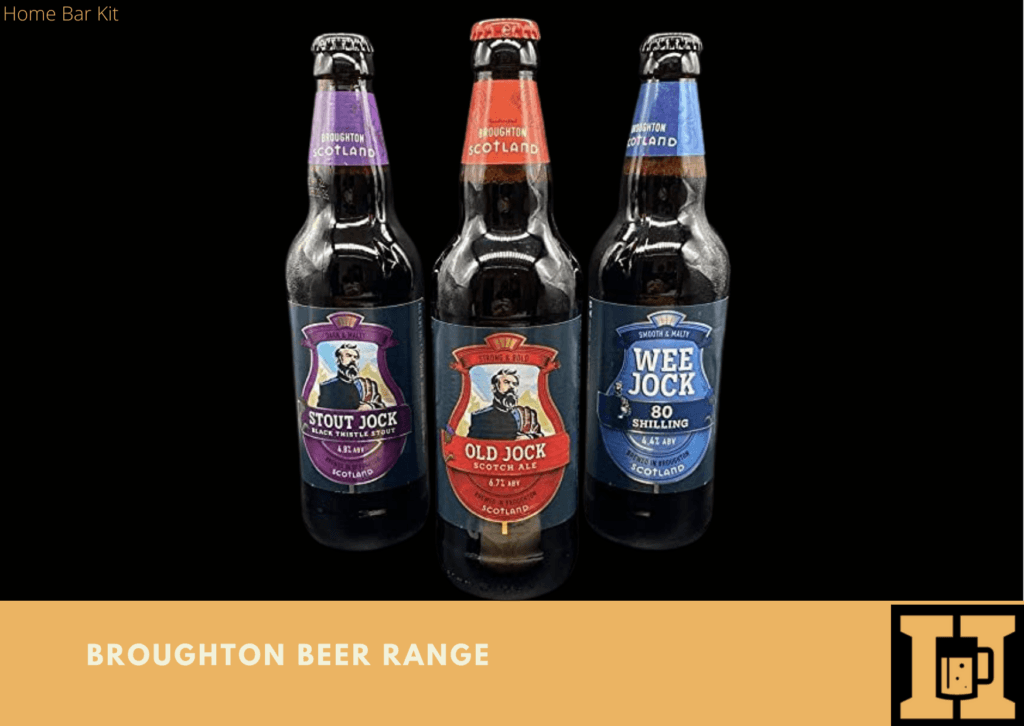 Broughton's range of beers has seen an increase, not only in their Hopo range , but also in their merge with Consolidated Craft Breweries. This now sees their range include Spey Valley's 1814 Lager, Alchemy's Craft Beers and Snake Venom.
However those are a subject for another day, here I will include a few of the Broughton's own range. All of which are pretty interesting craft beers.
Proper IPA
A west coast IPA this is part of the Hopo range of beers from Broughton. The hop bill Amarillo, Cascade and Chinook is blended with Crystal and Pale Malts. Giving this IPA a hoppy and zesty body with depth of flavor and a refreshing feel.
At a moderate 4.5% Vol it lands well within the session bracket, so a few can be enjoyed to really quench the thirst. The IPA's within the hoppo range include Session IPA at just 3.8% Vol, as well as 6.2 IPA which as you might guess is 6.2% Vol. So the Proper IPA is the mid range beer in this category.
Wee Jock
Moving on to the Jock Range we have Wee Jock. A revisit to the Scottish 80 Shilling Ale that was named by its price and is likened to an English dark bitter. It's a smooth and malty brew with toffee and spice notes.
A 4.4% Vol it is safe to have more than one with its sessionable pedigree. May be a younger sibling to the favorite Old Jock, with less strength and bite.
Stout Jock
And here enters the Stout Jock dressed in black with it s cream cap. Obviously another member of the Jock range and may be Old Jock dressed up. It uses the same hop bill as Old Jock, First Gold, Fuggles and Perle, but with the addition of dark malts.
It has the same malty biscuit and caramel sweetness, but with a smoky roasted edge and a smooth chocolate finish. At 4.8% Vol it works out as a decent session stout for those that love this style of beer, so fill your boots people.
Final Thoughts
As a simple mid week tipple, it has turned out to be an interesting journey normally saved for weekends. I like Old Jock and to find out more about him has been a pleasure. Definitely a beer I would order in a pub if I spotted it on tap, However just the one though.
I would also like to meet the other members of the Jock range, as well as the Hopo range too. I will keep my eyes peeled in store as well as pub. Broughton brewery have an interesting selection of beers in their repertoire. So if you see one in store or pub, grab it and share your thoughts. Likewise if you have had any Broughton wares before then again share your thoughts.