Wine is a drink favored the world over, just as cocktails are too. However it seems that white wine and red wine get all the limelight. Just as cocktails are concerned they are also at the forefront. So what about rosé wine? Well, here are some great summer cocktails you can make with a bottle of rosé.
Rosé is a great wine to use as the base of a cocktail and very versatile too. Therefore this may make it the better of the wines to use in a cocktail. Especially if you are looking for a light and refreshing drink. And the summer is the time to try out these cocktails and enjoy with family and friends.
Summer Cocktails You Can Make With A Bottle Of Rosé
Though white and red wine have been the popular kids for many years. Rosé wine is building in popularity, especially as a summer favorite on its own or in cocktails. The light refreshing Frosé has become the new in demand cocktail in recent years. But there are plenty more cocktails that use rosé wine as a base.
Rosé wine will still the limelight today and leave white and red in the dust.
Frosé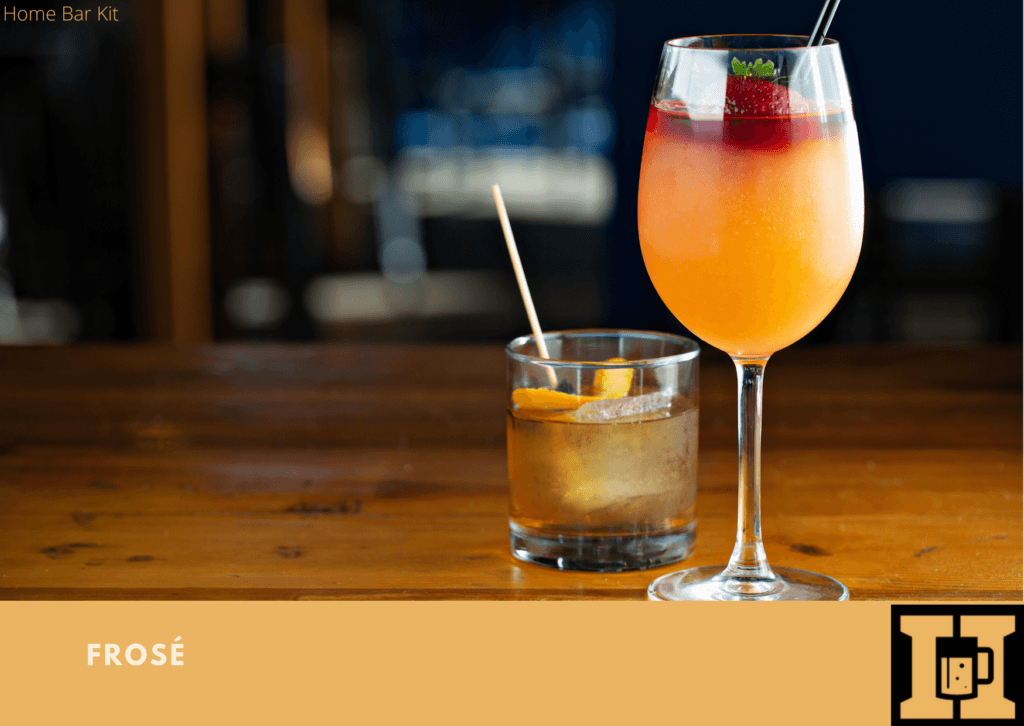 Seeing as I have already mentioned it and because it has become so popular, it made sense to start with this great summer cocktail. Basically it is rosé wine frozen, hence the name frosé. But there is a little more to it, and of course there can be a lot more to it if you so choose.
Any cocktail can be jazzed up even more by adding your own garnishes to give it that personal twist. However the basic frosé is of course rosé wine, strawberries, sugar and lemon juice, sounds delightful.
Frosé Recipe
1 Bottle of Rosé wine
A punnet of Strawberries
1.7 ounces (50g) or caster sugar
The juice of 1 lemon
Take a bottle of rosé wine and pour it into a deep tray and put in the freezer for around six hours or overnight. It won't completely freeze because of the alcohol content. Bear in mind the wine will expand so don't put it in the freezer in the bottle.
Hull the strawberries and halve, add to the sugar in a bowl and leave to sit for a while (30 mins). This will let the strawberries release their juice. Add the frozen rosé, strawberry sugar mixture and lemon juice to a blender and blend.
Finally strain the mixture to remove strawberry seeds and pour into glasses. Garnish with a strawberry and enjoy. There are other ways to get a similar result. Some prefer to replace sugar with honey and blend ingredients first (rosé, strawberries, honey and lemon juice) and then freeze.
Another method is to not actually freeze at all. Instead add the ingredients to a blender and blend, then add ice and blend again until you get a cocktail with crushed ice. All will get a similar result, just choose the option you prefer.
Rosé Spritzer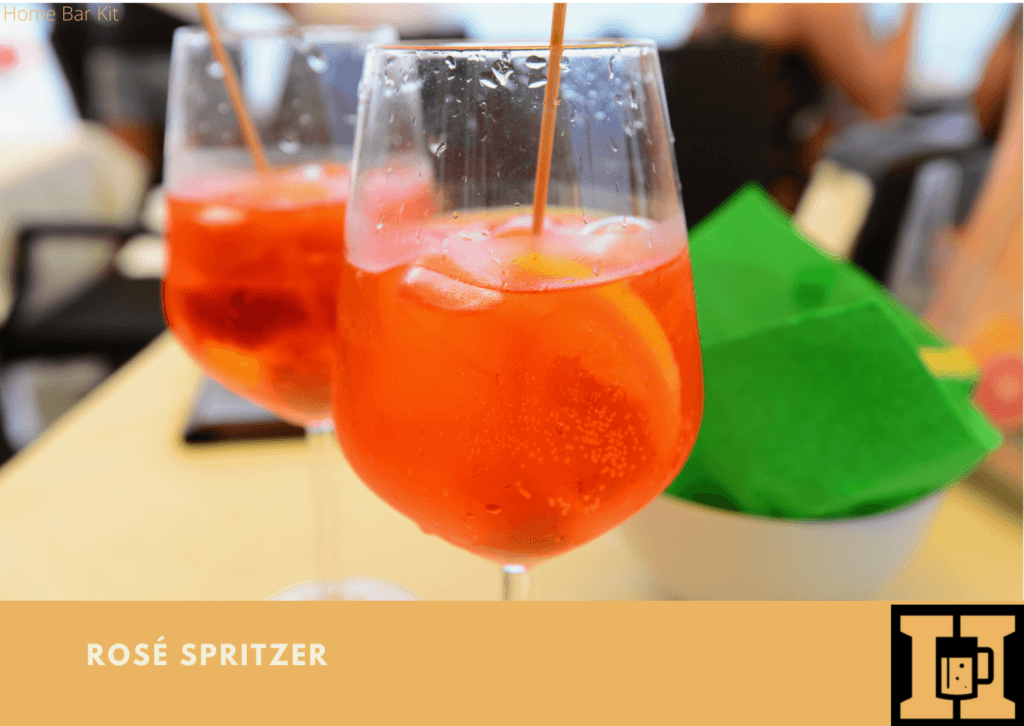 The world famous spritzer, summer wouldn't be the same with out one. But it doesn't have to be a white wine spritzer. Rosé wine is just as good, maybe even better, adding a lighter fruitier depth to the spritzer.
A basic spritzer is rosé wine mixed with club soda and poured over ice. Garnish with a strawberry, or a garnish of your choice. Lemon, lime or a raspberry or two would be just at home, it all depends on you.
Rosé Wine Spritzer Recipe
3 parts Rosé wine
1 part soda
Ice
Garnish
Add the ice to a tall glass and pour in the rosé wine, top up with soda and garnish. The type of rosé you use is up to you, a good place to start is with your favorite rosé wine. The same goes for the ice, cubes are good, but so is crushed ice.
A real summer pleaser to serve at any garden party, make by the glass or scale it up in a large punch bowl.
A Rosé Sangria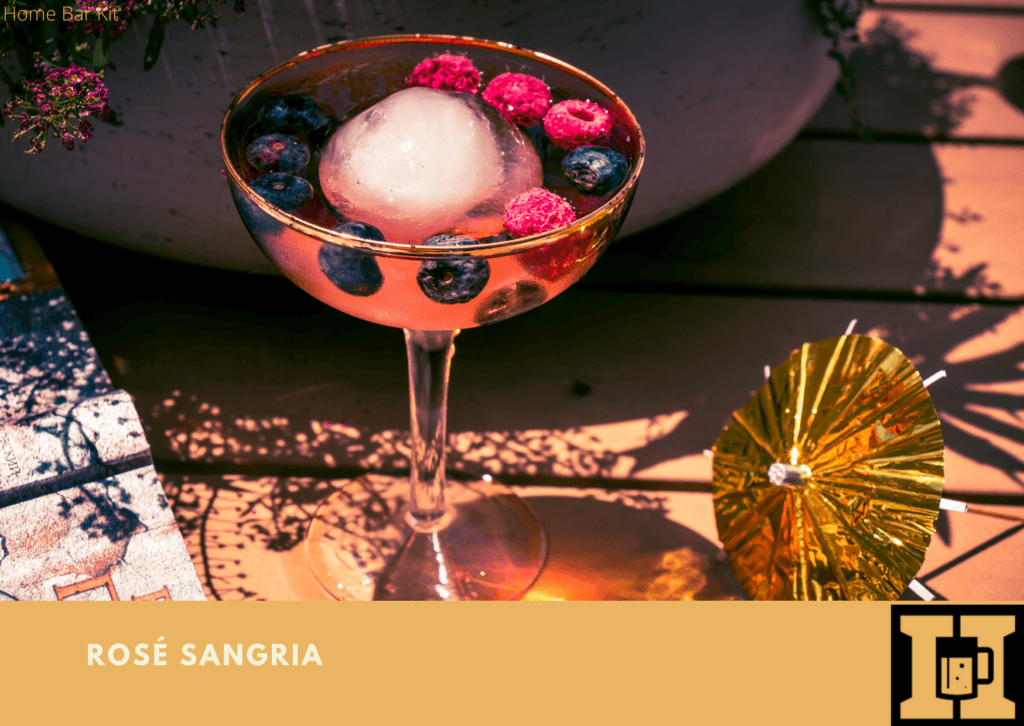 Sangria is a classic cocktail and a go to for many people when they host a garden get together in the summer. It's a favorite for a summer wedding too. Again it is red and white wine that get all the glory when it comes to this great cocktail.
However lets not forget the rosé, it makes this cocktail feel super light and fruity. You may even find it is your go to wine when its time to make a jug of sangria. The fruit you use is a personal choice and there is no limit, add as many or as little as you choose.
Rosé Sangria Recipe
1 bottle of rosé wine
Brandy 2oz (60ml)
Orange Liqueur 2oz (60ml)
Fruits of choice
Soda
Ice
The fruit can be orange, peach, pear, apple strawberries or whatever you choose. Just prepare them into small chunks ready for the jug or bowl. Add the fruit to a jug and pour over the wine, brandy and orange liqueur. Leave this to sit for a few hours or longer for everything to get acquainted.
When you are ready to serve add the soda and plenty of ice and enjoy this light but rich fruity cocktail with your guests. A true favorite and made with rosé wine will not disappoint.
Margarita Rosé Style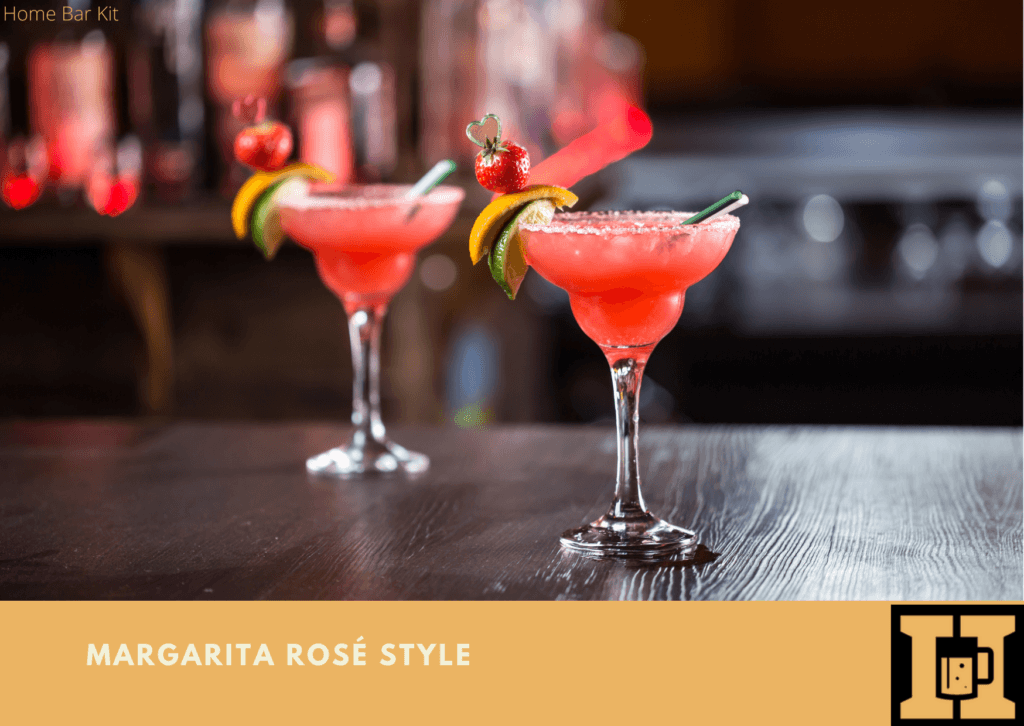 If you love rosé wine and you like a tequila too, then why not combine them and make the classic margarita with the rosé twist. Or just replace the tequila with rosé wine to calm things down a little. Either way it is a great summer drink that will impress your guests.
It is simple to make and only has a few ingredients, make a pitcher or two for your next gathering.
Rosé Margarita Recipe
1 bottle of Rosé wine
Tequila 2oz (60ml)
Lime Juice 1.3oz (40ml)
Simple Syrup
Ice
Salt
First add plenty of ice to a large jug or bowl. Second pour the rosé over the ice, then the tequila (optional) and lime juice along with the sugar syrup. Be sure to give it a little stir to mix the ingredients, and finally pour into glasses rimmed with salt. Finish with a lime garnish.
With or without the tequila, this rosé wine cocktail is perfect for the summer.
Rose Mojito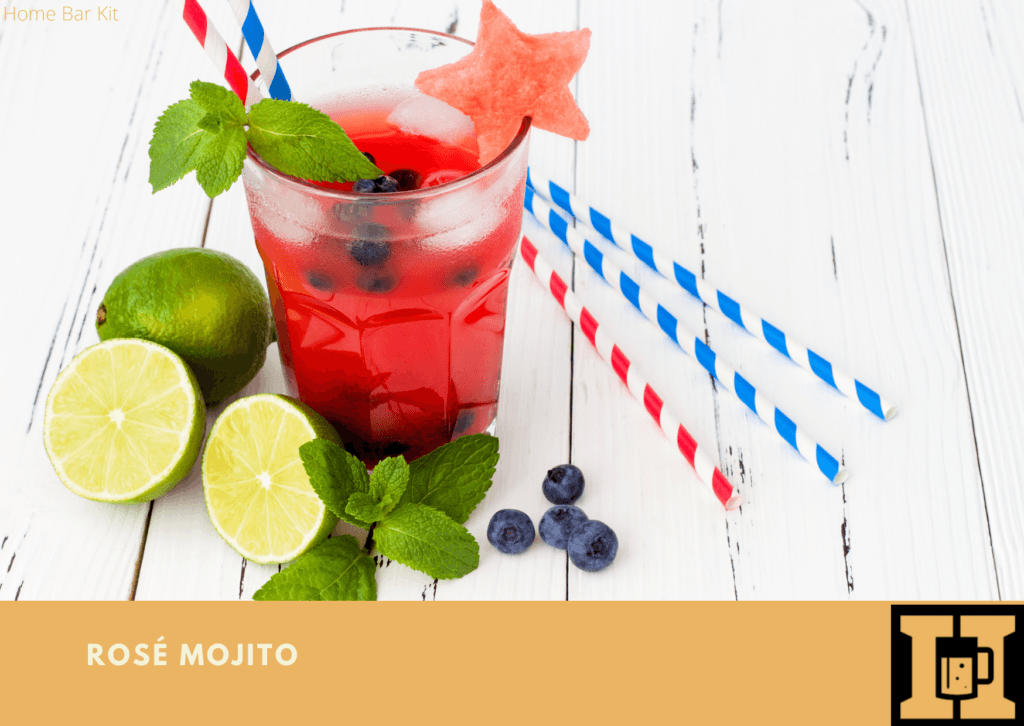 A popular white rum cocktail which is a holiday favorite and always on the menu by the pool. So what is a Rosé Mojito? It's a simple twist on the mojito, ditch the rum and add rosé instead for a lighter crisp cocktail.
Simple to make with just a few ingredients, you can make it a short drink or a long drink, just choose your glass and go.
Rosé Mojito Recipe
Rose Wine 4oz (120ml)
Soda 2oz (60ml)
Syrup 0.2oz (5ml)
Mint leaves
Lime Wedges
Place the mint leaves into a glass and lightly crush with a muddler to release the mint oils. Squeeze a wedge of lime juice into the glass and add the syrup. Add ice to the glass and pour over the rosé then top with soda. Finally give the contents a little stir and garnish with a wedge of lime.
Rosé is a great alternative to rum when making a mojito, but if you are feeling brave then keep the rum too.
Strawberry Fizz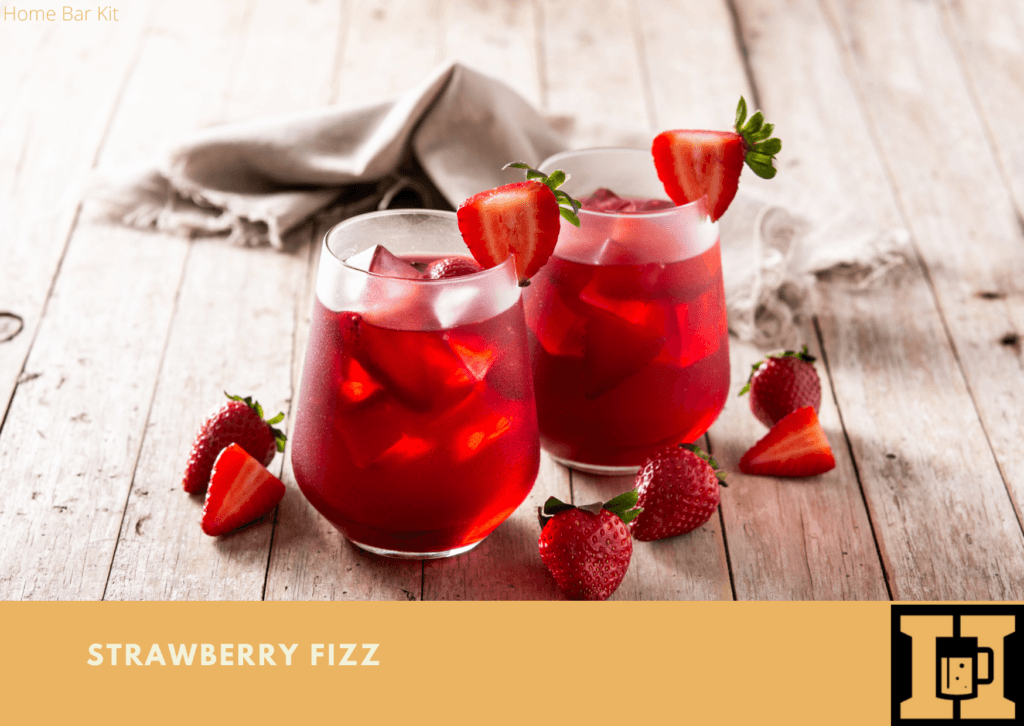 This is a fresh and fruity cocktail with all that strawberry flavor that goes so well with rosé wine. A spin on the traditional strawberry fizz, the rosé gives it that extra freshness. Having said that, just like most cocktails, there are many different versions and ingredients.
This is how I would make this cocktail with the rosé added of course. I use vodka, but others use gin or bourbon.
The Strawberry Fizz With Rosé Recipe
1 bottle Rosé wine
Vodka 4oz (120ml)
Lime juice 1.7oz (50ml)
Soda
Punnet of strawberries
Ice
First prepare the strawberries by hulling and halving. Second put the rosé, vodka, lime juice and strawberries with some ice into a blender. This may have to be done in two batches depending on how big your blender is. Third blend to a smooth consistency and then strain.
Finally pour into a large jug and add the soda and more ice. There are several versions of the strawberry fizz, so any version can be used depending on which spirit you prefer, then just add your favorite rosé wine.
Rosé Cosmopolitan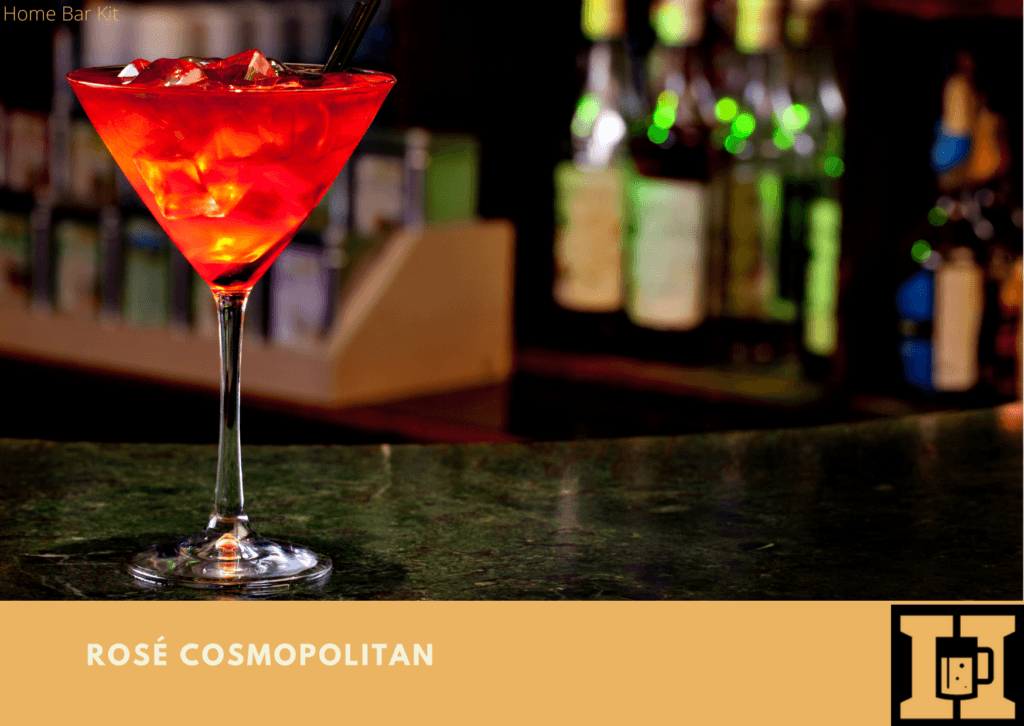 Who doesn't like a cosmopolitan? A great classic cocktail that you can now spruce up a bit with the added Rosé wine. Perfect to mix by the glass, or scale it up to make a summer punch cocktail.
A blend of perfect ingredients make this cocktail a winner with its cranberry background.
The Rosé Cosmo Recipe
Rosé wine 3oz (100ml)
Vodka 1.5oz (45ml)
Orange liqueur 0.5oz (15ml)
Cranberry juice 2oz (60ml)
Lime juice
Ice
Add all the wine, vodka, orange liqueur, cranberry juice and a squeeze of lime juice together in a shaker with ice and shake. Strain the drink into the glass of your choice and garnish with a wedge of lime.
All the sweetness and tanginess of the cosmopolitan but enriched with the rosé wine. The measurements can be played around with as well as the garnish.
Rosé All Day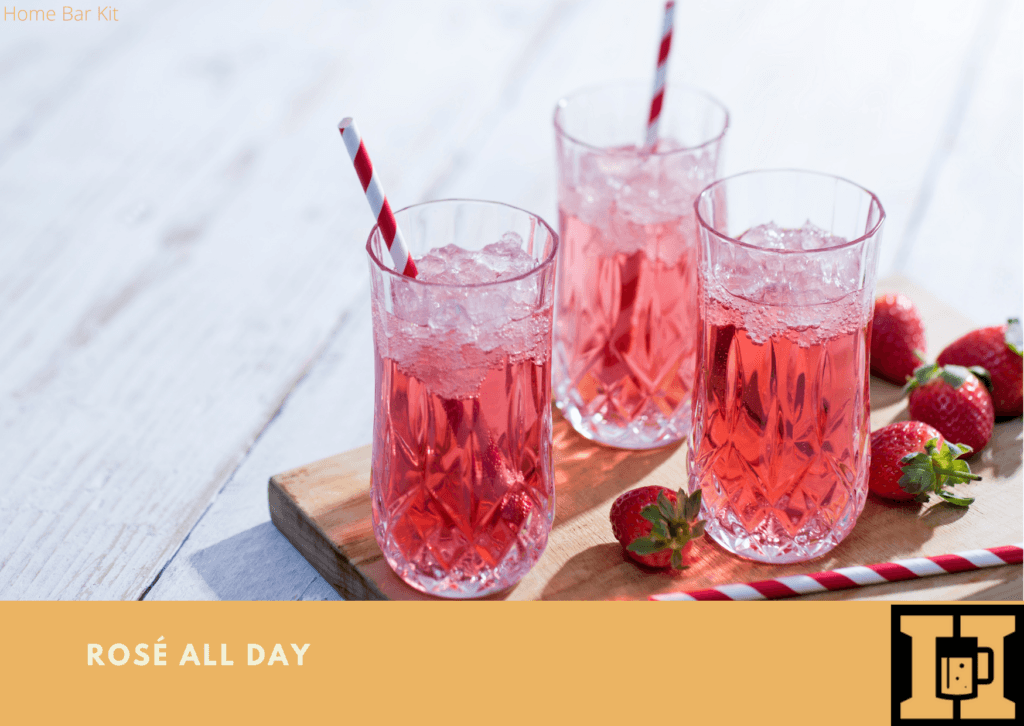 This is a great cocktail that uses rosé wine at its best, a bitter sweet drink smoothed out by the rosé. Perfect to sip on a hot afternoon by the pool. There are a lot of variations to this drink, however trying to keep it simple, this one is straightforward.
Try the simple version and then progress to a more complicated recipe, but only if you want because this is summer in a glass as it is.
Rosé All Day Recipe
Rosé wine 4oz (120ml)
Aperol orange spritz 1oz (30ml)
Soda
Lemon Juice
Strawberries
First hull and halve a few strawberries and muddle them in a shaker. Second add a little ice then rosé, Aperol and a squeeze of lemon juice and shake. Third strain into a glass and add a little more ice. Finally top up with soda and garnish with a strawberry.
A wonderful cocktail to enjoy all summer long
Final Thoughts
There are plenty more cocktails that you can use rosé wine in. In fact why not try any cocktail that uses white or red wine and substitute them for rosé instead. Likewise play around with other classics and replace spirits with rosé or just add rosé and see what you come up with.
However sometimes it is best to keep things simple and the simplest of all are the rosé wine spritzer or the frosé. Both are easy to make and serve well at parties, especially those summer ones in the garden. So next time your throw a bash think rosé wine when you come to prepare your cocktails.
Share your thoughts on the cocktails you have tried with rosé wine, and if you try any of those mentioned today, I hope you enjoy them.