An American inspired pale ale that is brewed in good old Yorkshire in the north of England. A flagship beer for the Roosters Brewing Co. It flaunts the citrus and fruity style that the Cascade hop from the US brings to the party. However is Yankee pale ale any good?
One of the first beers brewed by Roosters brewery back in 1993 when they first hatched into the world of beer. If its been around that long it has to be good, right? Well lets dig in and see if it shines or fowls badly.
Is Yankee Pale Ale Any Good?
In a word yes, it's a light hoppy refreshing beer that is pleasing to the buds. It pours a clear light gold that almost glistens and is topped with a decent white foamy hat. On the nose a wonderful citrus aroma rides the hops beautifully. The hint of lemon and pineapple tantalize the nose and promise a taste that will take you to the cloud of number nine. The promise is delivered with a hoppy citrus hit of that acidic sharp lemon over a smooth malt base. A delicate bitter ending compliments the whole experience. It hits a respectable rate my beer score of 4.5 – 5.0.
The rooster delivers a solid refreshing beer with its Yankee pale ale.
Roosters Brewing Co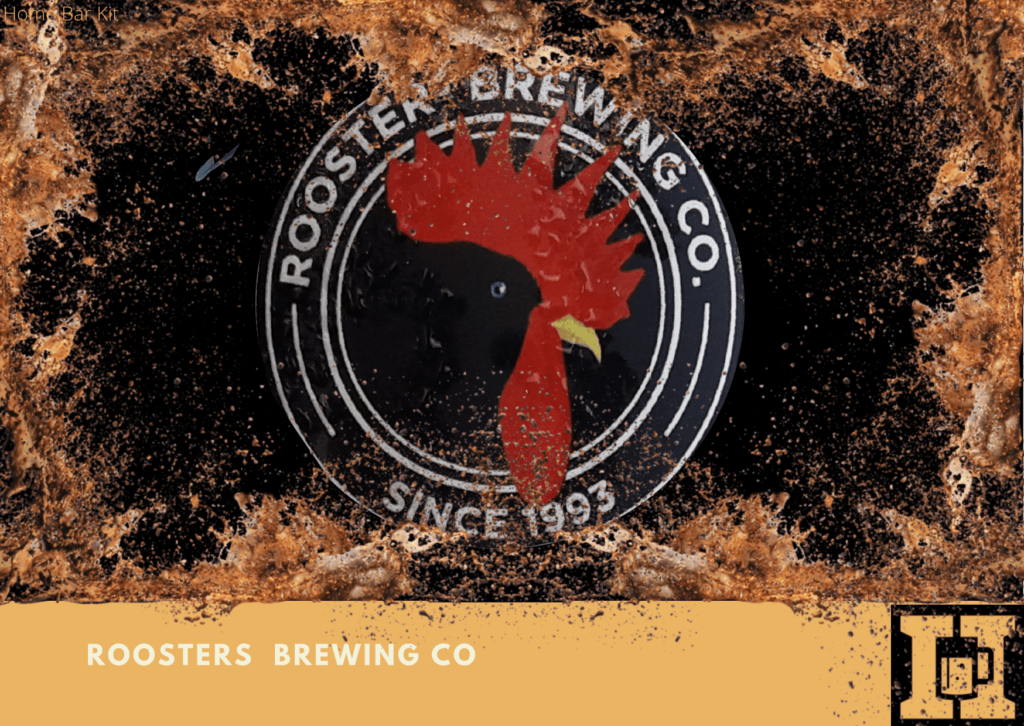 Roosters brewery is situated in the beautiful spa town of Harrogate famous for its Turkish baths and its charming streets. However it did move out for a spell, but is now back home and growing strong.
Founded by Sean Franklin in 1993 with the help of his wife Alison it has gone from strength to strength with several expansions over the years. Franklin originally founded Franklin's Brewery back in 1980, but sold it in 1986.
So when he came to establish Roosters he knew a thing or two about brewing and many awards have been won along the way. At the end of 2001 the brewery moved to another facility in Knaresborough some five miles outside Harrogate.
In 2011 Sean Franklin decided to retire and sold the brewery to Ian Fozard and his sons Oliver and Tom. Ian is the man behind Blind Jacks Pub in Knaresborough and the Market Town Taverns pub group. Both of which have been sold on.
Since 1995 Roosters brewed experimental beers under the name Outlaw Brewing Co. This is now something Fozard has revisited with their small brewing kit inside the main brewery to produce a selection of small batch brews.
There is also a tap room at the brewery which accommodates group tastings and has a monthly comedy night, the Harrogate folk club and a quiz night. Lucky Harrogate, I can feel a road trip coming on.
Yankee Pale Ale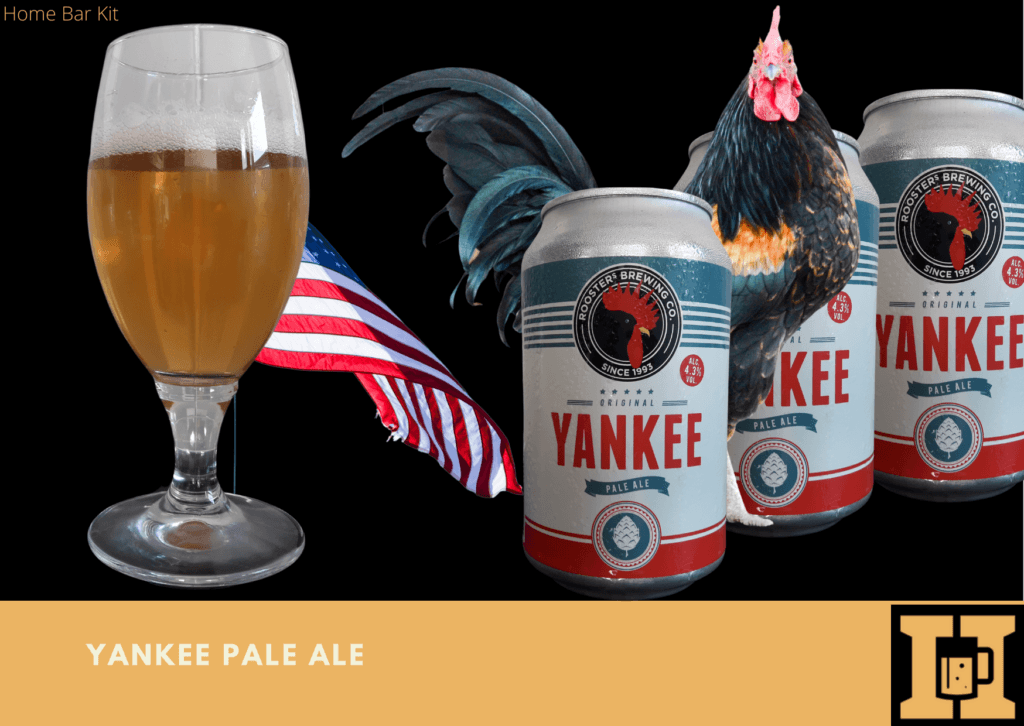 Sean Franklin was some what of a pioneer back in the early nineties, well when it came to beer he was anyway. He made it all about the hop and wanted to inject more flavor into beer. He dared to bring in hops from the US and brew beer that stood out.
Is it any wonder he decided to tribute the hoppy country by calling his new exciting pale ale Yankee. Brewed today with the same recipe as back then, it has stood the test of time. It may have been a stand out back then, but can it take on the variety of the craft beers of today?
Rate My Beer
Standing tall in its dumpy little can of soft pastel colors, its a subtle reflection of red, white and blue. The Rooster logo sits firmly top centre and the Yankee name stands out in bold red letters. The words pale ale sit below on a small banner ribbon with a bold hop logo below.
The promise is an American style pale ale, so the can needed cracking. It pours a lively swirl and settles as a clear golden liquid shining from the glass. A white foamy head encases the gold but reduces fairly quickly to a thin bubble cover.
The nose is floral and vibrant with those hops pushing to the front supporting a wild citrus of lemon and pineapple. Although M'Lady Lou got oranges, but lets be clear whatever the combination it is full on citrus. Its a cheeky little nose of energetic freshness that goads you in to taste.
I don't have to be asked twice, so in I went and was not disappointed. The hoppy citrus hits straight from the off like a skilled surfer riding a wave. It doesn't hit you like a train, but makes its presence felt immediately with intent. I got lemon and pineapple just like the nose, but I could get the idea of orange that Lou pointed out.
The initial citrus hit does morph into a smoothness which compliments the backdrop of all things malt. A moderate carbonation along with a smooth hint of bitterness creates a nice mouthfeel and sets up a good finish.
Triumphant
It's a super little triumph from Roosters, its not mind blowing on the senses, but delivers on all levels. At just 4.3% Vol its on for a session and is a worthy contender. It is also worthy of a decent rate my beer score of 4.5 – 5.0.
More Rate My Beer Reviews
Roosters Beer Range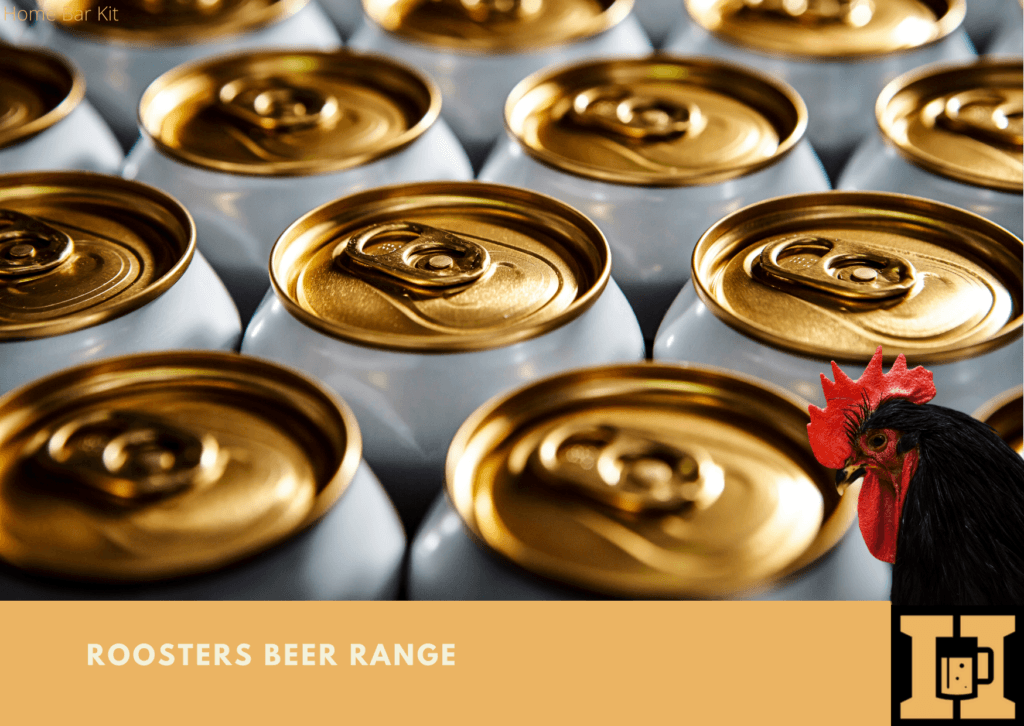 As you can imagine from a brewery on the cusp of thirty years brewing, it has a decent range of beers under its belt. I got an inkling that there is plenty more to come in the future too.
Although their beer range contains a lot of IPA's there are a few other beer styles too. A Berliner Weisse sour beer Slow and Low, a pilnser, pale ale hybrid called Pils-Near. On a darker note there is the best bitter Capability Brown and a selection of stouts, First World Problems, Ragged Point and Scoundrel.
So there range contains something for every beer lover, no matter what style they crave.
Baby Faced Assassin
A bit like a sheep in wolves clothing, don't under estimate the power of this so called infant. A beer that is on my hit list which might have something to do with the 100% Citra hops it is brewed with.
An IPA that oozes tropical aromas of mango, grapefruit and mandarin to give a full on citrus hit. I am hoping it has a little bitterness to balance it. Promising to be a very drinkable IPA, but don't get carried away because at 6.1% Vol it is not as innocent as it might appear.
Pamplemousse Radler
For those looking for something lighter there is the Radler. A favorite shandy tipple of lager or light beer mixed with lemonade or lemon soda. This one although light may have its own tangy kick because it is grapefruit radler.
Brewed with Roosters own in house mixed grapefruit soda which is made with 240 grapefruits. It might be light on strength at just 2.7% Vol. However it is likely to have a tart kick with all them grapefruits, so tread carefully. Could be cool for a light touch on a hot summers day.
Scoundrel
After the light and zesty radler, lets go dark and heavy with the Scoundrel stout. Described as a Fat Rascal Pastry Stout it has a rich promise. Brewed with an array of ingredients such as almonds, raisins and sultanas, as well as, cherries, zest, nutmeg and cinnamon.
Wow that is going to be interesting with its promising luxurious mouthfeel, but be aware of the power it packs. At 7.4% Vol it packs a weighty punch way out of the session territory. Besides I think it may be a little too rich and heavy for more than one. Maybe two tops should be the limit for this rogue of a stout.
Final Thoughts
It always amazes me how interesting breweries can be, and Roosters is no exception. Their beer range is fascinating and I have spotted many that need to grace my cooler. Those beer lovers in Harrogate have a real gem on their doorstep.
The tap room is a must visit if you live close by, or happen to find yourself in Harrogate. I enjoyed the Yankee Pale Ale and would not hesitate to indulge again, especially if I see it on tap. Trying their other beers is something I look forward too and will continue to explore.
If you haven't tried a Roosters brew yet, then now is always a good time to get involved. Pick up a Roosters and share your thoughts, but most of all enjoy.