It could be a wolf in sheep's clothing. I picked it up from that well known little supermarket Aldi. So without being rude I was not expecting much, that is until I got it home. Once I read the label I realised it was brewed by Shepherd Neame, which raised my expectation. So is Kentish Pale Ale any good?
Produced by Britain's oldest brewer you would expect it to be a decent beer. However there is something a little fishy about this brew. And I don't mean the smell or taste, but I will get into that later.
Is Kentish Pale Ale Any Good?
It is an easy drinking beer, but it is not a pale ale. It pours a mid brown chestnut color with a generous foamy top. On the nose a base of biscuit malt and sweet toffee support a slightly hoppy citrus fruit. The taste is similar with a sweet malt toffee front carrying a light lemon citrus. It is pleasant and ends with a mild bitterness. It won't blow your socks off, but is an easy drinking beer that scores 3.9 – 5.0.
There are far better ales, but it is easy drinking and massive value for money.
Aldi Brewery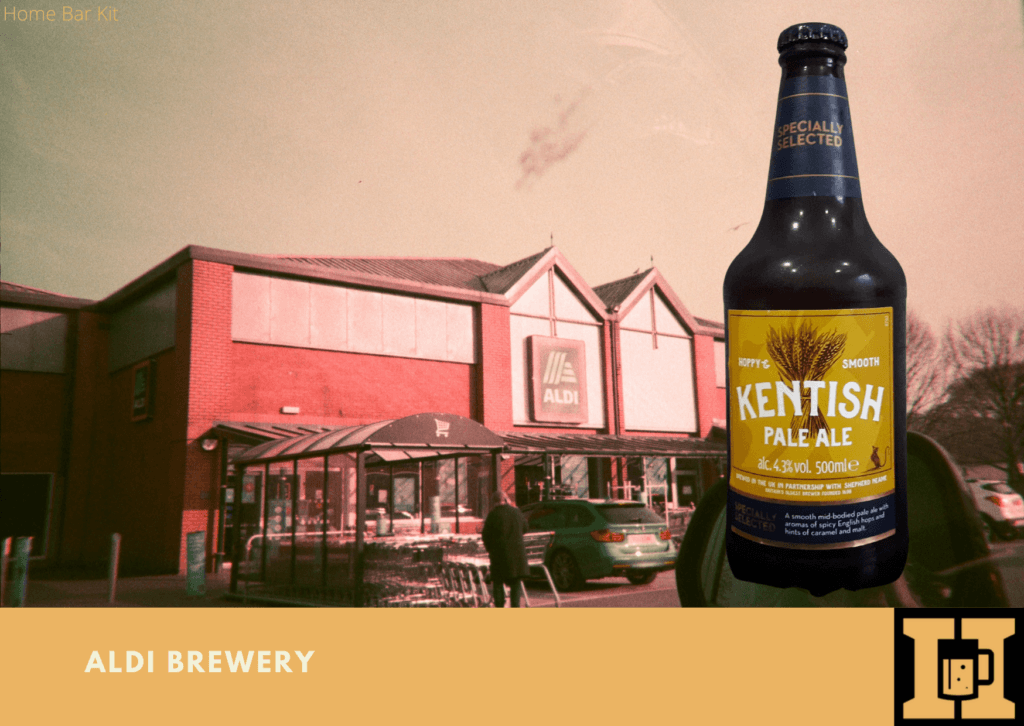 When was Aldi Brewery established? Well it wasn't because there isn't one. Aldi as of yet do not have a brewery, however they do have a few of their own beers.
These beers are produced in partnership with a few breweries. Shepherd Neame being one of those breweries, who produce Kentish Pale Ale for Aldi. They also produce London Porter and Suffolk Blonde for Aldi too.
Aldi got a little controversial when they had an IPA made for them by Williams Bros Brewing Co in Scotland. The beer is called Anti Establishment IPA and looks remarkably like Brewdog's Punk IPA.
Following the release of this a friendly spat started between Brewdog and Aldi on Twitter. Brewdog actually mocked up a can design in Aldi colors with the name Yaldi IPA.
Once the banter stopped they actually ended up producing a beer for Aldi called ALD IPA and both companies planted a tree in the Brewdog forest for every case sold.
A funny story with a positive end.
Kentish Pale Ale
Is this beer a new beer made especially for Aldi? There are some who believe it is Spitfire Amber Kentish Ale in different clothing. Simon Martin from the Real Ale Craft Beer channel discusses this in the video.
On that note Shepherd Neame also produce a beer for Sainsbury's too. Guess what it is called?
Traditional Kentish Ale and it is made by Shepherd Neame, could it be another new beer made especially for Sainsbury. Or is it Spitfire dressed in another outfit?
Only Shepherd Neame will know for sure, but the similarities shout that Spitfire has a couple of kids. Either way the Kentish Pale Ale we are discussing today is not a bad beer and huge value too.
Drinking Kentish Pale Ale
The dark brown bottle sports a tradition style ale label with a subtle color of mustard. It pours a mid chestnut brown and sports a generous head which although fades a little does stick around.
The nose is made up of a malt and toffee base with a slight peppery hop on top. A lemon citrus aroma just squeezes in the door but is very faint.
The taste tells a similar story with a biscuit malt base layered with sweet toffee/caramel. A medium carbonation teases the tongue and in walks a peppery hop hit laced with the slightest of citrus like lemon.
The mouthfeel has a slight synthetic edge to it, but it all finishes on a pleasing bitter note.
It doesn't feel like a pale ale, more of a traditional ale, but it is quite smooth and easy to drink. At just 4.3% Vol and its ease of drinking more than one is definitely on the cards.
For a cheap bottle of beer it stands its ground and gets a rate my beer score of 3.9 out 5.0.
M'Lady quite liked it too and said it smelt sweet but tasted bitter and reminded her of a bitter top. Lou's score ended up slightly higher at 4.2 – 5.0.
Final Thoughts
Some may think that an Aldi beer is not worth buying, which would be a little unfair. As a supermarket Aldi is a great store. Although their own range of beers do not stand up against some of the craft giants, they are okay.
The reason they are okay is that they are brewed by some great breweries. They might not have the depth and body of many beers. Kentish Pale Ale is an easy drinking beer, there are no bells and whistles, but its alright.
Would I drink this beer again, hell yea, its an adequate beer that is easy to drink, so why not. How about you, have you tried any Aldi specials? If so, then share your thoughts below and let us know your verdict.