Another Greek beer I tried while on a recent trip to Santorini. This one has a few added ingredients that make it a little unique. So is Volkan Santorini Blonde a decent Greek beer?
It is described as a superior Greek Pilsner and is Volkan Beer flagship brew. Made with lava rock filtered water, an ancient citrus fruit and Santorini honey.
Is Volkan Santorini Blonde A Decent Greek Beer?
Yes it is a decent beer, and you can tell it is a quality beer, well made. It pours a light straw gold with a fluffy white head. On the nose is a malt base with a citrus lemon kick and a sweet overtone. The taste is a similar affair with the malt leading the way. A pleasant citrus lemon kicks in and the mouthfeel is smooth and creamy, but the end is a little sweet for me. It gets a rate my beer score of 4.1 – 5.0.
Its a good beer, but because of the sweet finish I couldn't drink more than one.
Volkan Beer
Volkan Beer is a small microbrewery on Santorini that uses an artisan style way of brewing beer. The man behind Volkan beer is Petros Nomikos a shipping Heir.
It is hard to find much information on the brewery itself, except their brewing process.
First they use basalt lava rock as a filter for the water they use to brew, which is pretty cool. They also use grape honey from a bee keeper on Santorini.
Finally they also use an ancient fruit bought to Greece from Persia by the armies of Alexander The Great. The fruit is Citrus Medica and is said to be the oldest Citrus fruit.
So Volkan is a small range of beers using unique ingredients of Santorini. Has it worked? Probably, however the honey makes it a little too sweet fro me.
Drinking Volkan Santorini Blonde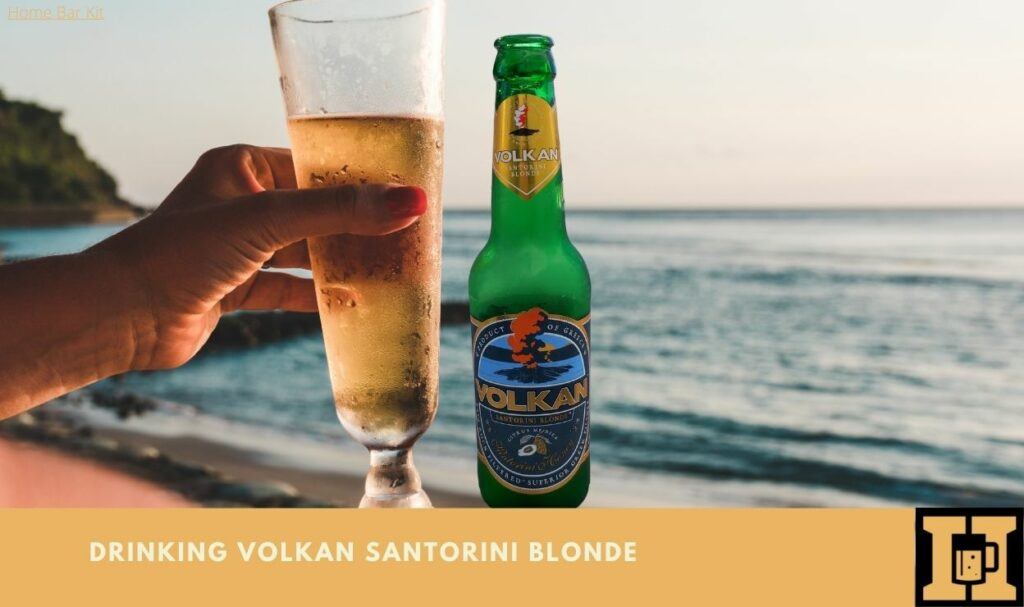 Volkan Blonde comes in a 330ml green bottle with a blue and gold label. The label has a picture of a volcano as well as a picture of the fruit citrus medica. The crown top has an all familiar eye which may represent the evil eye.
The beer pours a light golden straw with a one finger fluffy white top. This does fade to a thin cover. A good flow of carbonation rises within the glass.
The nose is light, but has a malty base and slight grassy with a faint citrus lemon note. I could smell the sweetness of this beer too.
The taste starts with a caramel malt base, a little earthy with a touch of spice. Then the Citrus lemon kicks in, which is quite pleasant. A nice smooth creamy mouthfeel gives it a good body. The finish though is just too sweet from the honey and taints the taste a little. No sign of any bitterness considering it is a pilsner.
At 5.0% Vol it just sits in session, however for me one is enough with that sweetness. It gets a 4.1 – 5.0 rate my beer score.
M'Lady kind of liked it, saying "A perfectly pleasant lager, smooth with a slight bitter aftertaste." Not sure where Lou got any bitter aftertaste from. Lou score it a straight 4.0 – 5.0.
Volkan Beers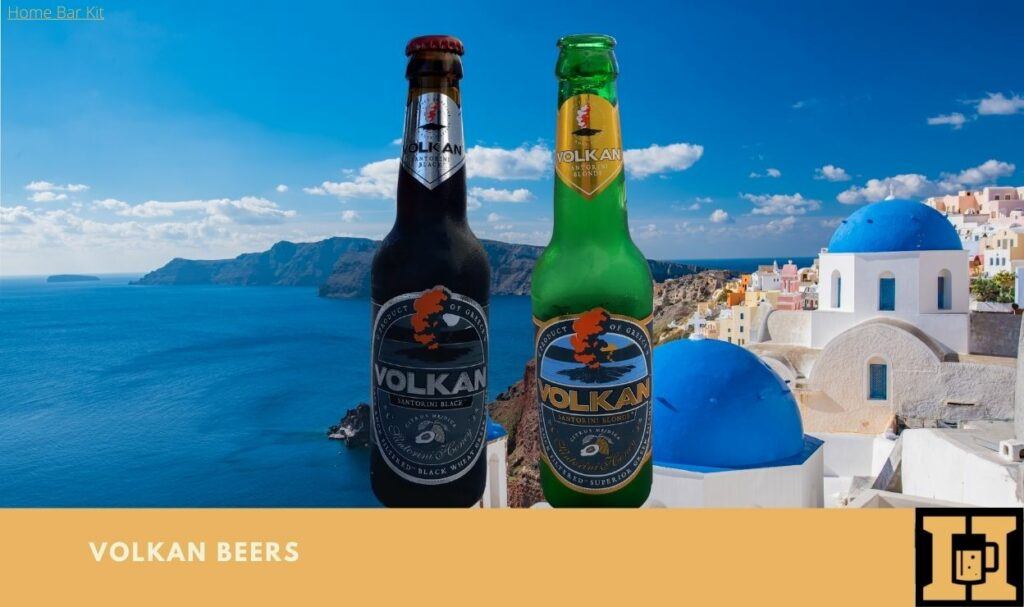 Volkan Beer don't have a vast range of beers, but they are all made with the Santorini unique ingredients. Does this mean they will all taste too similar?
I don't think so, but the honey may play a sweet part. I have tried one other so far, which you find at Santorini Black Review.
Here is the Volkan Beer range.
Volkan White
Volkan White is a wheat inspired white beer with a lot going on. Said to have flavours of yellow fruit, tropical fruit. Hints of pineapple, banana, orange and lemon, and of course a little honey too.
The white beer is the same 5.0% Vol as the blonde, however is it going to be overpowered again with the sweet honey.
It is one I will track down and find out.
Volkan Grey
Volkan Grey is another wheat lager and named after the grey fog that sweeps Santorini. It is crisp and refreshing with hints of yellow fruits, citrus from bergamot and of course a little honey.
It is all sounding a little familiar, as is the strength at 5.0% Vol. However it may be a decent wheat beer, I will have to try it and see.
Volkan Black
Volkan Black is a Dunkel black wheat lager brewed with the citrus medica and Santorini honey. It is bound to be, but it does boast flavours of toasted rye and pumpernickel. Also there is black olive, bitter chocolate and liquorice.
It is said to be lighter than a porter with a refreshing edge. Well I have tried this one, so it will feature soon. I think you can guess the strength, yep it is 5.0% Vol.
Final Thoughts
Volkan Beer then have a small range of beers that are made with unique ingredients. You can tell the ingredients and brewing process are good quality.
On top of that Volkan beer is a Greece debt free product, so 50% of their profits go to help the Greek national debt.
The Blonde beer is okay, it does have a crisp refreshing taste, but the honey does taint it for me. Plus it is too sweet, even though for Lou it has a bitter aftertaste. Just shows we all have different palates.
If you have tried any of the Volkan beers then do share your thoughts below. What do you think?