Sometimes it is just nice to sit back and enjoy a classic old English style bitter. A beer that is not trying to blow your socks off. But instead delivers an easy drinking experience with a chilled out vibe. Well that is what you get, but is Banks's Amber Bitter any good?
It is good in the way it is meant to be good, it's not exceptional even though it says so on the label. However it is not trying to compete with the onset of all the new funky beers. Instead it carries its history forward with confidence. Lurking in the background, it waits for those that fancy a beer from days gone by. Simple, light, balanced and easy.
Is Banks's Amber Bitter Any Good?
In a word yes, if you get its vibe. Banks's pours a deep bronze amber and settles with a slender white top. The nose is tender with delicate malt and toffee sweetness, it has an earthy edge. Going in for a taste and that too is mild in character. A delicate malty cereal with a honey toffee sweetness, the background has a slight earthy hop flavor. A mild carbonation finishes with a mild bitterness. Rate my beer of 3.9 – 5.0.
If this was a new beer it would have scored a lot less. However because of what it is and what it is not trying to be, its a solid rating.
Banks's Beers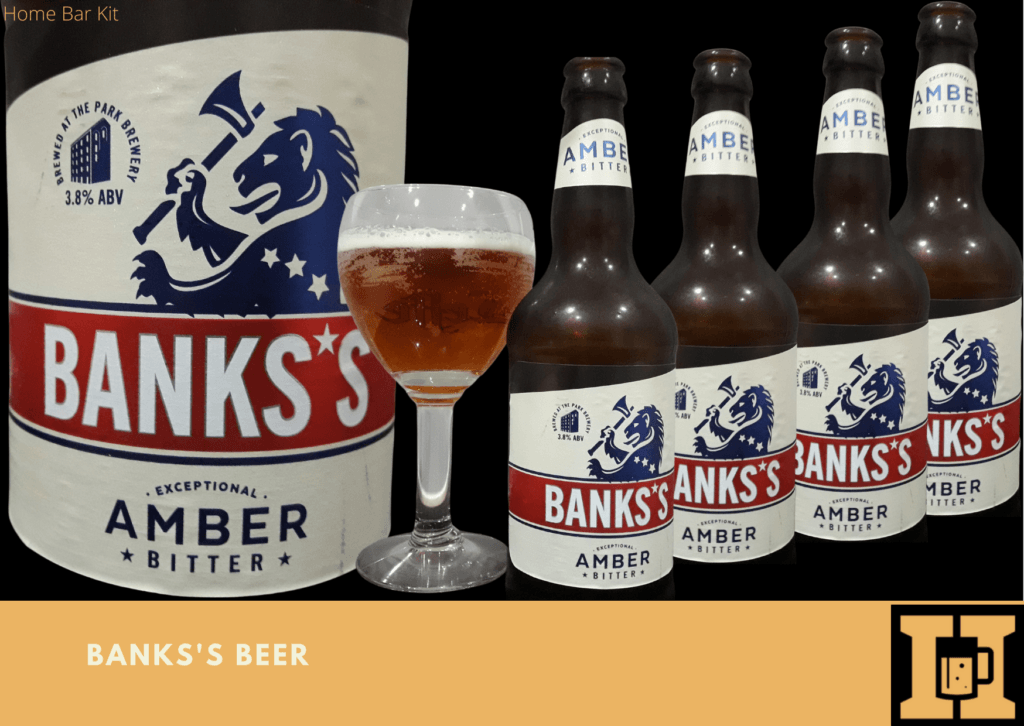 The brewery has a long history and is entangled with many other breweries with take overs and merges. Thomas Banks started the brewery back in 1875 with his son Henry. The site was Park brewery in Wolverhampton, England.
Henry eventually went on to run the business after his fathers retirement. However he run in to trouble accruing debts along the way. George Thompson of Dudley and Victoria breweries eventually took control of the brewery. George pushed forward and eventually in 1890 merged three breweries and formed Wolverhampton and Dudley Breweries Ltd.
To cut a long story short, Wolverhampton and Dudley brewery went on to take control of many breweries. This included the purchase of Marston, Thompson and Evershed, the Burton on Trent based brewery. In 2007 Wolverhampton and Dudley changed its name to Marston's PLC, which is now involved with the Carlsberg Group.
Breathe.
Like I said there is a lot of history, but the nice thing is that Banks's Beers are still brewed at the Park Brewery site.
Banks's Amber Bitter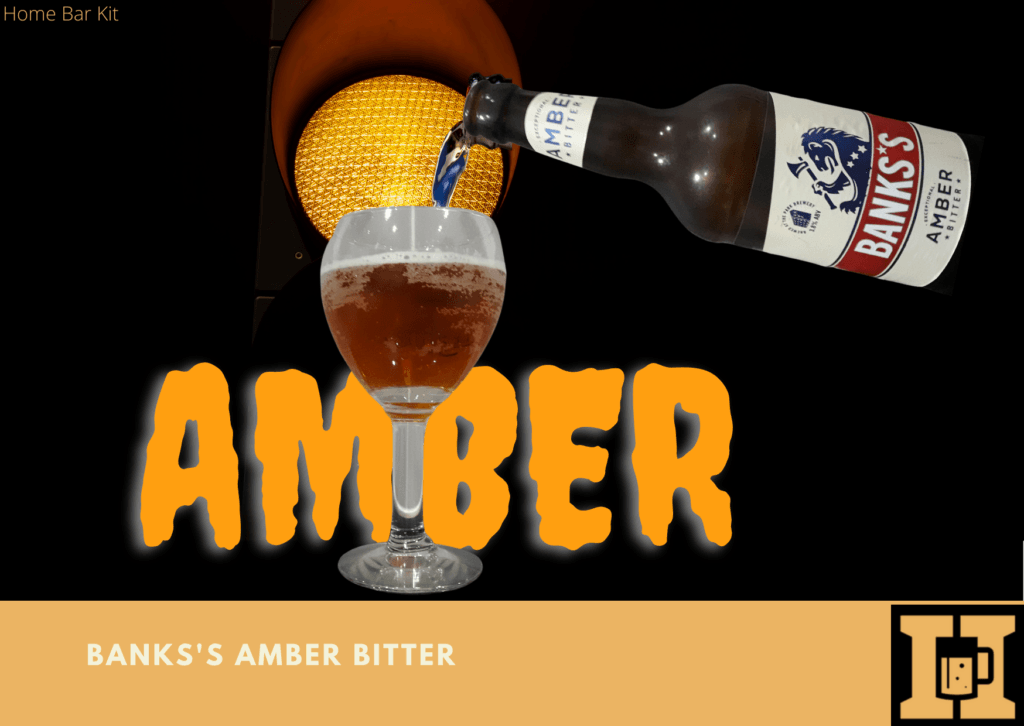 This Amber Bitter is the signature beer of Banks's Beers and been brewed for years at the iconic Park Brewery site. There is no hype to this beer, just a straight forward traditional English style bitter. Mild, clean and crisp, the way it is brewed to be.
A lot of people slate this beer, saying it is bland and tasteless. However that is not the case, no you don't get hard hitting aromas or tongue tingling citrus. It is delicate and mild on both counts, but that is the way it is supposed to be. What you do get is an uncomplicated easy drinking bitter to be enjoyed anytime.
It is not comparable to the modern day craft beers and it's not asking to be. You wouldn't compare a classic car with a modern car. Not as strong, fast or as reliable, but still a thing of beauty. See Banks's Amber Bitter in the same light, not as strong, not as rapid, but very reliable. It's a thing of beauty.
Formerly Banks's Bitter, in 2016 it was revamped, but only in name and label, the beer remains the same.
Enjoy The Experience
It won't set your world on fire, but embrace it for what it is and enjoy the experience. Take a break from the fast moving world of craft beers. Put your feet up and relax with a simple easy drinker beer. You just might thank yourself.
My Amber Bitter came in a generous 500ml (16.9 oz) bottle, but it is also available in cask, keg or can. It pours a beautiful deep golden bronze and settles with a medium white head. The head diminished to a thin covering before I could take the picture, but there may be a reason for that.
You may notice from the picture, the glass is not 'beer clean'. It has since had a thorough clean and I a slap on the wrist. This could be why the head dissolved so quickly, shocking.
Anyway back to the beer. The nose is delicate with a fine hint of malt and a sweet smell of toffee surrounded by a little earthy background. M'lady got popcorn from the nose, which is understandable as I got toffee.
It is time to take a sip and likewise it's a similar story, subtle and delicate. A malty biscuit cereal flavor flows forward coated with a sweet toffee balance. A mild hoppiness background has an earthy bitter edge and finishes this way. It leaves a mild satisfying bitter aftertaste.
At a mild 3.8% Vol the story throughout is of subtleness, an easy drinking bitter ripe for a session. It scores a decent rate my beer of 3.9 – 5.0.
More Banks's Beer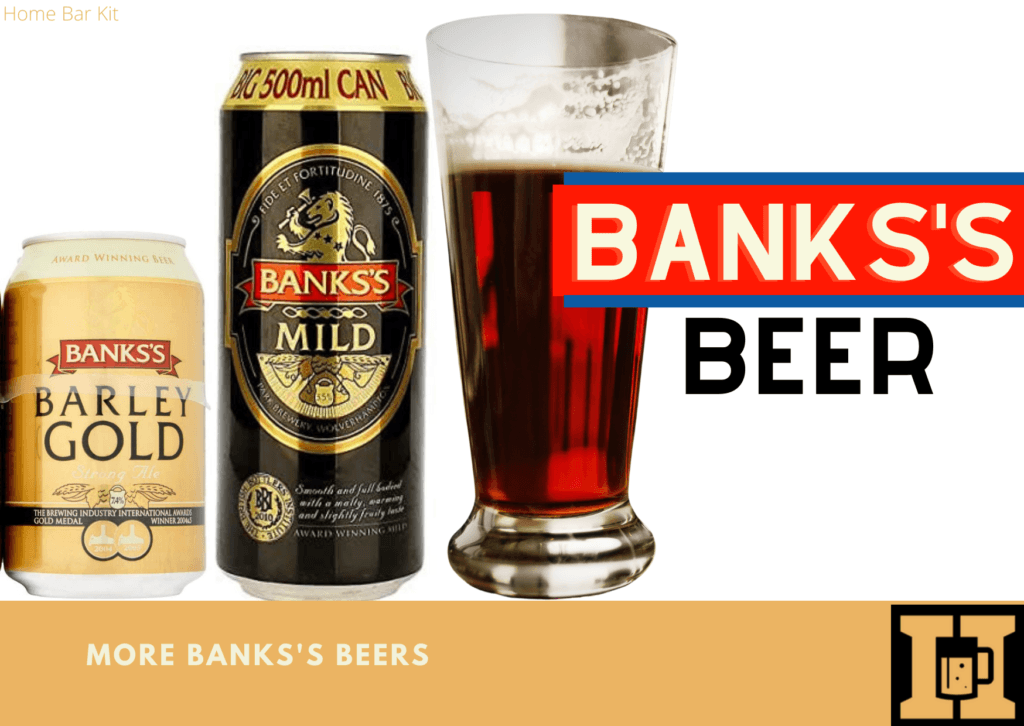 They might be under the umbrella of Marston's PLC, but they are still producing their beer from the same brewery. The range isn't huge but its solid as well as promising, including a mild, a golden and a barley beer.
Banks's Mild
This mild ale was known as Banks's Original until 2010 when its name was changed to mild. The original brew that put Banks's on the map so to speak. It is nice to know that it has stood the test of time and is still a popular ale.
Pouring out a mid brown with a creamy top it promises perfect balance. A full bodied beer with a nutty malty biscuit flavor accompanied by a bitter background. Described as smooth and moreish, so at just 3.5% Vol you can enjoy more than one.
Golden Beer
Banks's Golden Beer pours a light gold with a medium frothy top. It promises to be fresh and crisp, a thirst quenching beer, great for a hot sunny day then.
A mild bitter experience laced with tame citrus notes of lemon and clementine. Another one described as moreish and at only 3.8% Vol lends itself to a session beer. Likewise then another gentle understated beer, eye spy a pattern
Barley Gold
The last one hits us with some strength, its a strong ale and carries a 7.4% Vol, so well out of the session range. Will it deliver a good experience though?
Banks's say it is a smooth beer with a malty base and wait for it, moreish. Of course it is, however other descriptions are a mixed bag. Some say it lacks body, and flavors come in with malty, grainy, bread, metallic and even medicinal.
Sounds interesting and it has to be looked into, right?
Final Thoughts
There is something very apparent going on with Banks's beer. None of them seem to punch you in the face with aroma or flavor. The flavors are there for sure, but they keep a low profile, quietly going about their business.
Is this the wrong approach? No I don't think so, with all the punchy beers competing out there today. Banks's beers are flying below the radar and serving a community of people than just want a beer. No hype, no bells and whistles, just honest ale that can be enjoyed without fuss.
There has to be something said for that, and I am going to say it. Well done Banks's. As much as I love all the different styles of beers we are being spoilt with today. Sometimes you just want a straight beer, no frills, just a plain speaking beer. This is just what Banks's is delivering, quietly clever me thinks.
If you fancy a simple straightforward pint of beer, then pick one up and give it a go. Once you have you can stop by and share your experience.