I go on a little trip and while I am there I try a Little Trip To Elsewhere by Howling Hops brewery. Sounds complicated, but its not. It's an Australian hopped tropical pale ale that I recently enjoyed on a visit to a craft beer pub.
In fact I tasted several beers, some on a beer flight like this one, and a few on there own. All in all a great evening, and some great beers. But lets get on with it and find out what this Aussie hopped beer is like.
Little Trip To Elsewhere By Howling Hops
I like it, a decent beer with plenty of hop and bitter balance. The colour is extremely pale straw, it has a hazy appearance and just a whisper of a head. On the nose it is a tropical citrus hoppy carnival which causes the nostrils to flair up. The taste is hop forward with strong tropical citrus flavours carried around the mouth by good carbonation. A satisfying bitterness breaks through and finishes nicely and extends into the aftertaste. It get a decent rate my beer score of 4.4 – 5.0.
Refreshing, fruity and hoppy, it delivers a nice bitter end.
Howling Hops Brewery
Howling Hops brewery was born in 2011 in the basement of a pub in Hackney, London. The founder is Pete Holt and the pub is the Cock Tavern which he bought in 2011 and turned it into a brew pub.
Over a hundred different beers were brewed in the basement. And with the demand it was apparent that expansion was on the cards.
In 2015 the brewery was moved to Queens Yard in Hackney Wick, London. But that is not all, a tank bar was opened by untilizing the tanks from the Cock Tavern.
Those tanks serve the beers taps and means that there is only twelve inches from brew to tap. Now that is fresh beer right there.
Note to self: Must visit Howling Hops Tank Bar next time in London.
The brewery likes to pride itself on making a variety of hoppy beers, I'm okay with that.
Drinking Little Trip To Elsewhere Pale Ale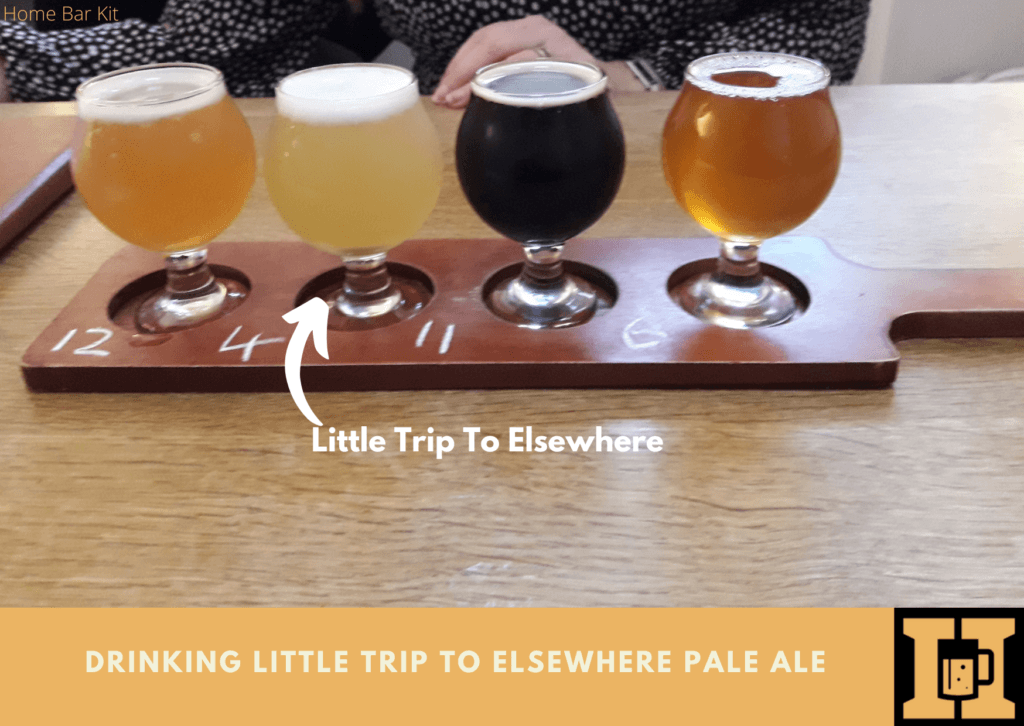 Little Trip To Elsewhere is a pale ale that is brew with only Australian hops. The hops in question are Enigma, Galaxy and Topaz making a tropical punchy fest.
One thing that hit me first is how pale this pale is. I don't think I have seen a pale ale so light in colour. A fine light straw that is hazy and has a thin white top, that leaves a nice decorative lacing around the glass.
The nose is a lively affair blasting the senses with a tropical citrus carnival. The taste is a similar experience, a hop forward tropical flair of passionfruit, peach and lychee attack the mouth.
It certainly wakes you up, and just before it all gets too much, a bitterness flows in to calm things down. This bitterness finishes things off and carries forward into a bitter aftertaste.
I'm a fan, at 4.1% Vol it's a decent session hoppy pale ale with good carbonation. A little fruity sharp up front but a satisfying bitter finish.
It gets a rate my beer score of 4.4 – 5.0 from me. Lou is not as keen, however still likes it, saying it's a nice tropical pale, but too bitter. Lou scores it a little less at 3.7 – 5.0.
Howling Hops Beer Range
The howling Hops beer range is vast, not so much in the core beers like House IPA and Tropical Deluxe Pale Ale. But in the amount of beers they constantly brew and then move on to the next.
Here are a few of the beers that are available at the time of writing this post.
Soft Top
Soft Top is a Sabro Stout with luxurious toasted malts and a tropical coconut flair from those Sabro hops. A smooth creamy stout with a little tropical surprise.
At 6.5% Vol its a bit heavy on strength, but then a good stout to to be sipped and savoured.
Disco Corner
Disco Corner is a little raver with plenty of tropical influence. All that tropical flair comes from Cashmere, El Dorado and Idaho Gem hops mixing up citrus and berry fruits for a flavour party.
Being a sessionable 4.5% ABV its okay to go for a second one, if you can handle the dancing fruit.
House IPA
One of the regular core beers, House IPA is a powerful New England IPA set on pleasing the palate. Although described as light and fluffy the dry hopped beer packs a hop punch.
Citra and Mosaic hops deliver a power house of fruity flavour and strength. At 6.6% Vol it will not take any prisoners, despite it being a little too tasty for its own good.
Final Thoughts
Howling Hops then are an exciting brewery that deliver many beers to the market. Hoppy and flavoursome they don't lack character.
The Tank Bar in Hackney sounds like a great place to try the Howling Hop range, In fact it has to be the best place, probably the freshest beer in the universe.
If you have indulged in any Howling Hop brews then do share your thoughts below. Especially if you have taken a little trip to elsewhere.