A lot of people like a decent pilsner, me included. This particular one is a German style pilsners, rather than a Czech style. I tried this one on tap, but how good is the Geipel Pilsner?
Geipel is a microbrewery in North Wales which specialises in craft lagers. Although they do reserve the right to brew any style beer they like. It just seems lager is their passion, so what is this pilsner like then?
How Good Is The Geipel Pilsner?
If I said it is a real smooth lager with subtle flavouring and a decent body. You would probably think it sounds like a good lager, and you are right. A straw gold lager with a generous foamy white head. The nose is delicate with a light floral aroma over a subtle malt base. The taste is malt front carrying a fruity top, good carbonation brings in a smooth bitterness. A decent Pilsner Lager with body, it gets a rate my beer score of 4.4 – 5.0.
Sometimes the small breweries get it so right, indeed that is what has happened with this lager.
Geipel Brewery
Geipel Brewery was founded by Erik Geupel and brewed its first beer in 2013 in a barn on the side of a hill in North Wales. Although he lives in Manchester, he travels to his small brewery which also has a cottage in the grounds to brew during the week.
Erik's decision to brew only lager was to differentiate his brewery from all the other small real ale breweries. Also a high percentage of British drinkers, drink lager.
The idea is to brew lagers far removed from the mass produced type we get in the supermarkets. Using traditional methods, as well as quality ingredients and water from his own bore hole.
Erik even adheres to the Bavarian Purity Law of 1516, it seems he is serious about his lagers.
Drinking The Geipel Pilsner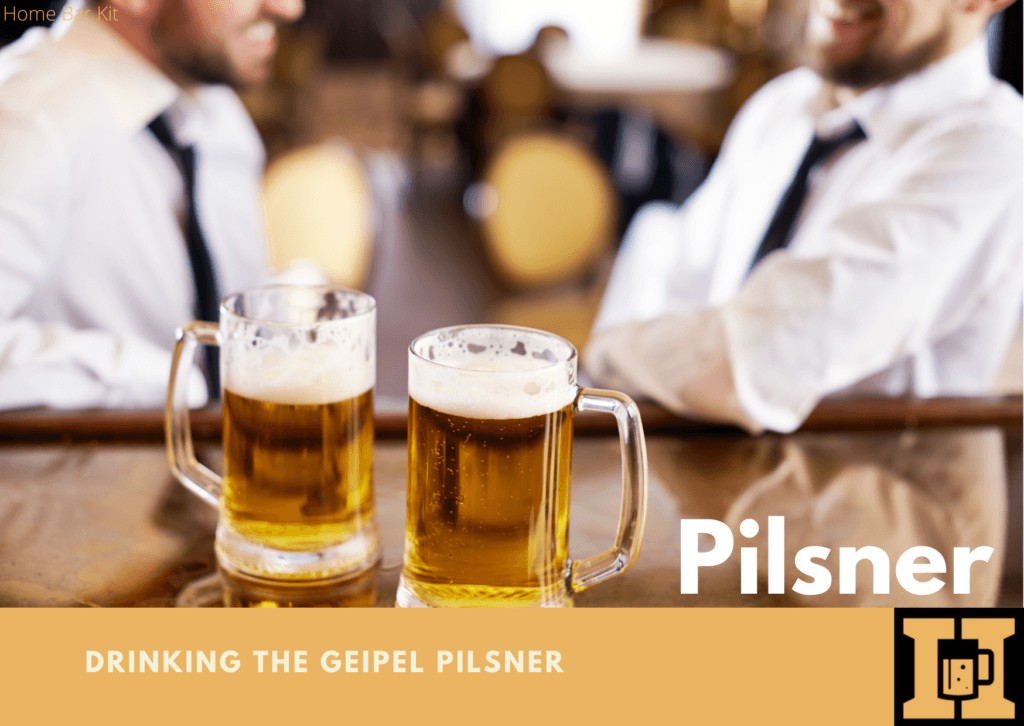 I tried this beer on tap in a craft beer pub, it pours a light straw gold with a generous foamy white top. This does fade, but thousands of very fine bubbles rise up the glass feeding the head and keeping it alive.
The nose is subtle, its hard to pick up much, however a light malty base supports a delicate floral aroma.
A firm malty grain base kicks off the taste with a little fruitiness in the background. It's light and refreshing, then a smooth rich bitterness pops by to carry it to a satisfying finish.
Do you know those lagers that are odourless and well tasteless, well this ain't one of them. This Pilsner from Geipel has real body, its smooth, refreshing and packs a balanced bitterness.
I'm in, it gets a decent rate my beer score of 4.4 -5.0 for being a decent pilsner lager.
M'Lady's in too. Lou describes it as "a quality lager with a smooth bitter finish" again to the point but on the money. A slightly higher score from Lou at 4.5 – 5.0.
Both myself and Lou would happily revisit this pilsner lager again and again. And at 4.6% Vol we can have more than one too.
Geipel Beers
So Geipel is a small microbrewery and may not have a vast range of beers. However what Geipel does have is a small range of quality beers made on a small scale with quality ingredients.
At the time of writing there are seven beers available, made up of wheat beers, lagers and even a low alcohol lager.
Going on the Pilsner, I look forward to trying the whole range, here are three of the to consider.
Hefeweizen
Hefeweizen is an unfiltered wheat beer with a mid brown cloudy appearance. Flavours of banana and bubblegum along with a little coriander and cloves make it a typical Hefeweizen style.
It's not a session beer at 5.2% Vol, more a beer to sip and savour. I'd happily give it a go and will look out for it.
Golden Gate
This is an interesting beer and could even be a cross between an ale and a lager. Using German malts and American hops and yeast it ends up a amber colour with a red hue.
Flavours of caramel from the malt and mint and bitterness from the hops, it makes for an interesting beer. At a straight 5.0% ABV it sits on the fence of session. I am sure a second is okay, but I need to try it first, I can feel a search coming on.
Bock
Brewed as the original style Bock from Munich, this Bock has complex flavours and a real back bone. Aromas of chocolate and cherry will please the nose.
A rich malted toffee with some bitterness to balance the sweet foreground. But beware and don't gulp it down however moreish it might be. It packs a punch at 6.5% Vol and is not to be rushed.
Final Thoughts
I think its plain to see that a certain passion goes in to making the Geipel beers. It is nice to think that such a small brewery gets its beers to taps in pubs, well at least one anyway.
A brewery in a barn on the side of a hill in the middle of nowhere sounds a bit lonely. On the other hand maybe all that space and countryside is an inspiration.
Have you come across any Geipel beers? If you have then why not share your thoughts below and tell me what your experience is.