A collaboration from North Brewing Co and Full Circle Brew Co Future Skies is a citrus IPA. And boy is it citrus, if a sharp citrus beer is your thing, then this one will hit the spot. If you just like beer, then you might want to swerve it. So is Future Skies IPA a beer or a pop?
Is Future Skies IPA A Beer Or A Pop?
Well it's a beer of course, but it could be mistaken for an alcopop. It is that fruity and full of citrus lemon that you could be mistaken that you have gone back to the 90's and are drinking Hooch. It pours a hazy lemon gold with a generous fluffy white head. The nose is a strong hoppy citrus lemon aroma bursting from the glass. Just one sip reveals an explosion of citrus lemon leading an array of fruitiness dancing on the tongue. It's zesty, maybe too zesty and gets a rate my beer score of 4.3 – 5.0.
A mild bitterness lurks in the background, but is not enough to calm down all that zest.
North Brewing Co
North Brewing Co was born out of a bar journey. The North Bar was opened in 1997 by Christian Townsley and John Gyngell in the centre of Leeds, England.
Although a slow start, things eventually picked up grew into the opening of more bars. The bars didn't just serve the basic macro beers you might expect. There was an emphasis on craft beer, and beers from all around the world.
It seems only right then that the pair would venture into brewing. They did just that and North Brewing Co is the result. A brewery producing some great IPA's and other craft beers, as well as more traditional cask ales.
Having said that, is Future Skies IPA a step too far?
Is Future Skies IPA A Beer Or A Pop?
Don't get me wrong I am not slating this beer, it is a decent beer. However it just takes the lemon zest a little far for me.
I like a hoppy citrus IPA as much as the next beer monster. My last North Brewing beer experience was Ultra Phase, another hoppy fruity number. However it had a great balance, just the right bitterness and felt softer and smooth in comparison.
Future Skies for me has a little too much lemon, there is almost a synthetic taste to it, a little powdery. It is light and refreshing, like sunshine in a glass.
It doesn't feel like an IPA, Lou thought it was a lager at first with a large dose of lemon. I can see where she is coming from. Like I said it is light and refreshing and perfect for a summers day.
If this was served to me as an alcopop, I wouldn't question it. My response would be, "it's not bad for a fruit based alco drink, but I'll have a beer please."
It will undoubtedly have its fans. However it just crosses the line for me and seems to move into the alco juice territory.
Drinking Future Skies IPA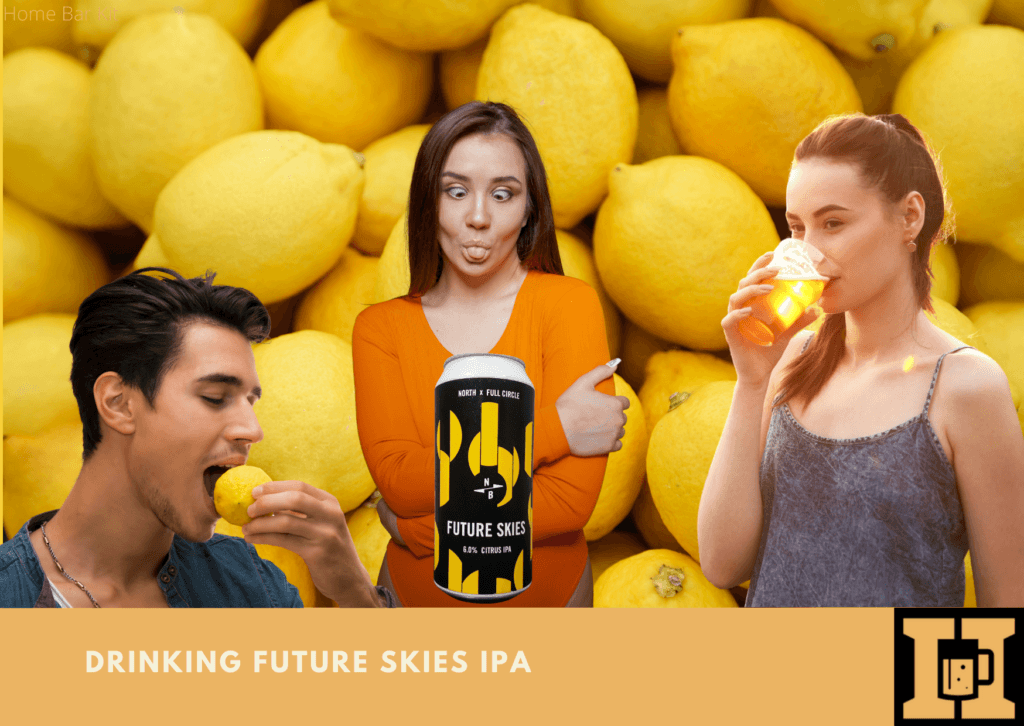 The can is the usual North Brewing abstract art kind of vibe, black with yellow segmented lemons. I know this should have given me a big lemon clue, but I have only just realised while looking at the can writing this.
Looking at it like that, it does exactly what the can says, its a citrus IPA with a load of lemons.
When it settles in the glass it is a slightly hazy lemon gold with a generous fluffy white top. The top fades a little, nut sticks around for the duration.
The nose is vibrant with a hoppy citrus lemon fragrance popping out of the glass.
Just like the nose, the taste is in your face too. It is hoppy with citrus overload, lemon screams around the mouth like a hooligan. Subtle flavours of grapefruit, orange, pineapple and mango try to share the limelight, but lemon ain't having it.
A slight bitterness tries to lend a hand, but again lemon exerts its authority.
It does sound like I am putting this beer down, I'm not, it is just too lemon sharp for me.
Lou Said "It's fruity fresh and crisp, a vibrant beer that is easy on the pallet with fruity hits dancing on the tongue." Pretty good description, apart from the easy on the pallet, but that's just me.
At 6.0% Vol it does pack a bit of a punch and doesn't reflect that strength in the mouth. My rate my beer score is a 4.3 – 5.0, Lou gives it a slightly higher 4.4 – 5.0.
North Beers
Their core beers is a decent range, from Pilsner and pale ales through to porter, something for everyone. They also have an experimental brewery Field Recordings where they experiment with different brewing techniques.
Also in their beer collection is an array of specials, as well as collaborations. However today I am going to feature a few of their cask beers.
Dark Mild
North Brewing got together with Thornbridge Brewery, who started life in the grounds of Thornbridge Hall Estate to produce this Dark Mild. So it is a special edition beer.
Described as toffee and roasted nut over a digestive biscuit flavour. English hops bring a rich body with a satisfying bitterness. Flavours of soft fruit balance the toffee nut richness, its dark and its mild.
At just 3.8% Vol its a true mild that is sessionable, it just makes you fell warm inside.
Seasons Reverse
If you like a best bitter, then Seasons Reverse may be a goer if you are lucky enough to live where it is on cask.
It is what a bitter should be, its bitter with a hint for blackberry fruit and sweet honey for balance. A session beer at 4.3% Vol, could be a little morish.
Shadow Play
A typical porter deep in the colour black with a creamy off white head. Think rich flavours of roasted coffee, silky chocolate and toffee.
A full bodied porter, rich and smooth it comes in at a moderate 4.8% Vol. Although in the session range, will it be too rich for a second pint.
Final Thoughts
It is clear than North Brewing Co is a great brewer of beer and I would love to try their cask beers. However Future Skies split me in two.
I like it, but then again I am not so keen, it has confused my beer head. I like a hoppy citrus IPA, but I just think this one has gone a little too far.
Let me say that it is a decent beer, just a little bit too lemony for me.
I would love to know your thoughts on this beer. If you have tried it, what do you think, share your thoughts below.