A huge bottle of lager jumped off the store shelf and wanted to come home with me. It's name is Heverlee and there are no complaints from me, so it was soon standing tall in my fridge chilling. But is Heverlee Premium Pilsner a decent beer?
Surely it is going to be a cracker, a Belgian style lager inspired by the beers produced by the monks in medieval times. It's a tasty lager treat, or is it?
Is Heverlee Premium Pilsner A Decent Beer?
It's a good solid lager that has a decent body, it's crisp, refreshing and smooth. The golden straw colour shines from the glass like any lager with a moderate fluffy white top. On the nose there is nothing fancy, a typical straight from the fridge lager smell. The taste has a delicate malt base holding up an almost vanilla cream smoothness with a hint of spice. A full body lager that is sharp, but at the same time smooth, almost creamy. The rate my beer score is a decent 4.4 – 5.0 for a decent lager.
Did I mention how big the bottle is, a whopping 660ml, delivering one and a quarter pints of golden lager.
Where Is Heverlee brewed?
The Heverlee brand and beer is owned by the C&C Group, who also own the likes of Tennent's, Bulmer's, Magners and more.
Heverlee is brewed by Martens Brewery in Bocholt, Belgium. Well, not all of it is, on my bottle is states that it is brewed at Wellpark Brewery, Glasgow. Which of course is the home of Tennent's Lager.
However the idea behind Heverlee was actually born in Heverlee which is a town in Leuven, Belgium. Joris Brams who lived in the town as a boy and who is part of C&C Group discovered an old beer.
On a visit to Park Abbey, a Premonstratensian Abbey in Heverlee, Joris was allowed to look through the Abbey library. Here he found evidence that the Abbey monks use to brew a light lager beer back in medieval times.
Working with Martens and describing his findings at the library, they brewed what is now known as Heverlee. But whether it is close to the original beer the monks brewed, we will never know.
Nevertheless its a good beer.
Is Heverlee Premium Pilsner A Decent Beer?
I think Joris and Martens have done a good job, and yes produced a decent beer. The monster bottle is appealing to any lager drinker, its a joy not to faff around with tiny bottles.
The label is crisp in design with a fox, however that doesn't really seem to have anything to do with the beer. Apparently it is only half the picture, the other half is a hare. Its a print of work by a street artist Dzia, the whole picture looks like the fox is creeping up on the hare.
Anyway back to the beer.
Drinking Heverlee Lager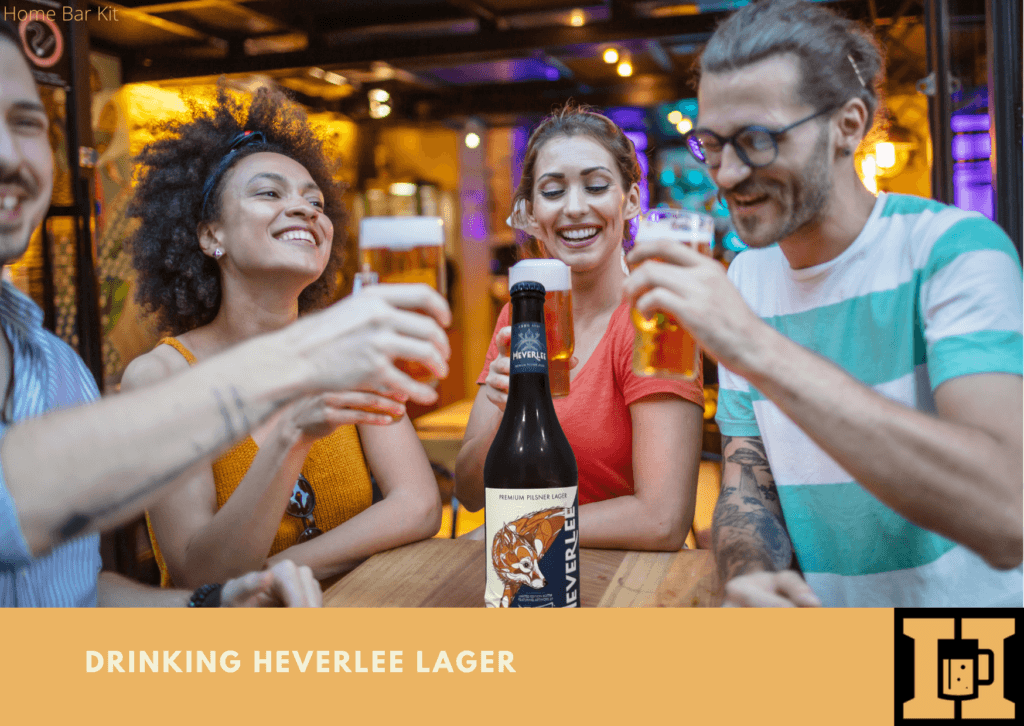 I have to say I enjoyed this beer, its crisp, sharp and smooth. In the glass it is straw gold with a moderate head that fades to a thin cover.
The nose doesn't wow, with the slight aroma of malt it is pretty neutral. Dive in for a taste and things liven up a little.
A fine malt base is stable, the mouthfeel is smooth and creamy carrying a vanilla flavour around the mouth. A hint of spice lays on top with the slightest of bitterness in the background.
I like it, it delivers a sharp crisp experience with a creamy smoothness. Carbonation is good and it has body too.
At 4.8% Vol it backs up the depth with a decent strength without being to potent. It gets a solid rate my beer score of 4.4 – 5.0.
M'Lady scored it slightly less at 4.3 – 5.0, but said it is crisp, sharp, smooth and fresh. Therefore a nice lager that is way better than any macro lager.
Here's to a decent lager.
Final Thoughts
I normally feature a few other beers from the same brewery. However I couldn't find any under the Heverlee brand. Obviously C&C Group have plenty of other brands, but they are not part of the Heverlee vibe.
So that just leaves me to say that this premium pilsner in my opinion is a decent beer. A lager with body and taste, hence one which I would love to try on tap.
If you have tried Haverlee, then do share your thoughts below, share your experience. Also give it your own rating if you like.