Arranging seating in a home bar can be a complicated process. Chairs can take up so much room, which means you might not be able to fit in enough seats for all your guests. This is why your home bar needs a bench seat.
Obviously bar stools are a great part of a home bars seating. However when it comes to other seating, it can be hard to fit many in. A bench seat has several advantages over other seating arrangements when it comes to a home bar.
Why Your Home Bar Needs A Bench Seat
There are several reason why a bench seat is a good idea for a home bar. First, they save space. Second, they provide more seating than chairs. Third, they create more storage space. Fourth, you can custom build a bench seat for your unique space. Finally, they can be more comfortable than standard chairs. A bench seat can be whatever you want it to be.
A versatile piece of furniture that will be an asset to any home bar or pub shed.
What Is A Bench Seat?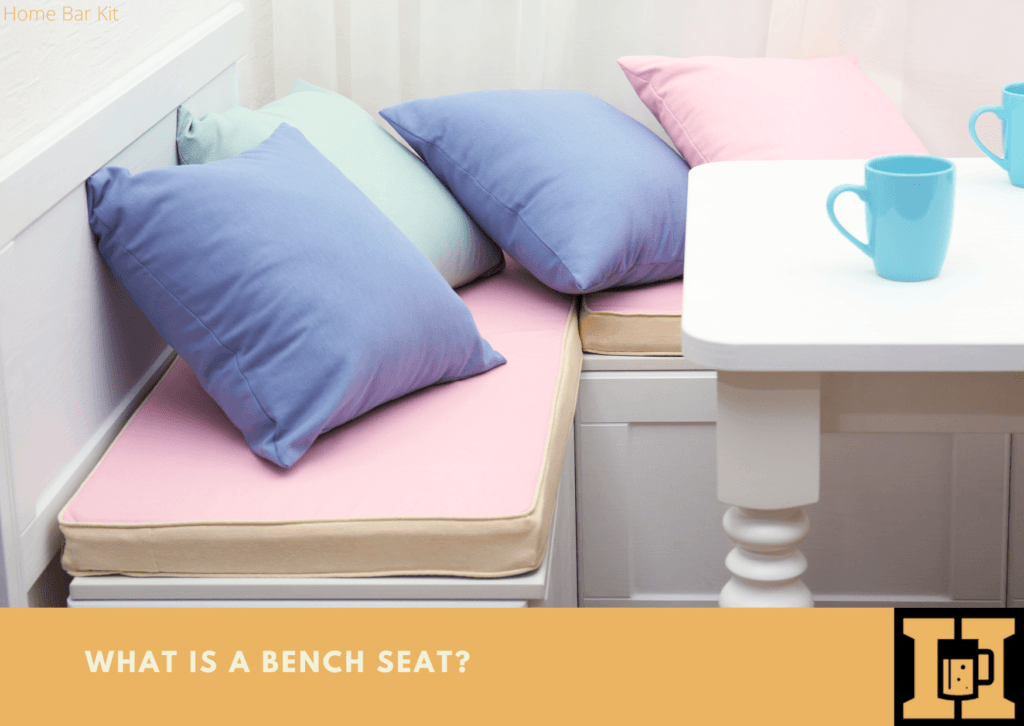 A bench seat is a long continuous seat that can sit multiple people. Just like a sofa or couch they can be a two seater, three seater or more.
The length of a bench seat is determined by the space available and the amount of people you want to seat. They can have a hard base and back, or be cushioned to your choice.
The versatility of a bench seat means it can be free standing or fixed to a wall, have a full back or backless, and even have arm rests at each end. Bench seats can be as basic or luxurious as you want them to be.
What Are The Benefits Of A Bench Seat?
Many pubs and bars have bench seating and for good reason. There are several reasons why it's a good idea to incorporate bench seating in your home bar.
Whether you have a bar inside your home, in a shed or even just outdoors, a bench seat will always fit the bill and here is why.
The Seating That Saves Space
Because a bench seat is one long unit it can save space in your home bar. Chairs can be bulky and if a table is close to a wall, then it can be difficult to sit.
Also because a fixed bench seat along a wall has no legs, it is easy to push a table further in when the seating isn't being used.
A Bench Seat Can Provide More Seating
Typically a bench seat will provide more seating without taking up more room. A standard table that will fit just two chairs along one side can only seat two people.
However the same table with a bench seat instead will fit three people, possibly four at a push. So you are gaining at least on more seat per two chairs.
If you install a long bench, then you could gain up to five extra seats as opposed to using chairs.
Create More Storage Space
Another bonus to bench seating is the extra storage they can create for your home bar. If constructed in the right way a bench seat is essentially a box with a lid.
The seat base lifts up to reveal a decent amount of storage below it. Plenty of things can be stored away when they are not being used. Garden furniture cushions can be stored when not in use.
Barbeque accessories or other garden bits and pieces. Bar accessories, blankets, shoes or whatever you want to store.
A storage unit that doubles up as seating has to be a great idea.
A Bench Seat Can Be Unique To Your Space
Whether you build a bench seat yourself or you get a tradesman to build it, they are versatile. This means you can custom build a bench seat to fit your space.
Your home bar is unique, just as your bench seating will be unique. You can build a bench seat to run the whole length of a wall creating not just more seating, but also more storage.
If you have a spare corner, build a corner bench seat running along part of two walls. Whatever the space available you can build a bench seat to fit.
The Comfort Of A Bench Seat
If you have armchairs in your home bar, then a bench seat may not compete on comfort. However because a bench seat is custom built, you can make them more comfortable than standard chairs.
Nice thick base and back cushions will make your bench seat luxurious. However the only downside to this is that your guests may not want to leave.
Just like the bench itself your cushions can be custom made. So make them as thick as you like for more comfort. Plus you can add a little colour to your home bar with the material you use for your cushions.
Again you can make these yourself if you are handy with a sewing machine. If not get someone to make them for you. Or alternatively buy some ready made bench style cushions.
Tip: If you decide to buy some ready made cushions, it might be best to get these before building your bench seat. You can then build the seat to fit the cushions. If you build it first it may be difficult to get cushions to fit.
How To Make Bench Seating
It is an easy DIY project to make a basic bench seat. You build a simple box frame that is then fixed to the wall.
Fix solid timber to the front and ends if they are exposed. Then cut timber to fit the top, this can be hinged so it can be easily opened.
Then create the back by fixing timber to the wall. This can be at 90° or with a slight angle for more comfort. Fit cushions of your choice, whether handmade or bought.
Tip: An ideal back for a bench seat is a headboard made for a bed. One will be perfect for a small bench seat or two or three side by side for longer benches. Again, get the headboards before building the bench, so you can make sure they fit perfectly.
Bench Seat Sizes
A standard height of a bench seat is 18 to 20 inches (46 to 51cm). The standard depth of a bench seat is 15 to 20 inches (38 to 51cm). The length or width depending how you look at it is whatever you want it to be.
These are just guidelines, the space you have available will determine your measurements. You don't have to stick to the standard measurements, because it is custom built, so you can build it to your own specification.
You can also use off cuts of timber to build the frame, as well as scaffold boards or something similar for the base and back.
This is the beauty of creating bench seating in your home bar.
Final Thoughts
If you didn't think it before, you might now see why you need bench seating for your home bar. They are so versatile and just seat more people than standard chairs without taking up any more room.
Plus the storage they create make them a practical choice too. Definitely a worthwhile piece of furniture to include in your home bar.
If you have been struggling with seating in your home bar, then a bench seat much just be the perfect solution. Share your thoughts about home bar seating below, remember to include any tips you have that might help others.