Can I convert my garden shed into a bar? A garden shed serves a very important role within a household, storing garden essentials as well as kids bikes. However kids grow up, bikes collect dust and a shed can become neglected over the years. It can also become a junk store, packed to the rafters with stuff.
How often do you go into your shed? Or can you actually get into your shed? And where did all that stuff come from? If your shed is sitting there quietly looking sorry for itself, maybe it's time to give some love. Get rid of all the junk and give your shed a makeover. And what better way to transform you shed than a garden bar.
Can I Convert My Garden Shed Into A Bar?
Converting an old garden shed into a bar is the perfect way to bring a shed back to life. Also it creates a brand new space for enjoying your garden whilst sipping on a cocktail. It will become a popular entertainment area for you and your friends. And something that looked like it was about to fall down now has some use again. So yes you can convert your garden shed into a bar.
You don't have to have an old shed, any shed will do, new or old.
Will A Shed Make A Good Garden Bar?
Hell yes, a shed is the perfect building for a home bar. Especially if you really want a home bar but are tight for space indoors, its the best solution. The good part is, it doesn't have to be expensive and you can do all the work yourself.
When it comes to converting your shed into a bar, you have a blank canvas. You can create a bar that suites all your needs. It doesn't have to be complicated, it will be as simple as you want to make it. Your garden bar will be unique and it will be a new space to enjoy.
Is My Shed To Small To Turn Into A Bar?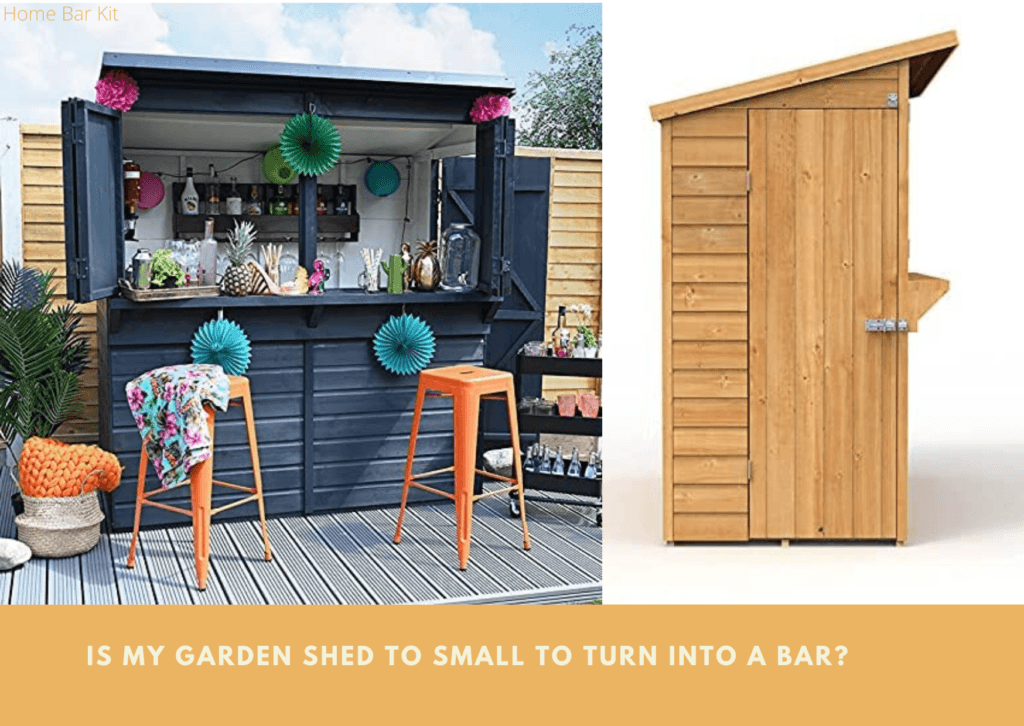 **As an Amazon Associate, I earn from qualifying purchases with no extra cost to you.
No, it doesn't matter what size your shed is, small or large it will make a great bar. A small 6′ x 3′ (183cm x 91cm) shed will make a good bar, and it will be simple to convert. There won't be any room for furniture inside, but this can be arrange in front of the bar.
A simple Gazebo can be erected over the furniture to protect it from the weather. A small shed bar can be bought ready made, but it will cost a lot less to convert your old shed. Unless of course you haven't got a shed, then it is worth buying new.
The advantages of a small shed is they take a lot less work to convert and use a lot less material. However a large shed does give more scope and of course the option of adding furniture. Also a dartboard or other bar games can be included too.
How Do I Convert My Garden Shed Into A Bar?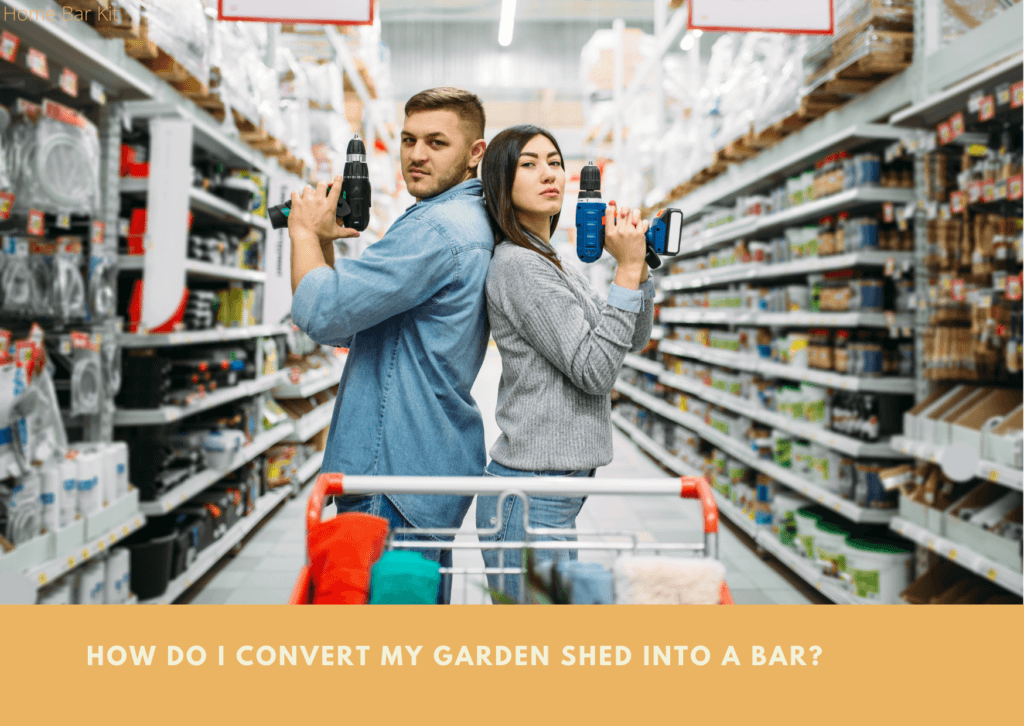 It will take a little work, but it is not difficult and can be done in a short space of time. There is no need to get the construction workers in, in fact there is no need for any tradesman. Except for maybe one, an electrician, but only if you need to install electrics in your shed, oops I mean Bar.
It is best to set out a list of steps for your bar project. Then just follow the steps and tick them off as you complete them. You will be sipping a cocktail at your very own garden bar before you know it.
Prepare Your Old Shed
The first step is to prepare your old shed ready for conversion into a bar, it's exciting I know. This shouldn't take too long, but it depends on how full your shed is and what condition it is in. Make sure you are dressed appropriately, wear some old clothes that you don't mind messing up. Roll up your sleeves and get stuck in.
Empty Your Shed
Obvious I know, but it is still the first step to your new garden bar. There is probably a lot of stuff in your shed you forgot you had, so be ruthless. If you haven't used it in a long time then get rid. Make two piles, a get rid of pile and a keep pile.
Don't let the keep pile get too big, or you will need to buy another shed to store it all in. If your shed is a large one, then you may be able to section one end off for storage. There are a host of small storage systems available if you have a small shed.
Basic Tools For The Job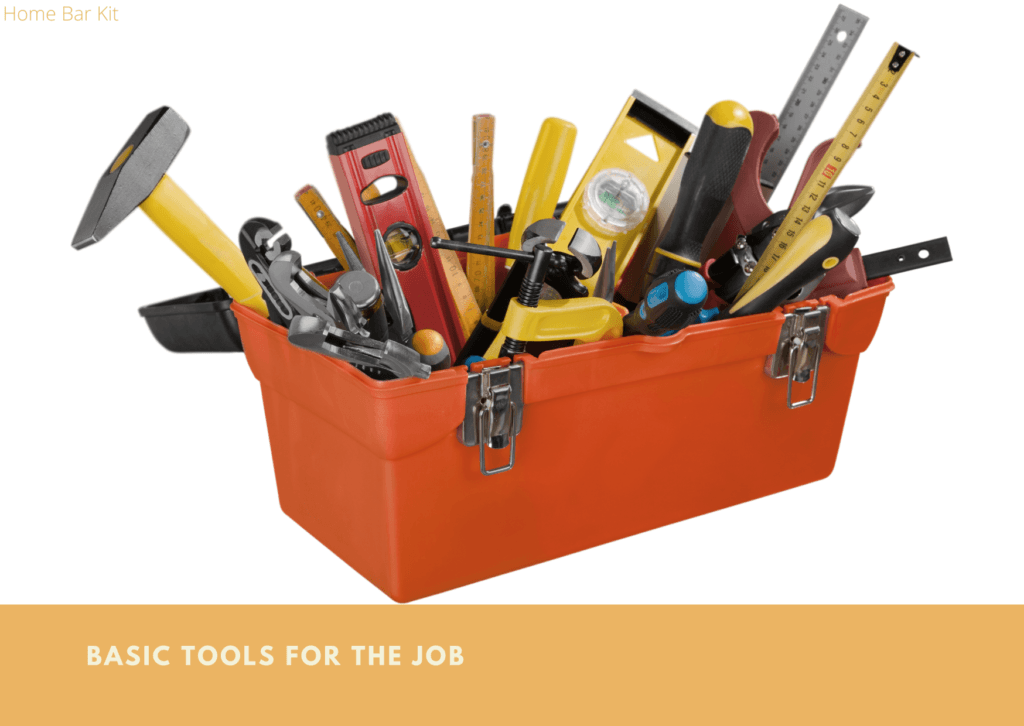 There are a few tools you will need to complete your shed project. It can all be completed with basic hand tools. There is no need to visit the power tool section in your local DIY store. You may already have the tools required, or at least the majority of them. You will know at this point because most of them were probably in the shed.
Dust Pan & Brush
Broom
Bucket and cloth
Pencil
Measure
Hand Saw
Hammer
Combi Drill
Paint brush or roller
Paint tray
It should be possible to complete the task with these basic tools. The hand saw can be replaced with a jigsaw if you have one, just use with care.
Clean And Repair Your Shed
Once your shed is empty it is time to clean it up. There will be dust, cobwebs and some unwanted creep crawlies. Use a hand brush on the ceiling and walls to clear all the dust and webs. Then using a broom and dust pan to sweep the floor clean. Clean any windows with soap and water.
This will create airborne dust, so it is a good idea to keep the door open and wear a dust mask. Whilst cleaning the ceiling, walls and floor, keep an eye out for any damage. Split or rotten wood will need repairing before you go any further.
Optional Electrics
Your shed may already have an electric feed, in which case there is nothing to do here. Except may be check that all the wiring is intact and has no damage. If you find damage then it will need repairing, which is a job for an electrician.
If you have no need for electric, again there is nothing to do here. There is plenty of solar powered lighting for your bar.
On the other hand there are a few reasons why you might want to install electric to your bar. You prefer electric lighting, you want a fridge for your beers and wine. Maybe you are installing a sound system or a games machine.
It is important that you hire a qualified electrician for this job, it is not something you want to take on yourself. Make sure you know how you are going to layout your bar, this will help you determine where you want outlets placed. There will be a cost to it, but it is better to be safe.
Optional Hatch
If your shed is a small one like the 6′ x 3′ (183cm x 91cm) one mentioned earlier, then you will need to cut a hole in the wall. This will provide the bar serving hatch, make sure not to cut through any vertical studs. You are only cutting the cladding, not the structure.
The section you cut out can then be made into doors that open outwards. Alternatively it could be used as a drop down door, which will also act a a bar top.
Insulate and Board
It is a good idea to insulate your shed walls and ceiling, then board over this with some ply or cladding. Superfoil is good for this because it is fairly thin.
It is easy to do, just cut insulation to size and fit between studs. Fix ply in sheets over the top and fix with nails or screws into the studs. Joins between ply sheets can be taped or filled. Alternatively you can use cladding instead of ply.
Paint Your Shed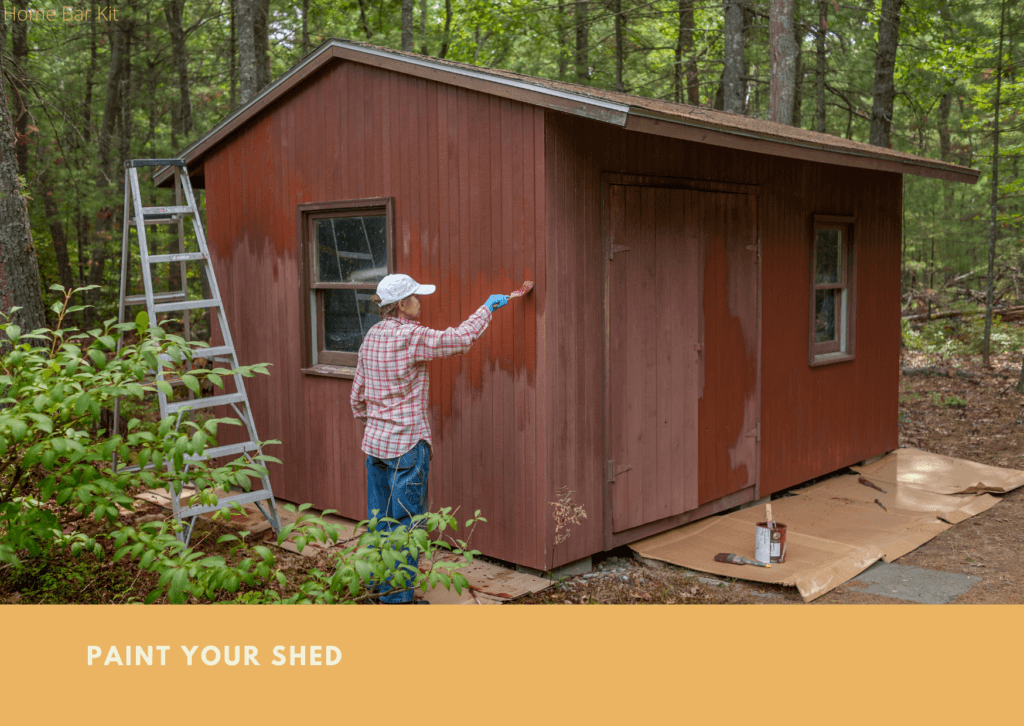 It is now time to paint your shed, inside and out. The inside may not need painting if you have clad it with a decorative boarding. Ply on the other hand may look better painted.
The outside can either be treated with a shed and fence stain, or painted in any color with shed and fence paint. There are many types and colors to choose from. It can be quite effective to use two paints to contrast doors and window frame.
Shed Flooring
It is okay to leave the shed floor as it is, or just stain or paint it. However you can lay a flooring of you choice on top. Wooden floor boards, linoleum flooring or laminated flooring all make for an attractive floor.
If you are going for a more rustic looking bar, then matting can look great. Or what about artificial grass to give it that real tiki feel.
Bar Construction
A bar can be as simple or as complicated as you want it to be. If you have a small shed and have cut a hole in the wall, then your bar construction is almost complete. A drop down door already acts as a bar top, you just need to secure it in the horizontal position. This can be done with pull out brackets to support it, or simple chain fix to the top and the shed frame.
Those that opt for opening doors can easily add a good bar top. Just add a shelf on the outside in line with the bottom of the door opening. A further shelf can be added on the inside too, this will give the bar top depth.
Those that have bigger sheds can construct a simple straight bar, or an L shaped bar. If you are feeling really creative then go for a curved bar. T A bar is pretty easy to construct with a little timber and a few fixings.
Measure the thickness of your shed frame, you can use the same type to construct your bar. With four horizontals and four uprights you will have a simple straight bar frame. Fix a sheet material like ply to the front, end and top and you have a bar. It is a good idea to fix the bar to the floor.
A few more uprights on the front will be needed if you are going to clad the front. The more things you add to your bar, like shelves, the more timber frame you will need to support them. But if it all sounds a bit to much, then get an easy bar plan and work from that.
Electricals
This is a good time to fit any appliances that are going to be part of your bar. A beer and wine fridge may sit under the bar, as will a kegerator. A stereo or Tv can be fitted if you are adding them to your bar experience.
Your light fittings can be fitted at this stage, in fact any electrical appliance can be installed at this point.
Fixtures
All other fixtures and decorative items can now be fitted. Any shelving can go up on the walls. Posters, pictures or any bar paraphernalia can all be fitted. Funny signs or wall art, anything that is going to be fixed in place. Don't forget the optics if you have the type that fix to the wall.
Your bar name can also be fitted whether on a plaque or a bracket, inside or out. Every bar has to be named, whether it be a funny name or a meaningful name. Once you know your name, it is easy to get a personalized sign made up in a style of your choice.
Decorate Your Bar
The bar project is nearly complete, decoration is the next step. Anything that is not fixed can be added, things like ornaments that are going on shelves. Bar stools, tables and chairs, anything that is going in the bar that is not fixed.
This is also a good time to add all your bar accessories. Your new mixology set, all your glassware, optics stand, bar mats and ice bucket.
Bar Stock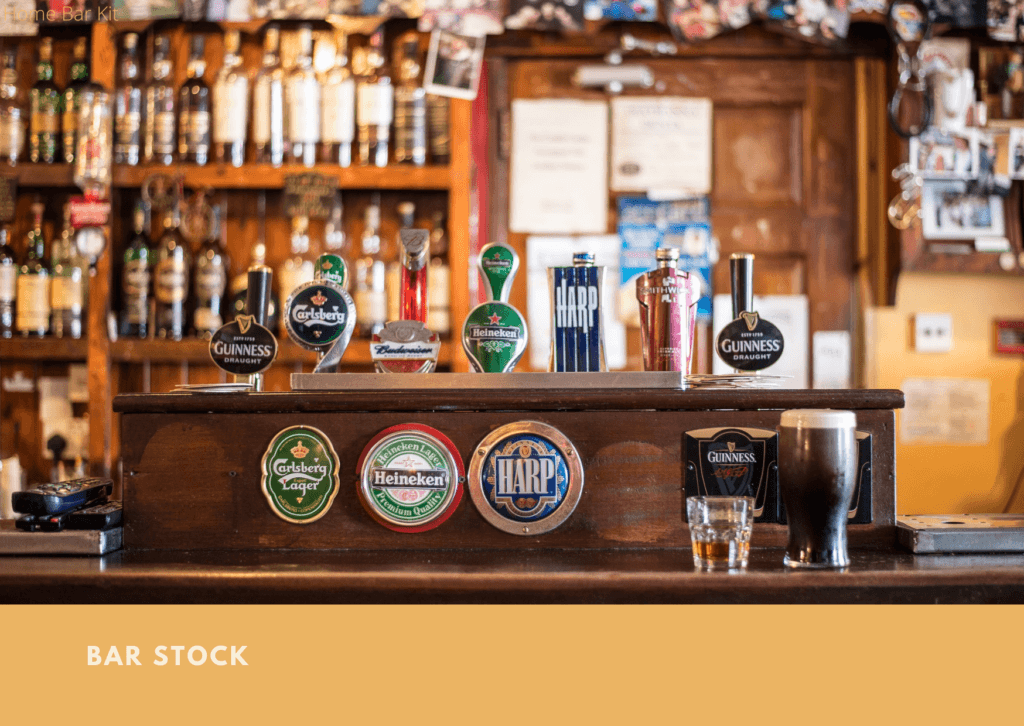 Finally you are ready to stock your bar with all your favorite beverages. Bring in the beer, wine, liquors and mixers. Don't forget the soft drinks for the kids and the bar snacks too.
Your bar is now ready to go, ready to be enjoyed whenever you choose. There is just one more thing to you need to do before you reward yourself with a cold beer. Official opening ceremony, lets do it right, this is where the fun begins.
You won't need to hire a top celebrity, or smash a bottle of Champagne against the shed wall. Not even a ribbon is needed, just an officially declare your bar open. This can be more fun if you invite some guests over to enjoy the opening of your bar.
It's okay to have a sneaky beer or two before the official opening. That what's known as a dry run, just to make sure everything is working okay. Be proud of what you have built and enjoy every visit to your garden bar.
Final Thoughts
When you open your shed door to empty it, don't shut the door again and run away. Although that would be the easy option, get stuck in and before you know it the shed will be empty. Imagine how good you will feel then.
It may sound like a lot to do, but it is surprising how quickly you can get through it. Any project start with the first step, then you move onto the next one and the next one. You will suddenly find yourself at the last step and almost ready to enjoy your new bar.
Picture yourself sitting at your bar, this will help you keep motivated. At the end when you are sitting at your bar, you will raise a glass to yourself and get your partner to pat you on the back. What are you waiting for, get to the shed and get cracking.