If your home bar is an outside bar in your yard then you will need some lights so when the sky turns its lights off, you can turn your outdoor patio bar lights on.
You may only use your outdoor bar during the hours of light, but at some point you will carry on entertaining as the evening light fades. This is when you will kick yourself if you did not fit some sort of lighting when you were building your home bar.
A candle or two is not the best option, just the slightest breeze and you will be in the dark again, so an outdoor lighting set up is a must for your bar.
A good set of outside bar lights does not have to be expensive and it doesn't have to mean a lot of alterations within your home either.
Outdoor Bar Lighting Fixtures
An outdoor bar is a great option if you are in an area that has a decent amount of good weather and you don't have the inside space for a bar. Just as an inside bar will need lights, so too will an outside bar, when dusk comes the lights come on.
When you are planning your bar lighting is an important part of that plan, it is easier to incorporate lighting when you are building, than trying to add it after your bar is complete.
It can be a challenge to get power to and outside bar, especially if your bar is at the end of your garden, this can also be expensive too.
Thankfully hard-wired power is not the only option in our modern world, technology gives us another option and its called solar power.
Solar Bar Lights
Solar panels are being used throughout the world to capture power from the sun and convert it into electricity to power electrical equipment.
The solar panel is not as new as we may think, we can go back to 1839 to see the first solar panel activity, which was not very effective and took over a 100 years to perfect. They got there in the end and now we have the option to use the power of the sun to provide us with electricity.
It's a perfect way to light up our lives when dusk hits our outside space and the light fades over our bar. There is now a huge choice of solar lights and they are easy to fit too.
We can find plenty of outdoor patio lighting ideas or outdoor deck lighting ideas, but what about outdoor bar lighting ideas? Well look no further because we are going to do that right here right now, we are going to look at a selection of solar bar lights.
Whether you are looking for decorative or functional lighting there are solar lights to suit, from string lights to lanterns there is a solar option for us all.
In Bar Light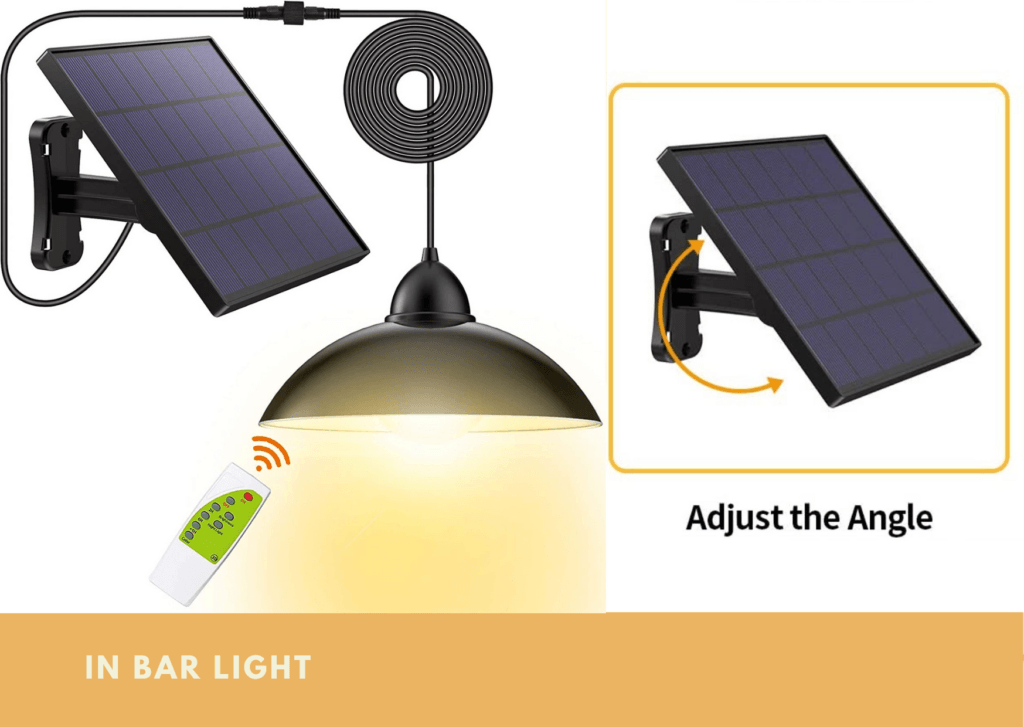 We start with a great practical light from Lozayi that will fit nicely inside your bar if it has a roof, or over the bar if it doesn't have a roof. You can pretty much hang it anywhere. This light would also be ideal for a shed or any outbuilding, it has a vintage metal shade and will look great as a front door light too.
There are lighting options, so you can turn the light down a little if it is to bright giving you a softer lighting option. The solar panel is a good size and you can adjust the angle to get the best exposure to the sun.
There is an on/off switch too, so you can control when you want the light on, although you can have it set so it comes on automatically. The cable which can be unplugged from the solar panel unit is a decent 16 foot in length, with 4400mAH batteries and the lamp is 2700k it suggested lasting a good 16 hours.
These are great options for an outside bar because they give you better control than some solar lights which come on at dusk and go out when they lose charge or dawn breaks.
A great versatile light that will not only look good, but is very versatile for an outside bar.
3 Leaf Solar Lamp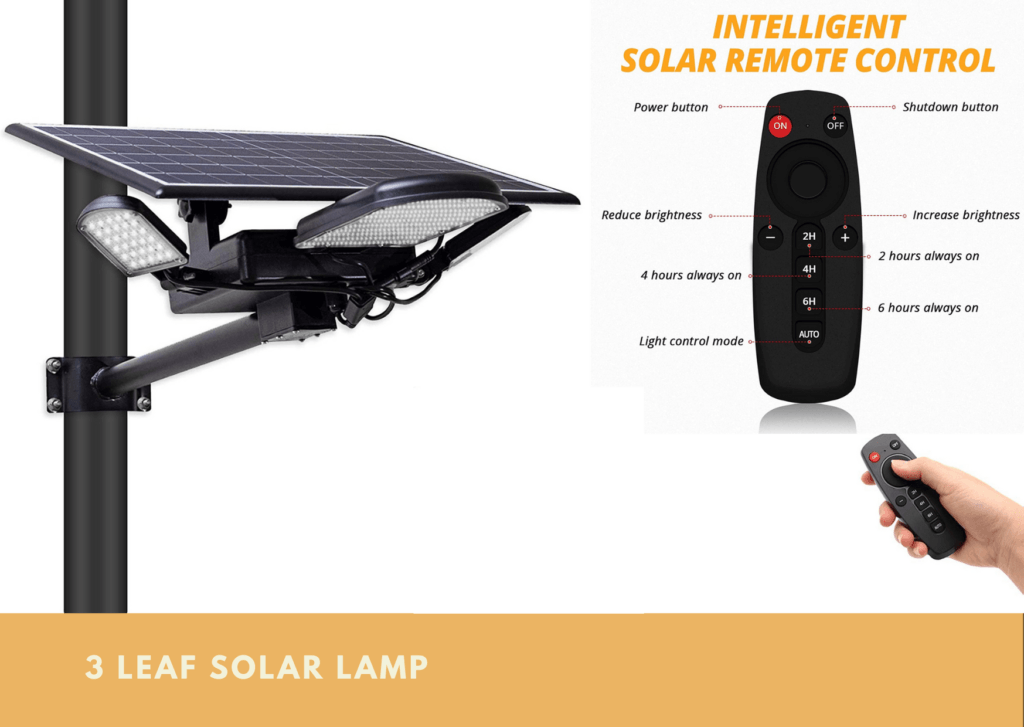 This substantial light from Mjiya has 3 lights, one main light and two adjustable side lights giving a powerful lighting option for any outside bar space. Point the main light at your bar giving you good light behind the bar while the side lights will light up the area around your bar.
The lights are LED lamp beads and there are 108 of them so it gives off some good light and has an impressive 12000 mAh battery which can provide light for up to 10 hours.
It comes with a remote control that can adjust the brightness as well as set the light to run for 2 – 4 – 6 hours or until the day breaks or the battery runs out. There is also an on/off switch so you don't have to have the light on if your bar is shut one night ( I don't know why it would be shut).
The solar panel as well as the lights are on a substantial bar that can be either wall mounted or pole mounted and will protrude to over 21 inches.
A good overall outdoor light that has an industrial look and 3 lighting options.
Flickering Flame Solar Lights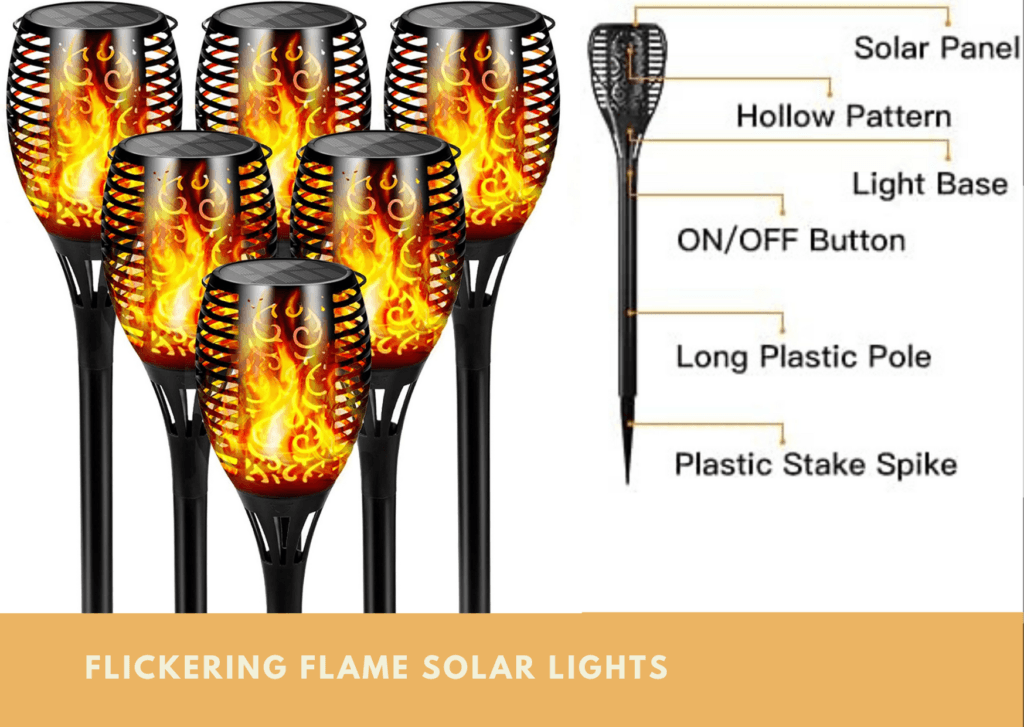 On to something a little decorative from Otdair for your outside bar space. If it is bright light you want to fill your bar area with, then these are not for the job. On the other hand if you already have a bar light and just want some lights that will set a nice calming gentle ambiance, then this 6 pack of lights are just the job.
Designed to look like a flaming torch, these lights can be hung like a lantern, sit on a table-top or mounted on spikes to push into the ground. The actual light is just over 5 inches in height, but mounted on their spikes that stand an impressive 22 inches in height.
They have 51 LED lights and a 600 mAh battery with an estimated 10 hours light time from a full charge, and are made from a durable ABS material.
These just have an on/off button on the unit itself (there is no remote control) and will come alive at dusk and last till dawn or when the battery runs out, which ever comes first.
A really nice design and a great package of six lights to enhance your outside bar area.
Outdoor String Lights
How about a set of string lights from Brightech that can snake around your outside bar area and create the perfect ambiance. Versatile and easy to install these lights have the Edison bulbs giving that vintage look and a timeless feel.
The solar panel can be clipped to something or use the stake included to set it into the ground, just make sure the panel gets the sun.
There are 12 lights that can be arranged in any way you choose, either arrange around your bar or in a straight line above the whole bar area. The lights are spaced 20 inches apart and the complete length is 27 feet long, with around 6 feet between the solar panel and the first bulb.
A great set of string lights with nice yellow glow light bulbs which create a really warm setting for your bar area.
Solar Deck Lights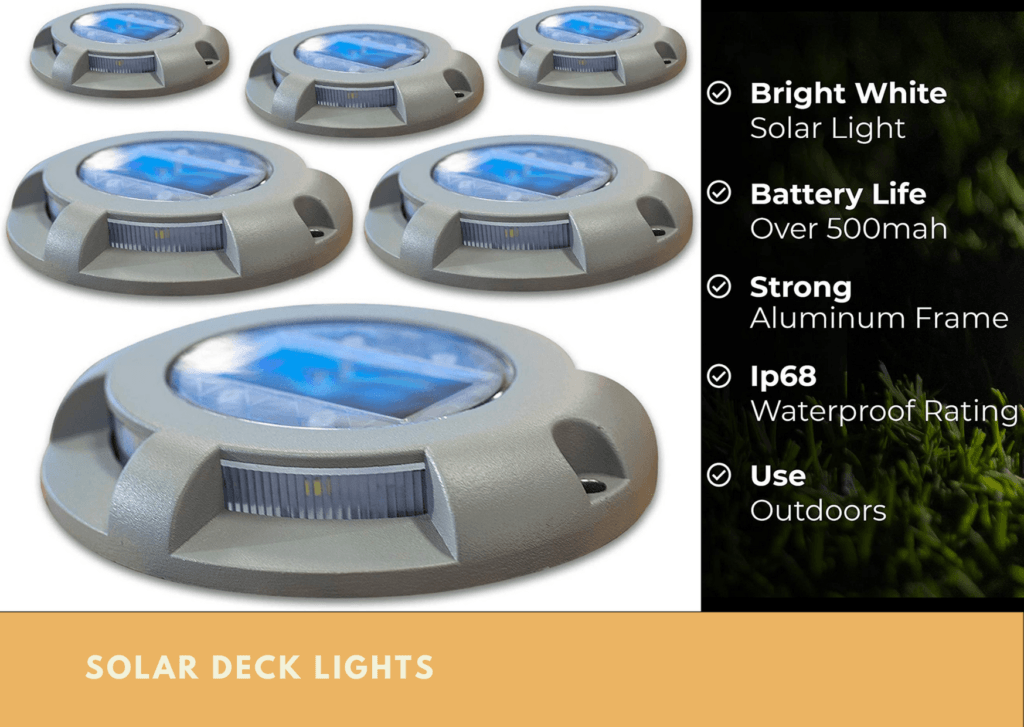 Light your way with these 6 pack deck lights from Boundery, they make any outside area look great. Deck lights can be used to outline an area, direct the flow of traffic along a pathway by night, light the boundaries of a driveway to make it easy parking at night or even light up steps.
For the purpose of an outside bar, they are perfect to illuminate the boundaries. These are fix to the ground via screws and will be great on concrete or wood decking. They give off a good white light, but are not to bright that they will blind you, just the right brightness for the job.
These are durable with a crush proof of 20 tons promise which stops any accidents breaking them. They will last around 12 hours from a full charge from the 500mAH battery. These are around 5 inches in diameter, so not to big, but big enough to do their job.
A nice touch to any outside space.
Solar Wall Lanterns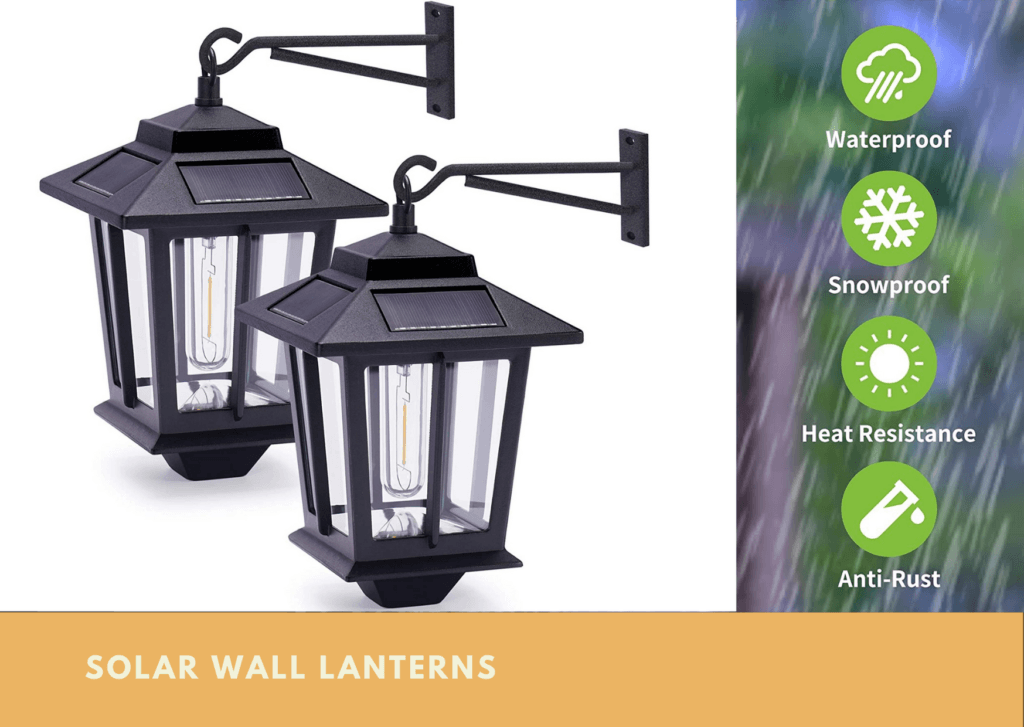 A 2 pack traditional lantern style solar light from Pasamic may be the kind of thing you are looking for to light up your outside bar area, and they would be a good choice too.
A good quality aluminum and glass construction these lanterns are simple to install with a bracket screwed to a wall or post. The light units then just hook onto the brackets, but you can easily unhook them and use as a table-top light.
These are around 5.5 inches square and 9.5 inches in height and will give 8 to 10 hours of light on a full charge. The top of the lantern unit houses four solar panels, one on each side and give off a warm white light. These are a dusk till dawn light, which means they will automatically come on at dusk and will go out at dawn or when the batteries run out.
These could add a nice traditional look to any outside space.
The Bright One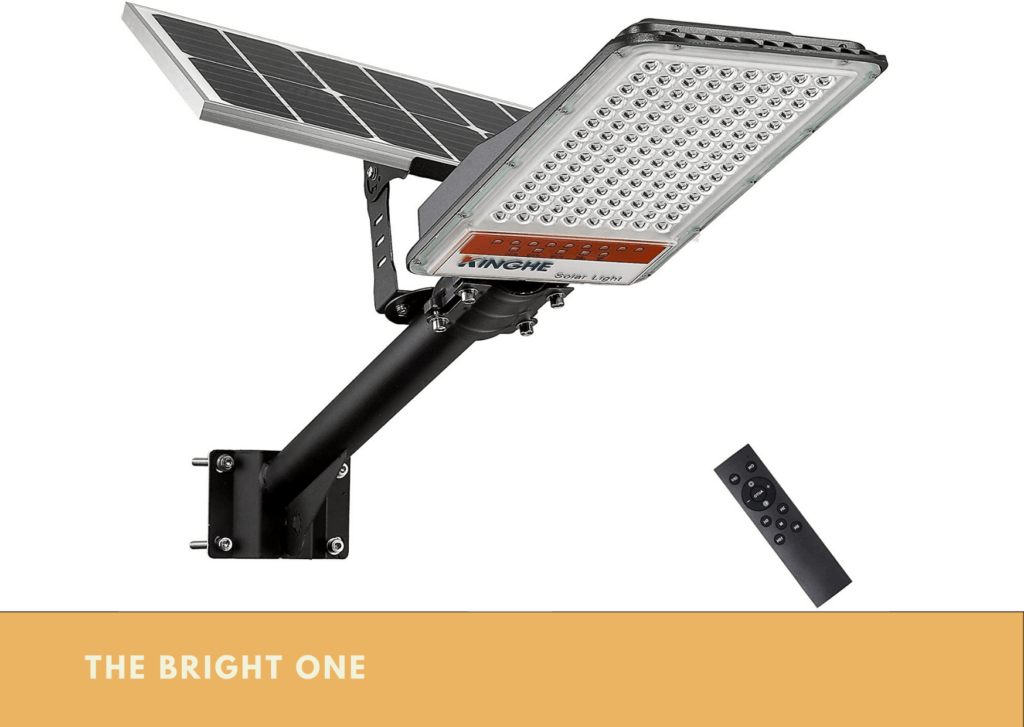 This will not be for everyone, but if you want bright and bold then this street light style lamp from KingHe is going to light up your life. An industrial look with the ability to light a parking lot, well may be not the whole parking lot, but it would give it a good go.
Having 240 LED bead lights the promise is to light an area of over 5000 square feet with 6000k of bright white light. The battery is an impressive 60000mAH and can last up to 12 hours on a 40% brightness setting. If your outdoor bar area is a small one, then this bad boy may blow it away.
It comes with a remote control and you can turn the light on or off, increase or decrease brightness and set timers for the light. The light unit and the separate solar panel are both attached to a 21-inch pole and along with the light unit will project out a good 40 inches.
The whole unit can be fixed to a wall or mounted on a pole and it is best to mount this high to get the maximum coverage ( and to avoid scorching the head ).
A really cool light, but not for the setting of a warm ambiance.
Mason Jar Lights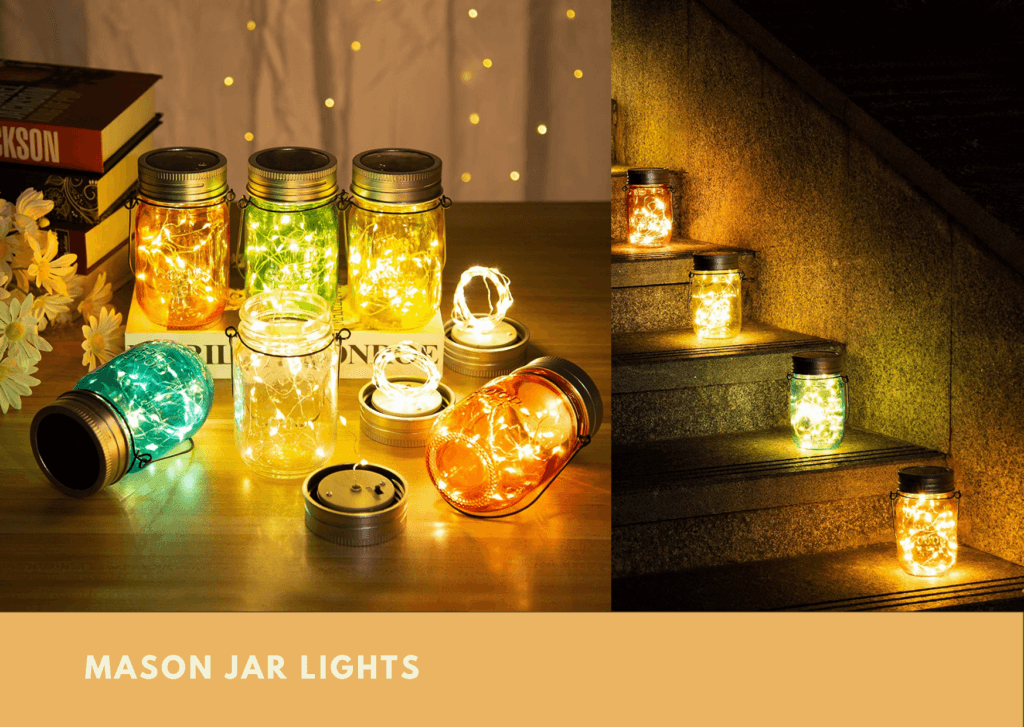 A great way to decorate your outside bar area is to scatter these multi colored jars from Gigalumi around the place. You can put a couple on the bar itself, one or two on the table or floor and even hang a couple from hooks.
They come in a 6 pack and are all different colors so you may get white, red, blue, orange, yellow and green as your six. Each jar has 30 LED lights and the jar top is the solar unit, plus they come with hooks too, so they can be hung instead of freestanding.
The good thing about these jars are because they are so portable you can place them all together during the day in the best position to get the sun all day long. Then of an evening you can place them where you want for best effect in your bar area.
These are only 400 mAh in the battery department, so don't expect them to compete with the bright one, but they will set a great ambiance.
Create a great setting with these magical Mason jar solar lights.
A Solar Curtain Of Light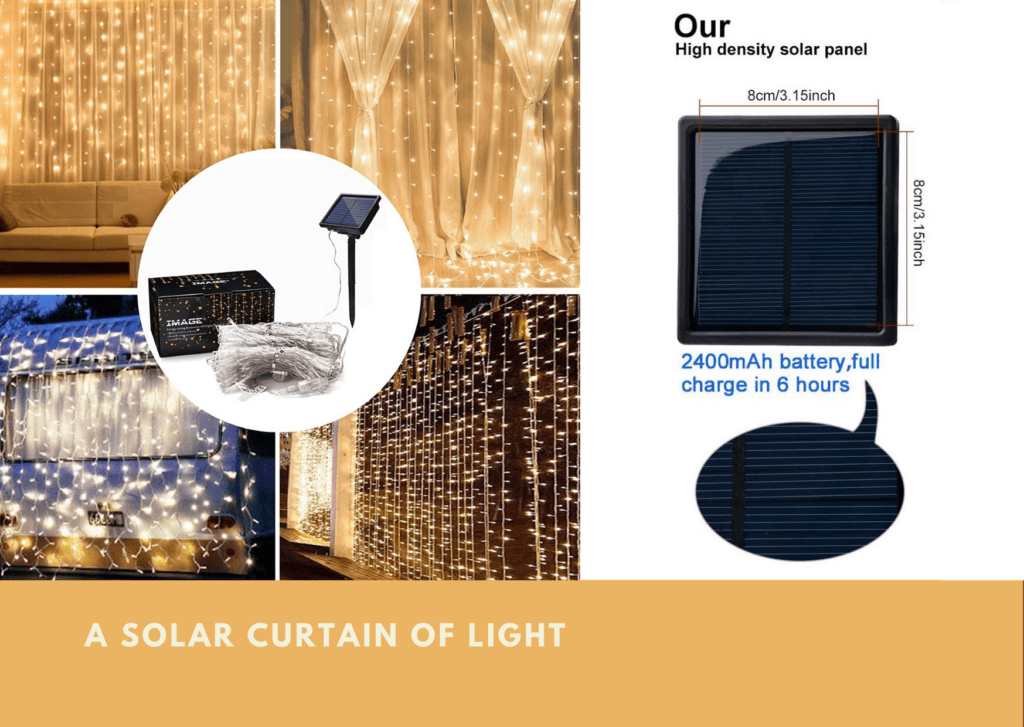 How about a curtain of light in your outside bar, this 9.8 ft x 9.8 ft solar light curtain from Image is the perfect way to light a complete wall in your bar area. If you have a wall behind your bar, this would look great behind you while you serve your guests their favorite drinks.
Hang it on a fence or boundary wall for great effect, and if you like a sparkle then these have 8 modes to choose from, including twinkle/flash and slo glo. The solar unit which has a 2400 mAh battery can be wall mounted or spiked in the ground.
This curtain is 3 meters by 3 meters and has 10 strings each containing 30 LED lights, which if you have successfully done the math will give you a grand total of 300 LED lights, that's a lot of lights.
The lights are a warm white rather than a bright white and there is a memory function that will remember your last setting.
A really cool set of outside lights to create multiple effects for any outside bar area.
Solar Rope Lights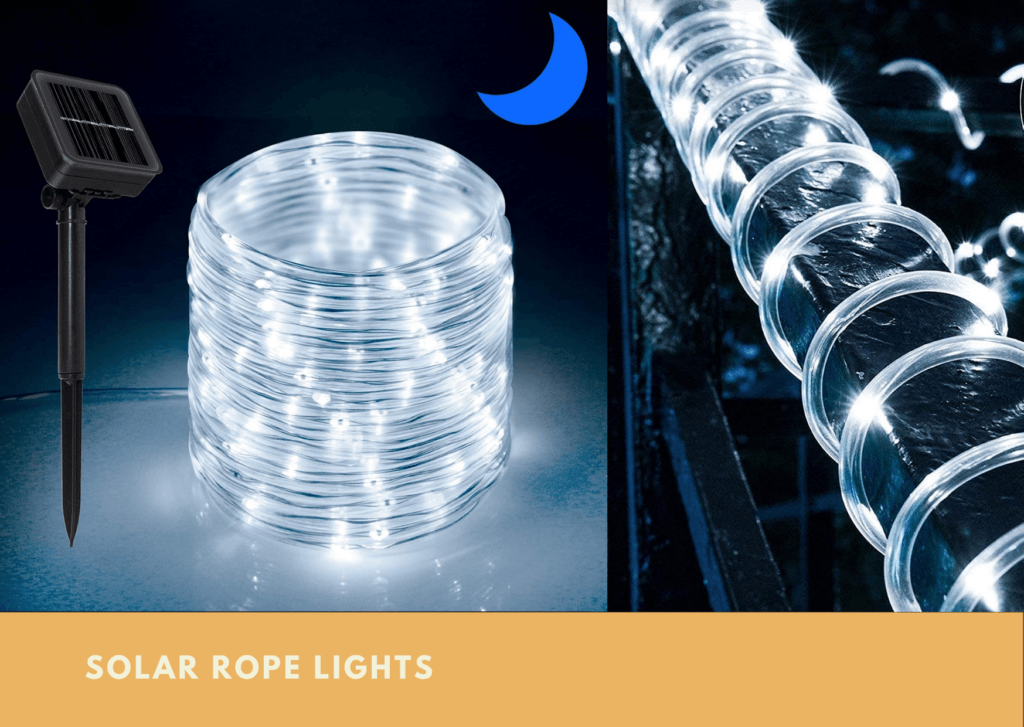 To finish things off we have these rope lights from Anjaylia which are 66 feet long and consist of 200 LED lights. You can snake this around your whole outside space and light it up beautifully.
They have 8 modes including a wave and a slow fade, and you can adjust the brightness to suit the mood you want to set. The solar power unit has a 1200 mAh battery and can light these babies for a good 12 hours from a full charge.
These are a versatile lighting system that can be used for many situations from boundary lighting to decorating the house at Christmas. These are ideal for decorating a bar with a snake of light that can be adjusted to suit.
A real cool customer that will enhance an outdoor bar.
Solar Bar Lights
There are many solar bar lights to choose from, and each can give you a totally different experience, setting different moods for your outside bar. A good idea is to have a combination of lights, a main light and then maybe a curtain of light and some Mason Jar lights, a great way to dress up your bar.
Lights can make or break an outside bar and solar lights are no different, but are they actually any good?
The short answer is yes, they have come a long way in recent years and are more reliable than several years ago, so do make a good investment.
They will save you money on electricity, plus installation of getting power to an outside space. You do need the sun for them to work effectively, but they still get some charge on a cloudy day, and although may not get a full charge will normally have enough for the lights to operate for a good few hours.
Solar lights are made for the outside and they are a good economical option to meet all your outside lighting needs, so pick your favorites and combine them to jazz up your bar.
Talking of favorites let us know which are yours and leave a comment below with all your outside bar lighting experiences, we can all learn from each other.