A beer from a brewery that started life as a nomadic project with no permanent home. A solo project from a food writer turned brewer. So is Tiers IPA any good?
Now with a permanent home and its own taproom. Beak Brewery are renowned for their beers Often selling new brews out in hours. So it sounds like Tiers IPA might just be a great beer.
Tiers IPA is a great beer, but might just have one fault, a little too fruity. It pours a light hazy orange with a half finger head. On the nose it is vibrant and fresh with a tropical buzz of fruits like orange and mango. The taste is a similar affair with plenty of juicy orange and mango with a grapefruit sharpness. It's hoppy, tropical and juicy with a nice bitter edge and a slight dank aftertaste. It is a good solid modern style IPA and gets a rate my beer score of 4.4 – 5.0.
It is tropical and fruity with a welcome bitterness that doesn't quite cut through those fruity flavours.
Beak Brewery
Daniel Tapper is a well established food and drink writer and journalist that has worked for some big names in the industry.
Deciding to turn his hand to brewing Daniel incorporated the business in December 2018. He brewed his beers using other brewers equipment hence the nomadic start, also known as Cuckoo brewer.
With the help of Locate East Sussex, a business development service. Daniel managed to find a permanent home for his brewery. Located on an industrial in Lewes, East Sussex, England.
This is now where Beak operate from with a taproom onsite serving their fresh beer and street food from rotational vendors.
Beak do like to produce many hop forward IPA's, but also brew saisons, best bitters and imperial stouts too. They now have a mixed fermentation project using an oak foudre showcasing local ingredients in the brewing process.
Tiers IPA
The beer sits in a silver can with a funky label by Jay Cover an illustrator and artist. I cannot make out what the illustration is about, but it is bright and eye catching.
Tiers is a 6.5% ABV IPA and is brewed with Strata, Strata Cryo, Citra and Motueka hops. It is going to be a hoppy tropical citrus extravaganza, but is it any good?
Drinking Tiers IPA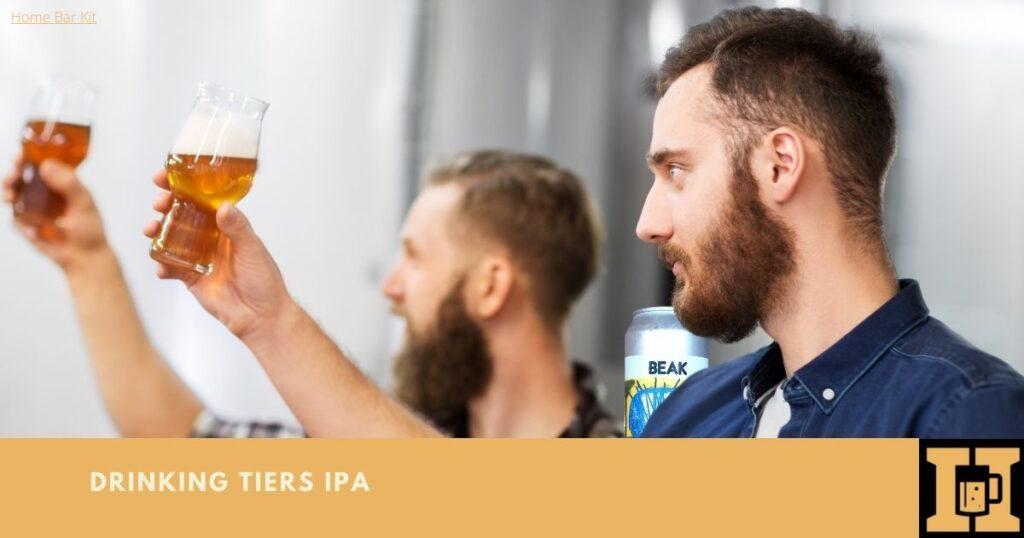 Cracking the can and pouring it settles to a light hazy orange with a foamy white half finger top. The head does fade a little to a thin cover.
On the nose it is bursting with tropical fruity notes of orange and mango, it smells really fresh and inviting.
The taste follows the nose with hoppy, juicy tropical fruit. Flavours of mango and orange dominate, but a little sharp citrus of grapefruit nudges in on the act.
A welcome bitterness comes through to mellow out all that fruity juice, but doesn't quite achieve it. On the back end there is a slight dankness. Overall it is a nice beer, however for me it carries a little too much fruitiness. It gets a rate my beer score of 4.4 – 5.0.
M'Lady is of similar mind saying "Full of fruity tropical flavours, fresh and zesty with a slight bitterness, but more fruit juice than beer". Lou scores it a close 4.3 – 5.0.
We both like it, however is seems it is just a bit too fruity for us.
Beak Beer Range
As I mentioned earlier Beak brew a range of IPA's, as well as saisons, bitters and stouts. So as a beer lover I am looking forward to looking at their beer range.
Best place to go is their website, however at the time of writing there is only IPA's and Pales available. There are no stouts, bitters or saisons.
So here are a few of what is available on their site at this very moment.
Parade IPA
Parade IPA is another hoppy and I suspect pretty fruity too, it weighs in at a straight 6.0% Vol, so not one for session.
Brewed with Citra, Mosaic and Idaho-7 hops you know it will have some kick to it. Expect flavours of mango, pineapple, peach and orange peel to fill the mouth like a party.
I do hope there is a little more bitterness to balance all those fruity flavours.
Hum Pale
Hum is a session pale ale weighing in at 4.8% Vol, so more than one is okay. Brewed with copious amounts of Cashmere, Idaho-7 and Motueka and an experimental yeast strain.
Again this beer is bursting with tropical fruits over a rich body, so expect it to be a big hoppy hit.
Definitely one to try as a session IPA, a couple of Hums could go down well.
Statues TIPA
Statues is a triple IPA brewed in collaboration with Finback Brewery based in New York, US. Again a beer brewed with plenty of hops in the shape of Galaxy and Mosaic.
It is described as a silky smooth beer with guava, peach and pineapple starring in the show. However brace yourself because it ain't a light beer. It clocks in at a massive 10% ABV, so not for the light hearted.
Definitely not a session beer, but one that does sound interesting and one that is now on my list.
Final Thoughts
It is plain to see that Beak Brewery is an exciting brewer producing some quality beer with plenty of character and hops.
There is an obvious style with many of their beers being amazingly hoppy and fruity, which is fine. I would like to get my hands on some of the bitters and stouts though, so must keep my eyes peeled.
Tiers IPA is a decent beer, but it is pretty fruity and zesty, it kind of sways more towards a juice than a beer. However I guess that is the style of this beer.
If you have had the pleasure to try out any Beak beers, then do share your thoughts and let me know what you think.