Once you have built a pub shed, apart from kitting it out inside with a bar and accessories. You will need to think about treating or painting your shed/cabin. So the question – What do I need to paint a pub shed/cabin? Is a good one.
I have just finished doing just this to my cabin over a couple of weeks (UK weather). So thought I would share my experience, and most important of all, what paint I used for protecting the wood.
The obvious things you need for painting a pub shed/cabin are of course a decent brush. Dust sheets to protect against spillages and drips, a screw driver to open the lid, something to stir the paint and masking tape. However the most important thing is the product itself, the treatment/paint for protecting your shed/cabin.
It doesn't pay to go for the cheapest product. Quality is the only real thing that will do the job properly, and unfortunately quality costs. So brace yourself.
What Is The Best Product To Paint A Pub Shed/Cabin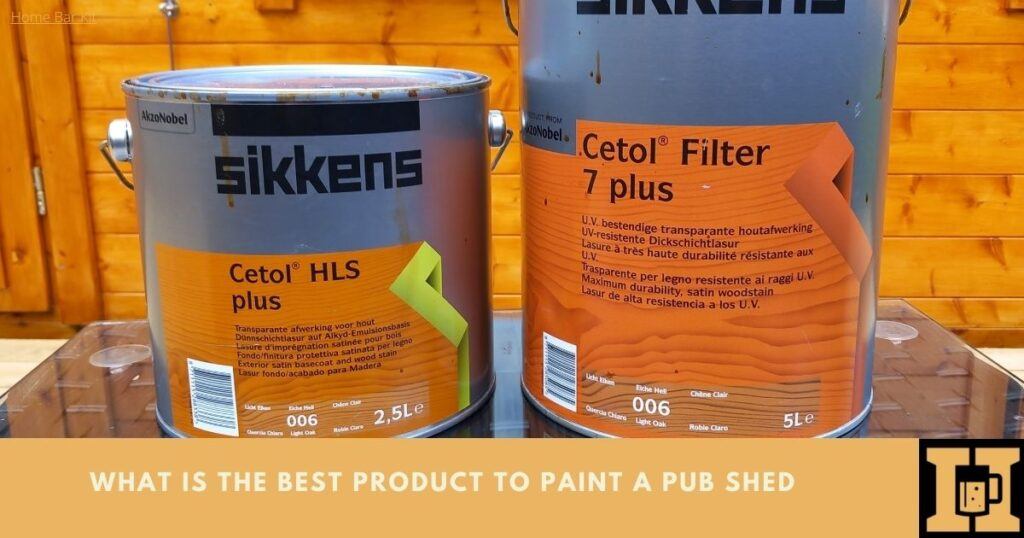 I am not sure there is one product you could pick out and say that it is the best product for the job. One thing is for sure like everything today, stain and paint are expensive.
Just as I said, it is not a good idea to find the cheapest product and slap it on. Nor is it the best idea to find the most expensive and do the same.
I did a lot of research and you can really get lost in how much information and products there are. This can become confusing and almost impossible to make the right decision.
Fortunately for me the place I got my cabin from are experts on these type of buildings. And they know what treatments and paints suit cabins.
However there is still a choice to make because they recommend more than one product.
Timber Treatment Products
These are the brands I looked into:
Carefree Protect – Ultimate Concrete & Wood Protection
Embadecor – Timber Treatment
Embalan – Timber Paint
Sikkens – Wood Coatings
Carefree Protect
This product is described a unique and revolutionary, it is water based and has the latest nanotechnology. It gives protection against weather, moisture, UV and temperature changes.
Pretty much all the things you need to protect a cabin against. It's a good choice and will give a pub shed cabin the protection it needs against the elements.
But it is not cheap, at the time of writing it is around £30 a litre.
It is available in several colours and will require 3 coats to fully protect with a quick drying time. Coverage is around 6-8 m2 per litre.
Embadecor
This is another great product that will protect against moisture, UV, weather and prevents blistering too. It is solvent based and another good choice of treatment product to protect a pub shed cabin.
Again it is not cheap, at time of writing it is around £65 for 2.5 litres.
Also available in several colours and will require at least 3 coats to give full protection. The drying time is 18 – 24 hours and coverage is approximately 16-18 m2 per litre.
Embalan
This is a timber paint that again provides the right protection for timber outside. It water repellent, moisture resistant, does not flake and has good elasticity too.
Embalan paints are water based and come in a variety of colours as well as an undercoat, which they call an insulation coat.
For full protection 1 insulation coat and 2 – 3 coats of the paint. The drying time is 18 – 24 hours and coverage is around 16-18 m2 per litre.
Just like the others it is not cheap, at time of writing it is around £65 for 2.5 litres.
Sikkens
Sikkens is an exterior wood stain for hard or soft woods and provides a high level of protection. It is microporous and flexible to prevent cracking, has good UV and weather resistance.
A solvent based product that also comes in several colours and will require 2 -3 coats for good protection. The drying time is 16 – 24 hours and coverage is around 16-20 m2 per litre.
Yes you guessed, it is not cheap and at the time of writing is around £35 a litre.
As an Amazon Associate, I earn from qualifying purchases.
What Paint I chose For My Pub Shed Cabin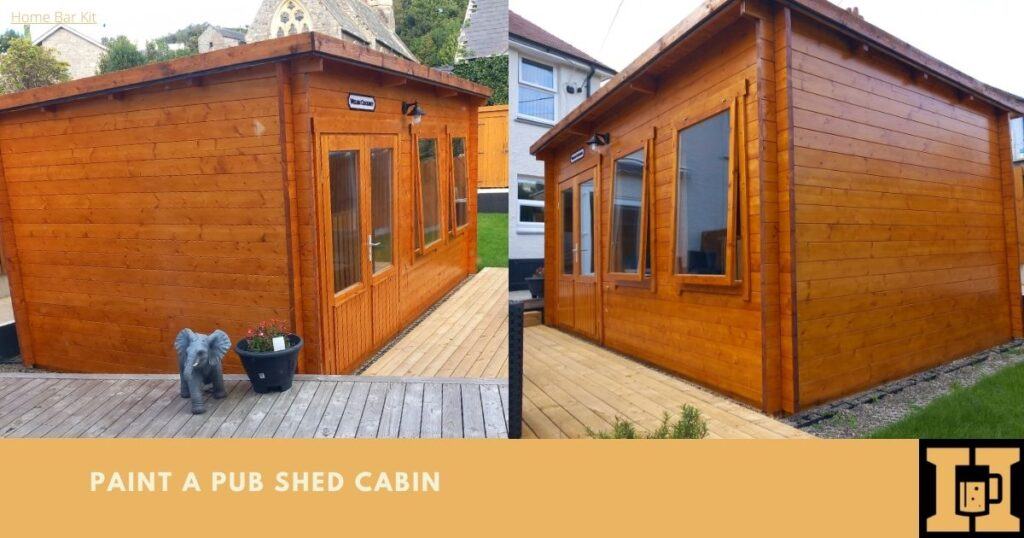 So any of the four I have covered will be a good product to use to protect a pub shed cabin. After I took a good look at each product I decided to go with Sikkens.
I bought two Sikkens products:
One is Sikkens Cetol HLS Plus which is a low build flexible coating for exterior wood. It is ideal as an undercoat or basecoat for another Sikkens product.
Two, Sikkens Cetol Filter 7 Plus which is a translucent wood stain with great flexibility and protection.
Base Coat
I bought 2.5 litres of the base coat and hope it will cover the whole cabin with at least one coat. It is surprising how far this product goes. I got a good coat out of it with some left to spare.
It goes on really well and being light oak is easy to know where you have painted. It is pretty thin so you have to be careful of drips, other than that a good product to use.
The plan is to put the first coat Sikkens Cetol Filter 7 Plus the following day. However because of the UK weather that is not possible.
Top Coat
I bought a 5 litre tin of the top coat. The following weekend I put the first coat on, which is just as easy to use as the base coat. It is a little thicker though and not so drippy.
Because it takes a minimum of 16 hours to fully dry you can't put two coats on in one day. Luckily the following day I get a second coat on, which looks great.
The base coat leaves a matt finish, but the top coat is a nice satin finish and is light oak.
I have one base coat and two top coats and actually have enough left for a third coat. So though expensive it does go a long way.
Talking of expense, this it what it cost me:
1 x 2.5 litres of Sikkens Cetol HLS Plus £42.00 (at time of writing)
1 x 5 litres of Sikkens Cetol Filter 7 Plus £97.00 (at time of writing)
Expensive I know, however you can tell it is a quality product and I am really happy with it.
Final Thoughts
So all of the products I have featured are expensive. However I am not sure they are that expensive because of the level of protection they give, as well as the coverage.
A cheaper product my not cover as well, so might use more. Might not give the same level of protection, and may need treating annually. Ultimately a cheaper product might end up costing more in the long run, worth thinking about.
One thing I will say is to shop around for any product because the price varies among suppliers. The 5 litre top coat I bought was the best price I could find. However one of the first places I looked, it was £150, which is a big difference.
Although there is no need to panic or rush to get your pub shed cabin protected. It is definitely something that needs doing at some point. A cabin is not cheap, so it is worth protecting it the best you can from the elements.
If you have any ideas or other products you have used for timber protection. The do share your thoughts and tips below.