A special edition cask porter that is from the madness that is Tiny Rebel. I say madness in a good way and you will understand when you look through their beer range. A brewery that seems to live off of brewing some real wacky beers at and incredible rate. However is Press Start by Tiny Rebel any good?
Coming from Tiny Rebel you know you will always be drinking a beer with flavor. This porter is the level 2 Press Start, the first being a Vic Secret + Mango Milkshake black IPA. I believe there is now a level 3 which is a Mosaic + Mandarin Meringue pale ale. But right in the middle is Level 2 the HBC630 + Mocha Whip Porter.
So what is it like?
Press Start By Tiny Rebel
It is a rich creamy chocolate coffee extravaganza. It sits on the bar in its Tiny Rebel glass completely black in appearance with a moderate tan head. A waft of caramel and coffee rise up wrapped in a malty biscuit background. Which comes through in the taste, a slightly bitter malty biscuit laced with caramel chocolate with a coffee mix. It finishes with a sweet fruity chocolate aftertaste. I like it but could not drink more than one, it gets a 4.0 – 5.0 Rate My Beer score.
If you like chocolate and coffee then you are in for a treat.
Tiny Rebel Brewing Company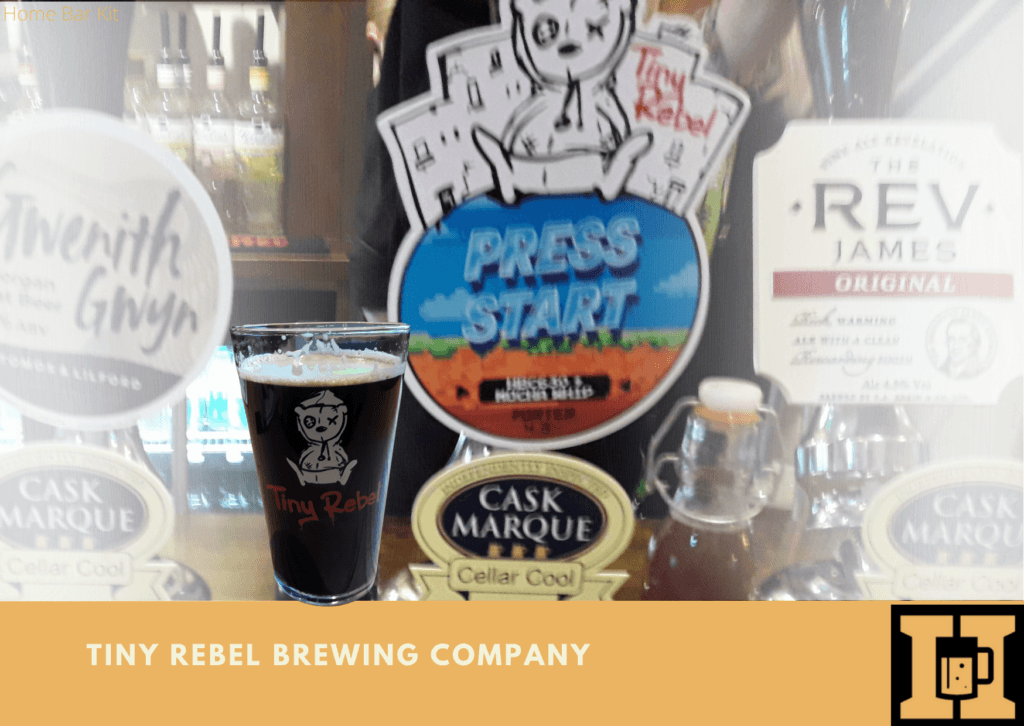 Two mates Gareth and Bradley set out in 2012 to brew craft beers that stood out from the crowd. I think they have achieved that and some, like I said they are mad (in a good beer loving way). The year now being 2022 it is of course Tiny Rebels 10th Birthday, WOW.
So how do they celebrate?
Only with a three day festival, I know, brilliant.
REBEL FEST 2022!
The 1st to the 3rd of July this year the Rebels will be celebrating with all their fans at their brewery HQ. Music, food and of course beer will flow. And although their own beer will be flowing at the forefront, they will also be serving 50+ guest beers.
The festival times across the three days are 12pm to 12 am and will include an array of street food vendors as well as some talented DJ's. There will also be 'meet the brewer' tastings as well as some brewery tours.
Rebel Fest 2022 will certainly be an event to remember, hopefully they will do one every year. What better setting to try their wacky beers.
Talking of beers, it is a challenge to keep up with this ever producing brewery. However if you like your beers to be wacky, then I suggest you give it a go.
Press Start By Tiny Rebel
This beer then seems to be a cask beer series under the same heading, which is of course Press Start. Level 1 is a Vic Secret + Mango Milkshake Black IPA, a Cascadian dark ale. I have not tried this one, but it has been described as sweet and fruity with a good hit of mango.
Some say different, but nice and very drinkable, unusual, but strangely nice, typical Tiny Rebel.
Level 2 is the one I have tried and the one I am talking about today.
Press Start Mocha Whip Porter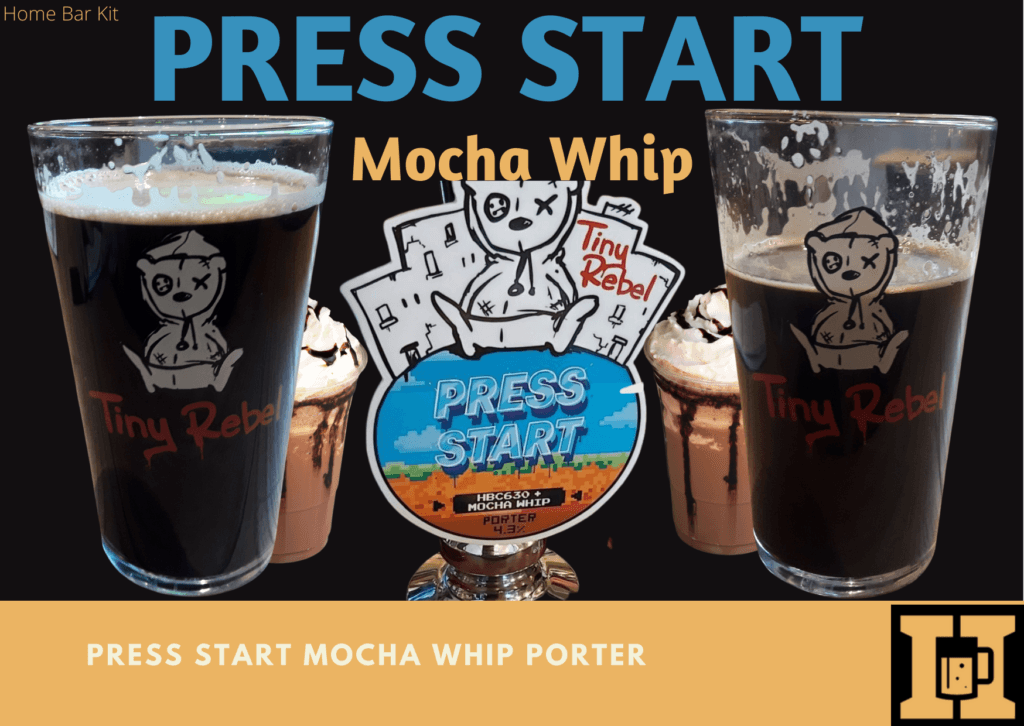 The full name is 'Press Start HBC630 + Mocha Whip Porter' a bit of a mouth full. It promises chocolate, coffee and more chocolate with the addition of cherry. The cherry comes from the HBC630 hop used in this brew. However although there are fruity notes to this beer, I did not pinpoint cherry, but that might just be me.
It looks what it is a porter, black with a moderate tan top. The head does fade to a thin lid and the lacing is modest. The nose blooms with caramel chocolate, a bitter coffee aroma is apparent as well as malty biscuit background.
On the taste front there is a slight bitterness around the malty biscuit base which is laced with chocolate and coffee. They are prominent with a smooth creamy feel. At the end although still that bitter chocolate coffee, it is topped with a fruitiness to break up the chocolate coffee party. This leaves a slightly sweet aftertaste which calms everything down.
At 4.3% Vol which the whole series has been so far, it is all good as a session beer. However it is not a beer I would entertain as a session. More than one would become a little too indulgent, which is a polite way of saying a little sickly, oops. The Rate My Beer score comes in at 4.0 – 5.0.
If I saw it on tap again, I would not hesitate to order a pint, unless of course there was another Rebel brew next to it. One I haven't tried, or Clwb Tropica which I love.
Level 3
Press Start Mosaic + mandarin Meringue Pale Ale also 4.3% Vol. Again I haven't tried this one, but do love a pale ale, so will be keeping an eye out for it. Others say it is fresh, fruity and lovely, with the mandarin coming through well.
I look forward to it.
Rebel Beers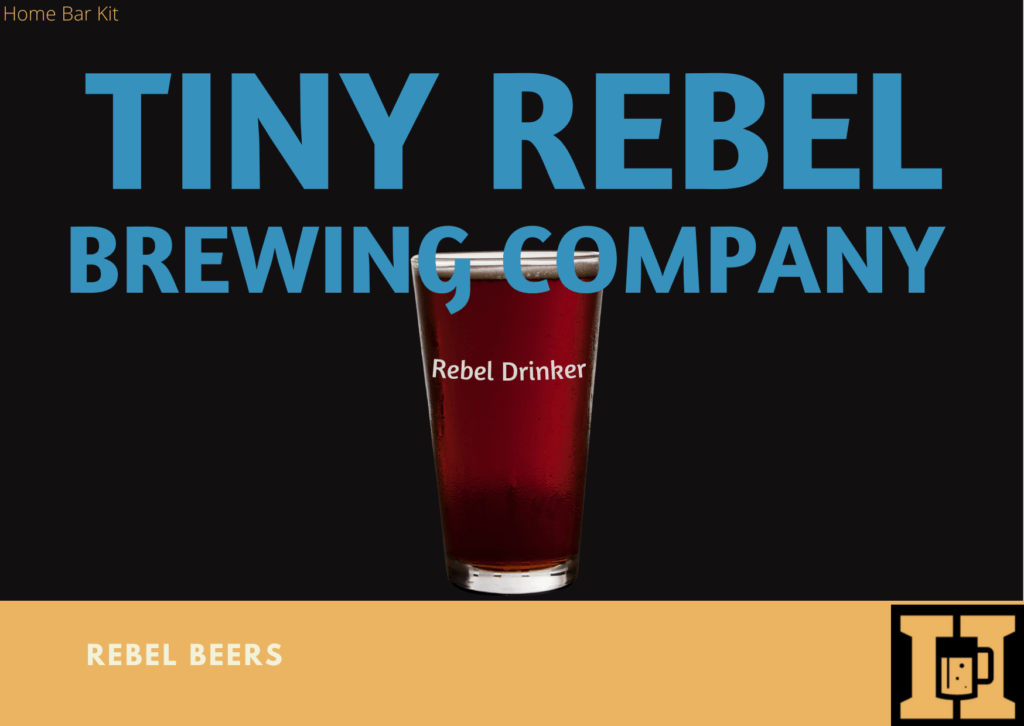 You cannot get bored with this brewery, it just produces new beers at an astronomical rate. Each beer pushing the boundaries on our taste buds. If you are looking for a standard IPA or any style of beer, then look away. You ain't getting that here.
I doubt they will apologise for their wacky beer inventions, and why should they. Brewing with mischief and fun, they live up to their Tiny Rebel name, although not so tiny anymore.
Let's celebrate the Beer Rebels, and look at a few more brews, after all it is their birthday.
313
The new craft lager from the Rebel is not only on tap but now in cans too. This light straw lager promises to be floral and hoppy on the nose. With a thirst quenching bitter taste of pine with a super dry finish.
Why 313?
It might be a favorite number or perhaps it is something to do with the telephone area code of Detroit. Donald Ducks number plate maybe the reason, or is it because 313 represents enthusiasm, creativity, optimism and growth.
The latter sounds fitting for the Rebels, but who knows. At 4.6% Vol this craft lager is a true session rebel and definitely on my hit list.
Cali Pale
Another Rebel brew on my hit list is the popular Cali Pale, inspired by the west coast of America and the California sunshine. It's a juicy pale laced with tropical and pine flavors, backed up by an easy going mango crush.
It's a hazy sight in a glass with the nose of tropical pine. Which comes through with the taste leading to the juiciest pale that slaps you with a mango relaxed end. Now you know why it is on my hit list, and at 5.0% Vol it just sits on the edge of session.
I can see it already in front of me on a hot summers day. A great beer to try at the Rebel Fest 22.
XOXO
The hugs and kisses that is XOXO is a hazy blonde IPA brewed with traditional Kveilk yeast strain from Norwegian farms. It promises to deliver grapefruit, passionfruit and strawberries in it body, it could be a citrus carnival.
It is described as a complex blonde IPA with a hoppy front with tropical citrus oozing from its body. I say it is worth looking at, and with its 5.0% Vol strength tag can be enjoyed a couple of times over.
It's time to fill your life with hugs and kisses and try this hazy extra pale blonde IPA.
Final Thoughts
I've said it before, this brewery is exhausting, there is no stopping them, but who wants to. They continue to keep all craft beer lovers on their toes with a constant stream of new beers.
The Press Start series is only on cask, so you will have to visit a bar to try one. Which is why I struggle for tap beers living in a small coastal village. The local bars are all a bit Macro, and need a craft shake up. Still I make the most of it when I visit a city.
With their wacky beer flavors Tiny Rebel are not every beer drinkers cup of tea glass of beer. However there is no disputing they can brew and my advice is put on your rebel hat and get stuck in. Of course don't forget to share your thoughts, drink responsibly, but most of all have fun.