A outdoor bar is a great addition to any home. We all love to get outside in our gardens on a hot day and enjoy a drink with friends. What better way to do that than your own garden bar. However it can be expensive to build a bar in the garden. So how do I build a cheap outdoor bar?
The go to material when thinking about an outdoor bar is wood. But wood has become a very expensive commodity. It could get very costly to purchase wood for an outdoor bar project. How then can we build an outdoor bar without it breaking the bank.
How Do I Build A Cheap Outdoor Bar?
By looking at what materials you already have available to build a bar. Many of us, including me are reluctant to throw anything out because it might come in handy one day. Well that day has come, raid the garage and shed, see what you have got. Offcuts of wood, a few old pallets or an old piece of furniture that could be transformed. You may already have all you need to build a great outdoor bar.
If your search comes up short, then ask family, friends or neighbours what they have lying around. You might just be doing them a favour.
What Wood Can I Use For An Outdoor Bar?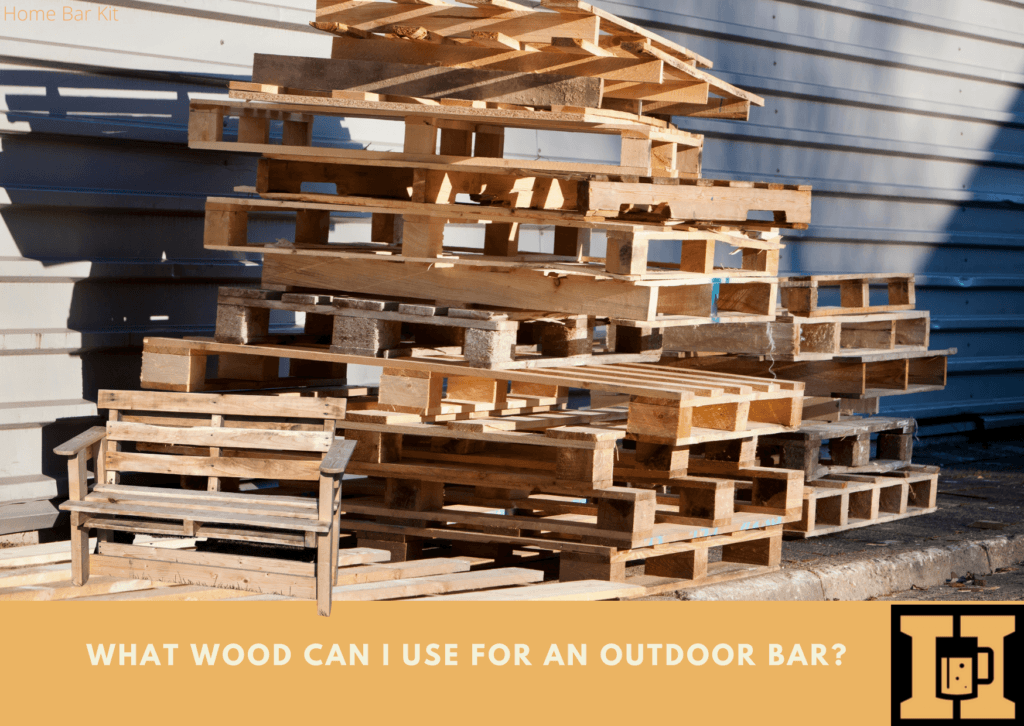 You will be surprised what can be used for building a bar. Some wooden items may need a fair bit of work to transform into a bar. However others may only need minimal work to build into a bar.
Any number of wooden items can be dismantled and reused to form your bar project. If its made of wood, then include it, because with a little work it can work. Here are a few ideas to get you thinking, but by no means a full list of what could be used.
Old Furniture
Any old furniture can be used to make a bar, some just dismantled for the wood. Whereas other pieces of furniture can stay intact and just be modified.
An old wardrobe could be dismantled and cut up to make a frame for a bar. The doors could become a great bar top and shelf.
A sideboard would make a great bar without to much work. It already has the perfect shape and probably some shelves and draws in place. Depending on the style it might need raising to bring it up to the right height.
Garden Furniture
The same goes for old wooden garden furniture that has seen better days. An old wooden garden table would be a great base for a bar.
Dismantle old wooden chairs to utilize the wood for reuse. The legs can be used for the frame, and the seat base and backs for panels and shelves.
Build A Bar Out Of Fence Panels And Posts
Old fence posts are ideal for using as a frame. While the panels can be used for the front and sides to clad the frame.
Many posts are 8 foot long with 2 foot in the ground. So even if the bottom half is rotten, it still leaves enough length to get the height and width for a bar. You probably won't build a stronger frame than using fence posts.
Build A Pallet Bar
Not the most elaborate garden bar, but so simple and easy to do. Just shows you how simple it can be.
The pallet is a great material for building an outdoor bar. Readily available and really strong they are ideal for this type of project. In fact you could build pretty much anything out of pallets.
They can be dismantled and then each piece of wood used to build a bar to your own design. Just be careful taking a pallet apart, they are not easy to dismantle. Alternatively leave them intact and use their strength as a sturdy frame.
They are great for any DIY project, all that is needed is a little imagination, or a Youtube video or two.
Transform A Shed Into A Bar
A shed is ideal to transform into an outdoor bar. Whether you dismantle it to use the wood, or leave it intact and convert it into a garden bar. It doesn't have to be a big shed either, any size shed can be converted into the ideal garden bar.
A popular design for a small shed is to cut a large hole in the main panel and turn it into a serving hatch. This also becomes the bar top surface. Add a veranda on the front for added cover from the sun or rain.
Other useful wooden objects to consider are old shelving which make for good sides and bar tops. Deck boards can also be used for outdoor bar construction.
What about an old workbench that is no longer used, this could be the ideal shape and size for an outdoor bar. There are many items that are made out of wood that can be used to make a bar for your garden.
Places To Find Wood For A Bar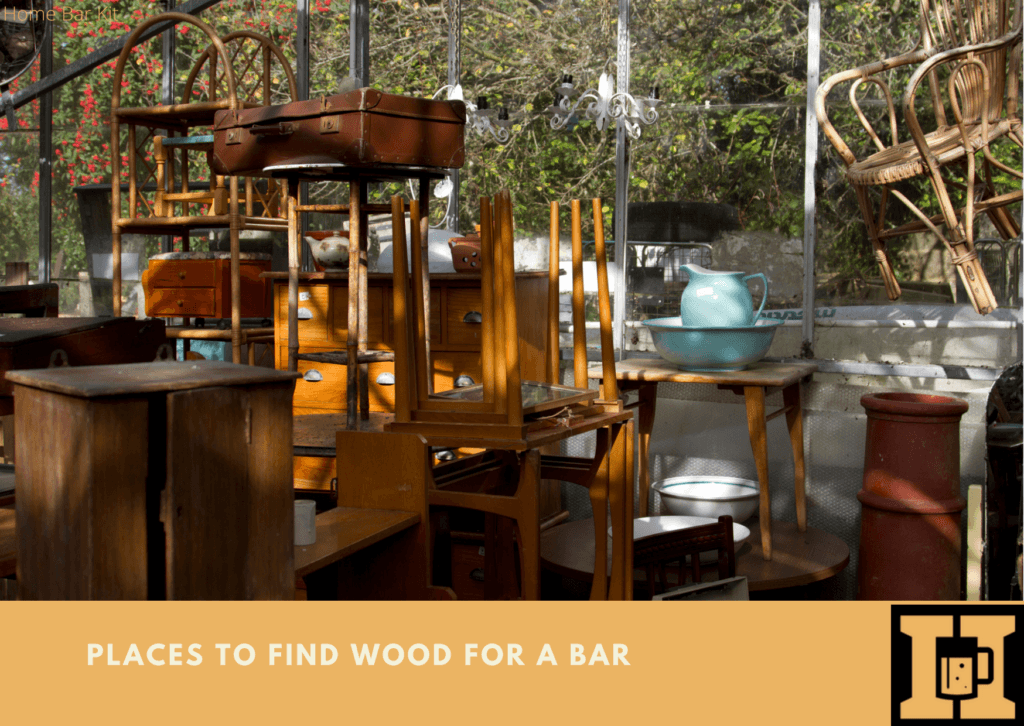 The best place to start the search for wood for your bar is at home. The shed, garage or even indoors with wooden furniture that has seen better days or ripe for updating.
The next place to try is family and friends, you will be surprised what people have lying around. Just a few phone calls or visits to family and friends and you might have more than enough material for your project.
Visit a wood shop for offcuts, or a building site for the same. All shops have deliveries and may be sitting on unwanted pallets you can take off their hands.
Second hand furniture stores may have some really cheap furniture ready to be upcycled into a great bar. A tip or recycling centre may be worth a look for wood that can be saved for reuse.
There are many places to find old wood that can be used for a bar, or for any project.
Working With Wood To Build An Outdoor Bar
There are a few things to remember when using wood to build an outdoor bar. Whether you are using pallets or an old piece of furniture, it will need prepping.
Old wood may need some kind of repair, this could be cutting off rotten or damaged wood. Or filling holes or splits with wood filler.
Rough wood from pallets or fence posts will need sanding. You don't want people getting splinters from your bar. Sanding by hand is great but can be time consuming, so a small sander is ideal for smoothing your wood.
Any outdoor object is obviously open to the elements so it is a must to treat the wood you are using. Things like fence posts or deck boards will already be treated, but it doesn't harm to retreat them.
A good wood preservative or wood paint will not only enhance the look of the wood, but will protect it against the weather.
Bear in mind you will need fixes for your bar project. Nails, screws and brackets will be needed to put everything together. So this is an expense that is unavoidable, however shopping around will keep this to a minimum.
Cheap Outdoor Bar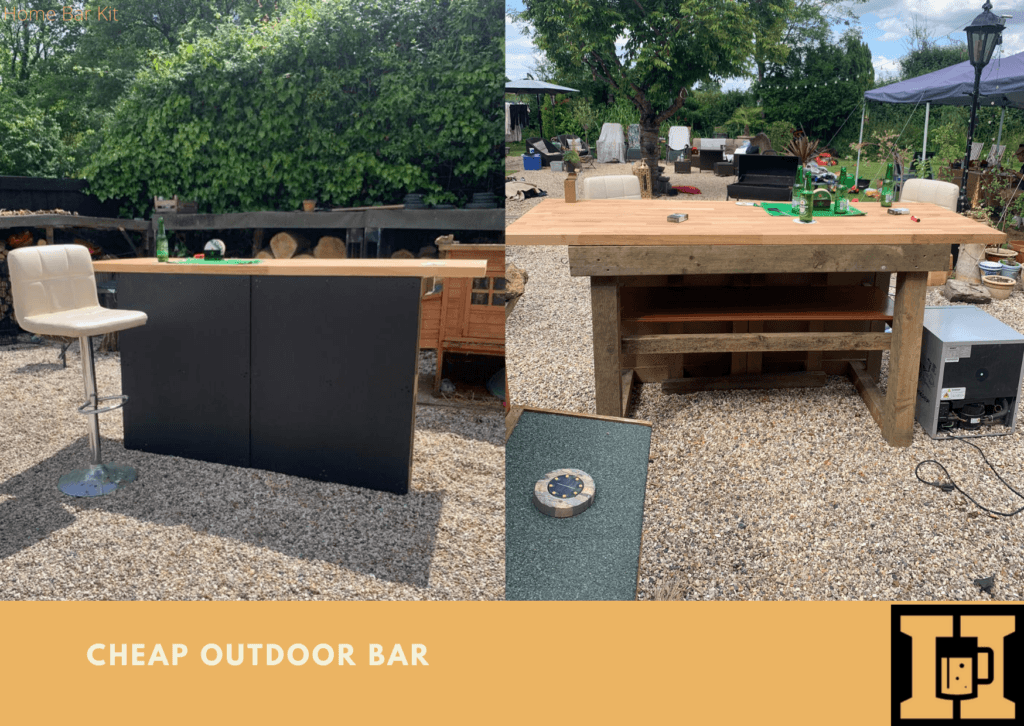 The image shows a cheap outdoor bar. My son Joe built this bar in an hour or so using materials he already had lying around.
Old fence posts were used for the frame, offcuts of wooden panelling for the front and shelf. And an old kitchen worktop for the bar top. A good solid robust outdoor bar that is ready for action.
Final Thoughts
It just shows you that a bit of old wood, some fixings and a little imagination can build a great outdoor bar. It doesn't have to be fancy, and it doesn't have to be expensive. As long as it is strong and does the job, that's all that matters.
There are lots of things that can be added to dress any basic bar up. Paint some artwork on the front, add a funny sign or bar plagues. Add a roof and turn it into a Tiki bar, the sky is the limit.
Building an outdoor bar is easier than you may think and you don't have to be a master carpenter to achieve it. I hope the ideas and videos have given you inspiration to build your own outdoor bar. Get building and share your thoughts and ideas on making an outdoor bar.